OPERABLE PARTITIONS AND GLASS WALL SYSTEMS
FAQs
What is an operable partition or folding panel partition?
An "operable partition" or "folding panel" is made of two or more large panels suspended on a ceiling track, and sometimes also supported on a floor track, which can be used to close off a room or divide a room into two spaces. They may be opened (retracted) by sliding the panels to one end so that they are in a stacking position when folded up for storage. The panels form a solid partition when fully extended (deployed). Operation may be available as either manual or electric or both depending on the product.
What size do the panels come in? What is the standard panel size?
Partitions are custom made with panel sizes to accommodate the dimensions of the room. In general, the individual panels which comprise the partition are available in widths from 30" to 48" depending on options selected.
What are the types of panel options and finishes?
Panel options can vary from product to product and may be available in either solid or glass or a combination of both. Solid panels come in various fabrics and finishes that are either supplied by the manufacturer or can be customized. Customer-own-material (COM) will still need to be approved by the manufacturer.
What is acoustic sound rating and what do I need?
Acoustic sound rating (STC = Sound Transmission Class) is a measure of sound transmission from one side of the room to another. The higher the number, the less sound is transmitted. The amount of sound control you will need will depend on factors such as the intended use for the room(s), the number of occupants, and the overall size of the room(s). The surrounding materials and construction can also impact the effectiveness of sound control partitions.
Do you carry hangar doors?
We carry the Renlita S-3000 vertical bifolding and S-2000 Hingeway doors used on industrial, commercial and high-end residential applications. However unlike typical hangar doors, it does not require lift straps or hydraulics. Instead the S-3000 and S-2000 door operates using a counterweight balanced design with precise mathematical calculations to achieve exact counterweight balance for safety, balance and appearance.
Every Renlita door is custom engineered based on the project specifications to meet your design objectives. There are a wide range of cladding and/or glazing materials available. The standard design is based on a 10 psf wind load, but can be altered to suit specific requirements. The S-3000 vertical folding door is suitable for opening sizes up to 90′ wide x 30′ tall. The S-2000 is suitable for opening sizes up to 32′ wide x 20′ tall.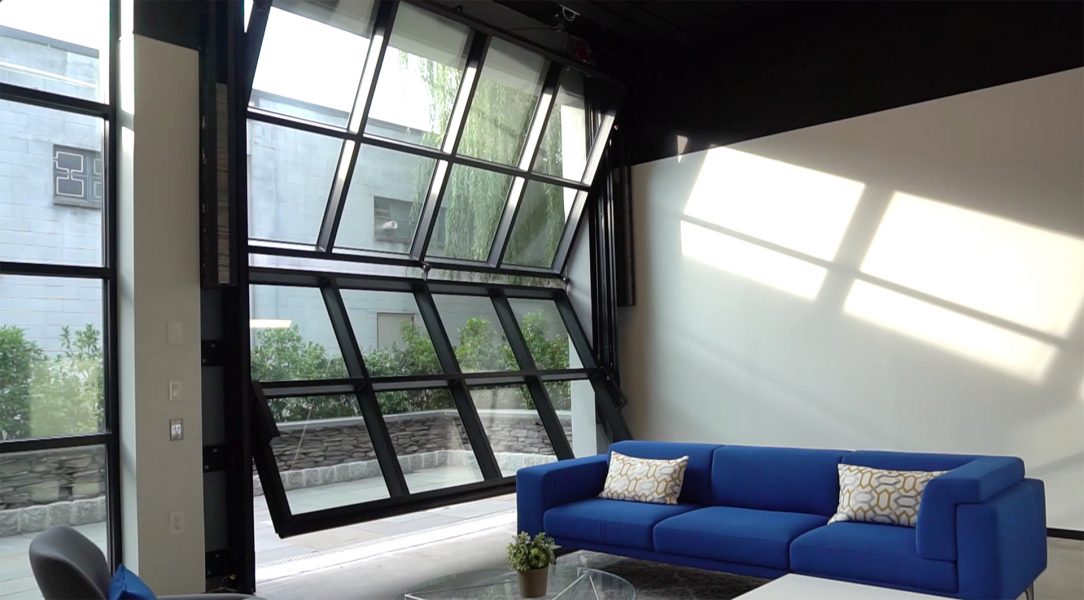 Renlita S-3000 Foldaway Door in our Showroom. (The frame is not enclosed to show the counterweight balanced operation.)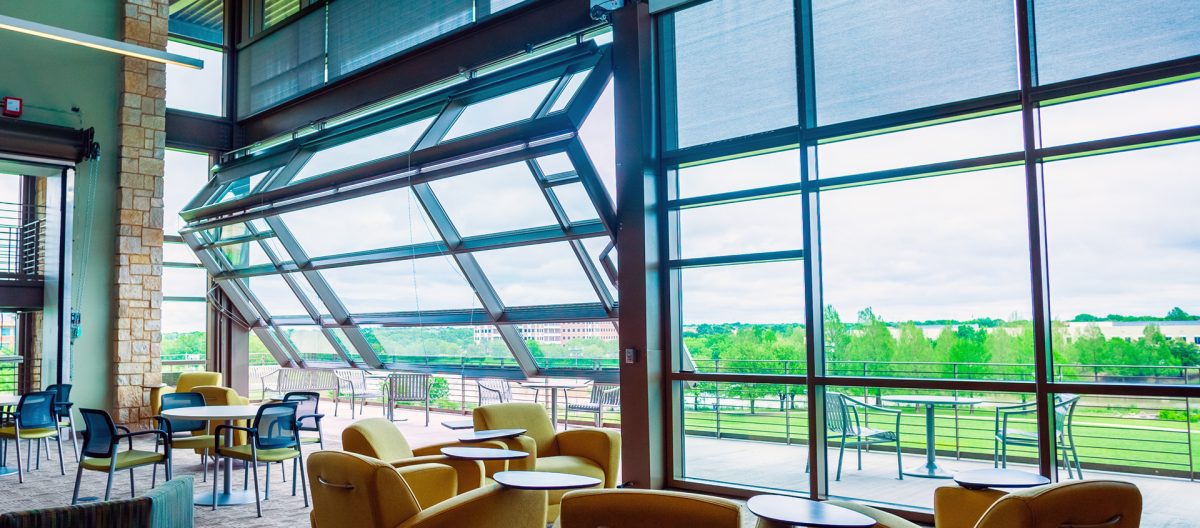 Renlita S-2000 Hingeway Door.
QUESTIONS ABOUT GLASS WALL SYSTEMS
What is the difference between operable and demountable walls?
Operable walls with folding or stacking panels allow you to transform individual closed spaces into a large open space as the need arises. Typically, these solid or glass panels ride on an overhead track and may have pass-thru doors when used in closed configurations.
Demountable walls, commonly referred to as Glass Office Fronts, are fixed glass panels with a swing or sliding door. As the name implies, these are installed and un-installed with minimal or no impact on the space.
Do glass walls have acoustic sound ratings?
Driven by increased costs for space, square footage per employee has been declining. Sound Transmission Class (STC) has become an increased concern. Both our Operable and Demountable walls are available in double-glazed options with sound seals that achieve the highest possible STC ratings.
What is the highest acoustic rating for glass walls?
The highest acoustically-rated interior glass wall system in the Glass Wall industry is our Modernfold Acousti-Clear® glass partitions with a 51 STC & 45 STC ratings for glass partitions, and a 50 STC rating for solid partitions. This applies to the entire family of Acousti-Clear motorized, automatic, and demountable acoustic glass walls.
MorphGlas™ (switch glass), offers up to a 45 STC rating. Available in Acousti-Clear Motorized single glass panels, it has been thoroughly UL® tested and certified, a necessary specifiable feature for architects and interior designers in many projects.
What are the differences in glass frame designs?
Frameless Glass – These offer Maximum transparency by minimizing the amount of visible metal. Typically Frameless glass office fronts incorporate only top and bottom channels (sometimes recessed into the header and floor). Available in both swing, sliding, and telescopic doors, frameless glass walls are most cost efficient but also have the lowest sound transmission value.
Framed Glass – These systems capture the fixed glass within a perimeter metal frame allowing for swing doors to close onto sealed jambs. Available sliding doors also slide across a fixed door frame containing sweeps that seal the door in closed position. In both cases the door leaf can be frameless or framed glass.
Framed Glass with Mullions – Vertical and Horizontal Mullions can be used within Framed Glass Walls to achieve a panelized or Industrial Sash aesthetic. These can be true-divided lite or applied mullions on monolithic (a single sheet of architectural glass) glass panels.
What are the different types of glass?
Choice of glass will effect costs, aesthetics, and acoustical performance. Glass is available in Clear, Low Iron, Tinted, Heat Treated, and Laminates in a variety of thicknesses. ModernfoldStyles can also provide any combination of these characteristics. For instance, ½" thick Low Iron Laminated and heat-treated glass can be ordered.
What is the maximum opening for telescoping doors?
The PK-30 Telescoping Doors have a maximum opening of 14′. The PK-30 telescoping glass doors shown below has a total of 6 panels.
We're here to help answer any of your architectural wall questions. Contact us if you need recommendations on the best partition for your space or have design layout questions.