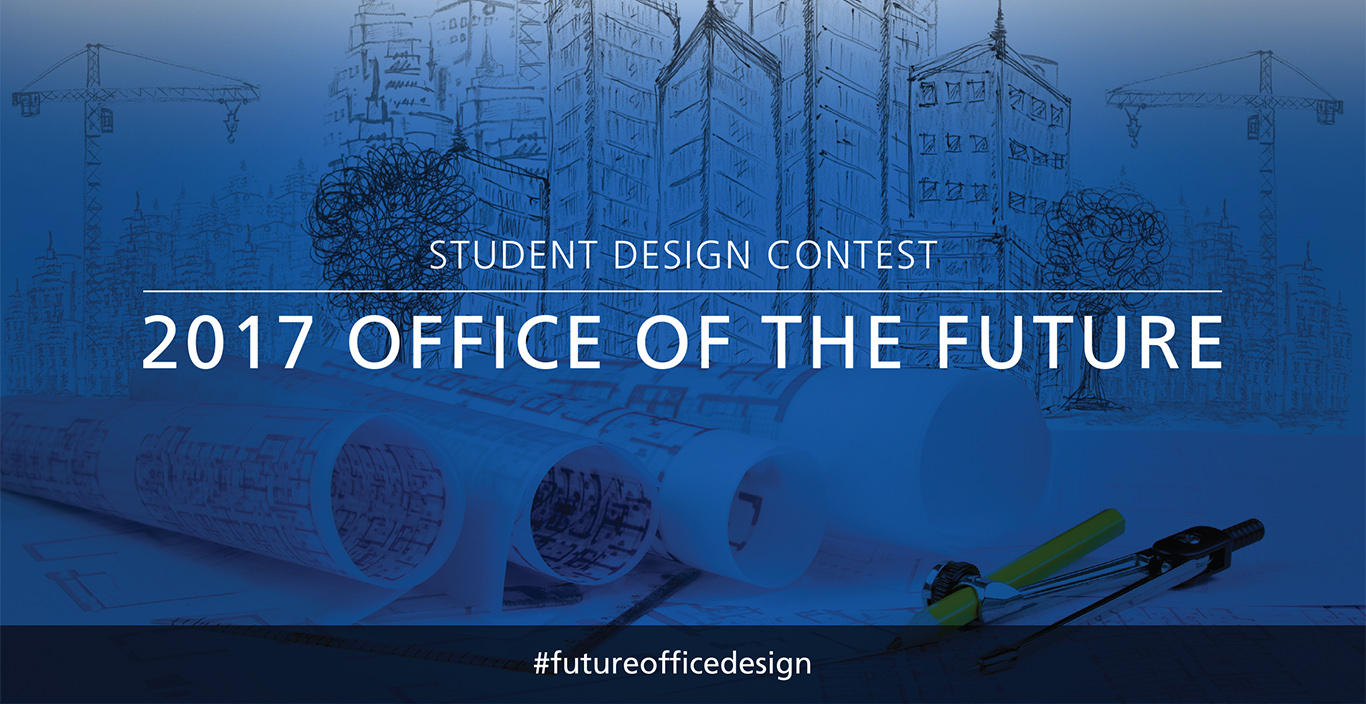 New York, NY, April 28, 2017 – To commemorate ModernfoldStyles' 60th anniversary, they hosted their first-ever "Office of the Future" Design Contest as a way to give back to the communities they serve by supporting and promoting the field of architecture and interior design. Eligible U.S. graduate and undergraduate students majoring in architecture or interior design within the New York, New Jersey, and greater Philadelphia area were encouraged to participate using their creativity and innovative ideas to create their own vision of the "Office of the Future."
Chosen by the public through online voting, Arianna Milla of NJIT, Sara Ebrahim of NJIT, and In Pun of Penn State received the highest amount of votes becoming the top 3 finalists. On the evening of April 27, 2017, the lucky finalists were invited to the 60th Anniversary event held at The Glasshouses high atop the 21st floor which provides spectacular views of the Hudson River, Downtown and Midtown Manhattan. They were each given 5 minutes to present their design concept to an esteemed panel of judges: Brian Berry, Design Director, Principal at Gensler NY; Sandra Tripp, Principal | Managing Director at Huntsman Architectural Group; Brent Capron, Associate Principal at Perkins + Will; and Mavis Wiggins, Design Principal at TPG Architecture.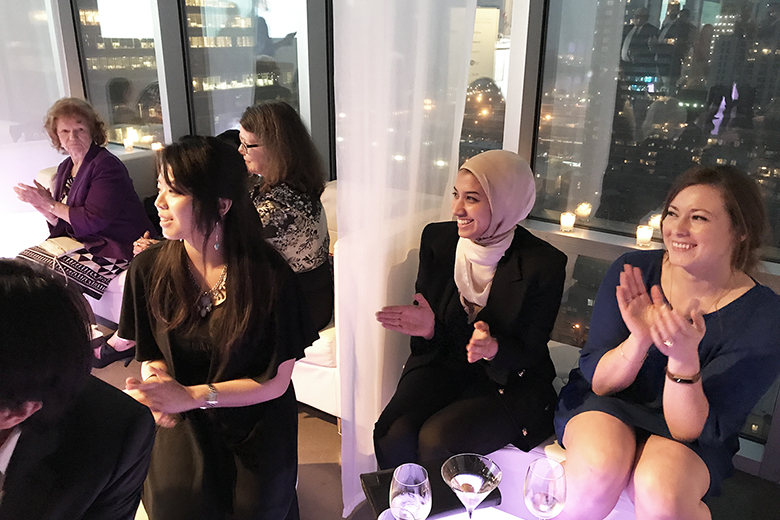 Left to right: In Pun, Penn State | Sara Ebrahim, NJIT | Arianna Milla, NJIT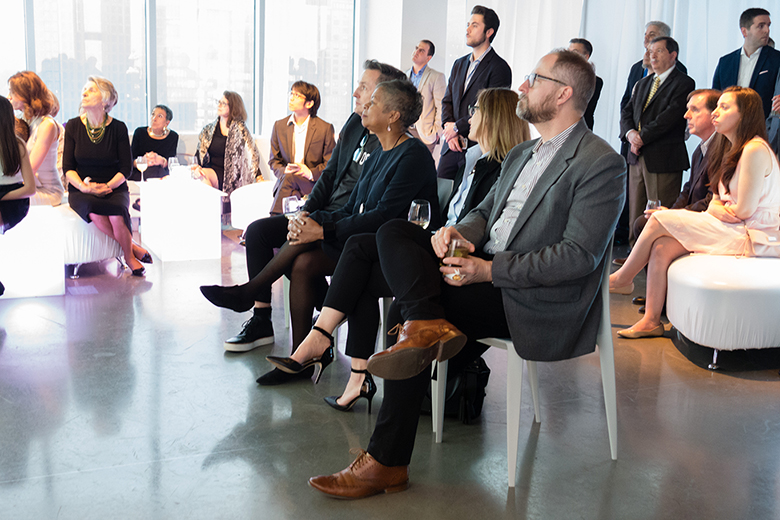 Left to right: Brian Berry, Gensler NY | Mavis Wiggins, TPG Architecture | Sandra Tripp, Huntsman Architectural Group | Brent Capron, Perkins + Will
Each design submission was evaluated and scored based on innovation, artistic and creative skill – considering the representation of the Contest theme "Office of the Future", as well as the unique and novel approach to the Design. The design concept also had to support a business culture of innovation, collaboration, and creativity while still maintaining practical spaces; convey a deep understanding of the needs of a future work office environment; create an optimal environment to address different worker typologies; promote a productive workspace environment while integrating balance and wellness into the design; and communicate the Contest theme in both design and supporting statement.
Based on these criteria, the judging panel selected Sara Ebrahim, interior design major at New Jersey Institute of Technology (NJIT), as the winner of the 2017 "Office of the Future" design contest. Ms. Ebrahim received a $3,750 scholarship and summer internship with TPG Architecture for her NoMAD design. Second place winner receiving a $2,000 scholarship winner was In Pun, architecture major at Pennsylvania State University, with her Urban Living Room design. Arianna Milla, interior design major at NJIT, placed third with her Enclosure Equilibria office concept winning a $1,000 scholarship.
WINNING DESIGN:
Ms. Ebrahim was inspired by the lifestyle of the Bedouin Nomads for whom rootlessness is a choice and a freedom. "The office of the future is a nomadic state." She defends this position by citing the direction 'the office' concept is already heading with laptops and working remotely. In her design, a work area can be folded and packed into a locker to be rolled to any location in the dune hued competition defined area. Her furniture and rugs are made of sturdy, comfortable, Louis Vuitton inspired animal hide. Ms. Ebrahim said of the design contest, "My experience during the competition was beyond the presentation. I was fascinated with people's advice and warm words to push me forward in my design career. I'm grateful to be a part of this experience and to have my first internship that will shape my life and career."
David Brothers, NJIT professor for both Ms. Ebrahim and Ms. Milla, stated he used the ModernfoldStyles 2017 "Office of the Future" Design competition brief as the groundwork for his semester curriculum. This is an innovative means of teaching not only the development of the creative design process, but also the real-life experience of design competition, which is a staple of a profession in which the ability to 'sell' the concept is as crucial as the ability to create it.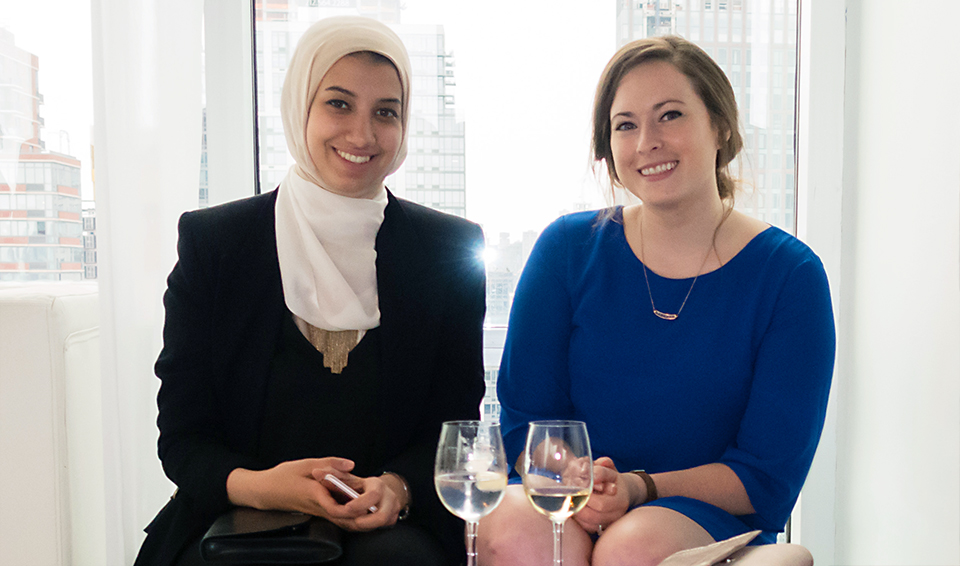 Winners from NJIT: Winner – Sara Ebrahim, 3rd Place – Arianna Miller (Photo © Eva Mueller)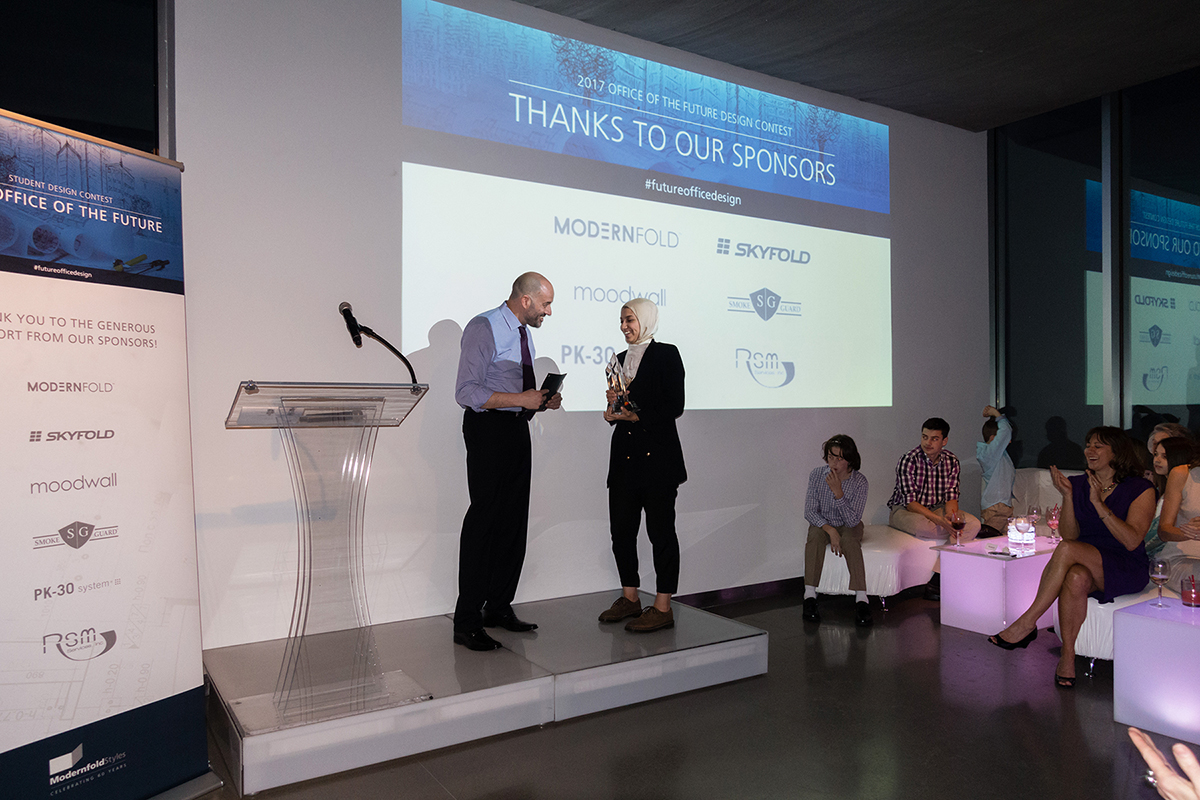 Bob Styles, president of ModernfoldStyles, awards Sara Ebrahim, winner of the 2017 "Office of the Future" design competition.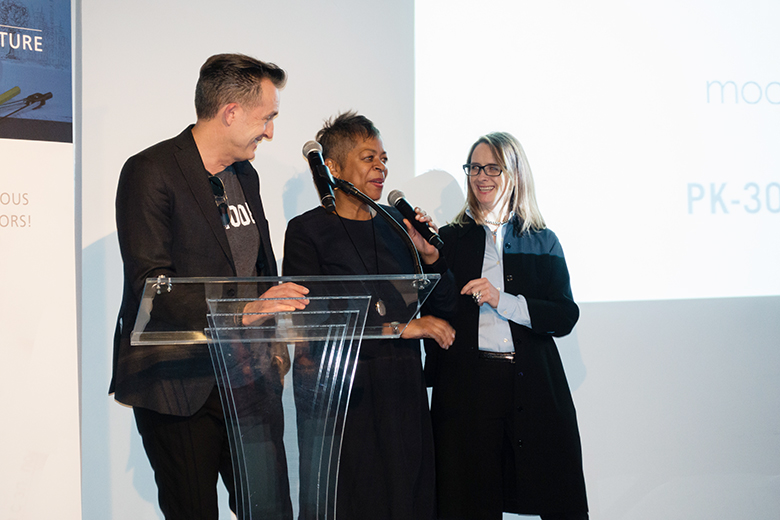 Words of Wisdom (left to right): Brian Berry – Gensler, Mavis Wiggins – TPG Architecture, Sandra Tripp – Huntsman Architectural Group.
"It was our pleasure to participate in this very interesting and thoughtful evening, and we are thrilled to be in a position to offer an internship to the winning entrant. ModernfoldStyles is clearly a company with strong commitment to its people and community. It was great to witness the positive spirit and generous support displayed."
– Mavis Wiggins | Design Principal, TPG Architecture
2017 DESIGN CONTEST SPONSORS: Modernfold, Skyfold, Moodwall, Smoke Guard, PK-30, RSM Services, Inc.
ModernfoldStyles plans to continue this tradition of giving back to the architecture and interior design community by hosting the next "Workplace of the Future" Design Contest in Spring 2019. "Call for Entries" will be promoted starting mid November 2018. Entries for submission will open on January 2, 2019.