Modern Awning System Enhances Outdoor Living Space
This beautiful private residence, located in Smoke Rise, a prestigious 2,500-acre gated lake community in the north woods of Kinnelon, NJ, is among a collection of 900 unique homes dotting the picturesque enclave in Morris County, just 30 miles from Manhattan.
The home features a generous curvy patio, with welcoming seating areas and gorgeous views of the lush wooded landscape.
The homeowners recently replaced their traditional retractable awning with a markilux system. The markilux 1650 Folding-Arm Semi-Cassette Awning creates beautiful shade. This modern take on the typical awning features superior German design and function.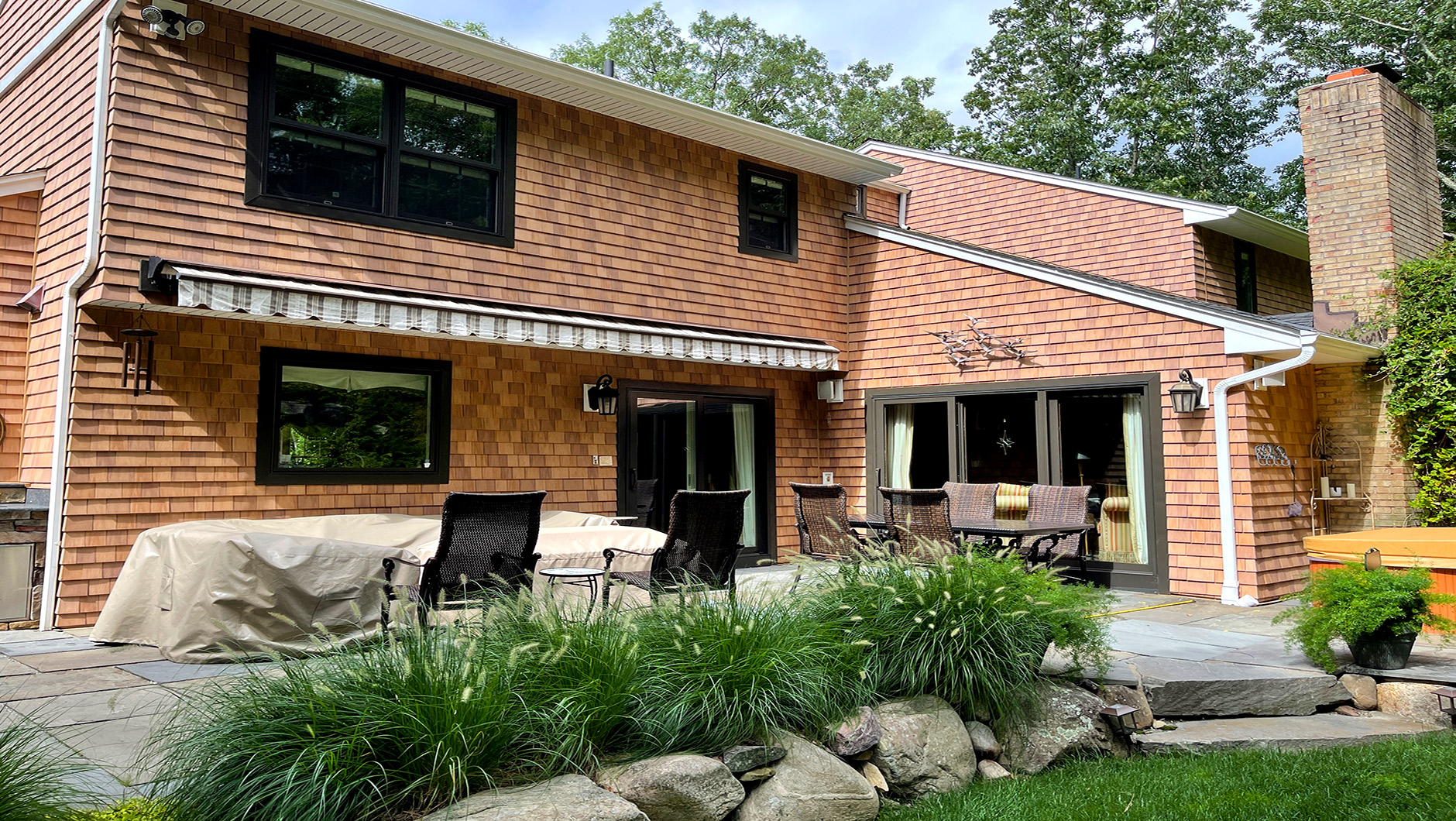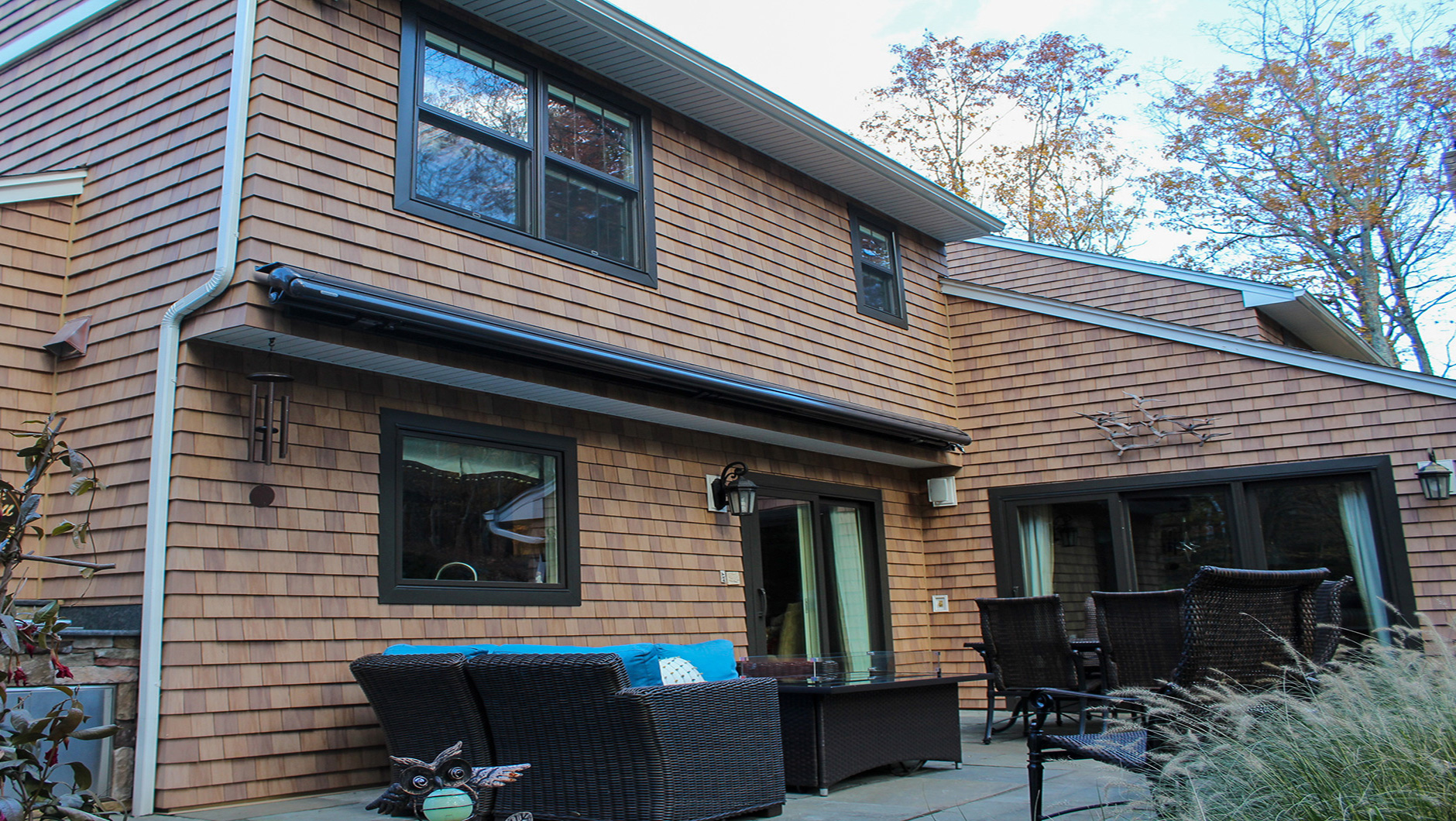 The fabric awning is completely housed in a cassette mounted directly to the home with three sturdy face fixture brackets.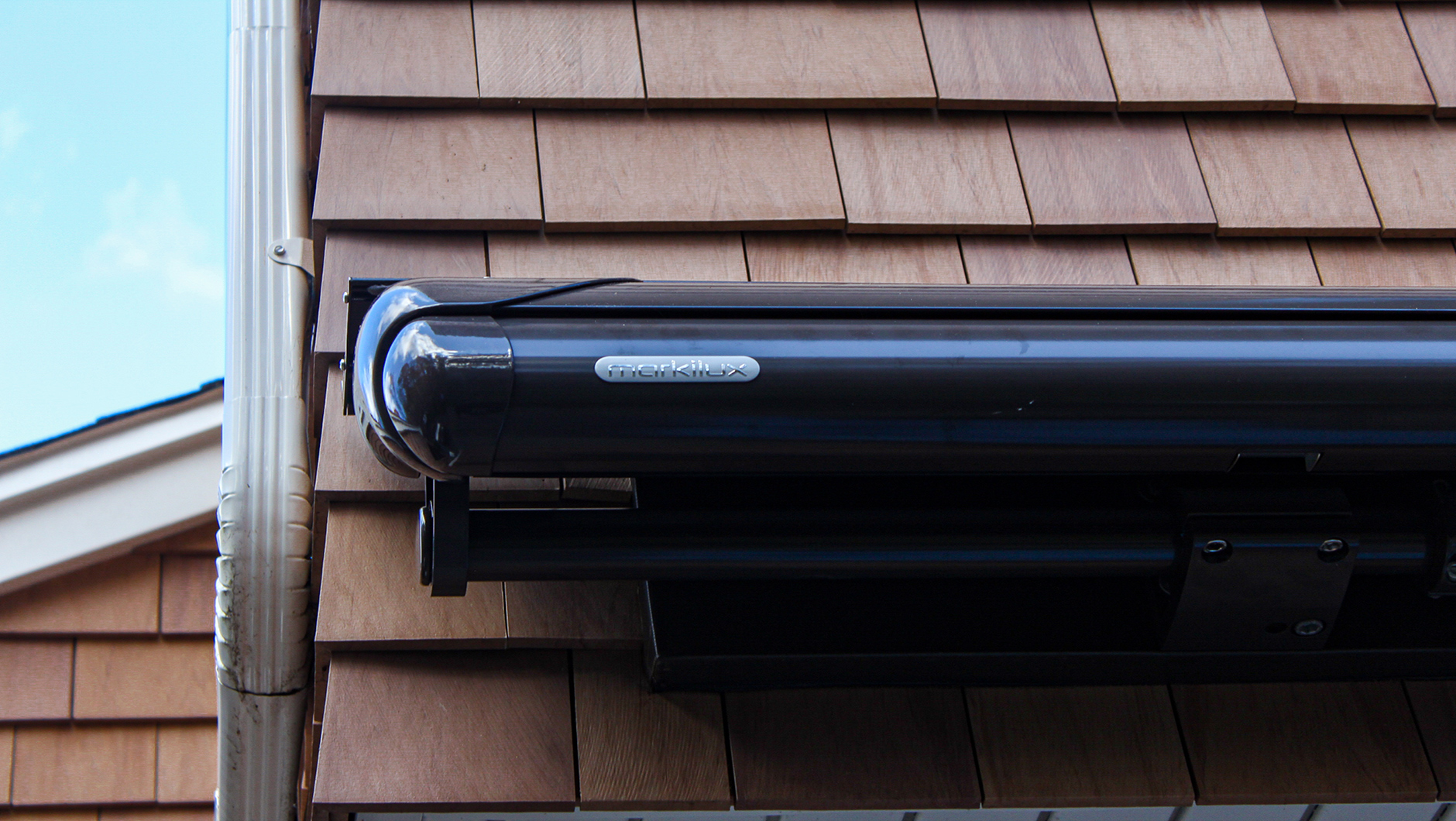 When the markilux system is completely retracted, its sleek cassette blends in nicely with the dark trim on the windows and doors. The awning system is neatly stored away and entirely protected from the elements when not in use. A fantastic feature for the unpredictable weather in the Northeast.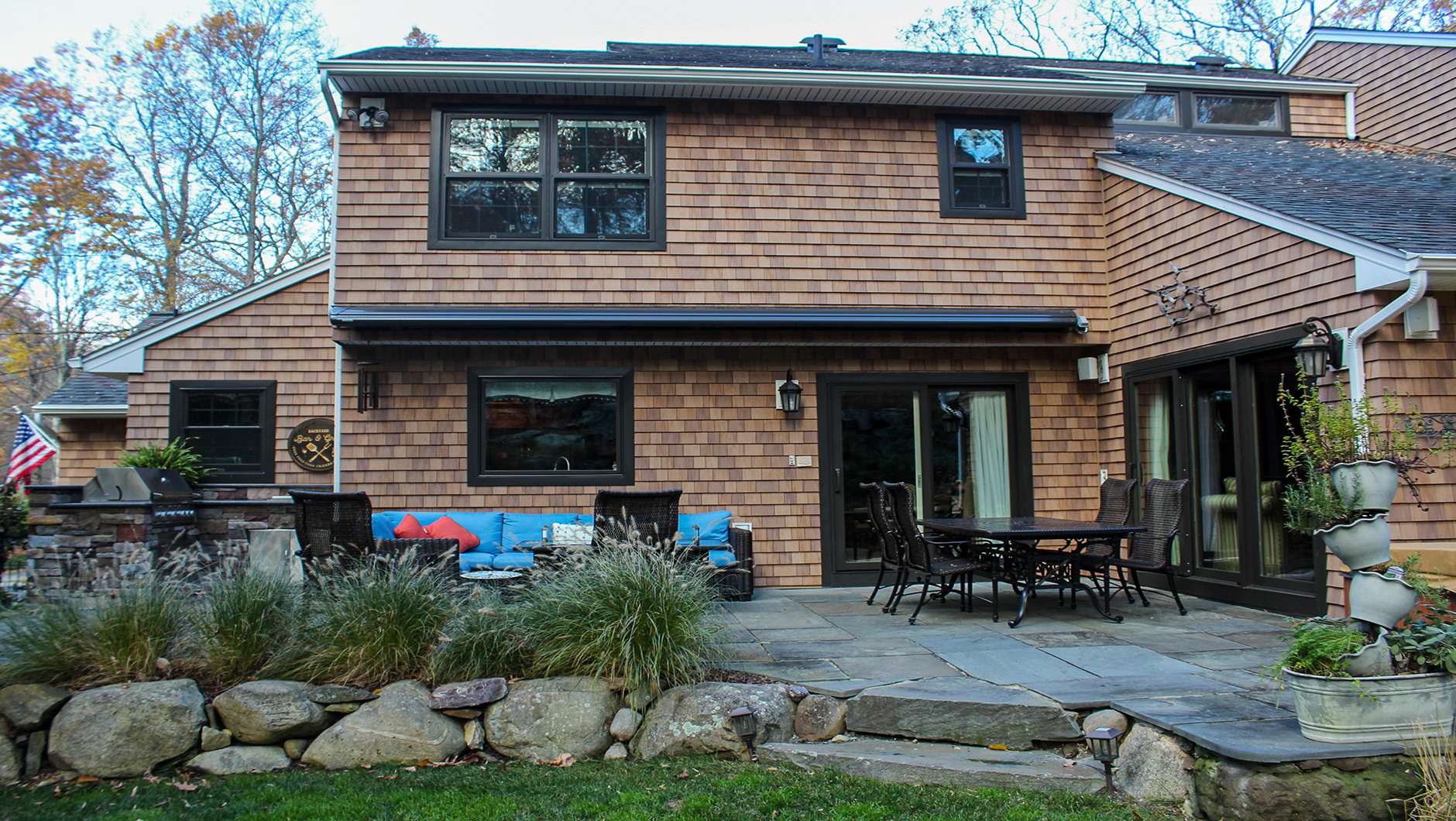 The homeowner's old traditional awning lacked the sleekness and features of the markilux system.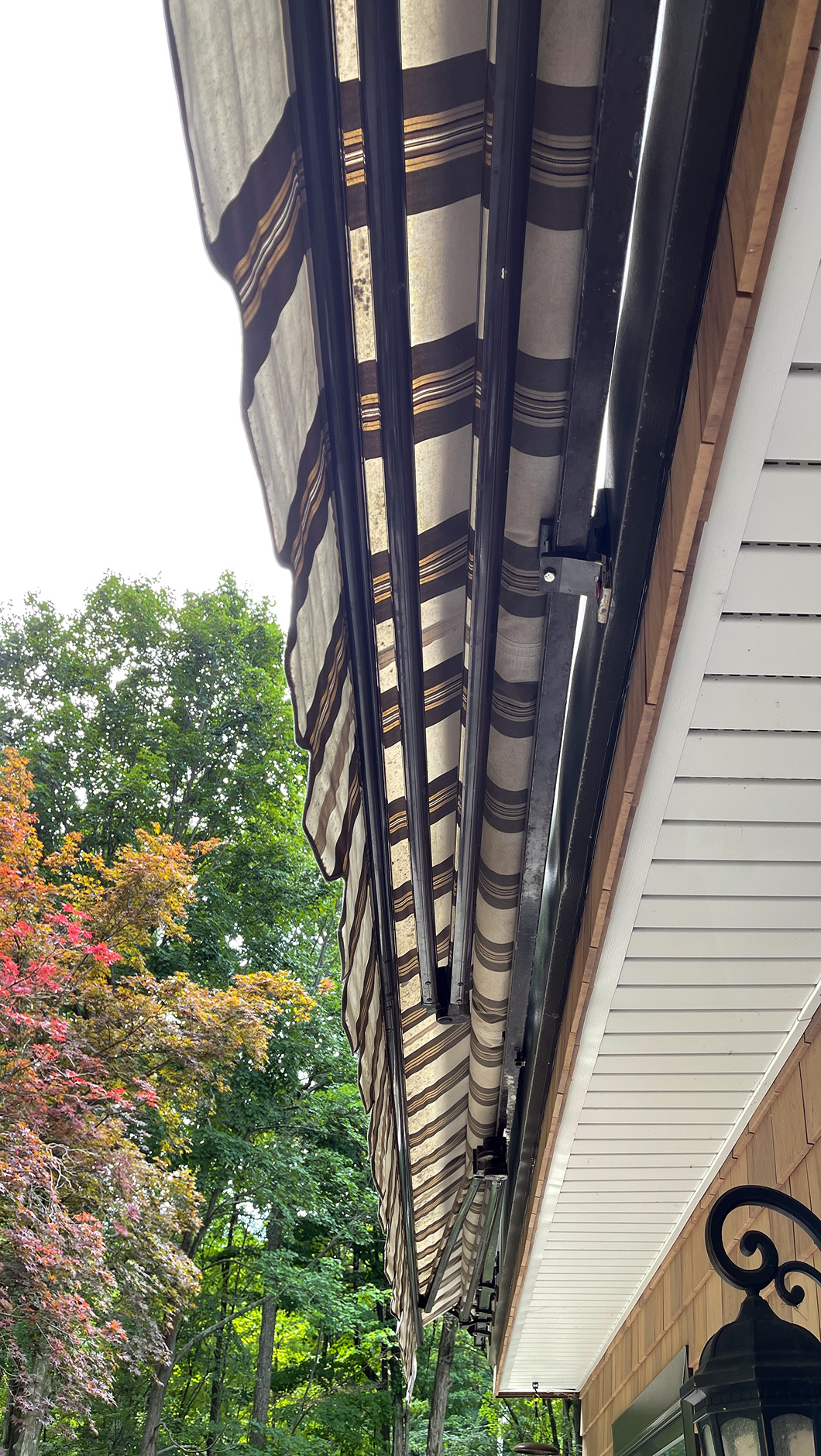 The markilux awning provides shade for the casual seating and dining space, just outside the home's sliding glass doors.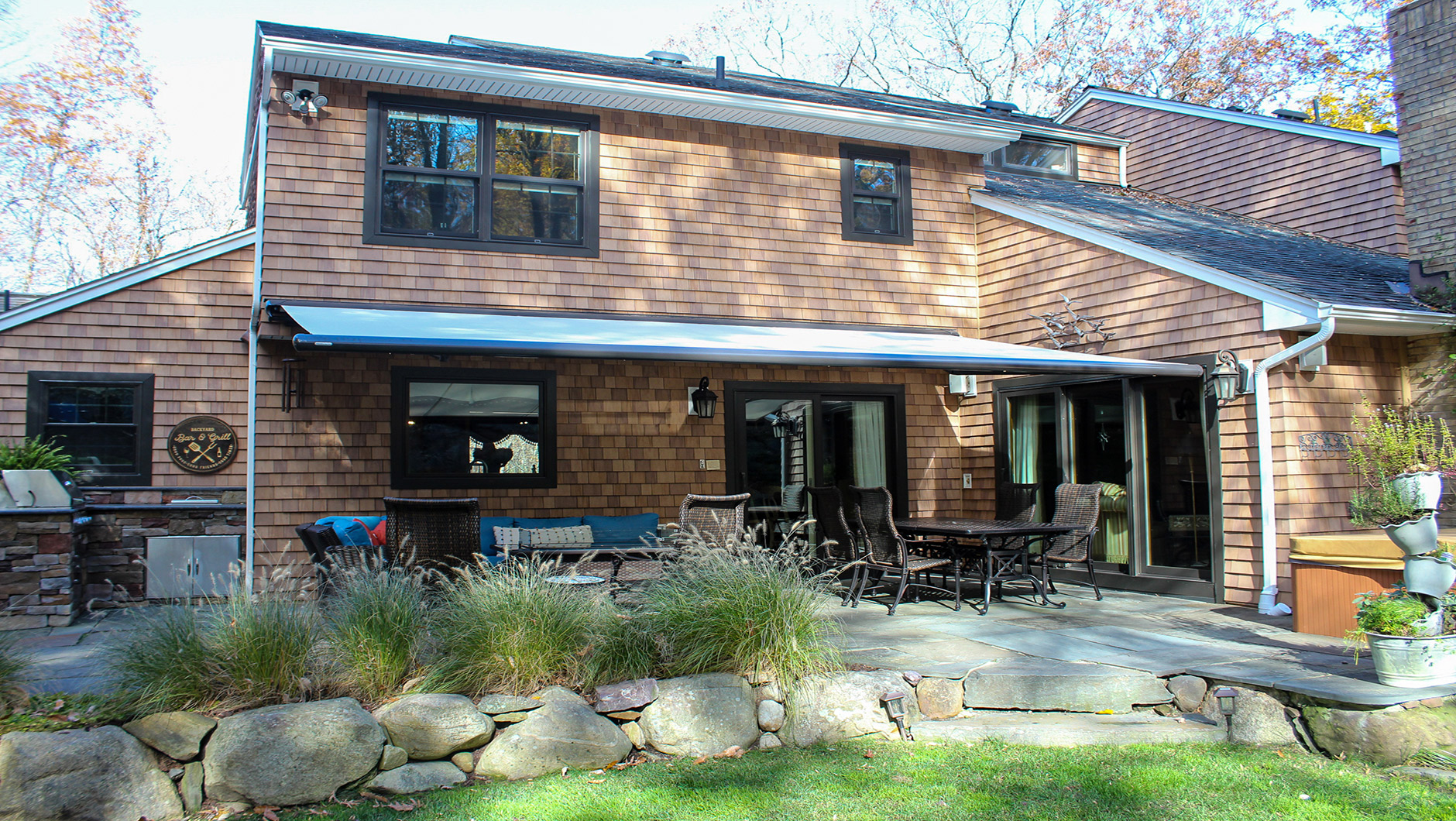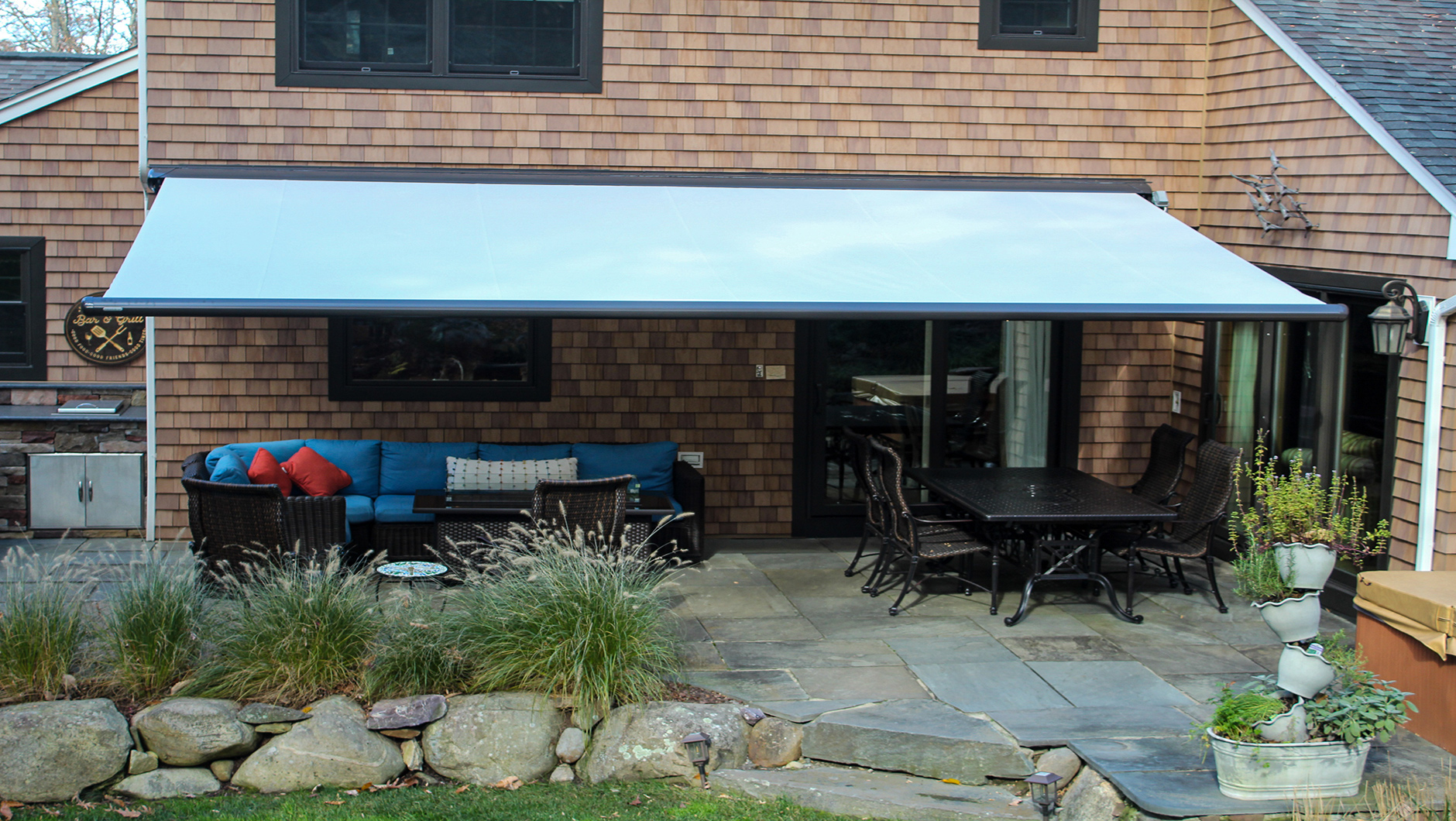 The custom 21'7"w x 11' 5"h awning is quickly and quietly deployed by the radio-controlled Somfy motor, via a multi-channel remote control. The system's durable fabric stretches out smooth and taut.
The system is outfitted with five optional LED spotlights mounted directly into the cassette. This innovative feature provides subtle illumination and allows the patio to be enjoyed long into the evening hours.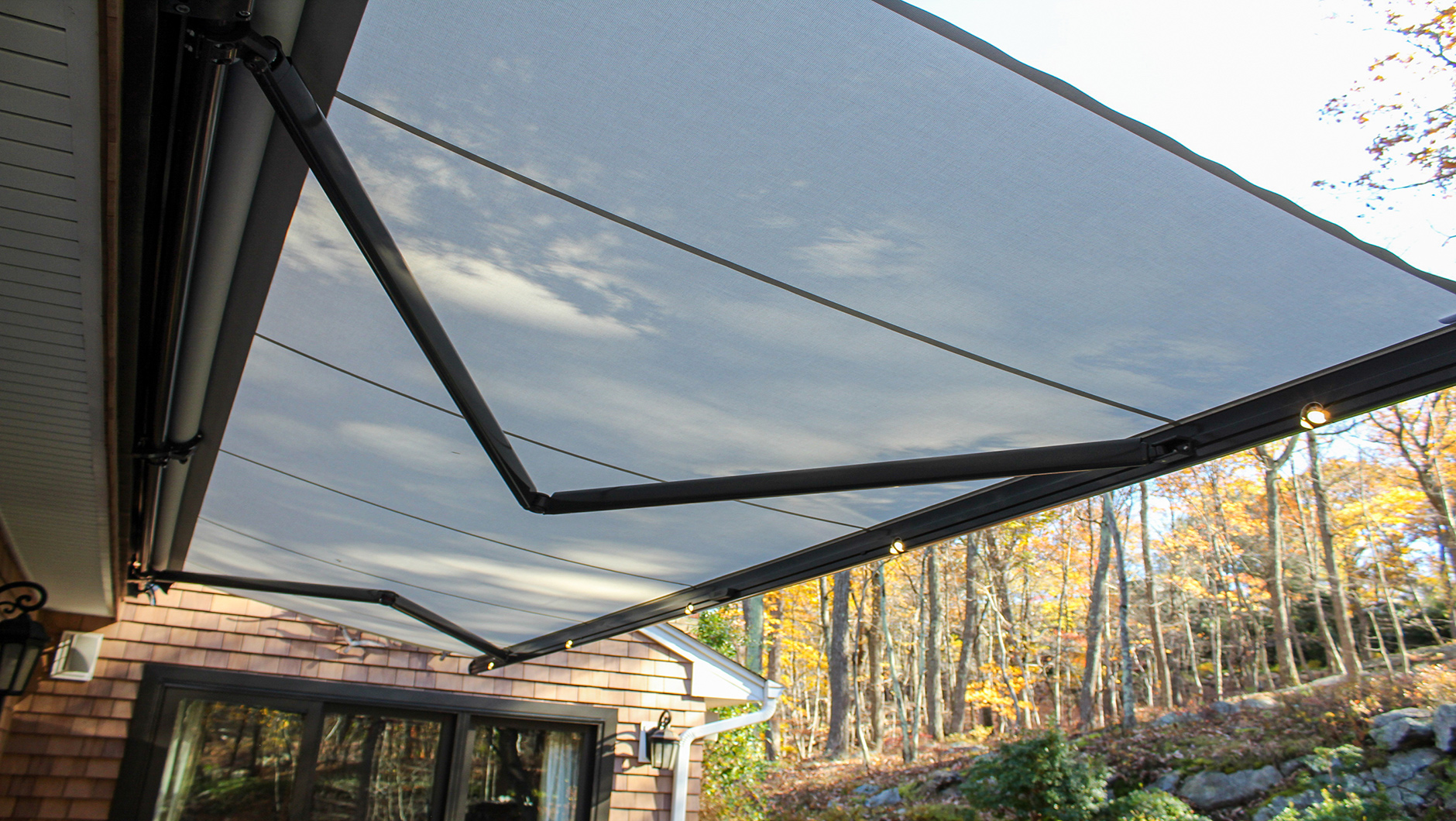 The homeowner's added a dynamic wind load sensor which allows the awning system to extend or retract automatically, depending on the prevailing wind conditions. The awning's frame is Grey Brown RAL 8019 and fabric pattern is Sunvas 30908.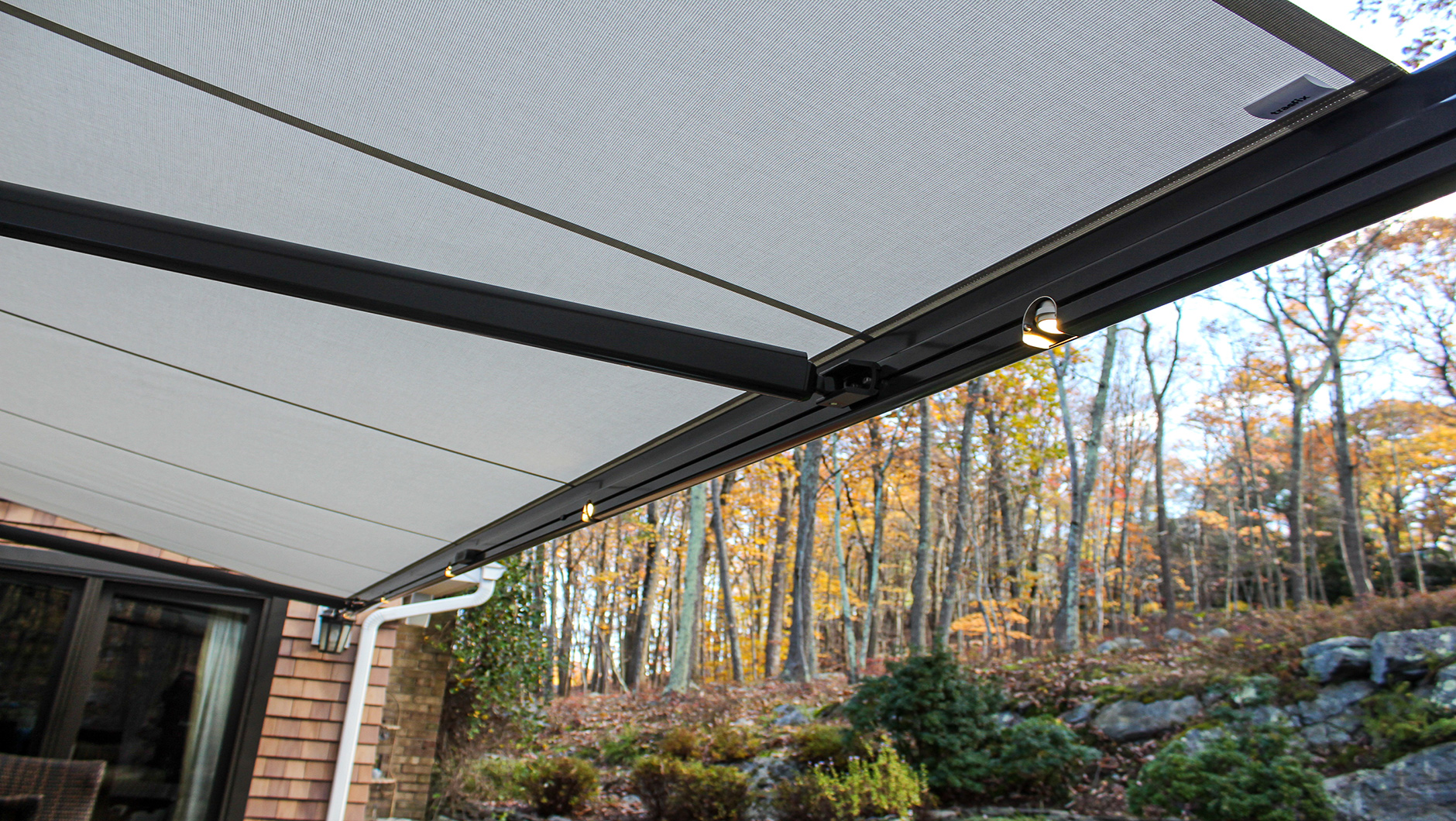 Looking up at the awning system as it begins to deploy.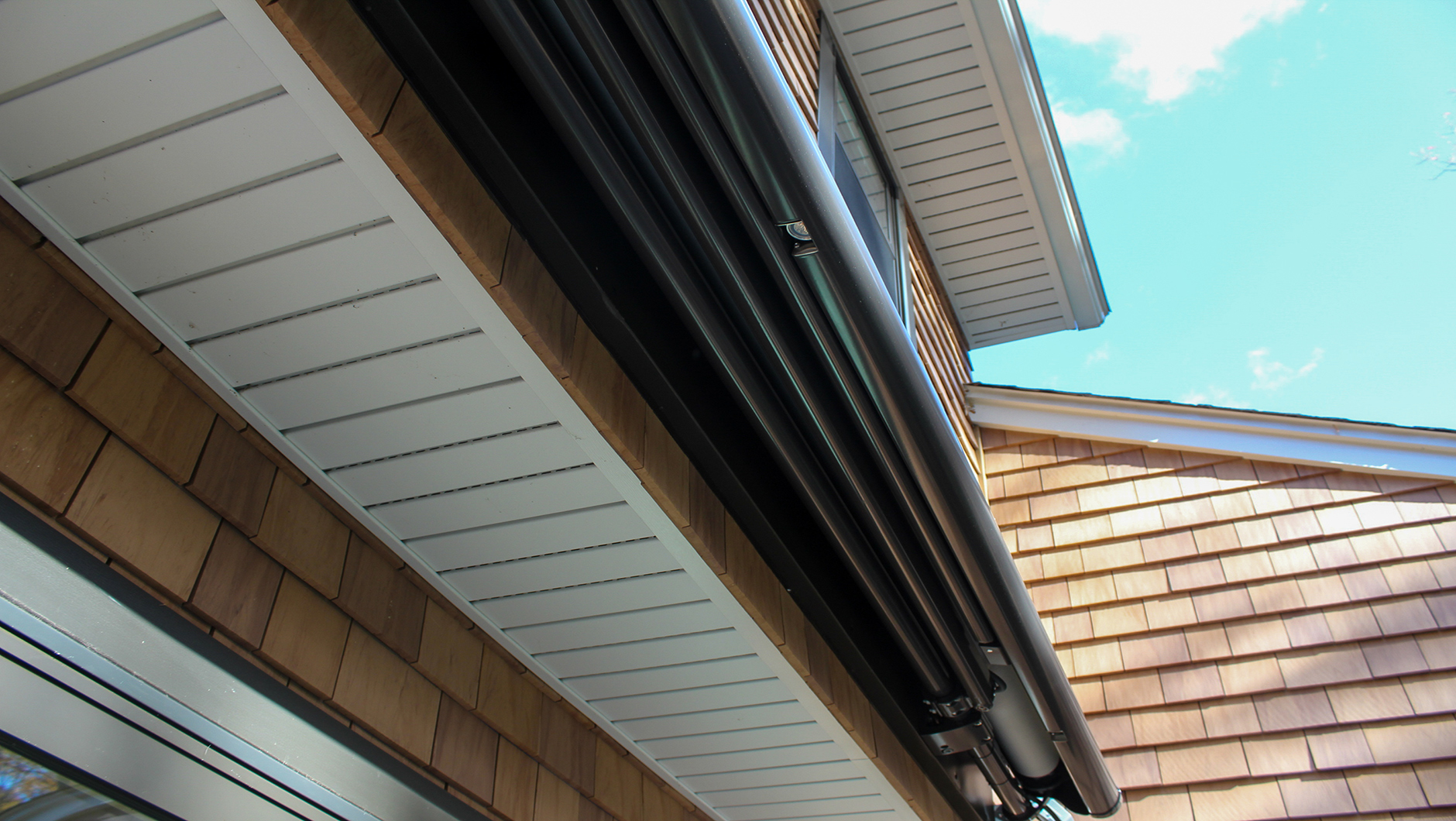 Awning system in the process of opening up.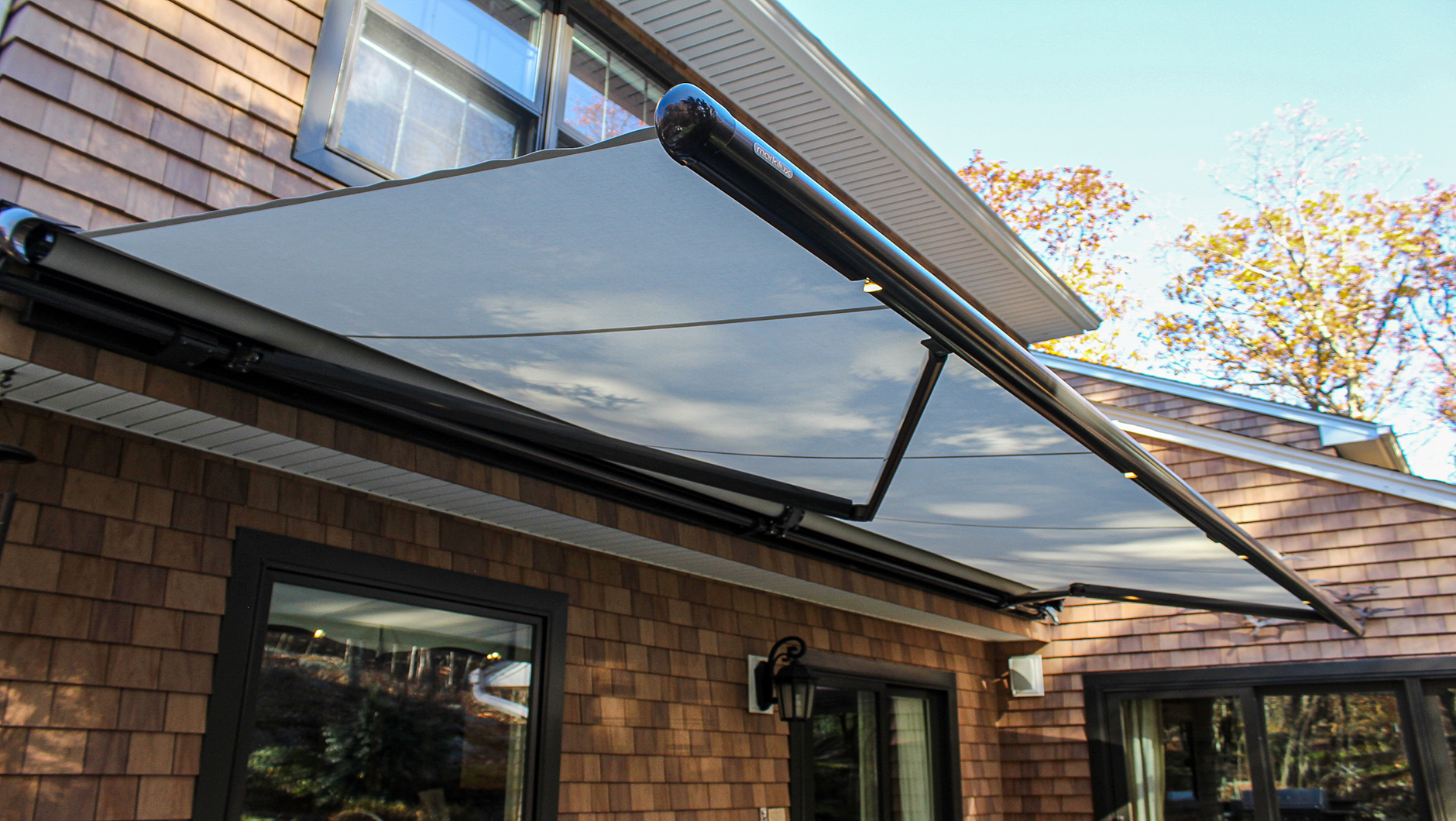 Awning system fully deployed.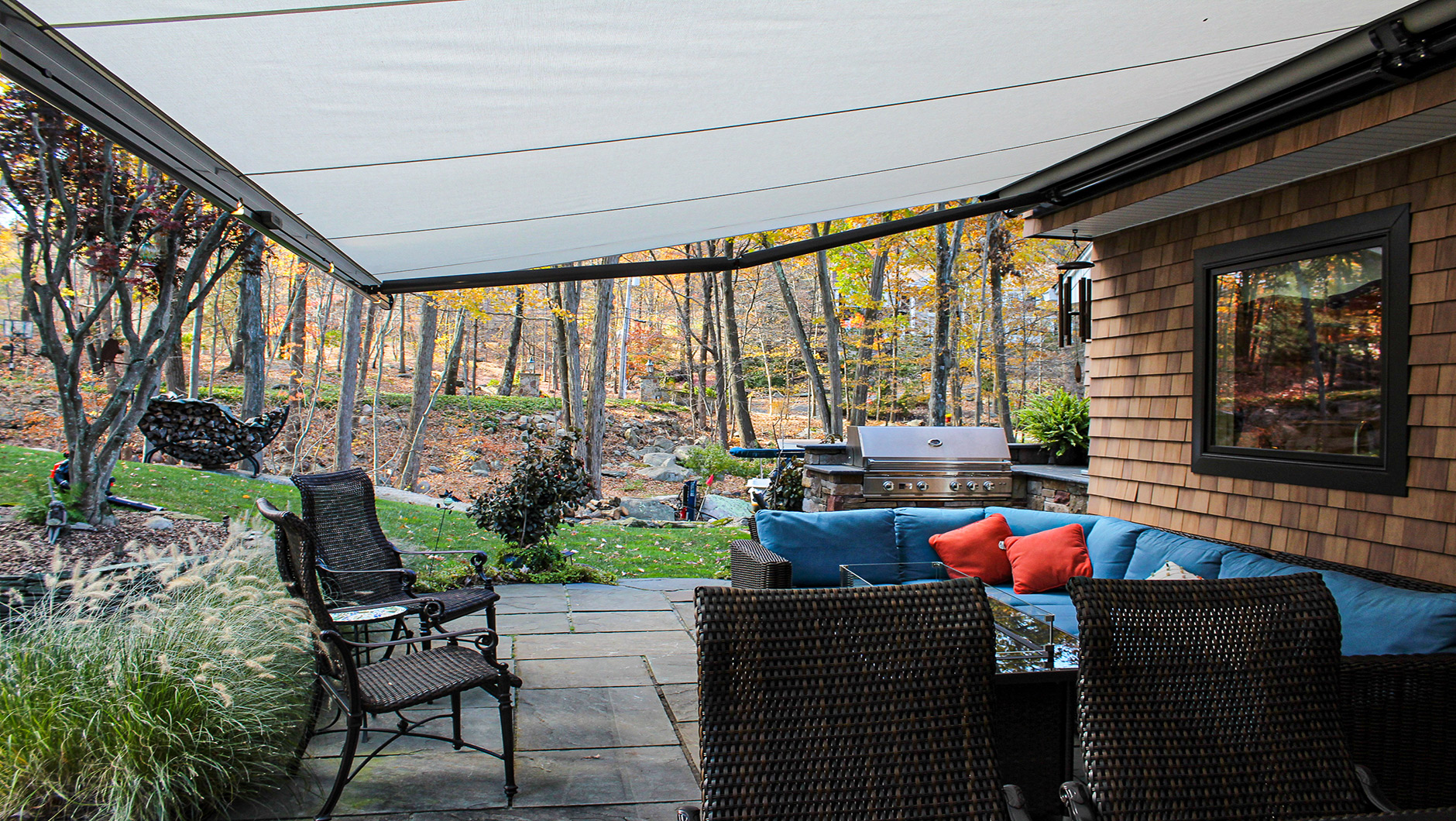 Why choose markilux over a traditional retractable awning? If quality and longevity matter to you, markilux award-winning awning systems are constructed with keen attention to every detail and are built to last. These made-to-measure solar control protection systems include optional innovative technologies, such as integrated LED lighting and radiant heating. A wide selection of 250+ premium top-of-the line fabrics allow further customization to meet your specific design intent. Customize the awning of your dreams with markilux!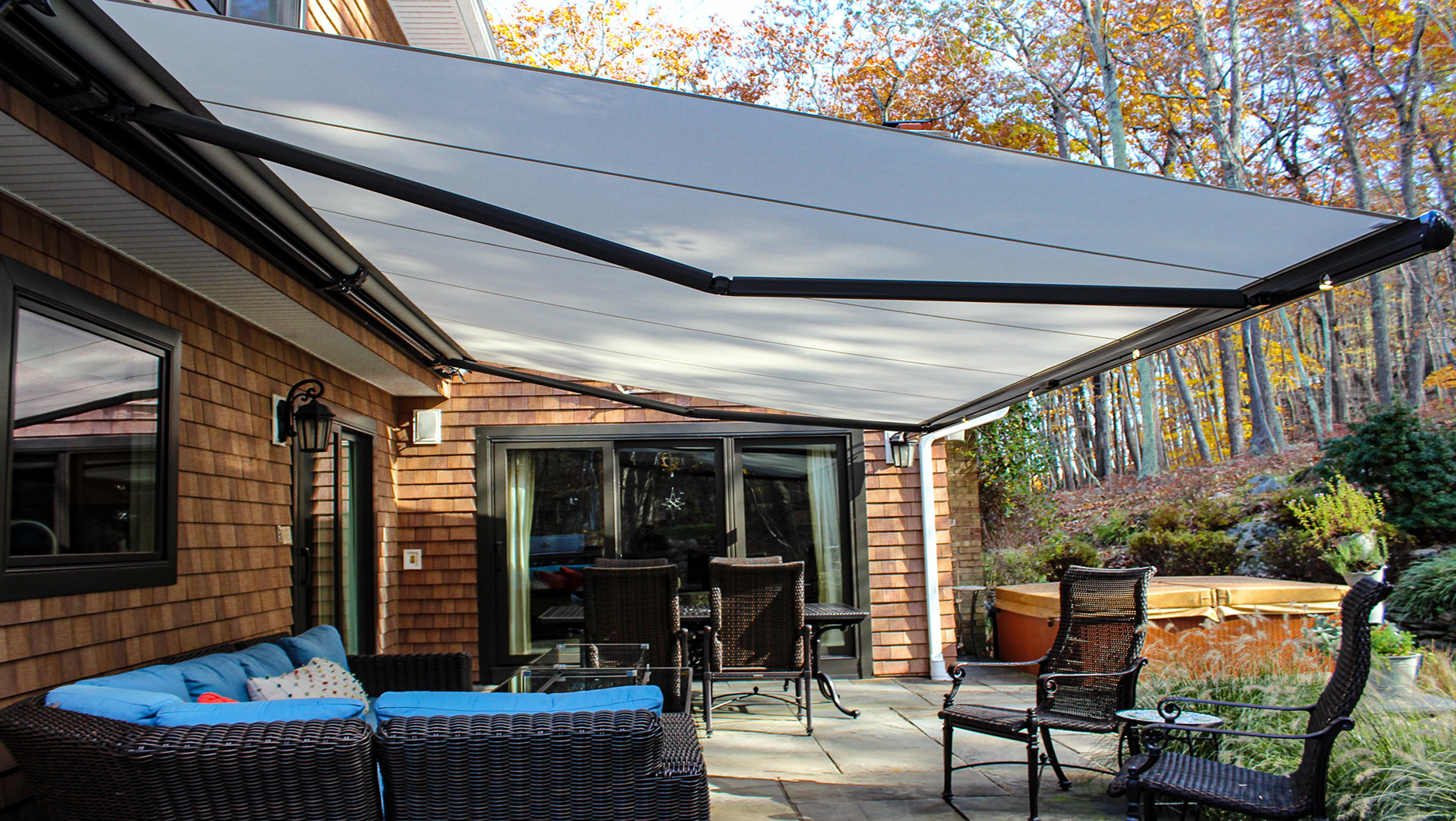 Visit our showroom in Bergen County, NJ to see a markilux awning in-person. Our 12,000 sf showroom features a variety of innovative space management systems including operable glass walls, doors that fold, slide, stack and pivot, operable partitions and smoke + fire protection systems.
PRODUCT:
markilux 1650 Folding-Arm
Semi-Cassette Awning