UBS UNVEILS A STATE-OF-THE-ART FITNESS CENTER
UBS New Jersey corporate office sits just outside the entrance to the Lincoln Tunnel overlooking New York City's iconic skyline. As part of a larger plan to completely modernize the 30-year old office, the Swiss global financial services company recently opened a stunning state-of-the-art fitness center inside its campus.
In an increasingly competitive marketplace for top talent, corporations are searching for new ways to attract and retain the best employees. Quality of the work experience is highly valued and expected, especially among younger employees. Many leading financial services corporations are responding by employing contemporary design practices and providing attractive perks with the goal of creating a more enjoyable work experience.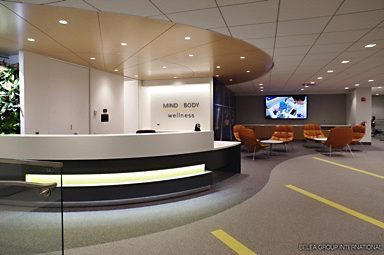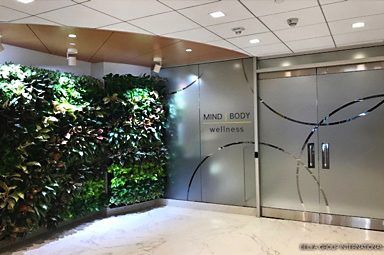 UBS redesigned its NJ office to include amenities that allow employees a healthy work environment. With high employee morale in mind, UBS made the inclusion of a campus fitness center in their redesign a top priority.
Designed by the Belea Group and constructed by Structure Tone, the 12,000 sq. ft. fitness center can accommodate 100 occupants. With more than 4,400 employees at the location, the gym needed to have the maximum amount of flexible space that could be easily modified to accommodate a variety of uses on a regular basis.
FLEXIBLE SPACE DIVISION
Two Skyfold Mirage vertically retractable glass partitions offered the perfect solution for providing the flexible space division needed for optimal space utilization of the entire gym. The Mirage quickly transforms the large main workout area creating a separate studio for special classes such as yoga, aerobics and cycling sessions. The tempered glass partitions, one 21.5 ft. x 8.5 ft., the second 8.67 ft. x 8.5 ft., are automatically operated with the turn of a key requiring no manual labor to transform the space in a matter of minutes. The Mirage silently retracts into the ceiling without the need for floor and wall tracks or side pockets saving valuable space. Custom, semi-transparent frosted film cover the glass walls providing privacy without sacrificing light transmission.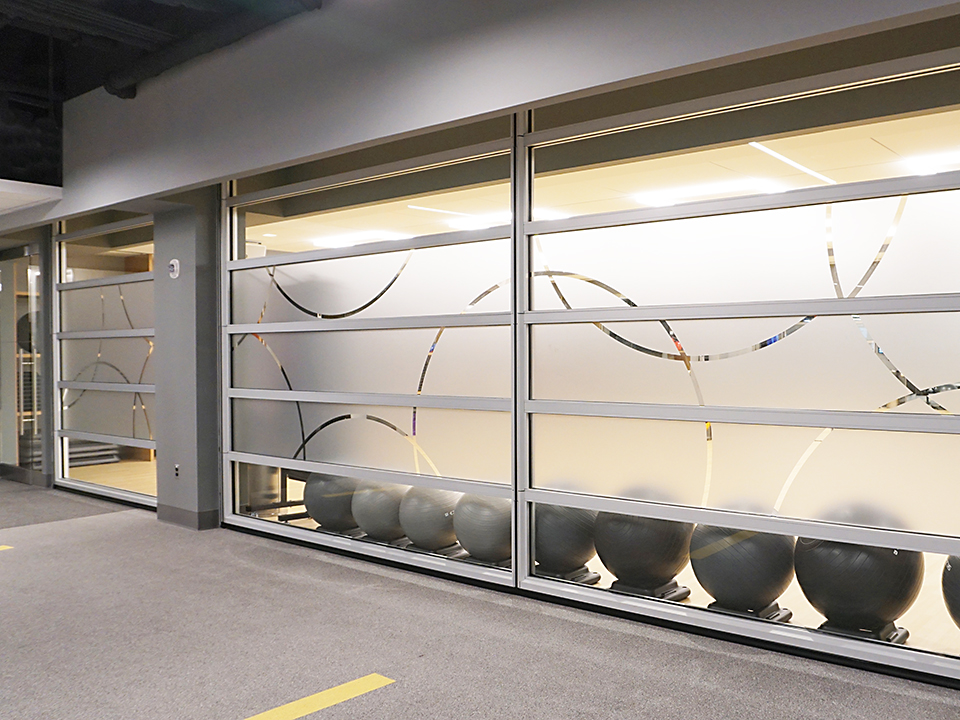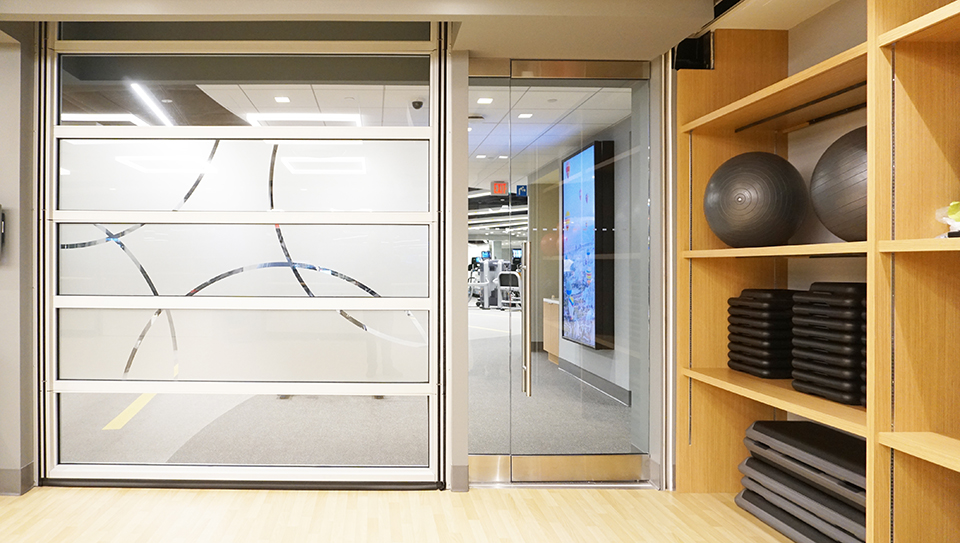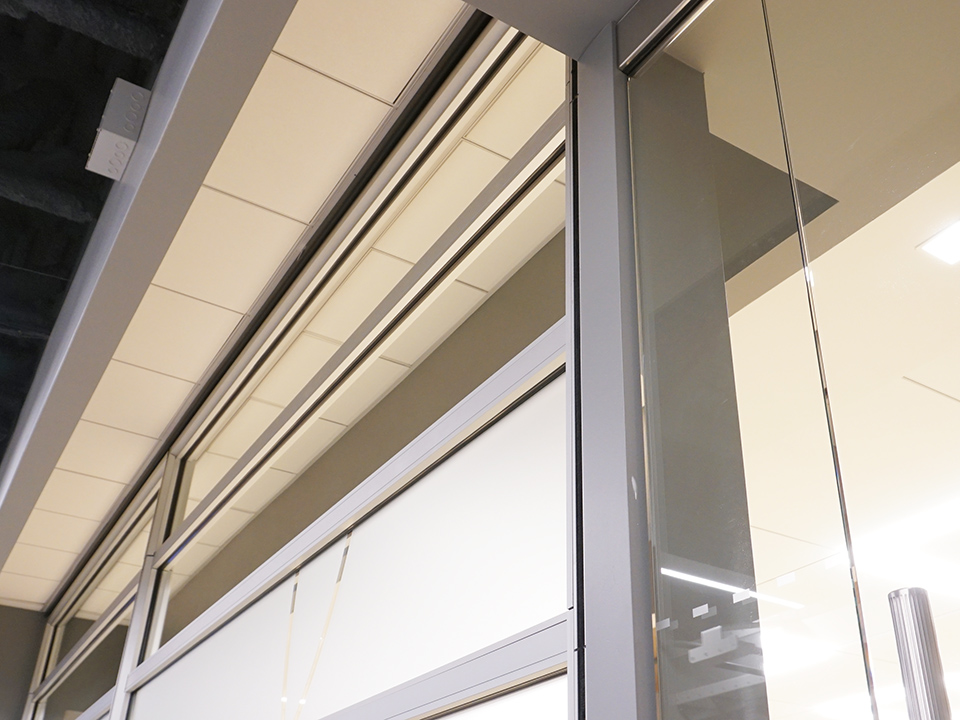 With the inclusion of a company fitness center in its stunning redesign, UBS has taken a successful step toward fulfilling its mission of encouraging work-life balance and promoting health and wellness. In view of its investment and focus on their employees, it's easy to see why UBS has continually ranked Top 50 best employer in the world for the past 10 years.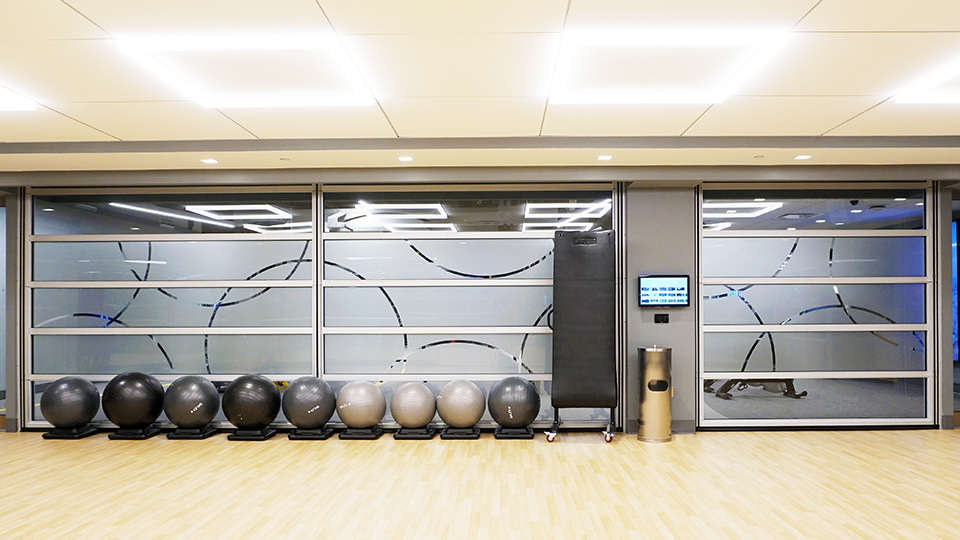 ARCHITECT:
Belea Group International

GENERAL CONTRACTOR:
Structure Tone

PRODUCT / COMPONENTS:
Skyfold Mirage (21.5′ L x 8.5′ H)
Skyfold Mirage (8.67′ L x 8.5′ H)

VIEW SKYFOLD MIRAGE VIDEO