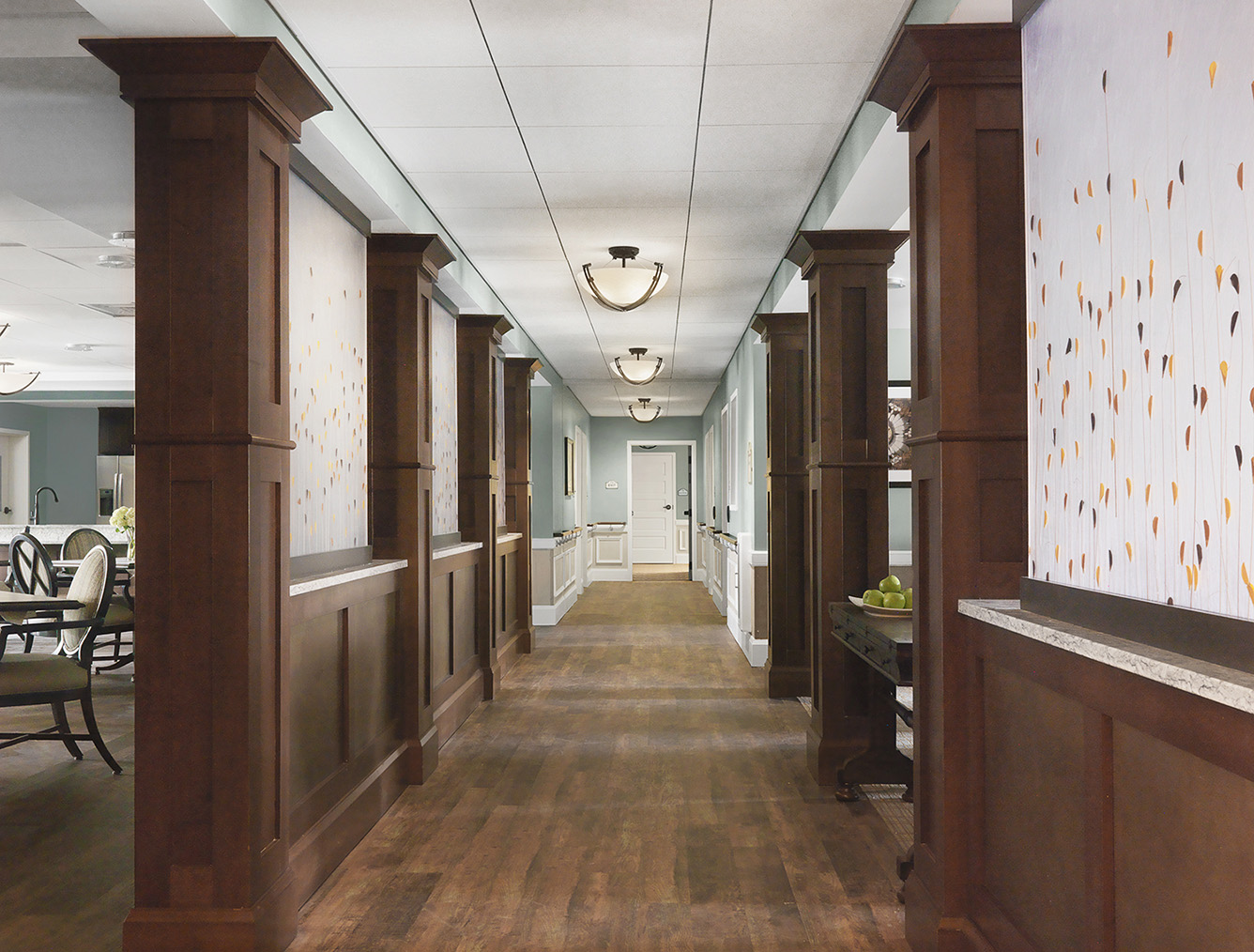 PHOTO CREDIT: Alise O'Brien Photography
Harvest Time at Acts Retirement-Life Communities
GLASS WALLS THAT INSPIRE SERENITY
Orange-yellow autumn leaves dance in sunlight perpetually fixed between the twin glass panes of Modernfold's GWS100SR-G sliding, frameless glass wall. This is the peaceful ambiance inspired by the custom art-glass partition which subtly divides Acts Granite Farms Estate sunroom from the recreational room.
Acts Retirement-Life Communities are the largest not-for-profit owner, operator and developer of continuing care retirement communities in the United States. Acts embarked on a plan to upgrade all of their communities with new and improved apartments and amenities. Last year, Acts hired contractor Warfel Construction Company and SFCS Architects for the renovation of the Elm Building, part of The Preserve at Granite Farms Estate in Media, PA—a setting of breathtaking beauty.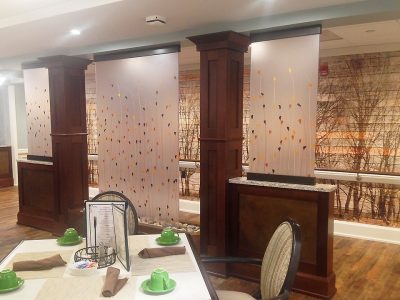 Using nature as the template, SFCS Architects, who specialize in Senior Living Design, engaged the ModernfoldStyles team to design the perfect operable wall solution. The Modernfold GWS-100SR-G sliding, frameless glass wall system is the ideal fit providing a continuous, transparent surface without vertical trim and delivering a smooth operation.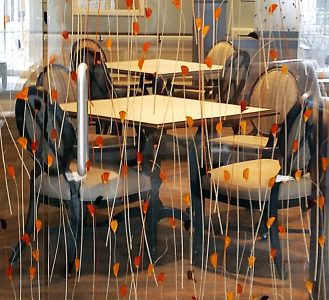 Requiring no floor track, the sliding glass wall uses clear anodized top and bottom rails as framework for the glass panels featuring an integrated, custom 3-Form "Harvest" design. This design features actual autumn leaves pressed between the two 1/4″ laminated tempered glass panes. When the wall is in place, a convertible panel serves as a pass door between rooms. When the rooms need to be opened for a larger event, the glass panels retract into a neat, out-of-the-way stack.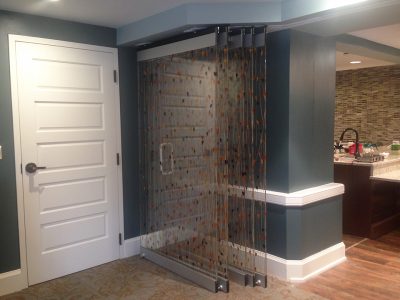 The result is an attractive feature glass wall accentuating the serene ambiance, natural light, and extended sightlines in this beautiful, new social space for residents to enjoy year-round.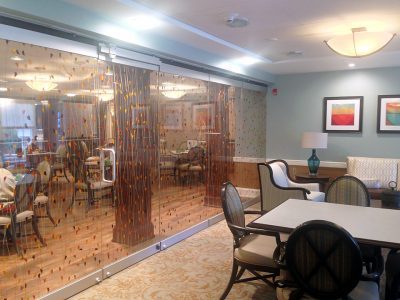 EXPLORE MODERNFOLD GWS
CLIENT:
Acts Granite Farms Estate

PRODUCT:
Modernfold GWS-100SR-G
sliding, frameless glass wall system
Approx. 23'W x 9'H
manually operated
1/2″ laminated tempered glass with specified 3-Form "Harvest" design
One (1) convertible panel for pass door, includes 12" back-to-back pull
Clear anodized aluminum top and bottom rails