Glass Wall Systems Transform Conferencing Center
Meyer Design, Inc. along with general contractor Rendell Associates worked together to create a conferencing center for Berkadia's headquarters in Ambler, PA. Berkadia is a leader in commercial real estate and required a variety of spaces to encourage collaboration. A collection of three configurable rooms can be found throughout the vibrant space with a hospitality vibe.
Meyer specified two Modernfold Acousti-Clear acoustical glass partition systems with pivot closures. The manually operated dual glazed partitions offered the desired transparent look plus acoustical control. Berkadia required a glass wall system with high STC rating for this particular room, surrounded by a variety of casual work spaces (or in this time of social distancing, a place for individuals to comfortably work apart from one another).
The two separate Acousti-Clear glass wall systems meet at a column, thereby they can operate independently. The configuration of this system allows for quick transformation of the training room into a private space, with both walls closed. Alternatively, one or both of the glass walls can be opened fully. This is beneficial when an event is taking place or if a larger overall space is needed for training. The walls travel smoothly on a ceiling track and are easily operated by a single person.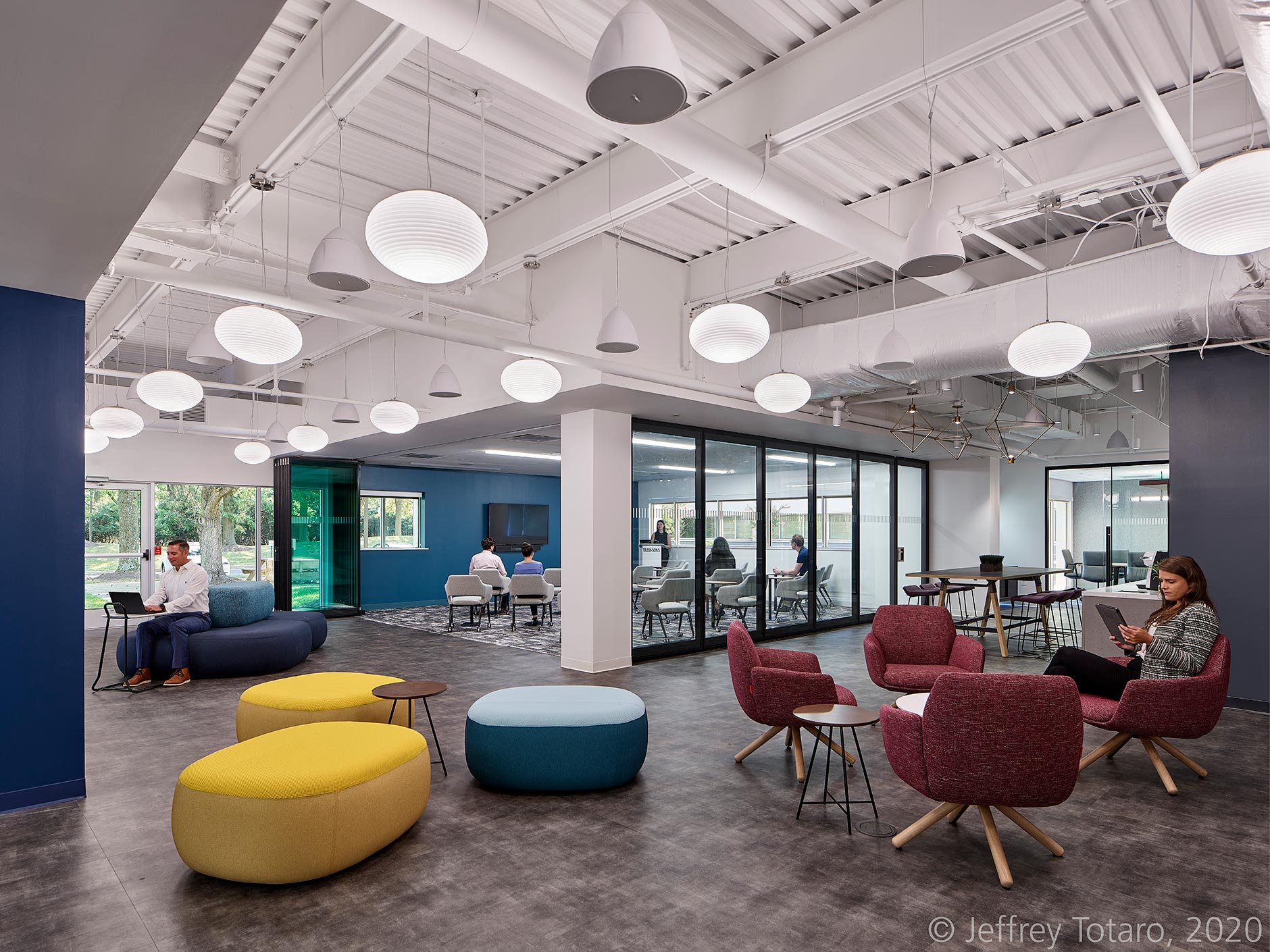 The Acousti-Clear system provides the beauty of glass with the benefit of acoustic performance. Smooth RAL satin black powder coat frames complement the sleek glass wall design. With an acoustical rating of 45 STC, detailed conversations and learning can take place in the training room while occupants outside of the space enjoy uninterrupted informal meetings or focused work.
Glass wall systems offer the flexibility today's corporate environment's demand. Some benefits of Berkadia's Modernfold Acousti-Clear installation:
Flexibility and the ability to quickly transform the space quickly by one person
The glass panels let in natural daylight from the outdoors, into the training space and the casual meeting areas
There's a sense of transparency, yet connectedness across the entire space
With the added benefit of an acoustical glass wall, it's easy to maintain privacy in the learning area and minimize distractions from the common areas
The flow of employees in and out of the space can easily be controlled by opening up both of the walls
Views to the outdoors can improve employee's sense of well being
Less energy required to power lighting
There's an additional installation of Modernfold between two sets of training rooms, where two Modernfold Acousti-Seal operable folding partitions provide flexibility and separation. These manually operated, single panel partitions have an acoustical sound rating 50 STC. This system has one self-closing pass door with panic hardware. The operable bottom seals ensure that the panels seal properly at the floor for sound control.
We are proud to have worked with Meyer and Rendell Associates on this project. We welcome the challenge to help our client's figure out solutions to challenging space management environments and are happy to have helped play a part in Berkadia's beautiful new headquarters.
ARCHITECT:
Meyer Design, Inc.

GENERAL CONTRACTOR:
Rendell Associates

PRODUCT / COMPONENTS:
Modernfold Acousti-Clear
Modernfold Acousti-Seal