Glass Wall System Carves Out Quiet Space
Located 25 miles from NYC, in Somerset County, NJ, Watchung Hills High School's media center recently underwent a renovation headed up by Spiezle Architectural Group Inc. and GC Apex Enterprises of Union Inc.
Part of the school's mission statement reads,"The Watchung Hills Regional High School learning community is committed to developing critical and creative thinkers who collaborate and communicate effectively to solve academic and real-world problems." The media center provides a place for students to carry out this vision. With access to 125+ databases, card catalogs, eBooks, guides, journals, newspapers, music and more, the media center is the hub of research and discovery for the school's 1,940 students.
The new space is engaging, bold and energetic. Blocks of color in the carpet refer to the linear lights and baffle ceilings above. Long rows of rectangular tables draw the eye across the space. Neat rows of chairs and tables on wheels can be moved to reconfigure the space at a moment's notice. Whether students need to collaborate on a group project or to spread out during exams or to practice social distancing, this space can do it all. One of the key elements of great design is flexibility and the school's new media center demonstrates this concept quite nicely.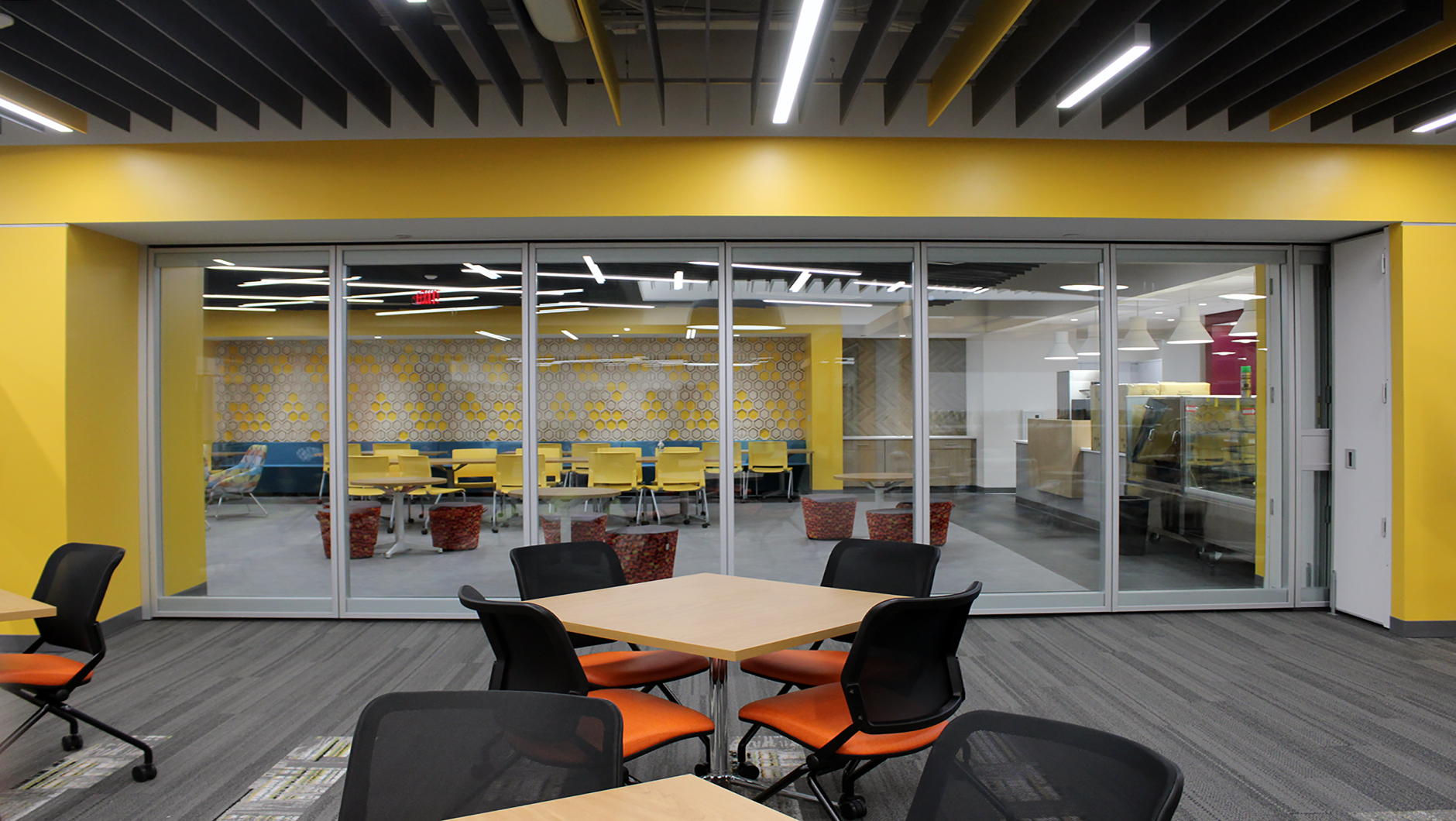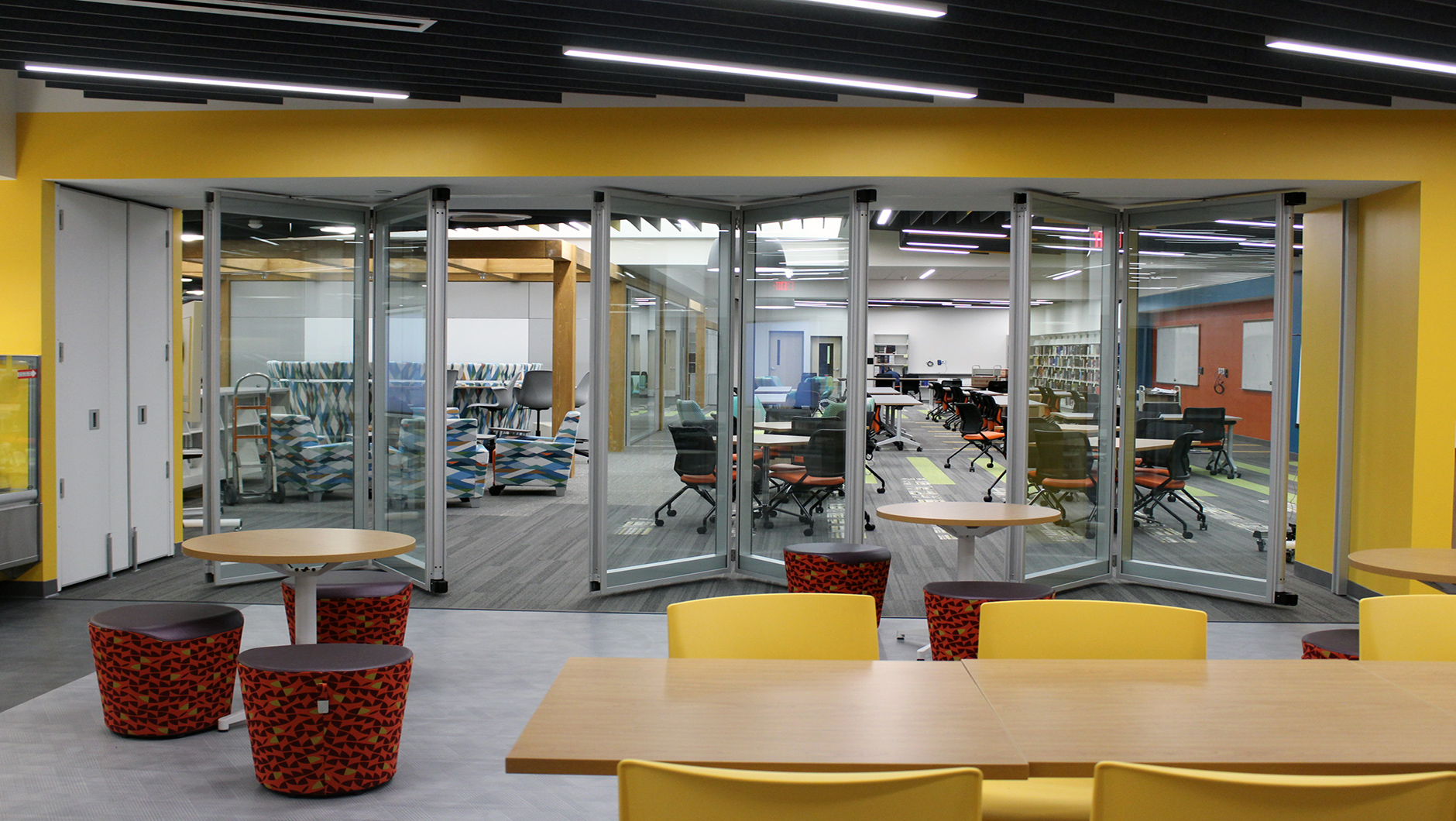 One of the rooms can be completely closed off from the adjoining area. Modernfold Acousti-Clear paired panel glass walls, measuring 25'W x 8'H allows this space to be easily reconfigured. Students can attend a large lecture then easily break out into a small group. The glass walls can be shut entirely for focused learning and privacy from the adjacent space. With automatic top and bottom seals, as well as two layers of glass, the Acousti-Clear partition boasts a sound rating of 45 STC. The walls can be left open, to improve air ventilation and flow of students. When the walls are fully open, the panels store neatly out of sight in a pocket.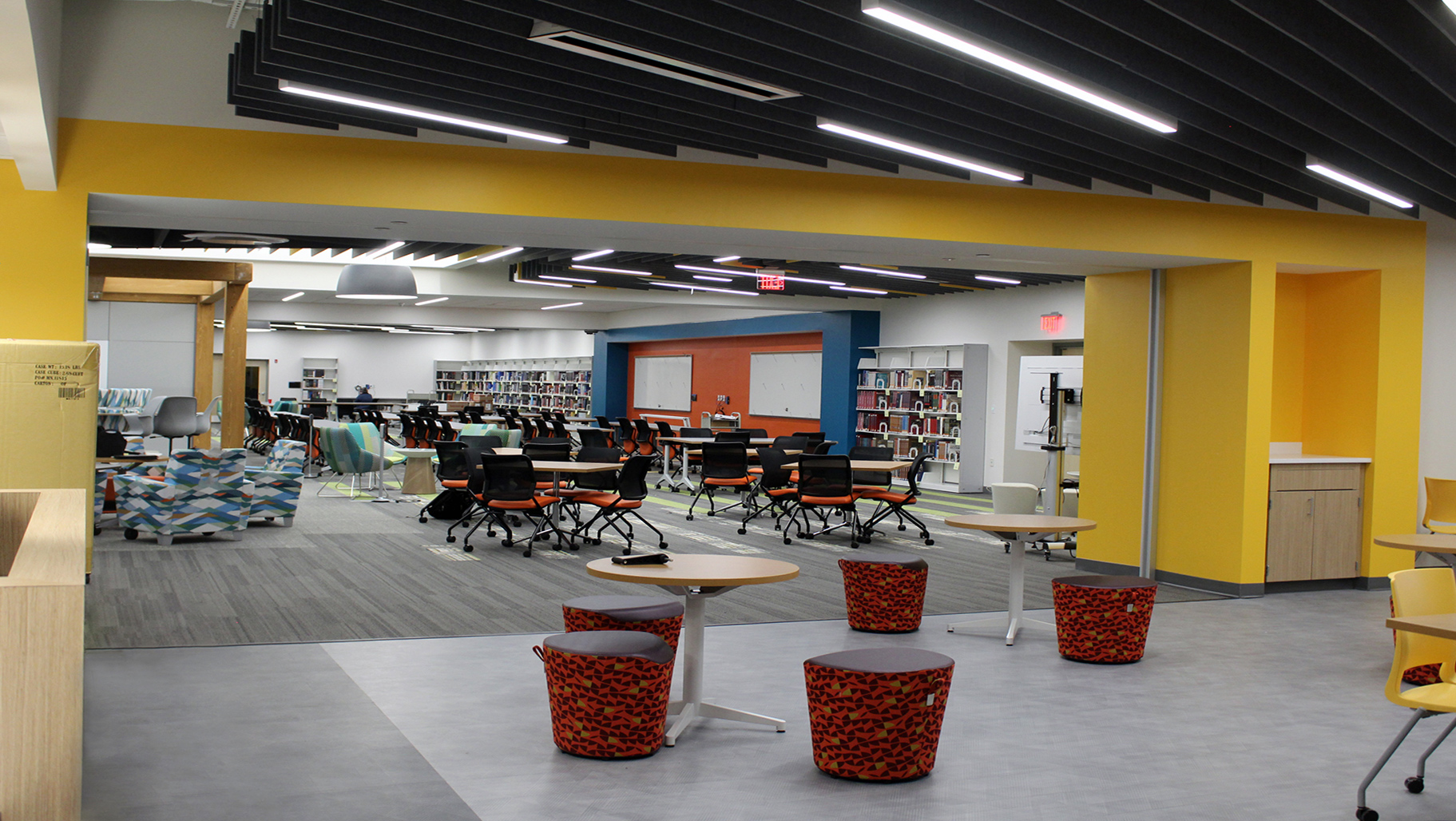 Benefits of the Modernfold Acousti-Clear glass wall system used for this application:
The Glass wall system provides transparency and maintains a sense of connectedness throughout the entire space
The acoustical properties of the glass panels create sound separation, to benefit concentration and learning
Flexibility to fully open or entirely close the walls
Space is more engaging with the installation of a glass wall system, so students do not feel closed in by traditional solid walls
Light from adjacent room enters into the space, helping the students stay alert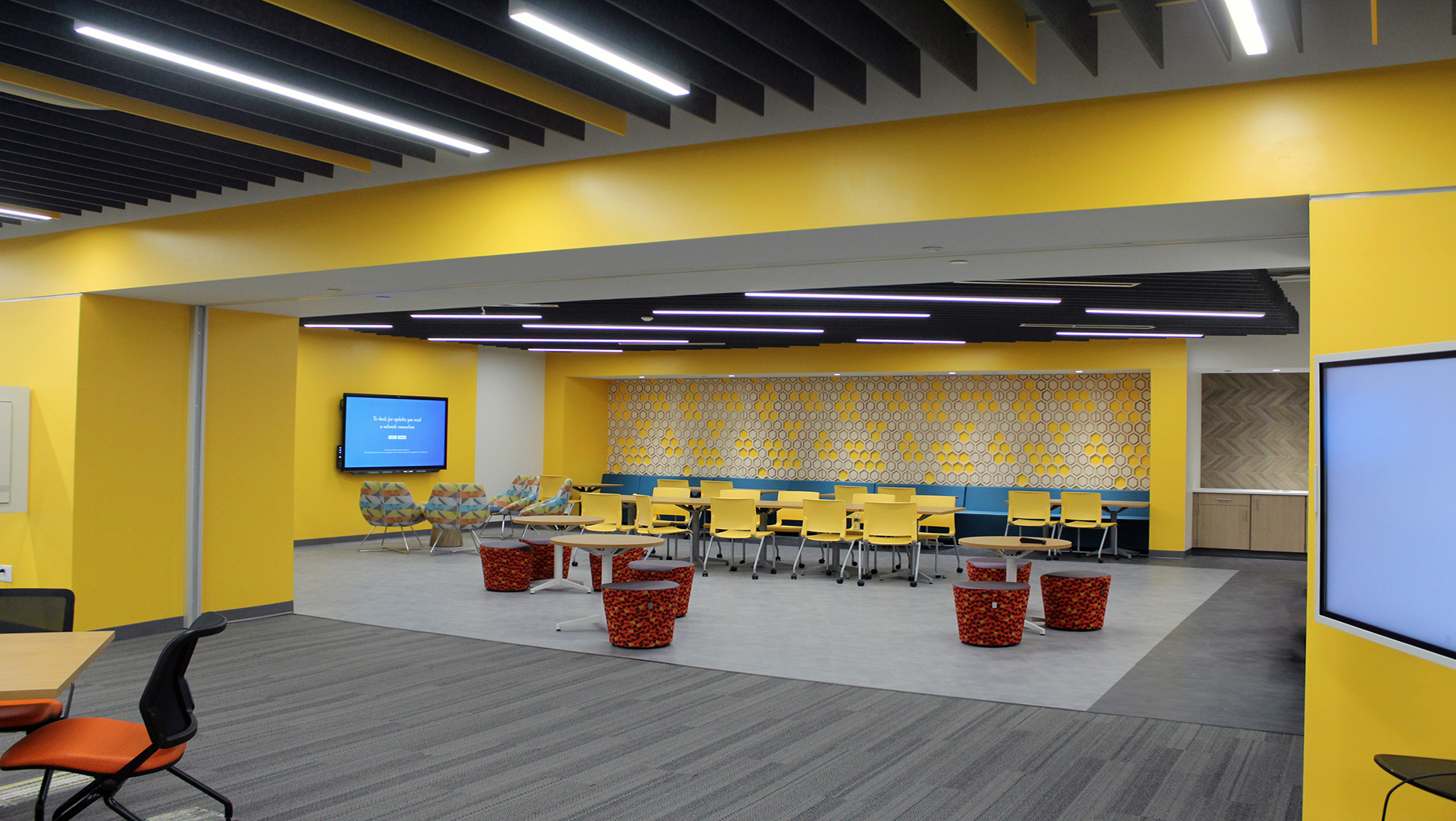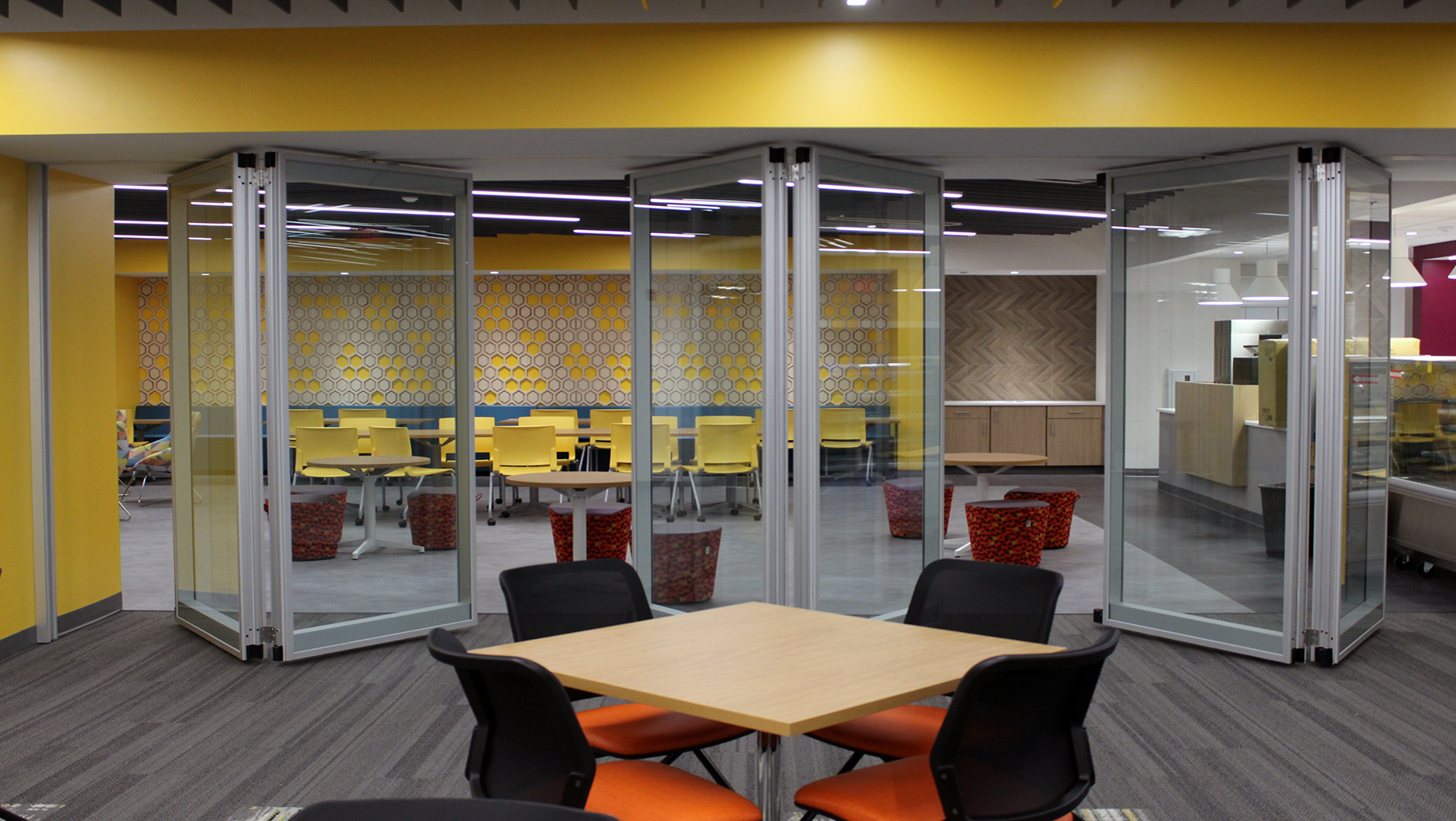 As we start a new calendar year, safety and separation of students is paramount for schools open during this time. Glass wall systems provide these important benefits, plus can easily be cleaned and sanitized at the end of each day. We believe post-pandemic design for new construction or renovation projects, can benefit greatly from the flexibility glass wall systems offer.
Visit our glass division to learn more about glass wall systems: https://www.modernfoldstyles.com/divisions/glass-walls/
ARCHITECT:
Spiezle Architectural Group Inc.

GENERAL CONTRACTOR:
Apex Enterprise of Union Inc.

PRODUCT / COMPONENTS:
Modernfold Acousti-Clear