Get a Glimpse of the Massive Renovation Project Underway
at the New York Marriott Marquis
Located in the heart of bustling Times Square in mid-town Manhattan, the New York Marriott Marquis, most famous for its soaring 48 story atrium lobby, made its Broadway debut in 1985. As the lights remain dim on Broadway, a massive renovation project has been underway across many floors of this iconic structure.
The scale of the hotel's renovation by Stonehill Taylor is massive, making this one of ModernfoldStyles, Inc.'s largest projects to date. A total of 313 Modernfold operable partition panels (in a variety of dimensions and finishes) plus 27 pocket doors spanning three floors of the hotel will be removed and replaced during Phase 1.
The original installation of Modernfold Acousti-Seal Legacy Single Panel and Legacy Paired Panel partitions took place 30 years ago by ModernfoldStyles, Inc. With their trusted service over the next 30 years, the assortment of flexible space management solutions enabled the staff to transform large spaces into individual venues on four different floors of the hotel. Resulting in great flexibility and profitability as these moveable walls allowed the property the ability to tailor private spaces (there are 48 venues at this property) based on the expected number of attendees.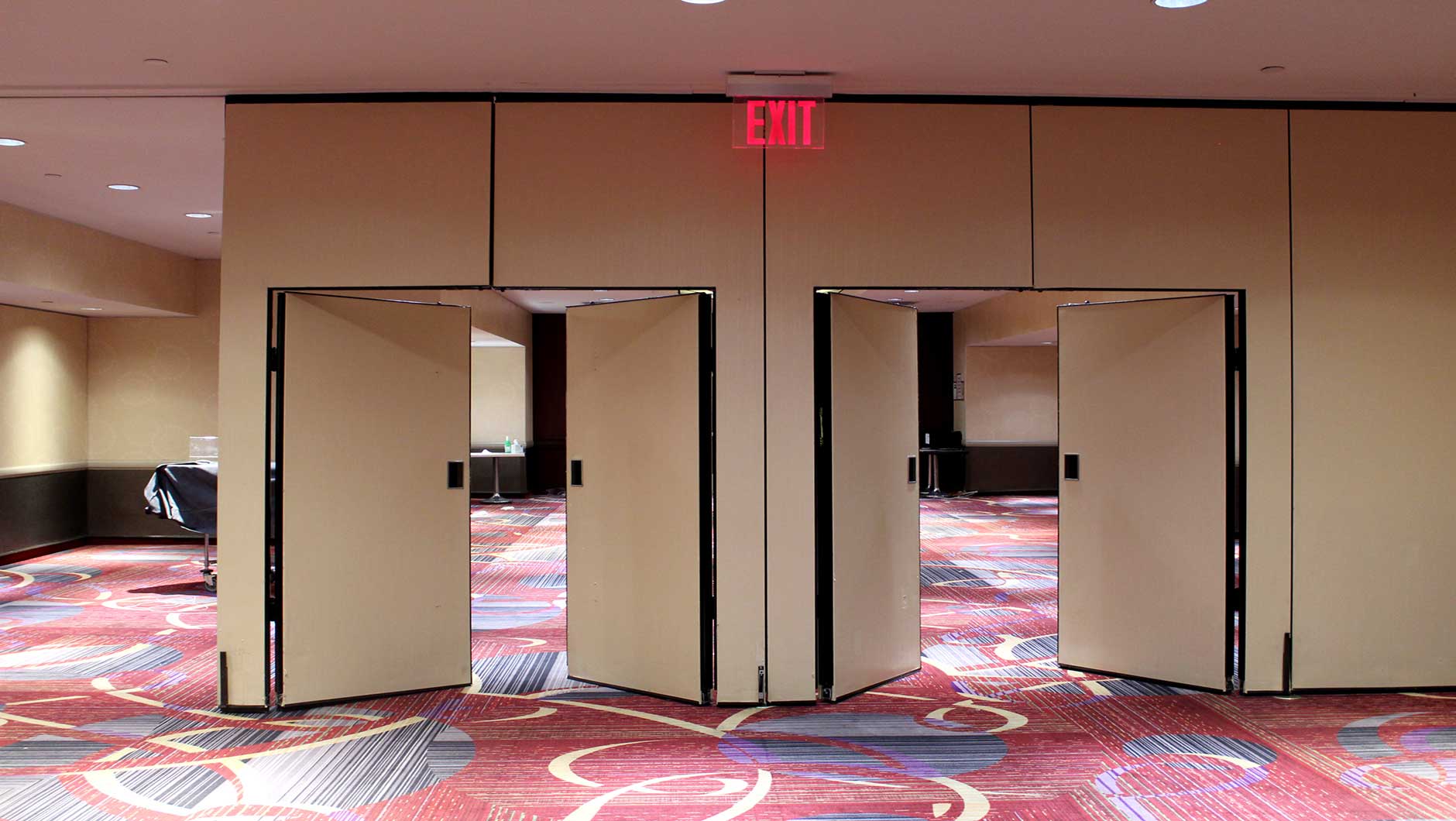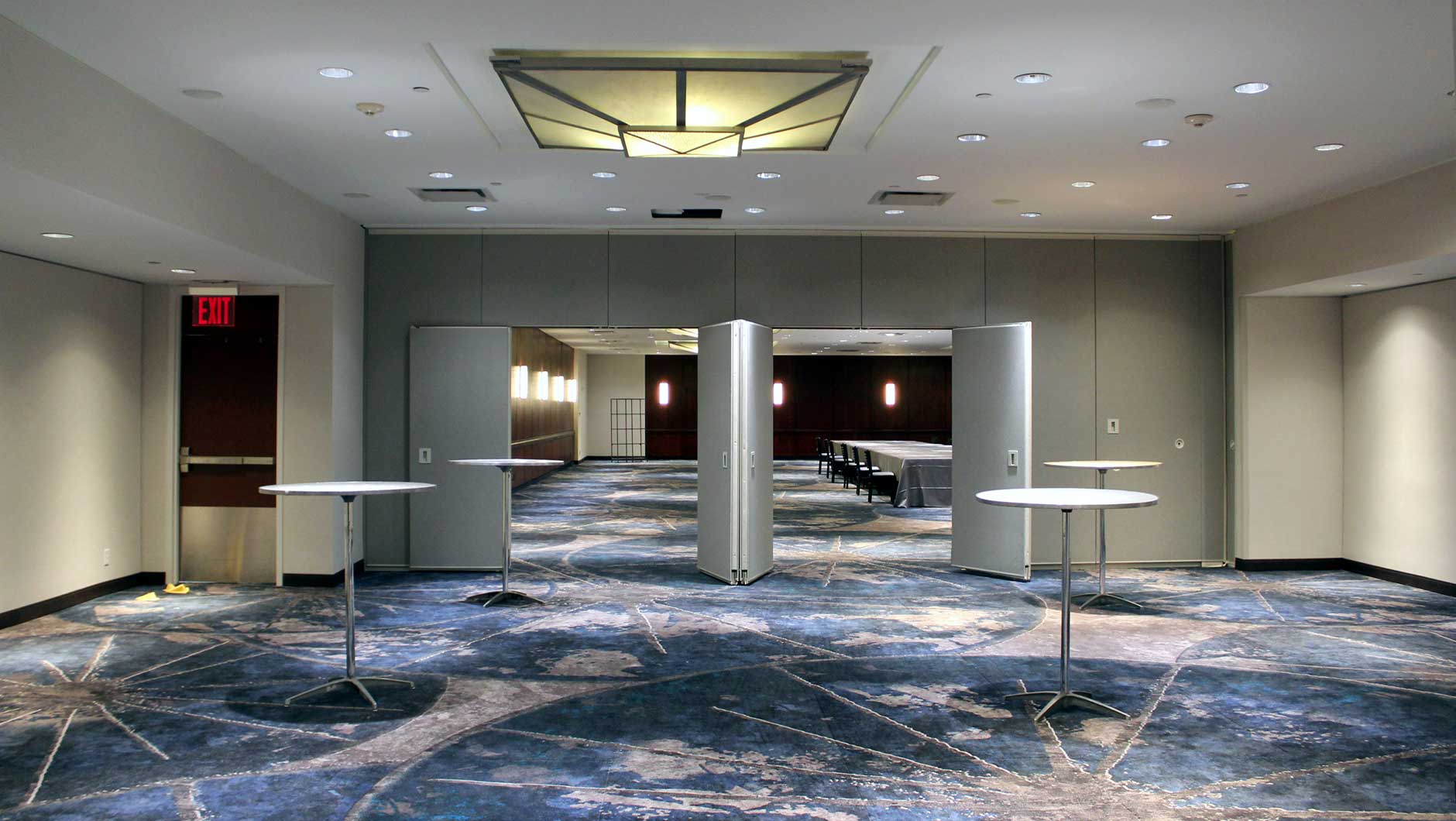 One of the largest spaces, The Broadway Ballroom, features 21' and 18' high walls that intersect to make a "T." As these walls were too big to even get into the building, they were constructed in two sections and expertly spliced in the field. Custom pockets were built to store the panels neatly when the venue is completely opened up.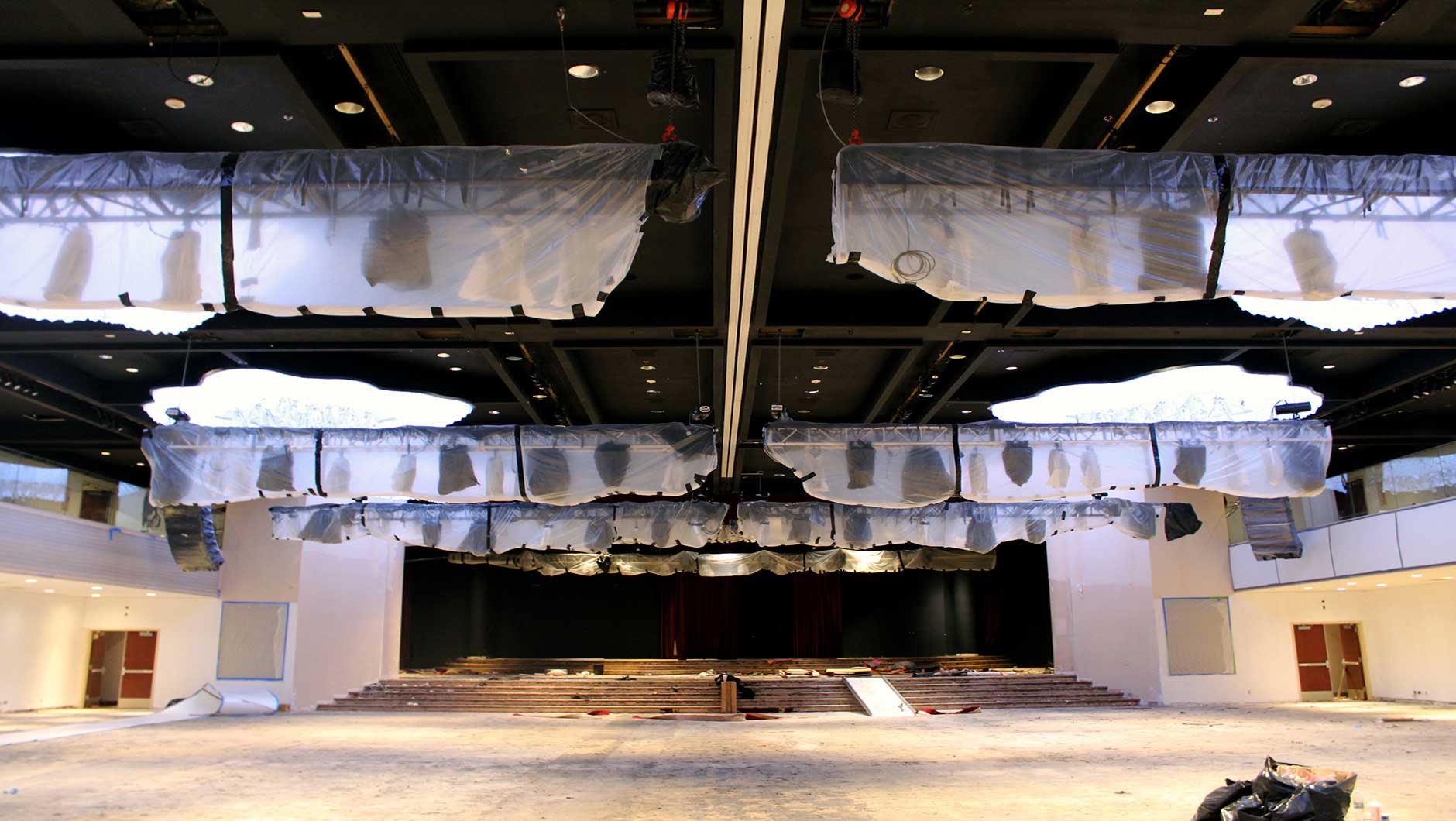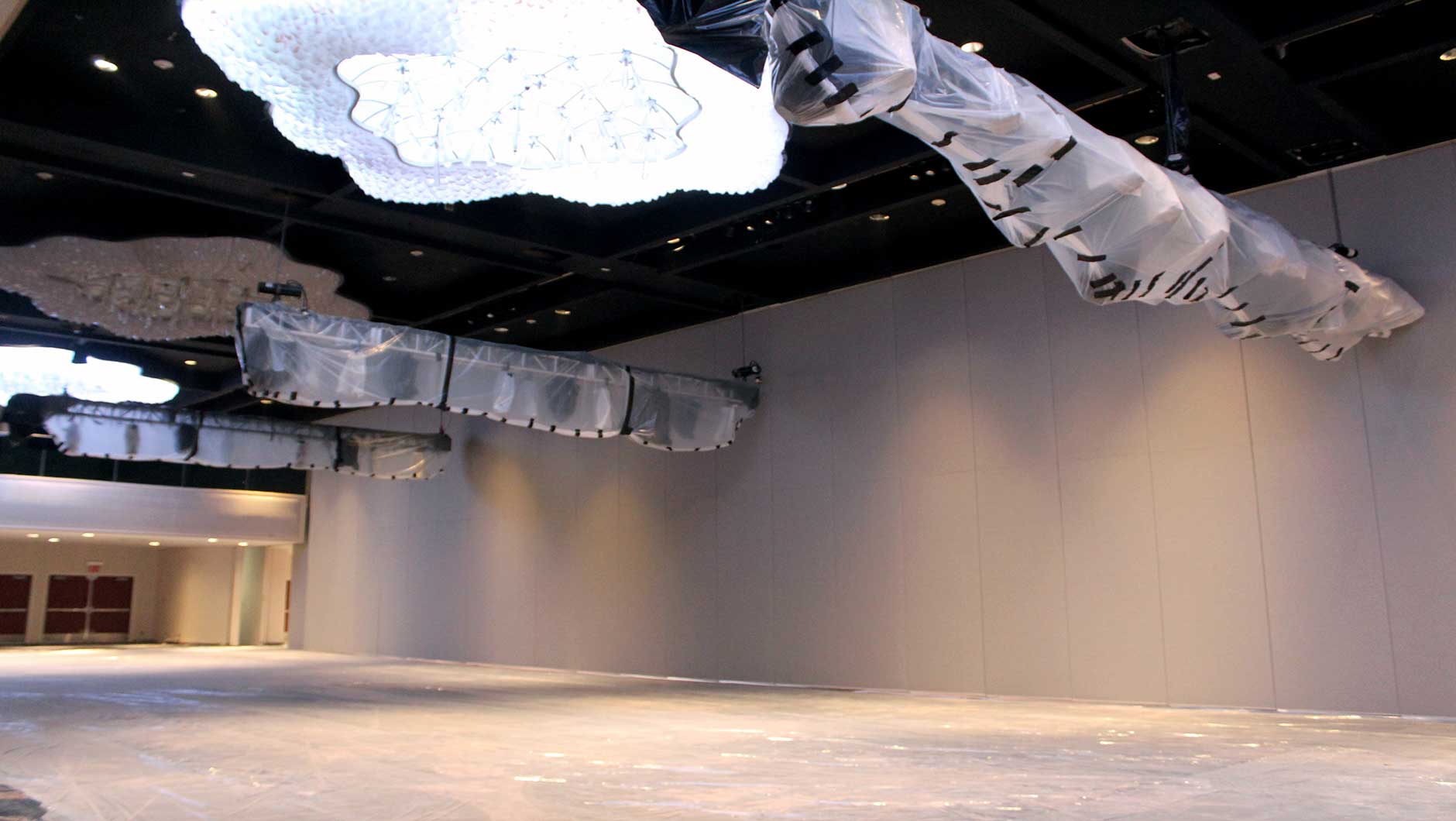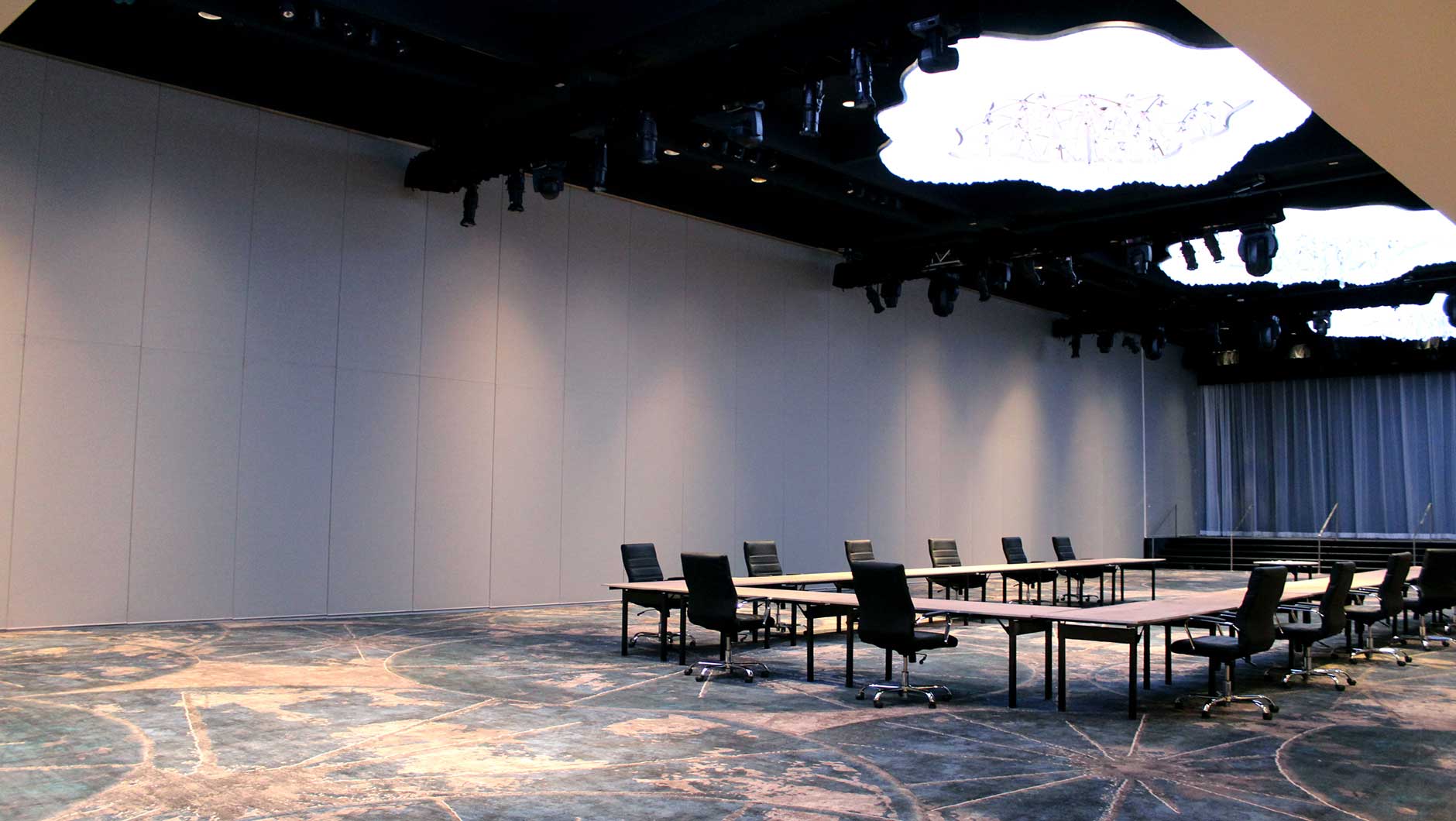 For sight and sound separation today's meetings and events demand, the durable Modernfold Acousti-Seal Legacy Single and Legacy Paired panels were specified. With acoustic ratings up to 52 STC, the panels keep out noise from adjoining spaces. Quick and easy set up creates multiple, flexible space configurations at a moment's notice. Alternatively, walls can be left open to create large spaces to help practice the CDC's social distancing guidelines.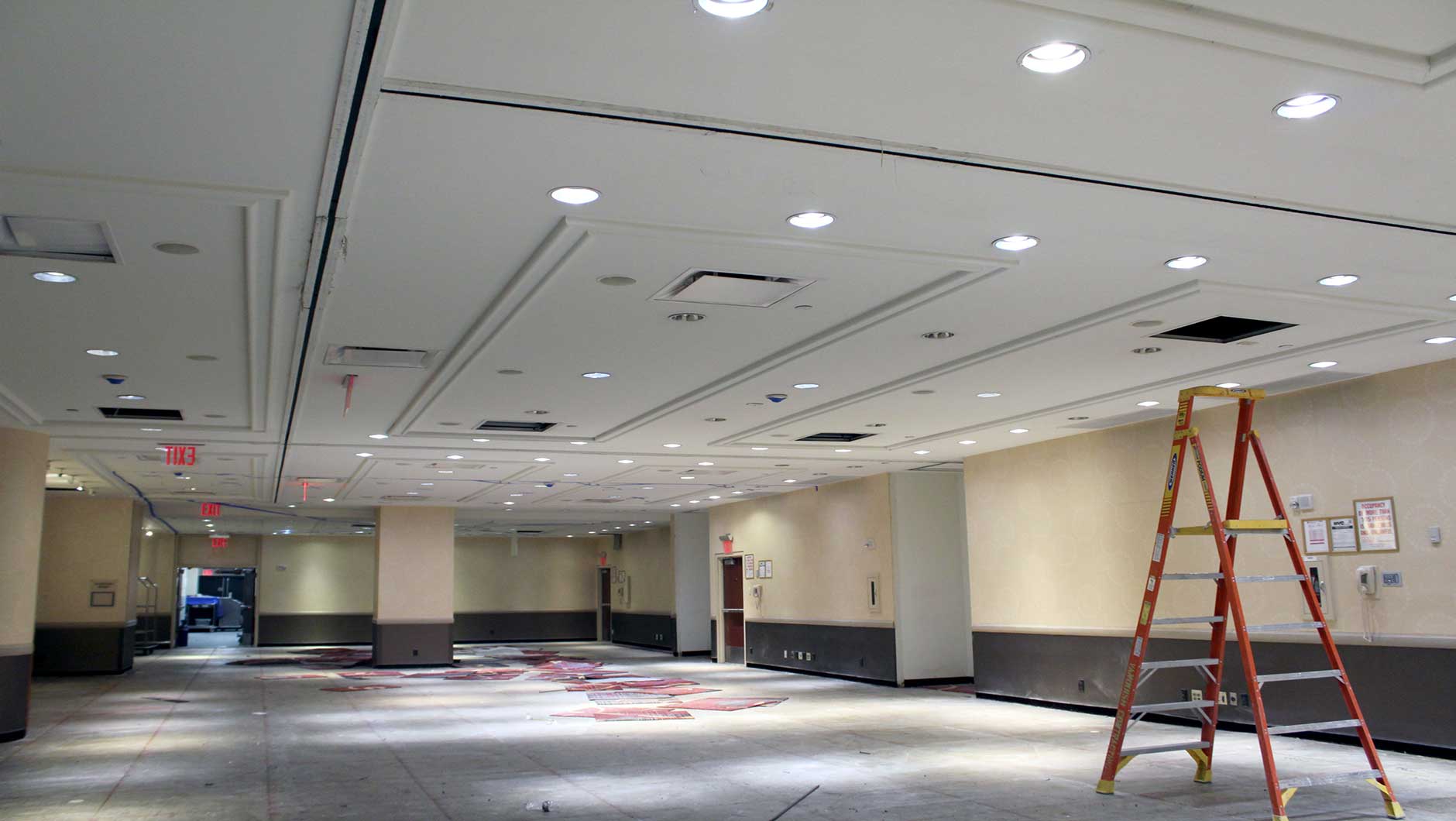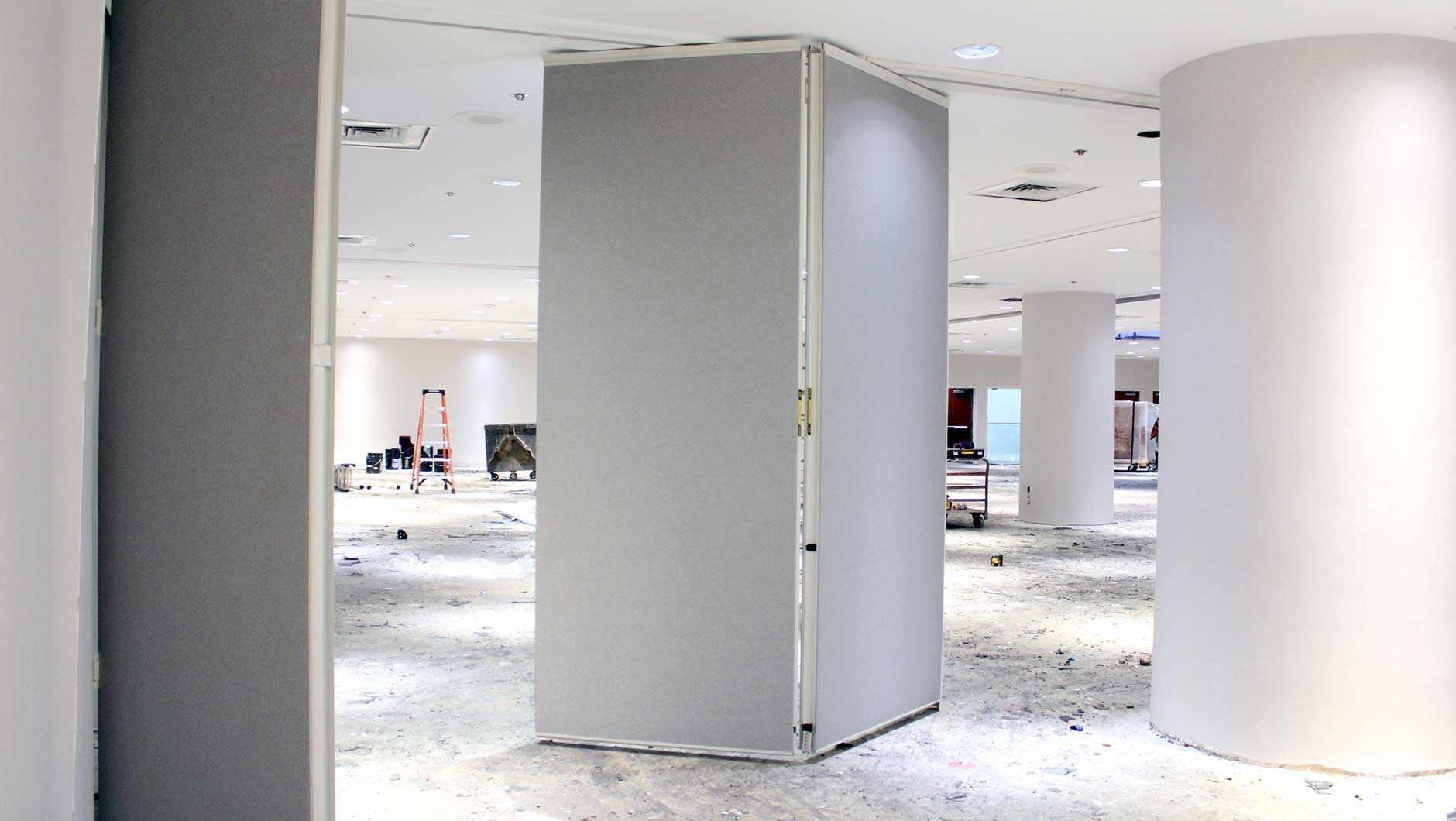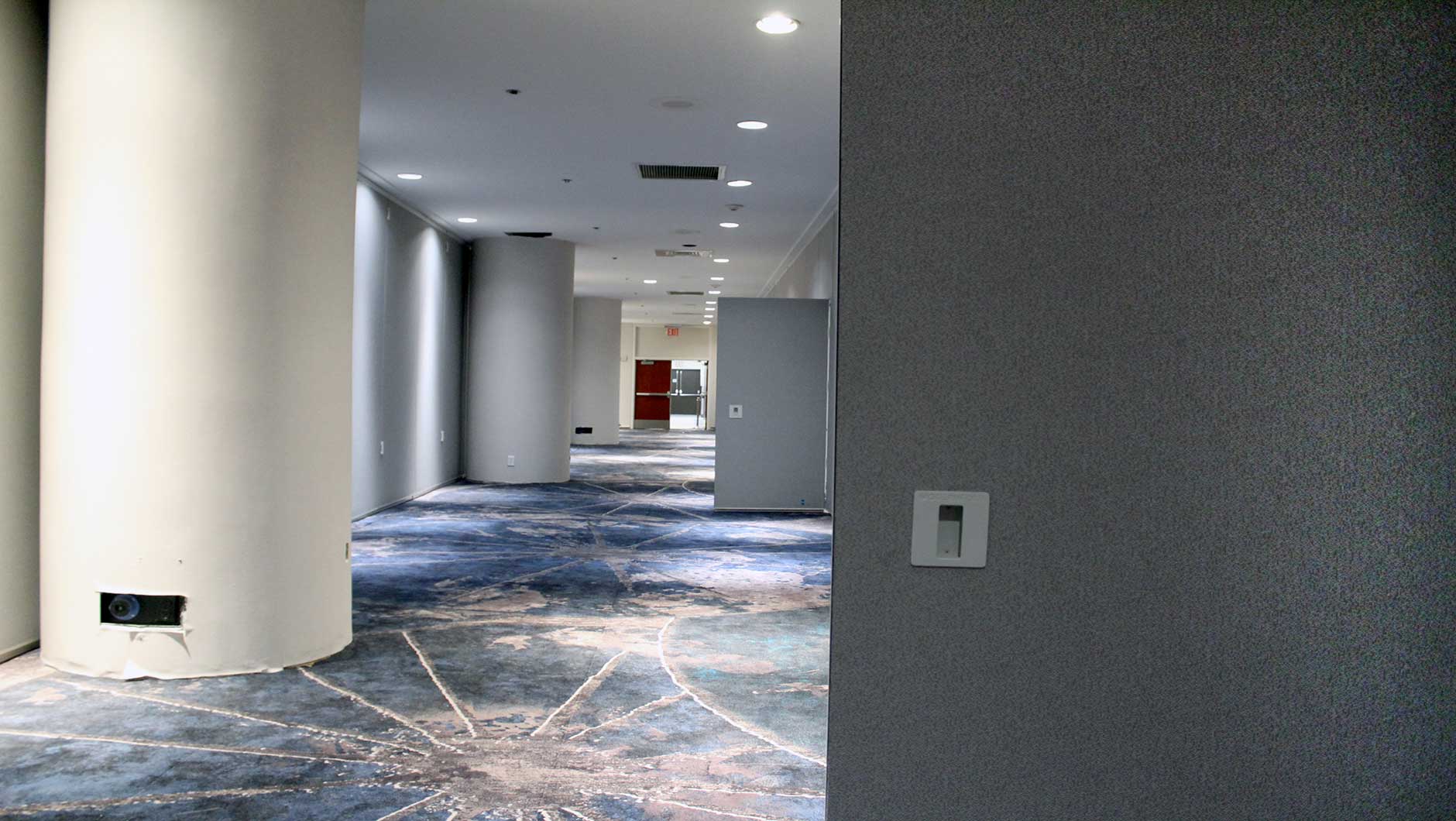 The original Modernfold #14 track installed 30 years ago, really kept the current renovation on track, so to speak. After very busy use, the durable track system was perfectly able to accept the replacement panels. This was a huge win for the project, saving the hotel time, money, and the mess a track replacement would have created. Modernfold takes pride in the reliability and durability of the #14 track system and this project is proof this system truly stands up to the test of time.
The logistics of the demolition, delivery and installation of the new panels needed to be expertly orchestrated to work within the hotel's schedule. The entire operation could be described as a well-choreographed production as demolition alone was accomplished by a crew in only a few days.
Getting the new panels delivered to the job site took a fleet of box trucks, multiple elevators, and lifts to deliver the panels to their designated floors. As some of the panels are finished in fabric, extra care was required in handling and special crates were built to fully protect them in transit.
Working with local trade unions and the difficult challenges of COVID-19, our OSHA certified installation crews needed to be equipped with the proper PPE and follow stringent guidelines at the jobsite.
As we navigate the "new normal" the hospitality sector has been reshaped due to the unprecedented situation our world continues to experience. Flexible spaces are needed more now than ever. When travel picks up again, guests are expecting to feel a sense of safety in a post-pandemic world. The Marriott Marquis is ready to unveil a variety of beautifully refreshed guest rooms, dining facilities, shops, event, and meeting spaces to welcome travelers back to the heart of NYC.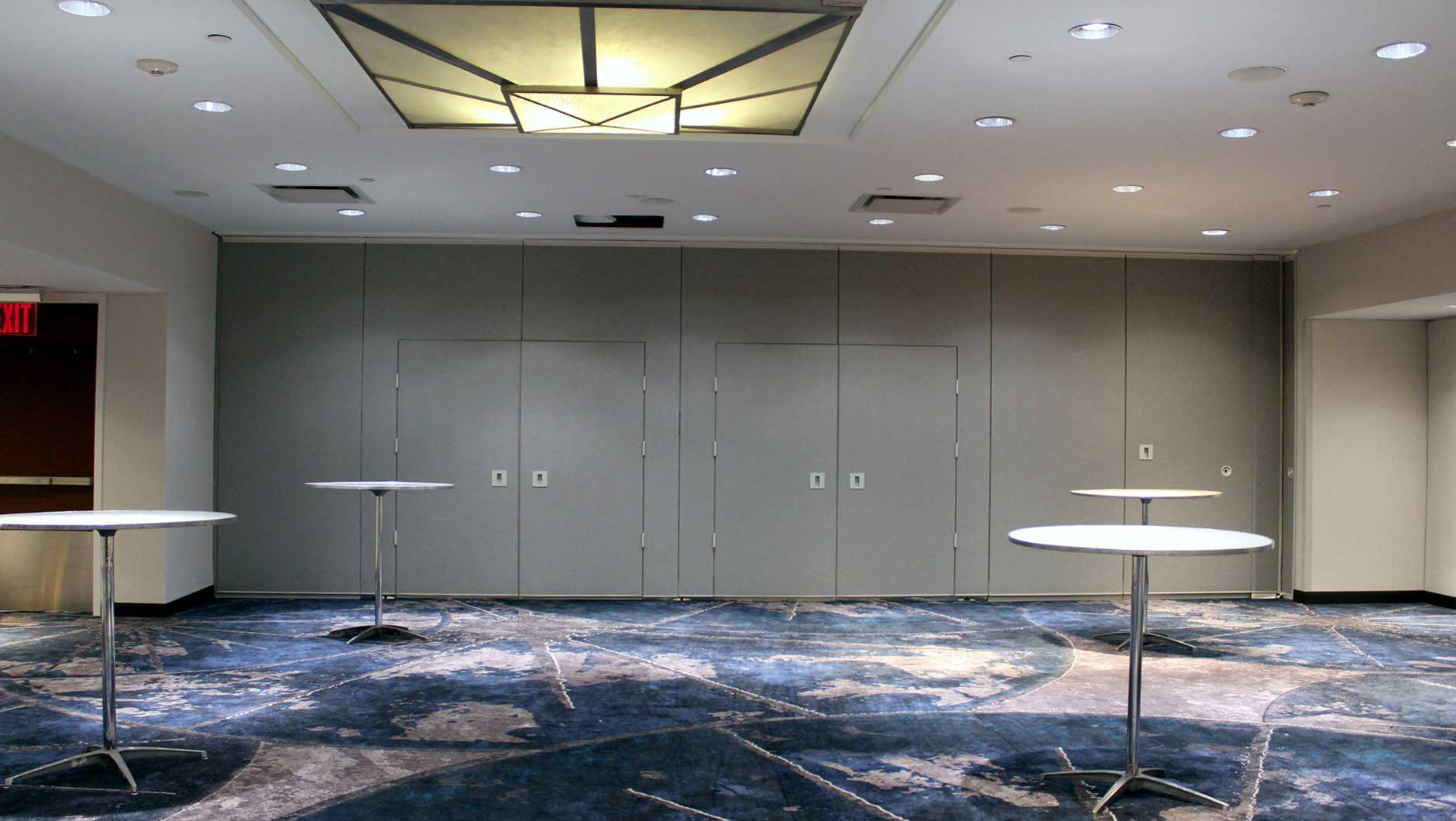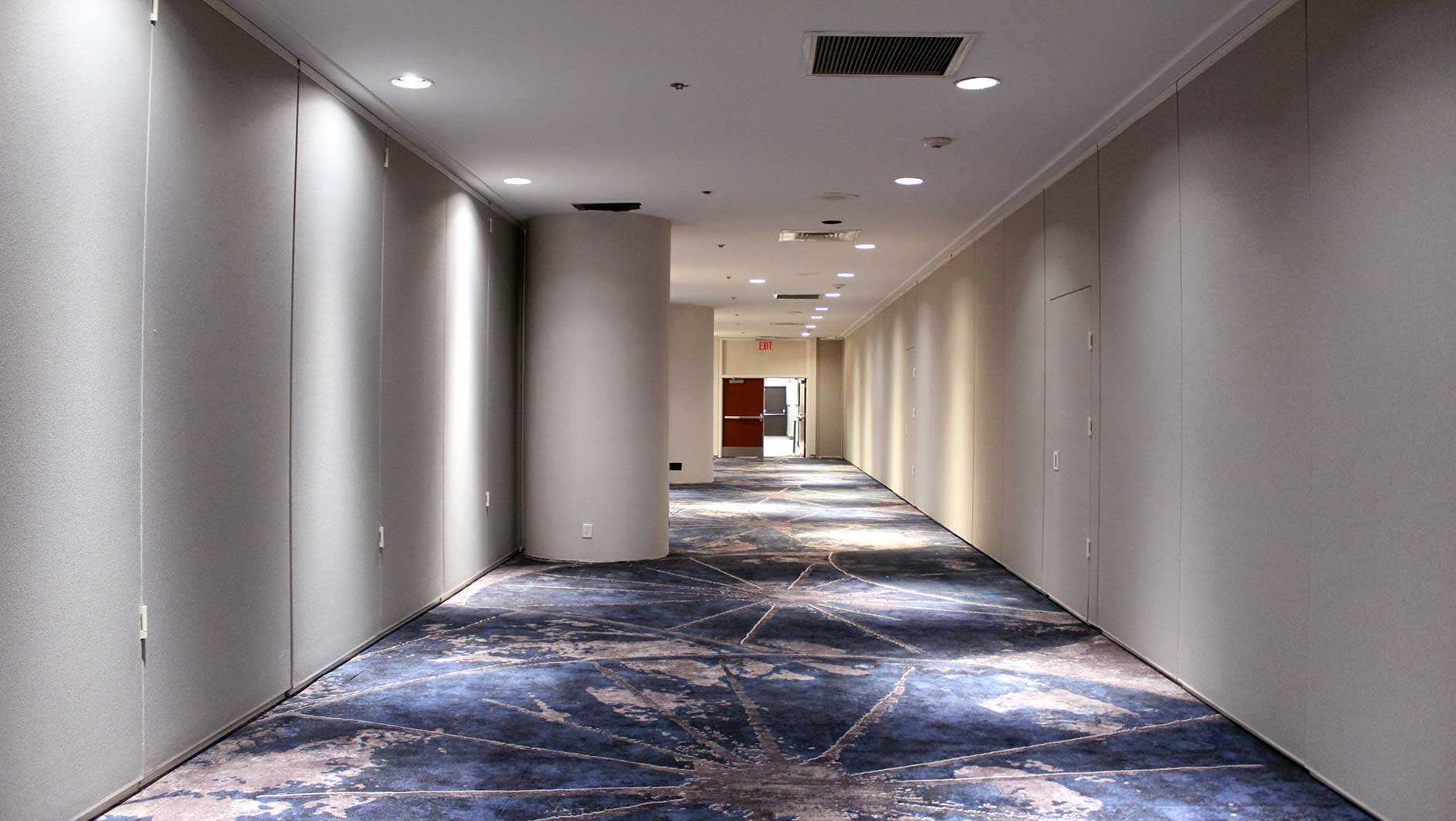 ModernfoldStyles, Inc. and Modernfold are proud to have played a part in the original installation and to have been chosen once again for the renovation. We are wrapping up Phase I and look forward to completing Phase 2, consisting of an additional 210 panels, in September 2021. We are beyond thrilled to have remained the trusted space management solution provider of choice for this iconic hospitality giant.
It was a pleasure working with the New York Marriott Marquis project team. Stonehill Taylor, Omnibuild, and all the subs are top professionals at their trade. Marriott is a fantastic owner to work with. They care greatly about the functionality of their properties and therefore do it right. The ModernfoldStyles install crew, led by Tommy Mulcahey worked safely and efficiently following strict COVID procedures while getting Phase 1 done ahead of schedule and punch list free! Modernfold is the top manufacturer of operable walls and proved it on this project by delivering on schedule, accommodating the location's logistics and providing product with no issues.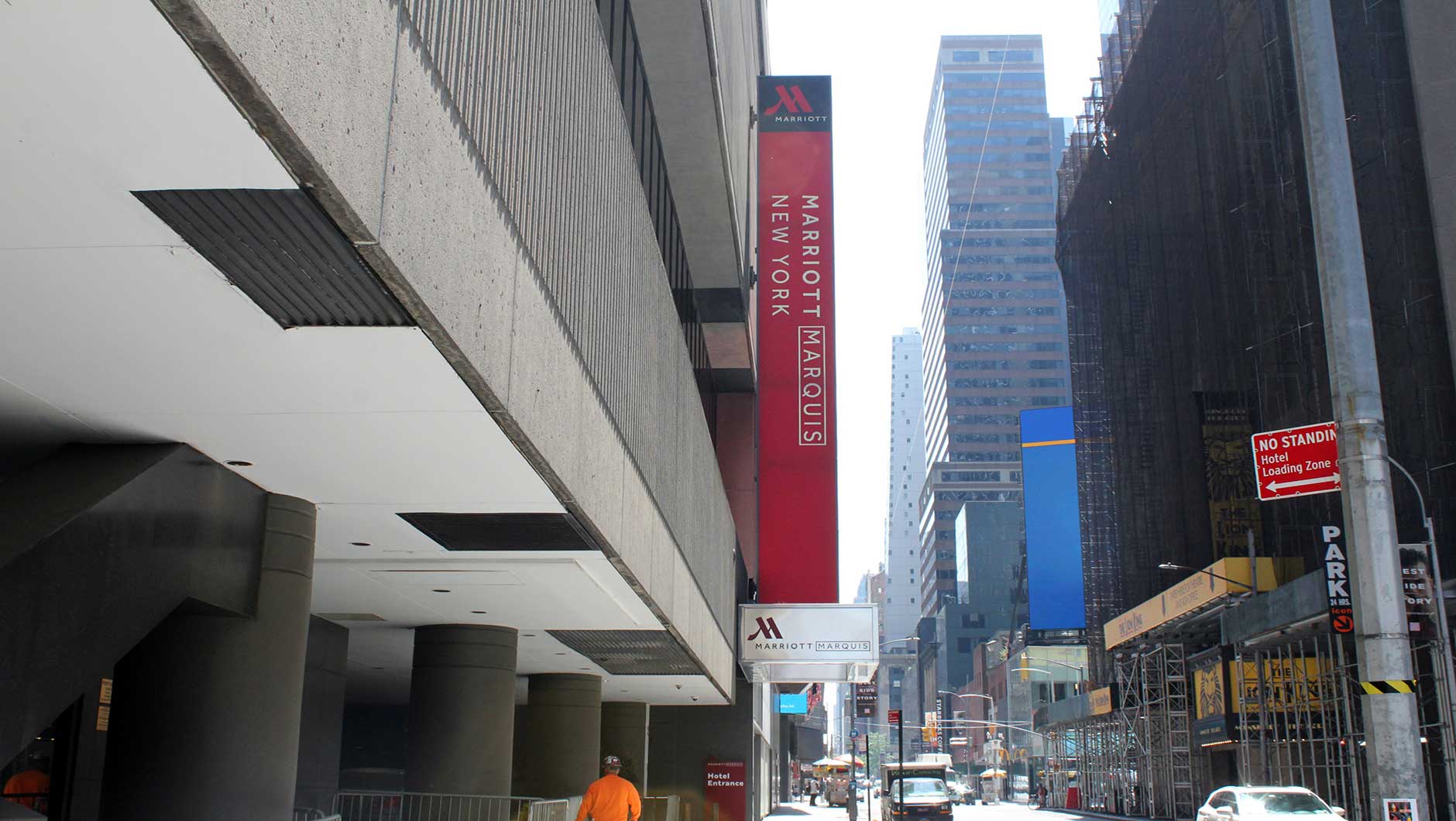 ARCHITECT:
Stonehill Taylor

GENERAL CONTRACTOR:
Omnibuild

PRODUCT / COMPONENTS:
Modernfold Acousti-Seal Legacy Single and Paired Panels