ModernfoldStyles Revitalizes Viam Robotics NYC Office with Euro-Wall, Renlita, Smoke Guard and ZONA Products
As a distributor of an extensive portfolio of space management solutions, ModernfoldStyles loves the opportunity to provide multiple types of products at one site. From complementing aesthetics to improving an area's practicality, we enjoy installing a combination of our products to fully revitalize a space.
ModernfoldStyles had the chance to boast our wide array of services in collaboration with Viam Robotics, whose Manhattan office now contains Euro Vista Pivot Doors, Renlita S-1000 floataway doors, Smoke Guard M400 Elevator Curtains and ZONA 1 and ZONA 4 Glass Wall Systems.
Founded by Eliot Horowitz in 2020, Viam Robotics is a robotics software platform that brings ideas to life. By simplifying the software aspect of robotics, Viam gets products and services to the market faster, allowing their users to code, build, configure, and manage their robotics all from a single platform. The platform's accessibility has attracted talent and investment to the industry, encouraging more people to begin developing robots that create innovative products and services.
As Viam Robotics continues to grow, it chose to optimize its new office in the heart of Manhattan, working with ModernfoldStyles, Plan Architecture, LLC., and Archstone Builders LLC.
One of the products installed at Viam was the Euro Vista Pivot Doors, a versatile operable glass door system with the largest available heights and widths in the industry. Offering dramatic interior openings with an array of panel finishes and customizable features, the Euro Vista Pivot Door is perfect for any design intent.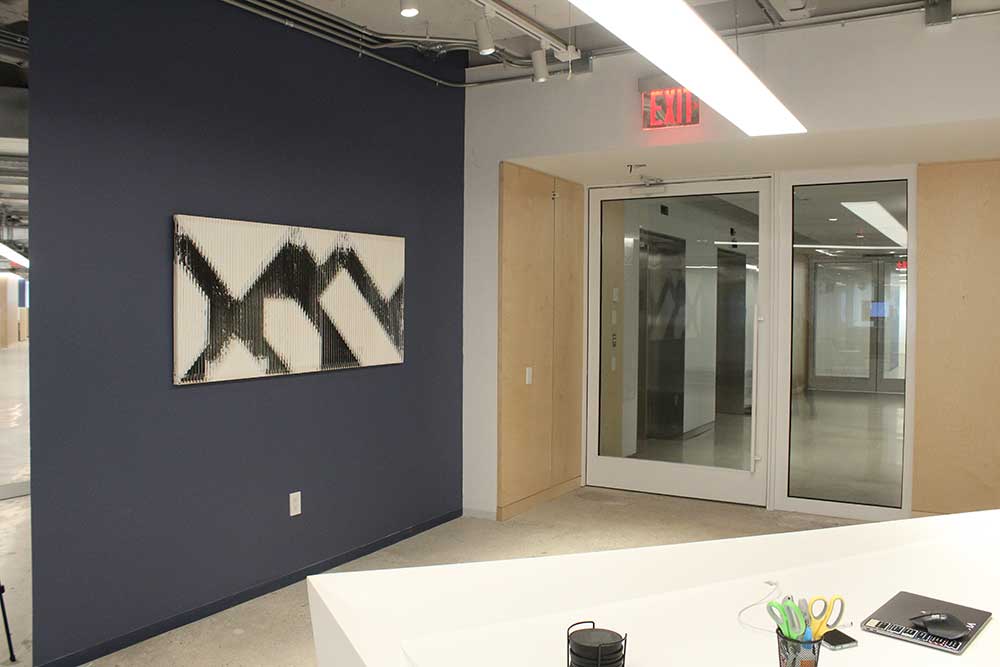 In this case, Viam opted for three Euro-Wall pivot doors crafted with ½" clear tempered glass, allowing complete visibility between both sides of the building.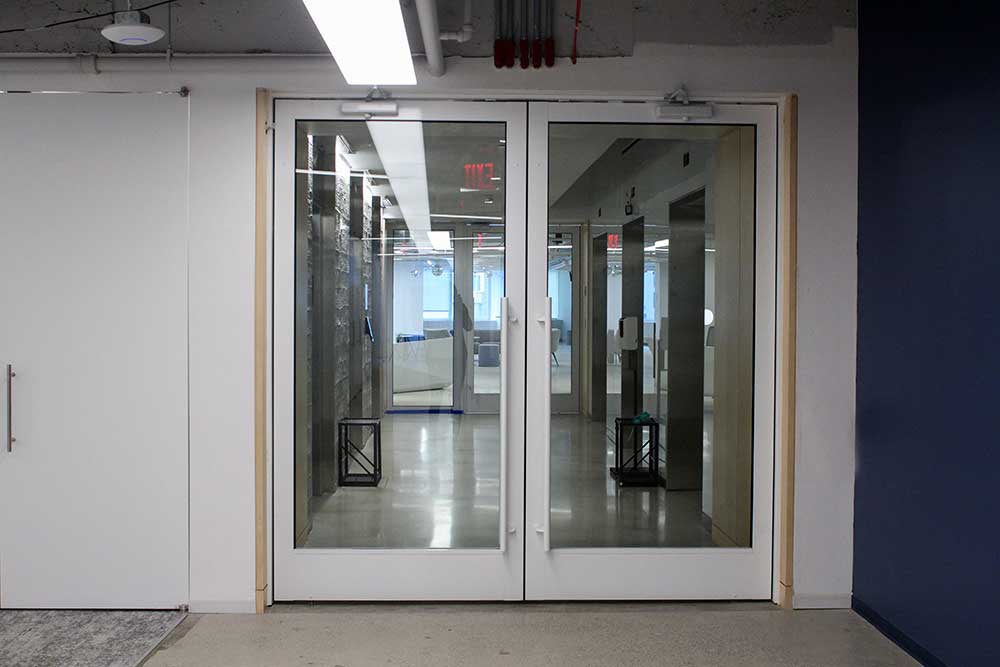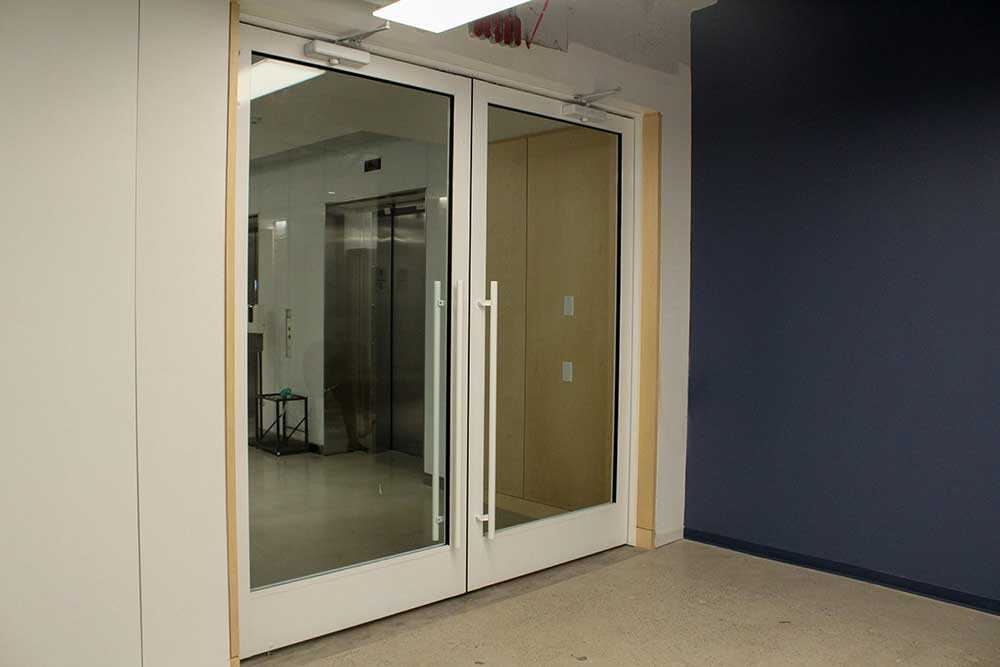 At a height of 8'-0" and width of 6'-0", the doors were finished with a custom powder-coated frame in Sherwin Williams Sky White, and a matching 48" white ladder pull bar. Paired with 10" ADA bottom rails, the Euro Vista Pivot doors move effortlessly to create a seamless passageway.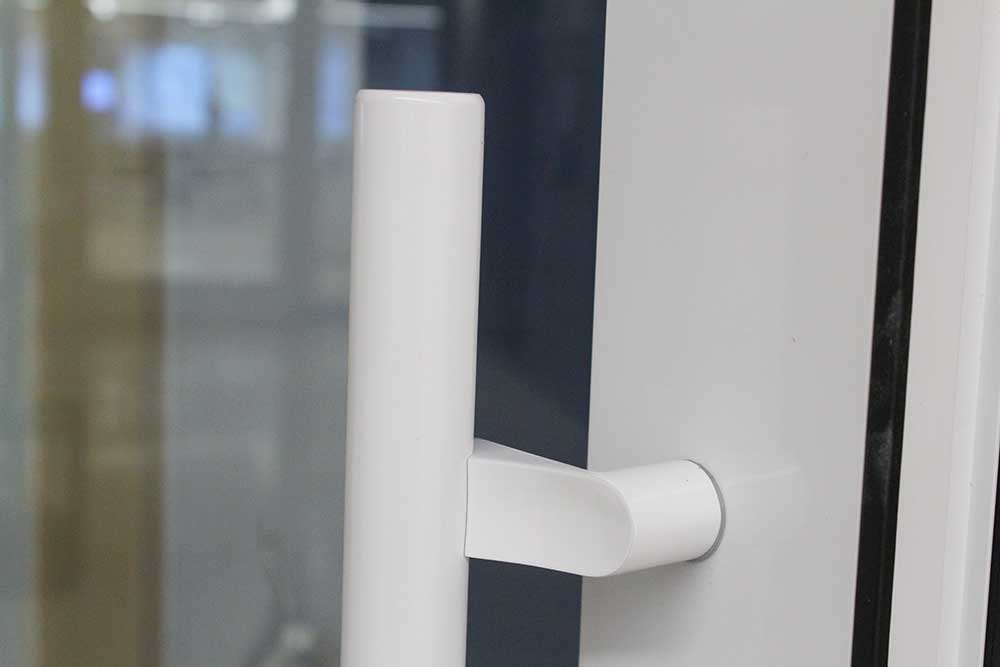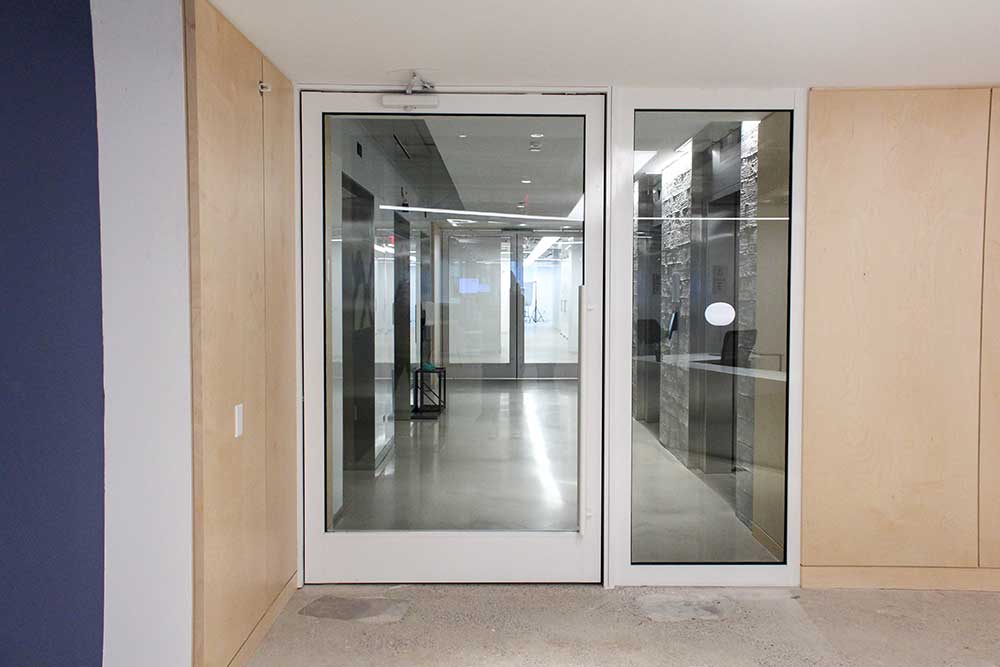 To see how products function in the space, check out our video below of Euro-Wall, ZONA, and Renlita systems.
Another product that played a key role in transforming the Viam Robotics office was the ZONA Glass Wall Systems, for both single and double-glazed partitions. At Viam, a total of 35 office fronts were installed, including a combination of ZONA 1 and ZONA 4 panels.
The selected ZONA 1 models were constructed with ½" clear laminated glass with fixed single-glazed panels. Providing an STC of 34 to 38, both swing and sliding panels were implemented in the company's phone and meeting rooms to ensure privacy.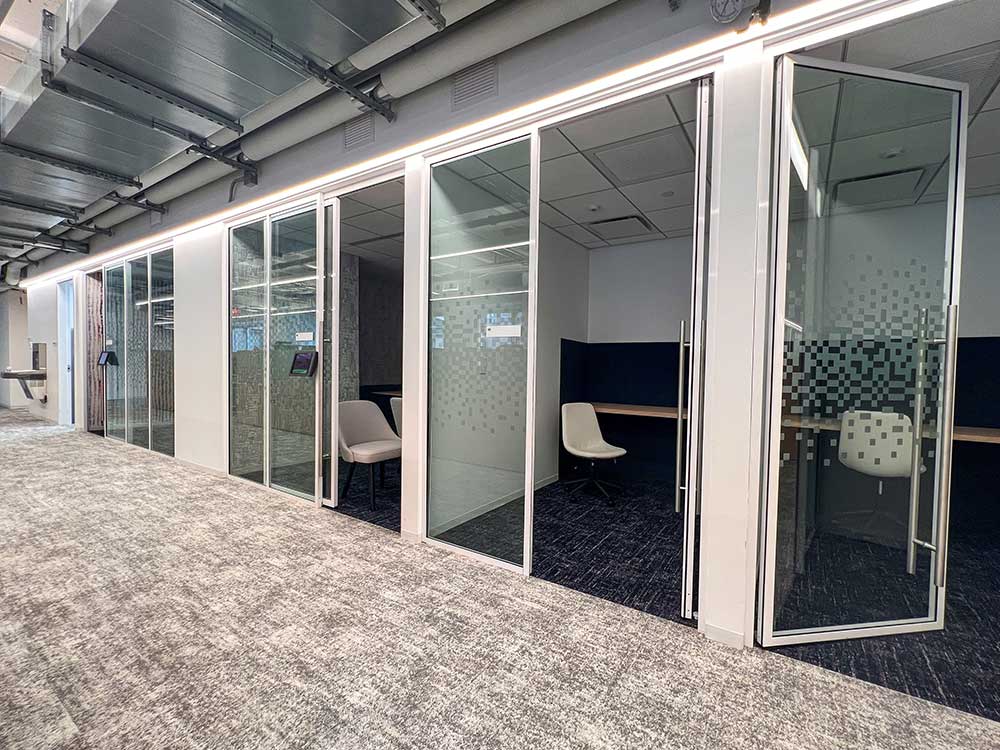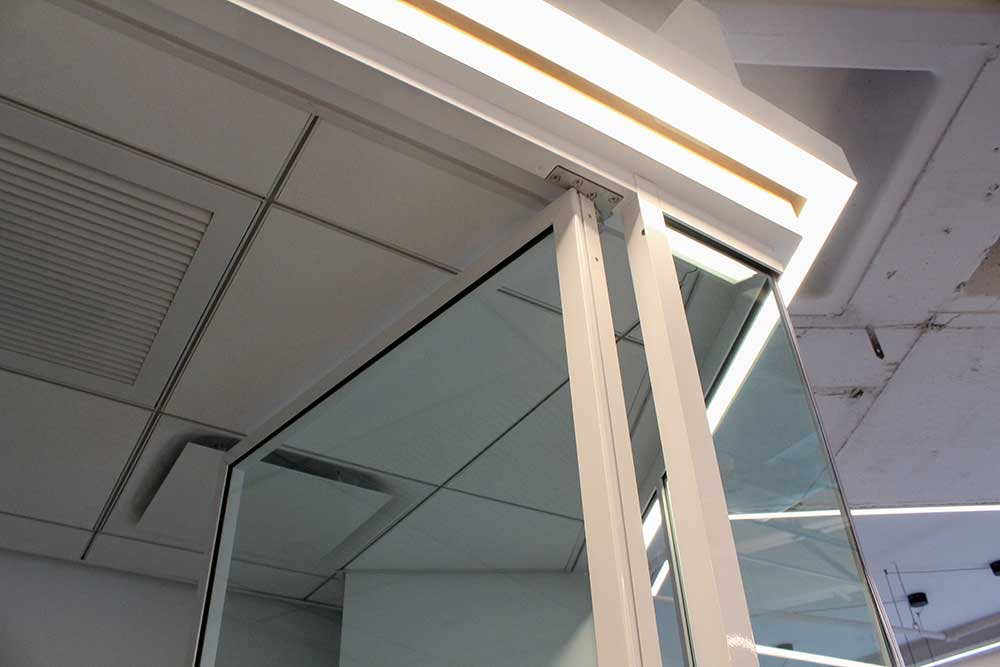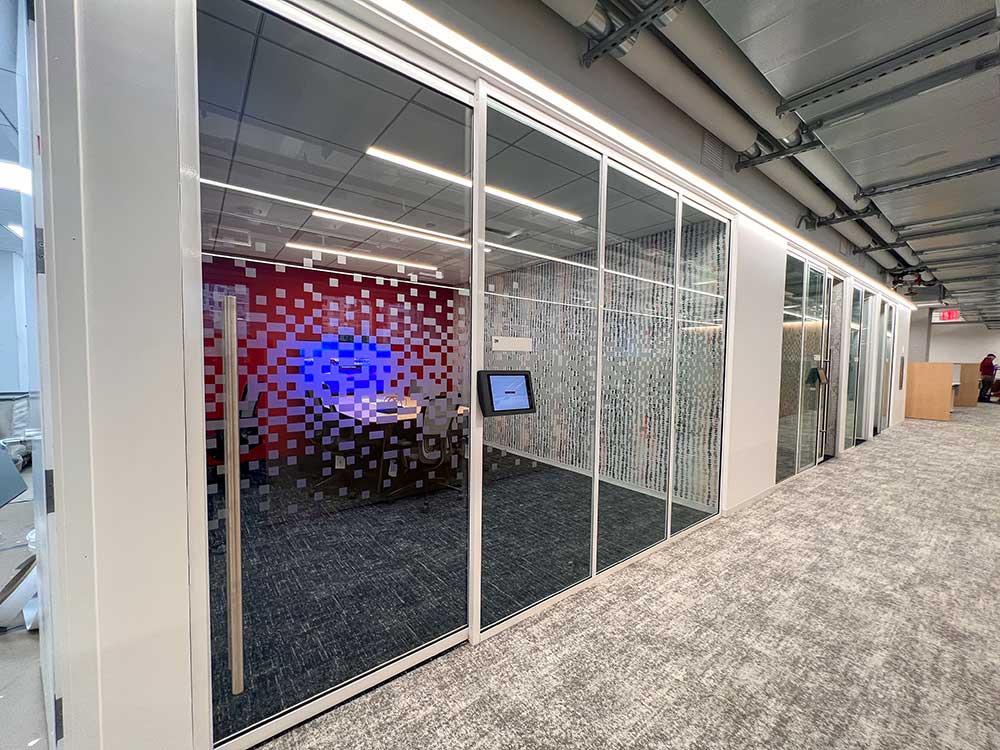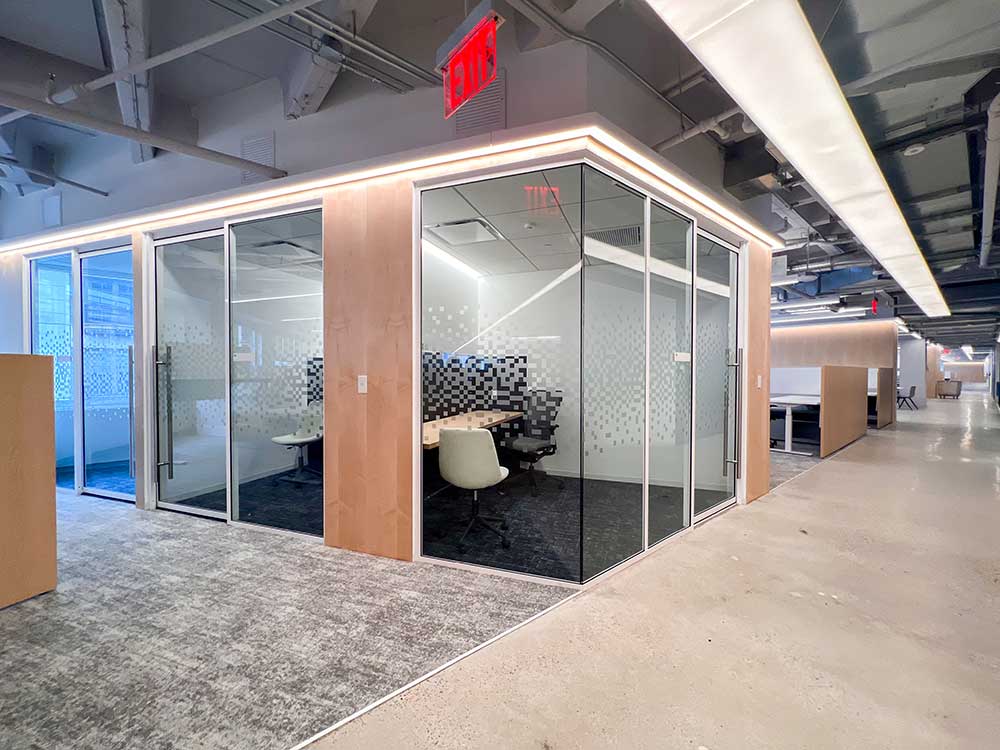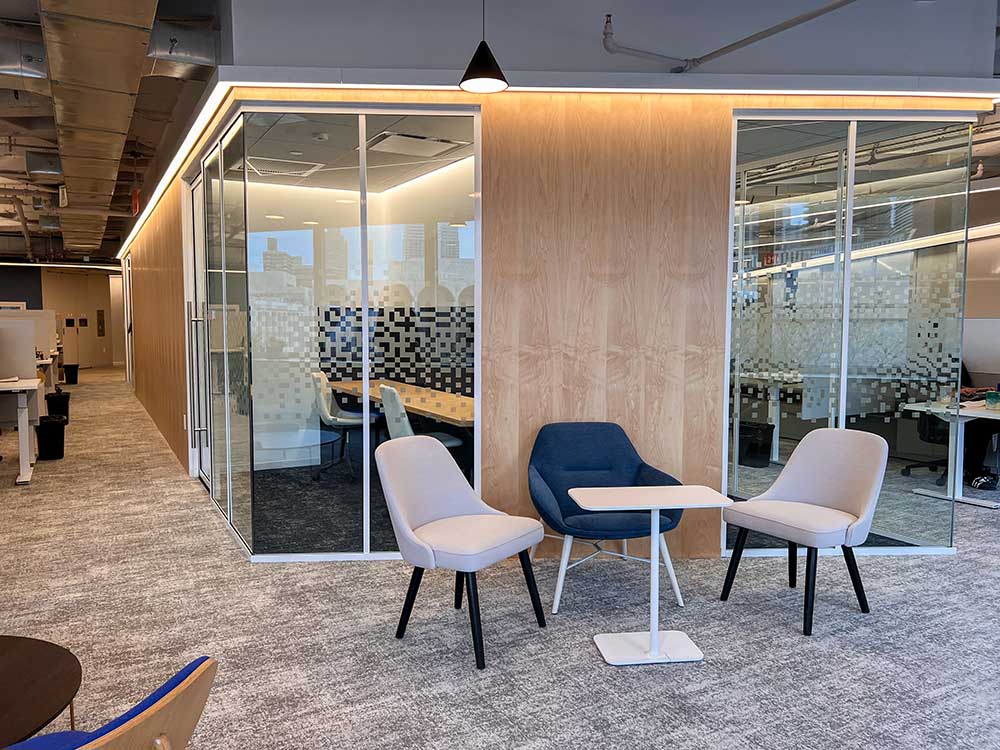 Unlike ZONA 1 products, ZONA 4 is produced with flush-mounted glass for double-glazed panels with ⅜" clear laminated glass.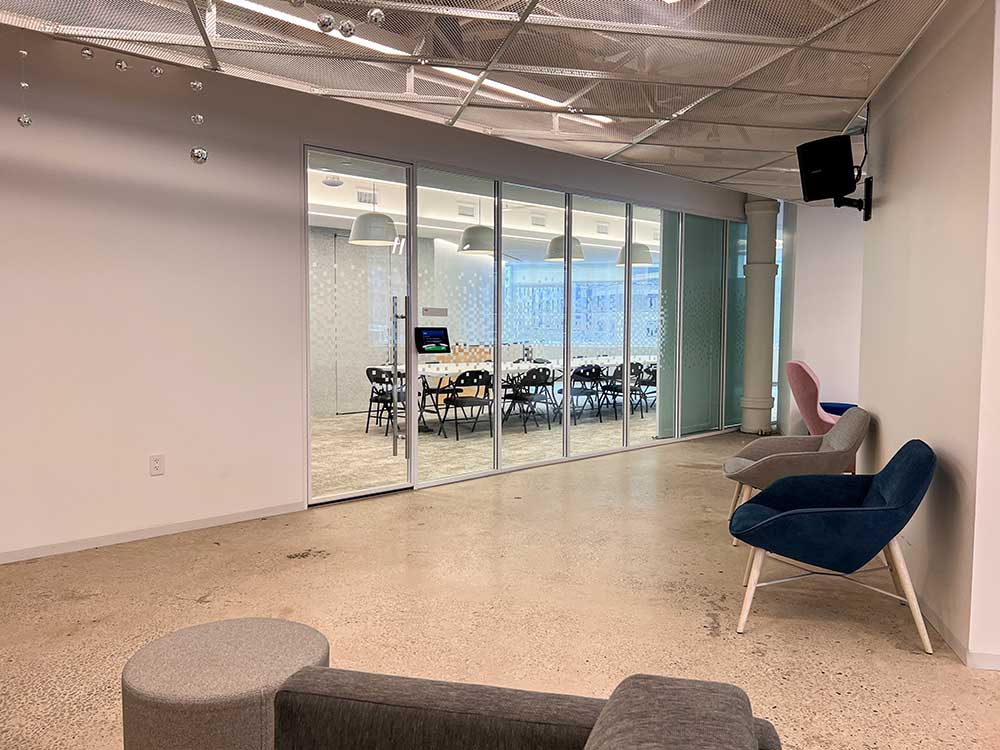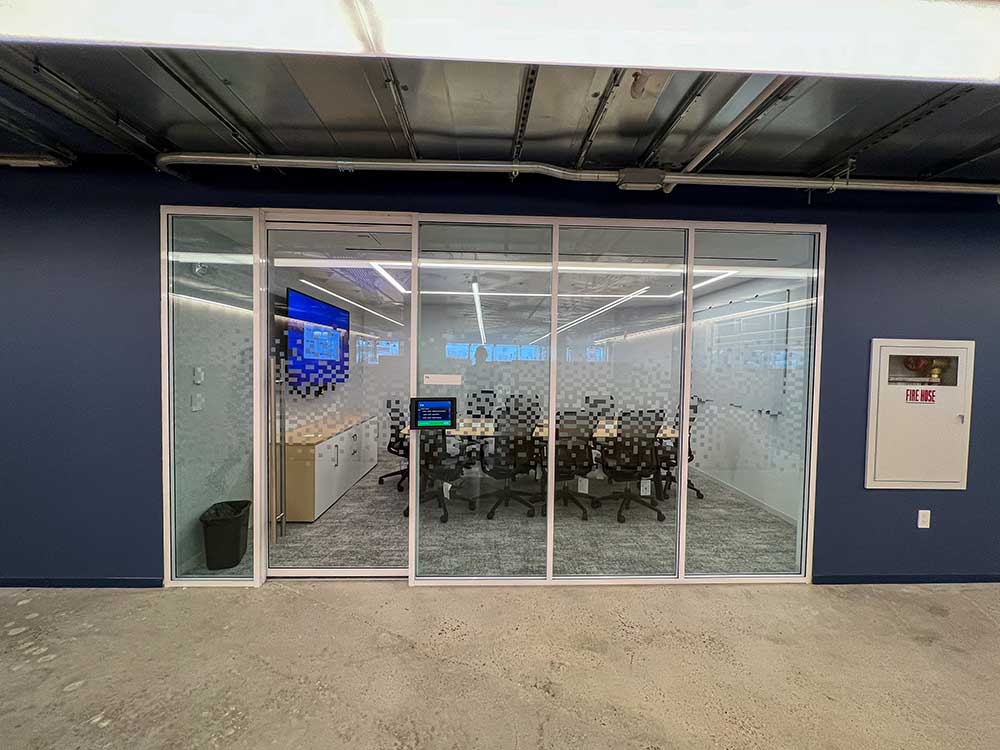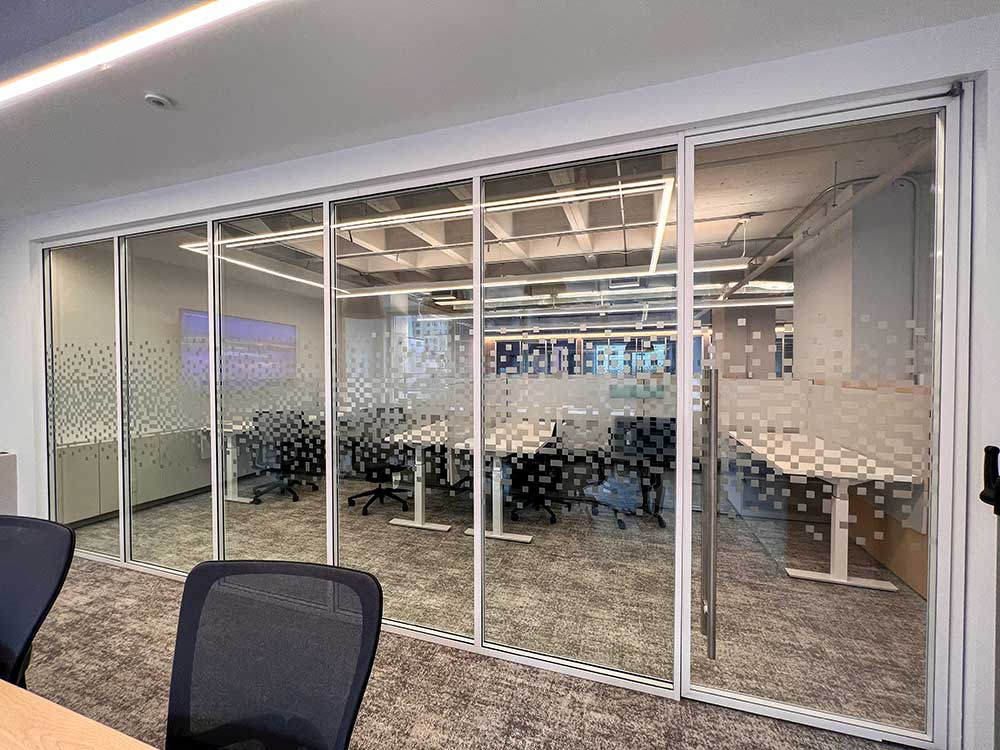 The ZONA 4 swing doors were installed in the boardrooms and one conference room, while the sliding doors were selected for additional conference rooms and an executive office. With STC ratings increasing to between 45 and 51, ZONA 4 guarantees privacy in confidential meetings.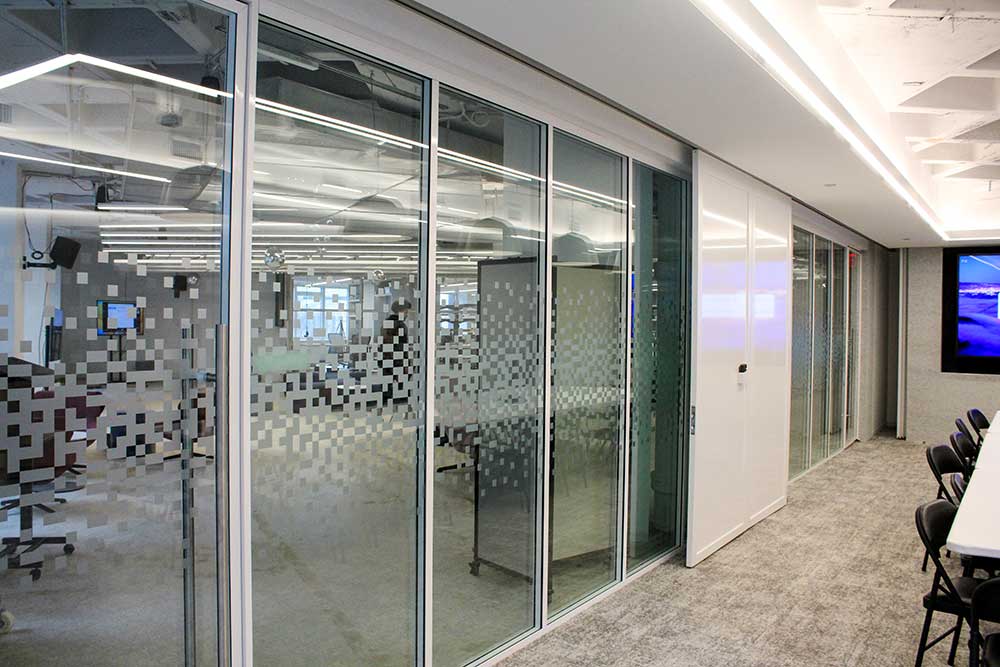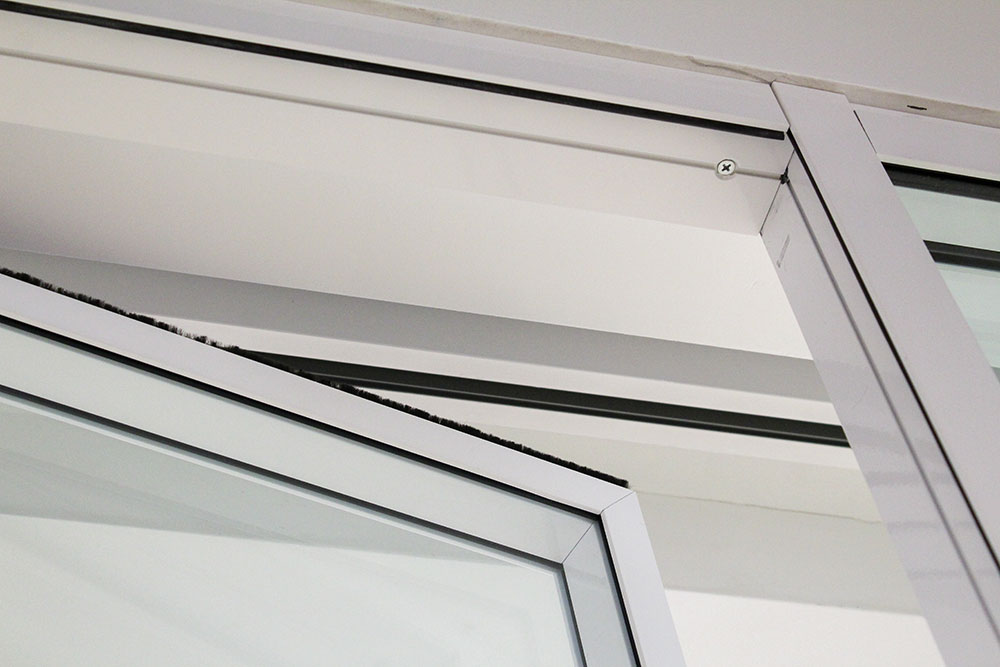 Both ZONA 1 and ZONA 4 panels were painted in Sherwin Williams powder-coated Sky White, keeping consistency with the other ModernfoldStyles products at Viam Robotics.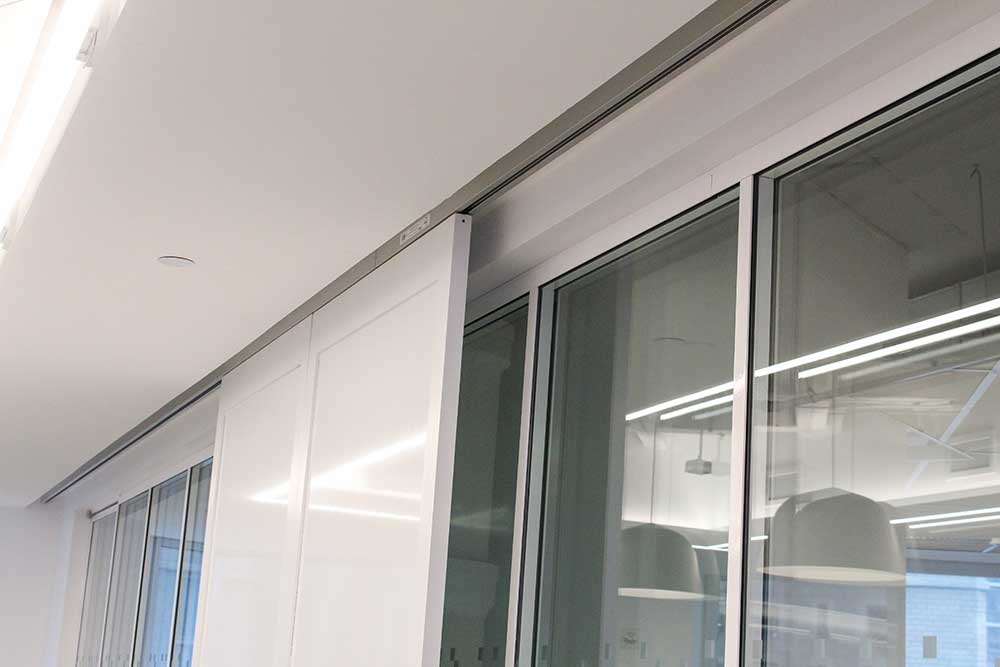 ZONA products were additionally assembled with system standard offset pivot hinges, rated to 300 lbs, and system standard 48" non-locking ladder pulls, all with a flawless satin stainless finish. With its white surface-mounted sliding door system, ZONA panels ensure simple ease of use.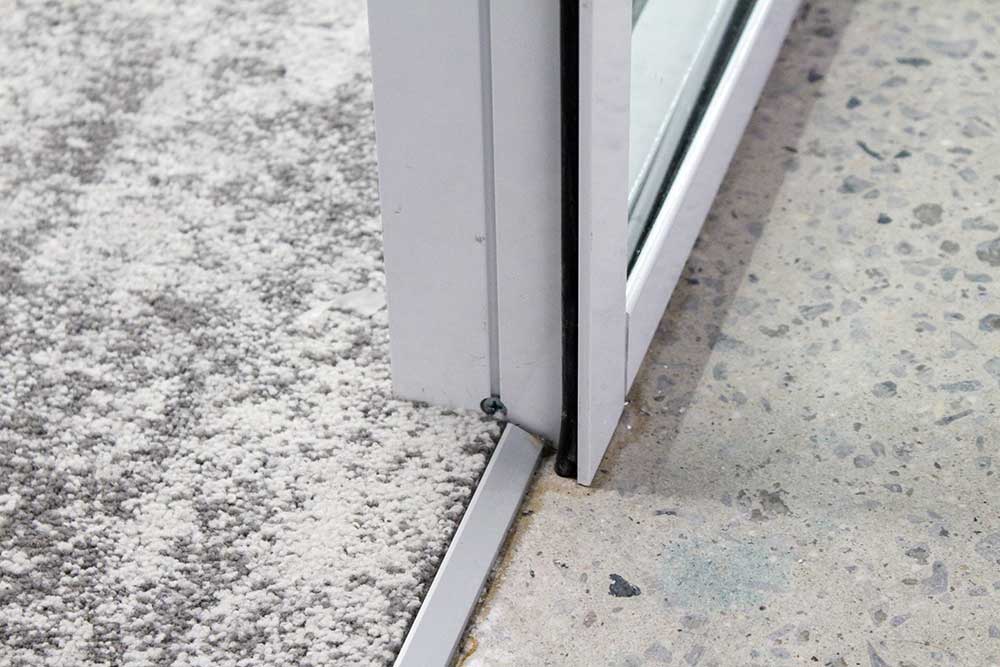 In addition to the Euro-Wall and ZONA products, ModernfoldStyles integrated two Renlita Custom Opening Solutions between the sixth floor of flex space and the robotics lab.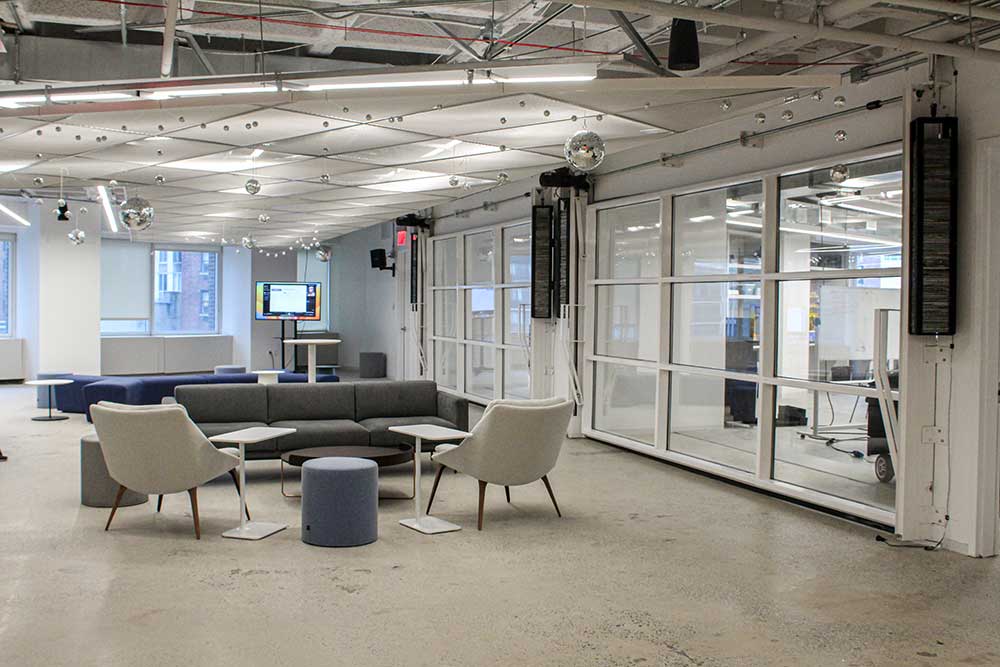 Custom-designed Renlita S-1000 Floataway Doors were selected for the project, built with a 16'-0" width and an 8'-0" height. Due to the size of the doors, they were spliced into sections and reassembled in the field to facilitate a smooth installation into the building.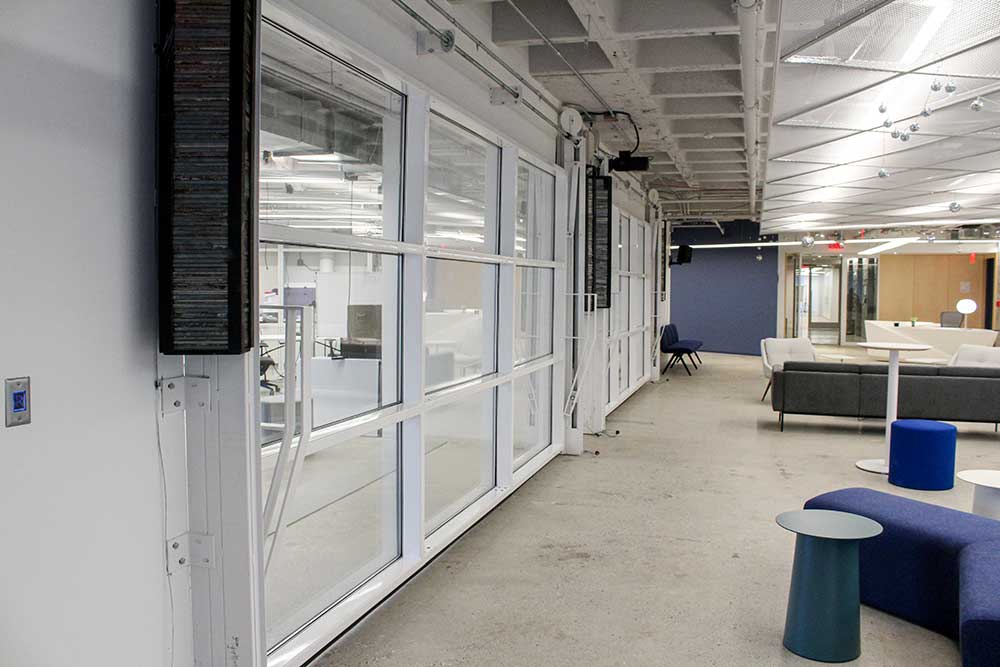 The Renlita S-1000 model was designed with 1" clear low iron glass, allowing the walls to fluidly raise into a vertical orientation when opened with the Renlita Electric Direct Drive (REDD) motor.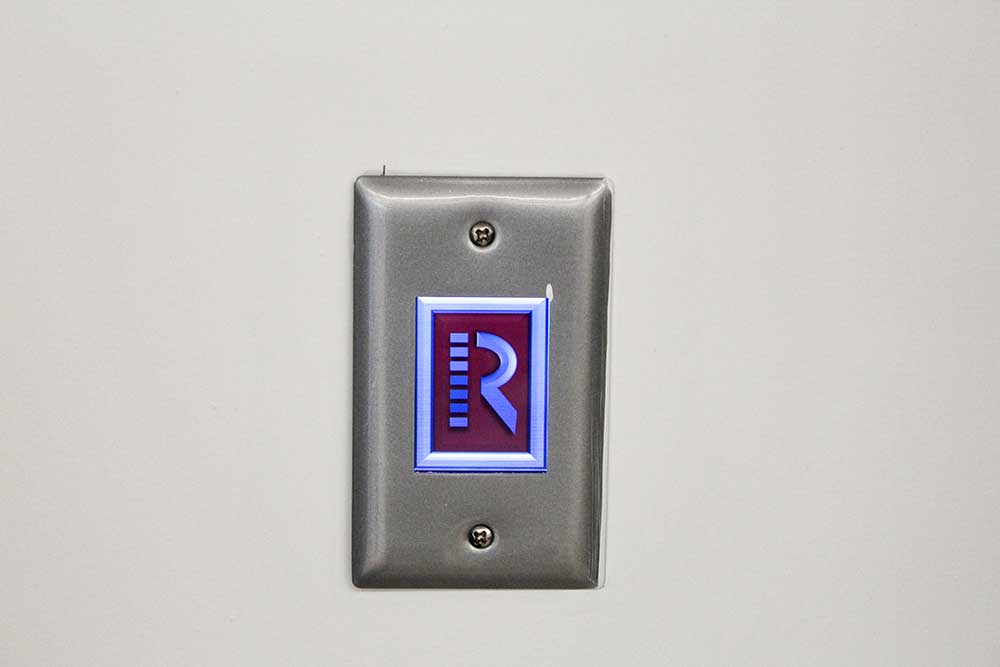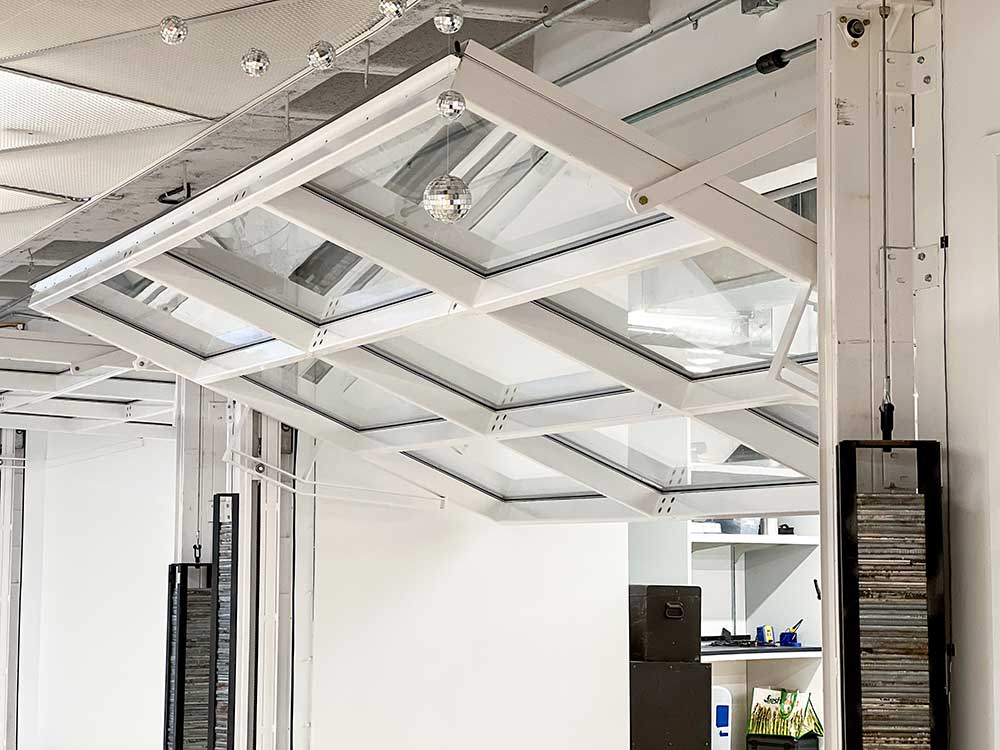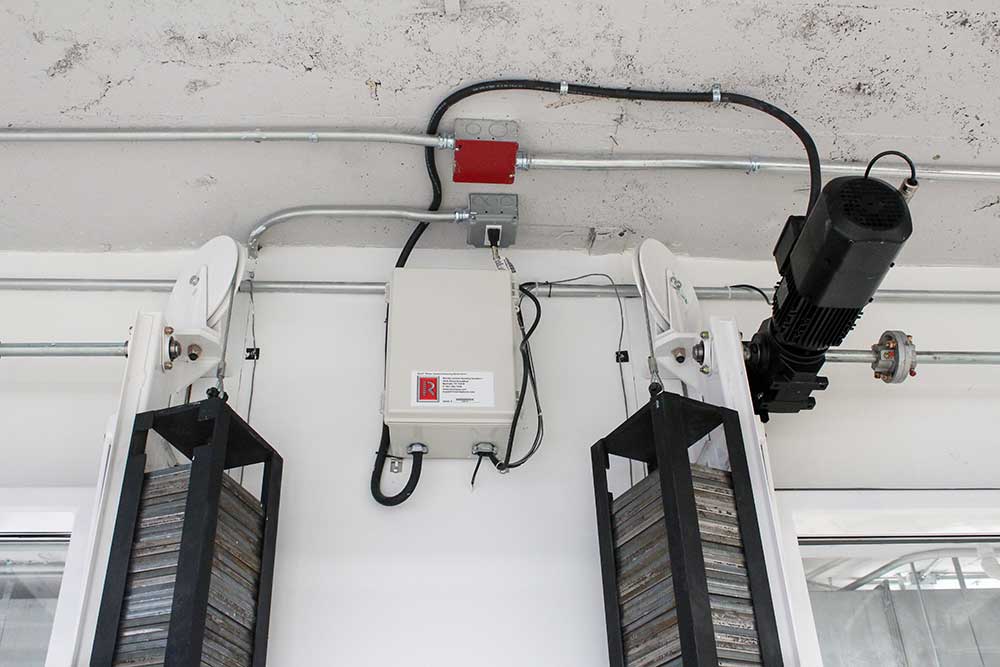 Although available in customized finishes, the floataway doors were powder coated in standard Sherwin Williams Sky White, matching the Euro-Wall and ZONA systems.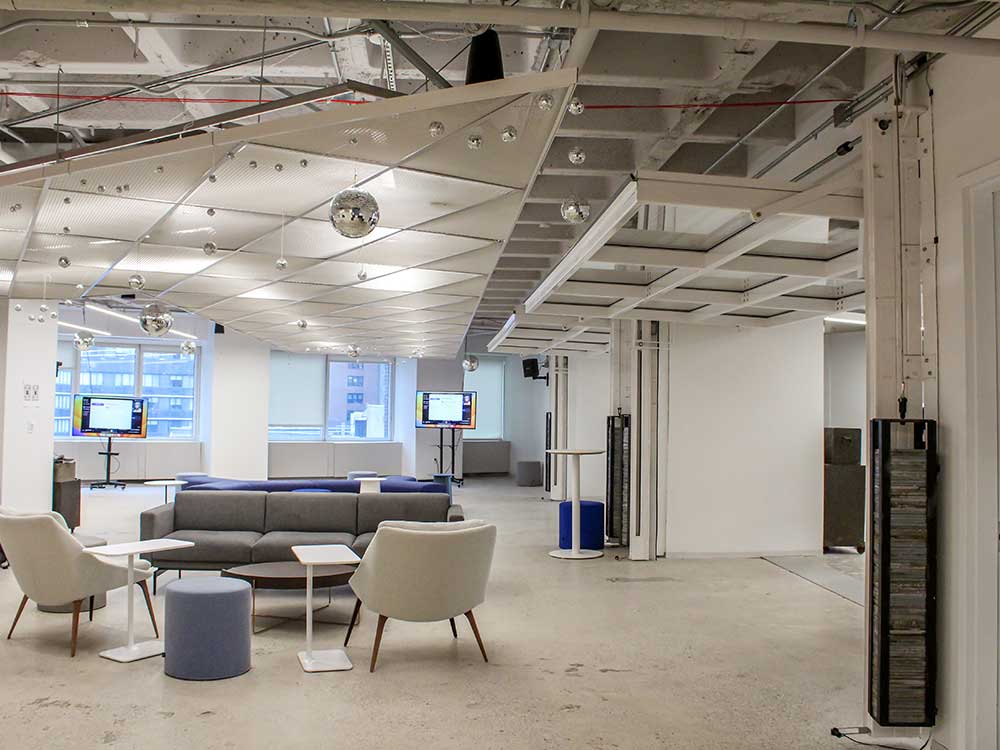 The final product ModernfoldStyles incorporated into Viam's office was the Smoke Guard M400 elevator smoke curtains. Shifting the focus to code compliance and safety regulations, the Smoke Guard curtains were created as a smoke containment solution to protect elevator openings from vertical smoke migration.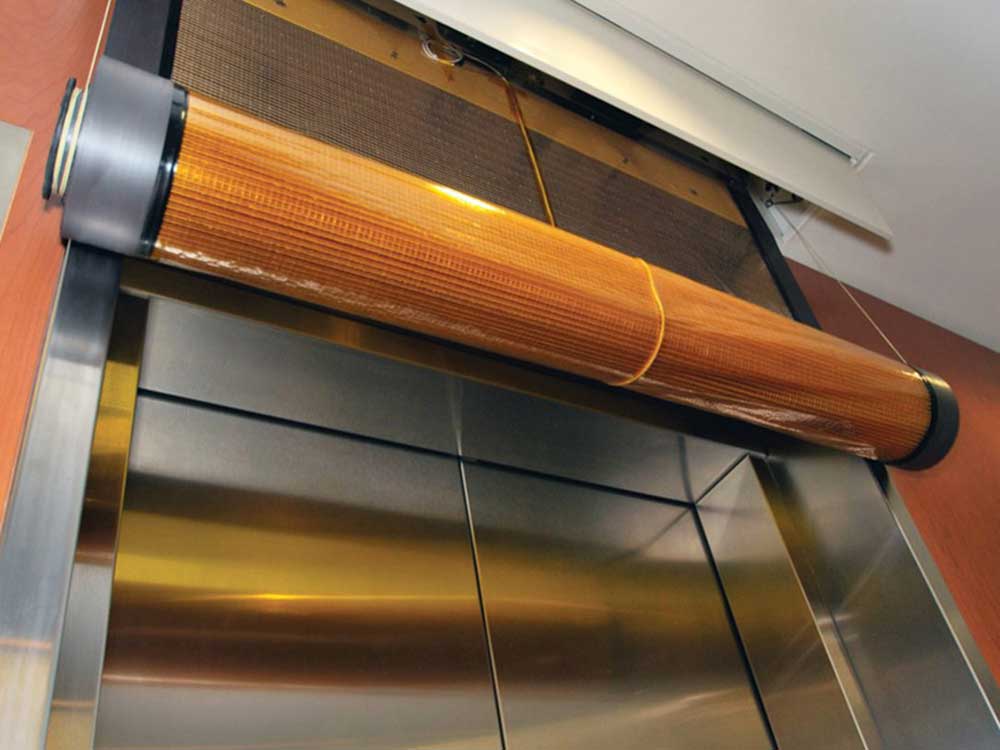 Six M400 units were installed above each elevator on the sixth floor with full-operation battery backup and full-height stainless steel auxiliary rails.
Distributed in standard RAL 9010 powder-coated finish on the housing, the Smoke Guard systems are made of reinforced transparent material designed to deploy when the smoke detector is triggered. In the case that an occupant was in the elevator at the time of deployment, the onscreen rewind switch and breakaway magnetic edges allow the occupant to safely and securely exit.
ModernfoldStyles' wide variety of products successfully transformed the new Viam Robotics NYC office into a more collaborative, efficient, and safe workplace. If you believe one or more of these products may benefit your retail, commercial, or residential needs, contact ModernfoldStyles today to explore our various product customizations and options. Our team of experts will be happy to assist you!
PROJECT AND CLIENT NAME:
Viam Robotics
LOCATION:
1900 Broadway, New York, NY 10023
ARCHITECT:
Plan Architecture, LLC.
GENERAL CONTRACTOR:
Archstone Builders LLC
PRODUCTS:
Euro-Wall: Euro Vista Pivot Doors
Renlita: S-1000 Floataway Doors
Smoke Guard: M400 Elevator Smoke Curtains
ZONA Glass Wall Systems: ZONA 1 & ZONA 4