MONTCLAIR STATE UNIVERSITY
FLEXIBLE DESIGN FOR A NEW GENERATION OF STUDENTS
The Feliciano School of Business building is one recent addition to a campus that has experienced exponential growth over the past decade. Montclair State University, New Jersey's second largest university, is home to 21,000 students from more than 20 countries.
A priority for a school of this size is the incorporation of enough collaborative spaces to allow for group study, team building and career development activities. The six-story, 143,000 sq. ft. building, designed by ENV Architecture, is an interactive, high-tech tour de force. In addition to traditional learning spaces such as a 150-seat lecture hall, the business school houses a real-time financial trading floor, Bloomberg terminals, an innovation lab with 3D printers and state-of-the-art classrooms.
Increasingly, the Business School also serves as a place to host public events and local business community functions, such as executive speaker presentations, entrepreneurship symposiums and networking events. With this in mind, the building was designed to provide the space flexibility necessary to accommodate the wide variety of special events held by the university while continuing to carry out its core mission of teaching.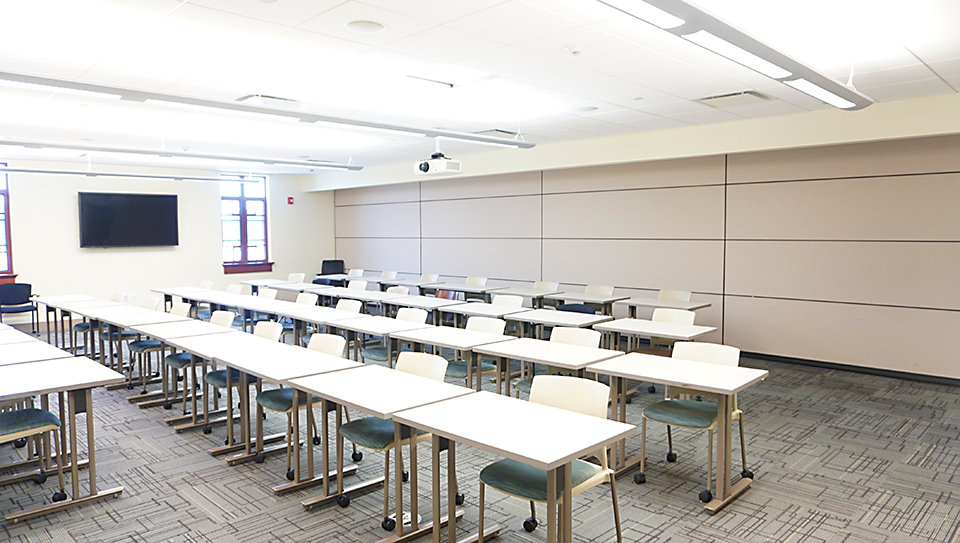 THE CHALLENGE
One space that required maximum flexibility was the the Information Systems Lab housed on the 4th floor. The school wanted the ability to quickly reconfigure the large rectangular room into smaller spaces as needed for its various diverse functions. An operable acoustical partition would be the optimal solution. The challenge was finding one that would divide the 38 ft. space, provide the high acoustical control needed to dampen extraneous noise, and take up minimal space when not deployed.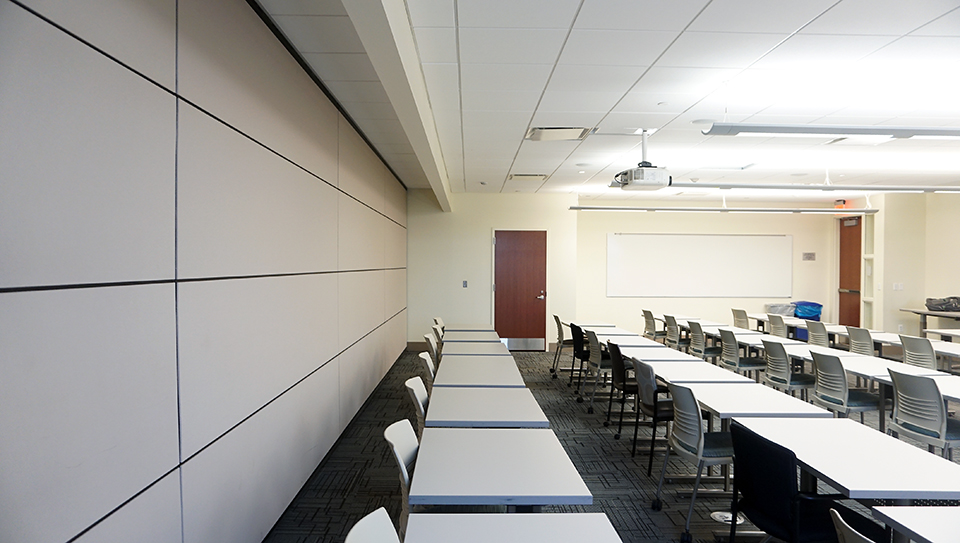 THE SOLUTION
The Skyfold Zenith 48 electrically-operated, vertical retractable folding partition beautifully meets the Business School's requirements for space flexibility. The Zenith 48 bisects the large rectangular space creating two full-sized classrooms when lowered which transforms into a large lecture hall when opened. The partition vertically retracts into the ceiling with no rails or guides on the floor or walls which saves valuable classroom space. Equally impressive is the ability to position the classroom furnishings and desks close to the partition since they require a thinner path-of-travel; as thin as the wall itself. A 1-horsepower motor and push button control allows the wall to operate automatically with minimal effort by the user. With a 48 STC rating and electrically operated end seals, the Skyfold's acoustical properties ensure external noise is minimized during classes even while an event is taking place in the adjoining room.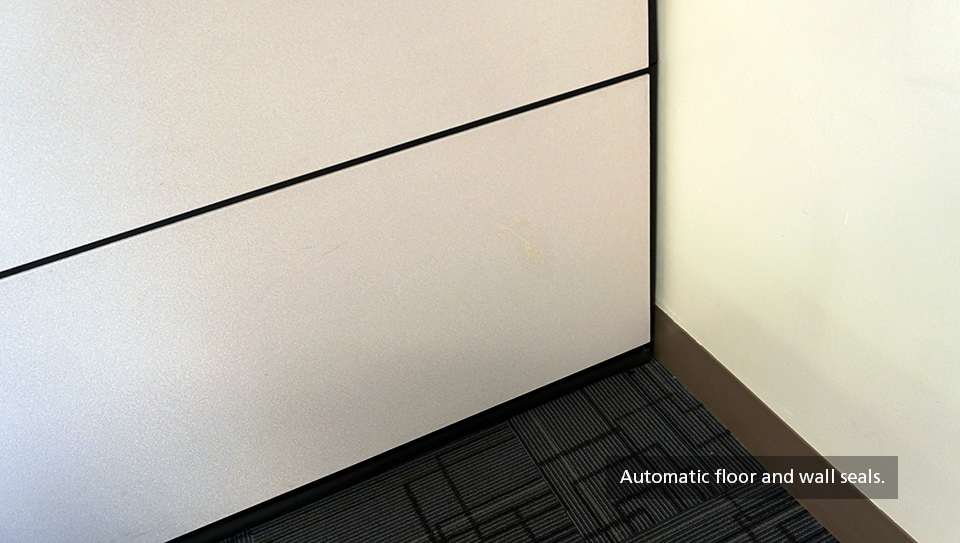 Montclair State University's Feliciano School of Business exemplifies how flexible design can not only accommodate the needs of a dynamic new generation of students, but also the business community at large. Its forward-thinking approach to space management design ensures its investment will pay off by enabling the school to take advantage of today's opportunities while adapting to the changing needs of tomorrow's students and future growth.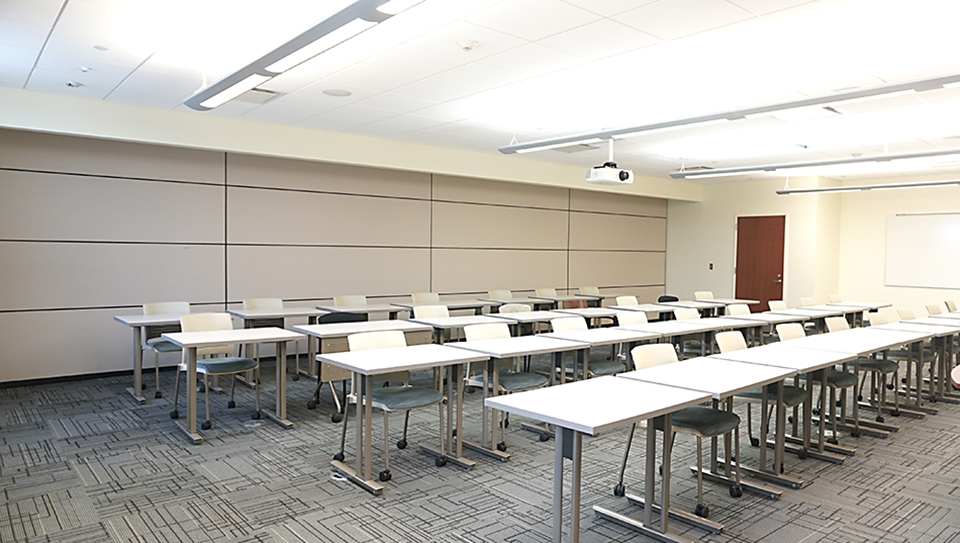 ARCHITECT:
ENV Architecture

GENERAL CONTRACTOR:
Molba Construction

PRODUCT / COMPONENTS:
Skyfold Zenith 48 (38'10" L x 8′ H)