ModernfoldStyles Reaches New Heights in 52nd Floor Downtown Manhattan Office
In one of the many skyscrapers dominating the famous New York City skyline, ModernfoldStyles recently completed an installation of multiple products from our expansive collection, including Skyfold Zenith Premium 60, Modernfold Acousti-Clear, and ZONA Glass Wall Systems. Located in lower Manhattan on the 52nd floor, these luxurious offices boast spectacular views of iconic New York landmarks, such as the Statue of Liberty, the Empire State Building, and many more.
To ensure this premium office space was optimized for productivity and versatility, ModernfoldStyles collaborated with the Huntsman Architectural Group and Structure Tone Inc. throughout this successful project.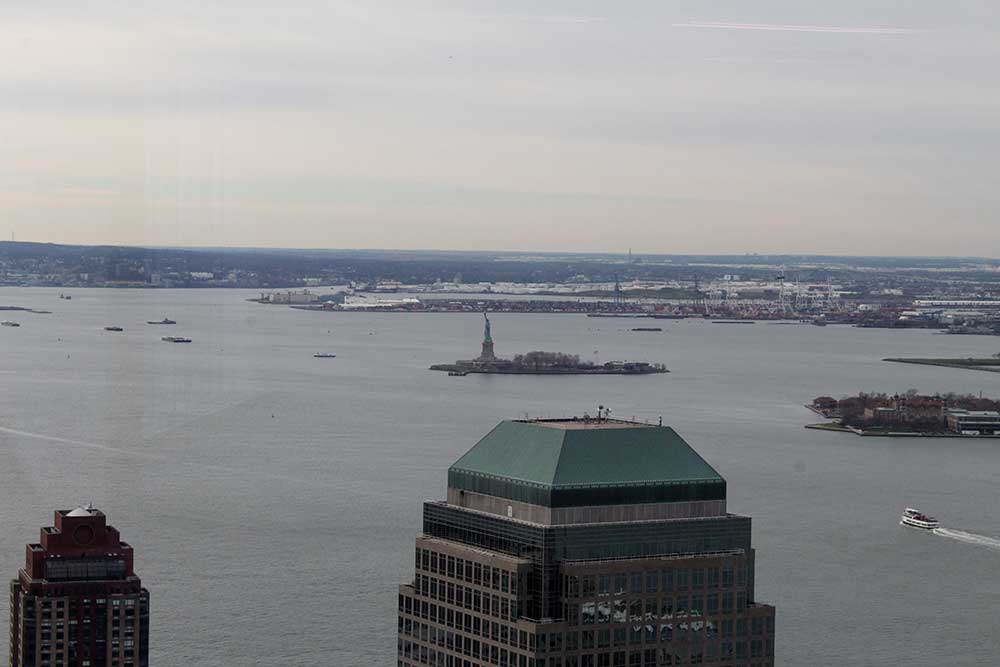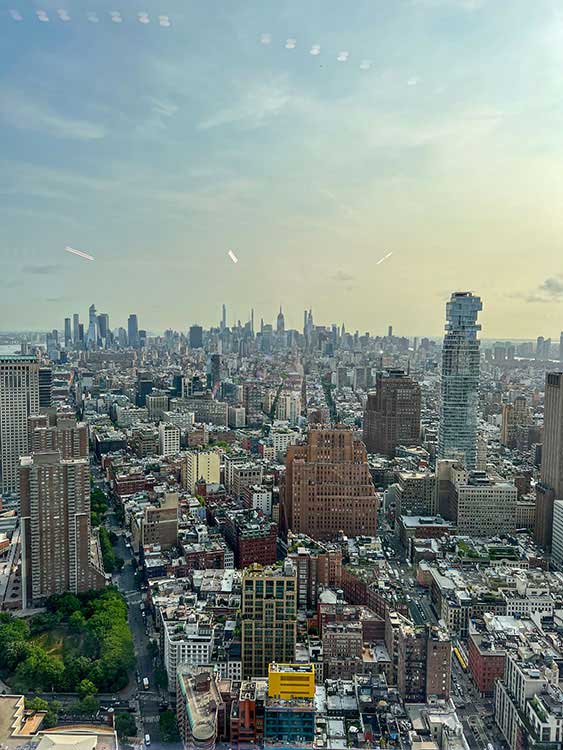 The first product installed in the space was Skyfold Zenith Premium, the leading product on the market for operable partitions. This top-of-the-line series exhibits the combined benefits of each Skyfold model, offering a superior acoustical performance of 60 STC, smooth vertical descent capabilities, various design options, and more.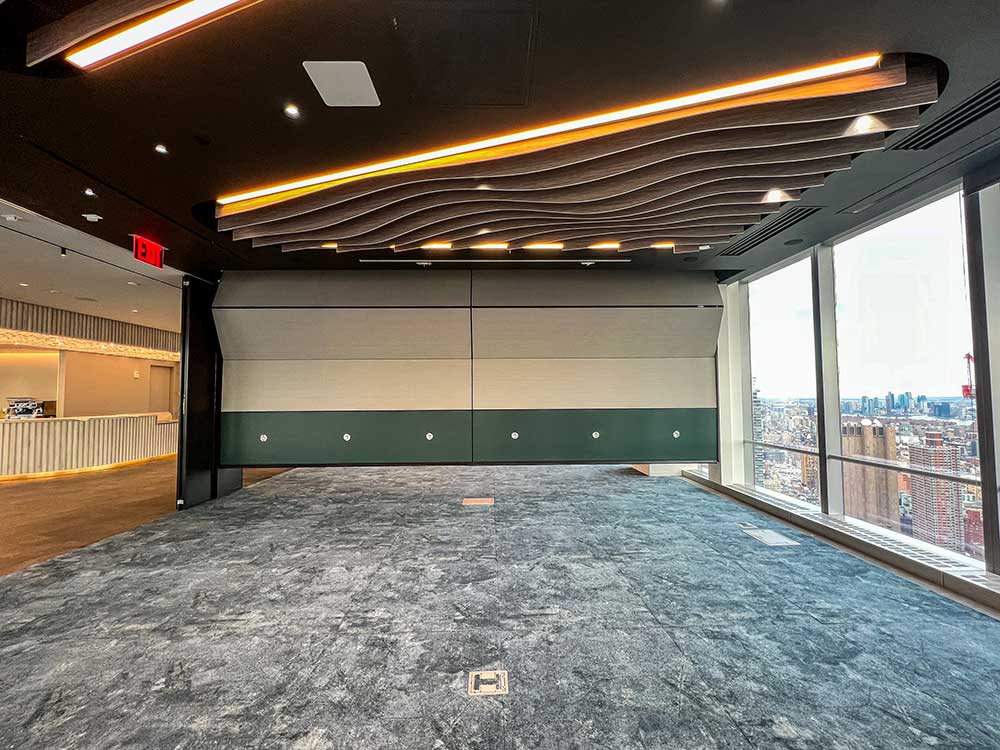 This custom Zenith Premium partition was constructed with three rows in Carnegie Xorel Matte 6091-501, as well as its bottom row custom painted in green with pocket closure panels. The wall's perimeter seal, available in black or white, was installed in black to match the rail finish painted in a coat of standard black RAL powder.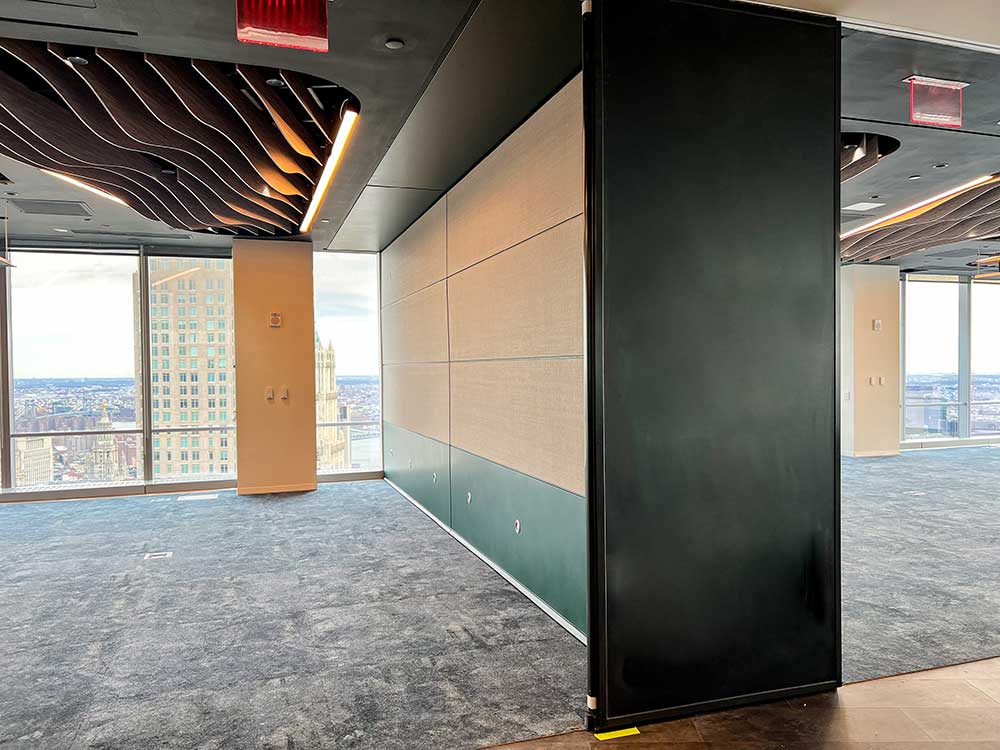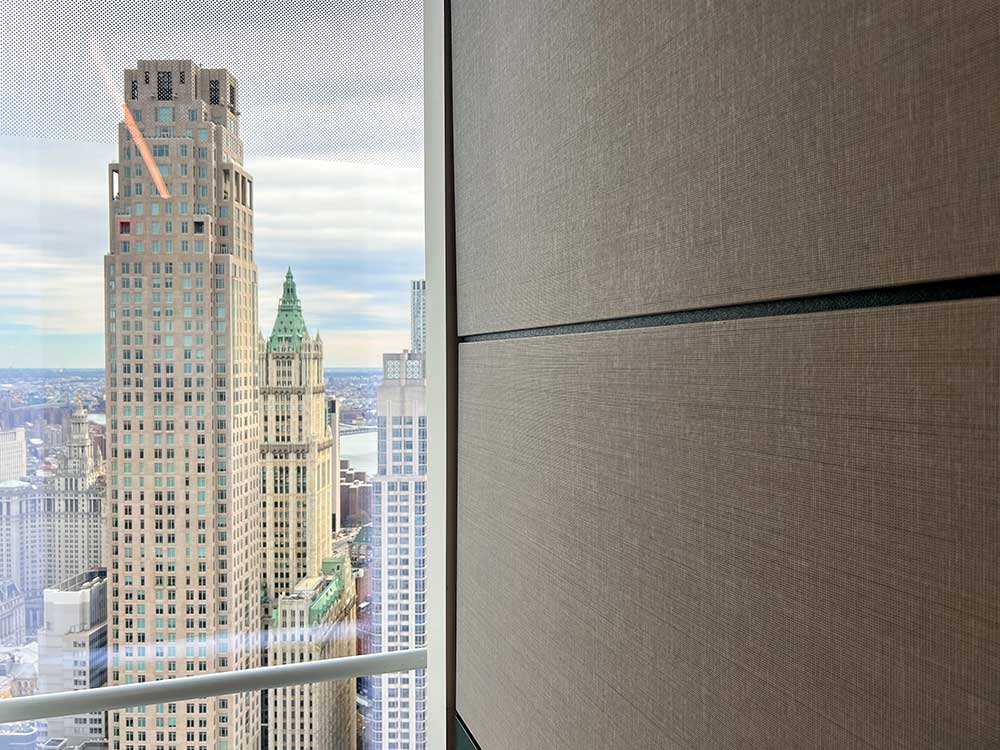 The bottom row of the Skyfold retractable wall was assembled with six LED lights per side, amounting to 12 in total. The warm white 2800 Kelvin bulbs offer dimming options and were installed in a round fixture surrounded by LED-style brushed stainless steel.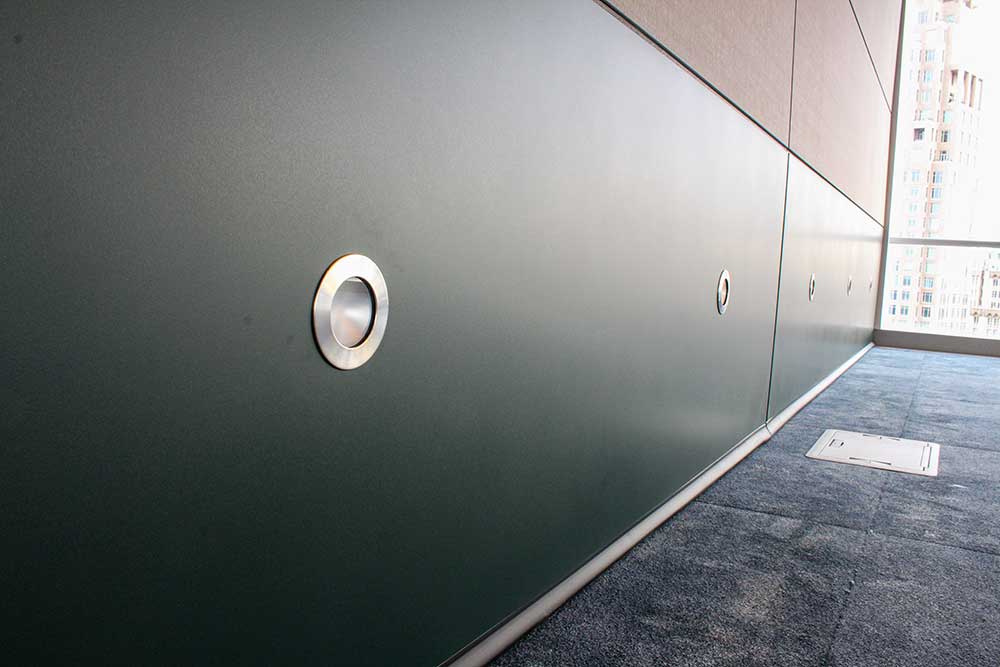 Skyfold can be controlled with a touchscreen for ease of use and lays flush with the ceiling, creating a seamless surface above when retracted.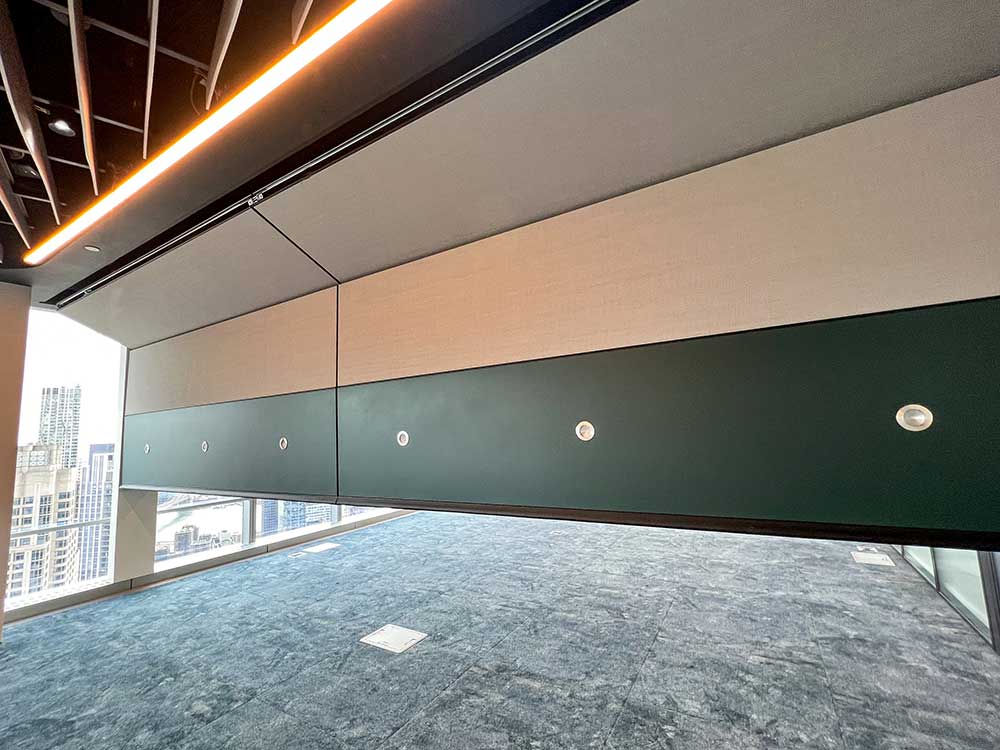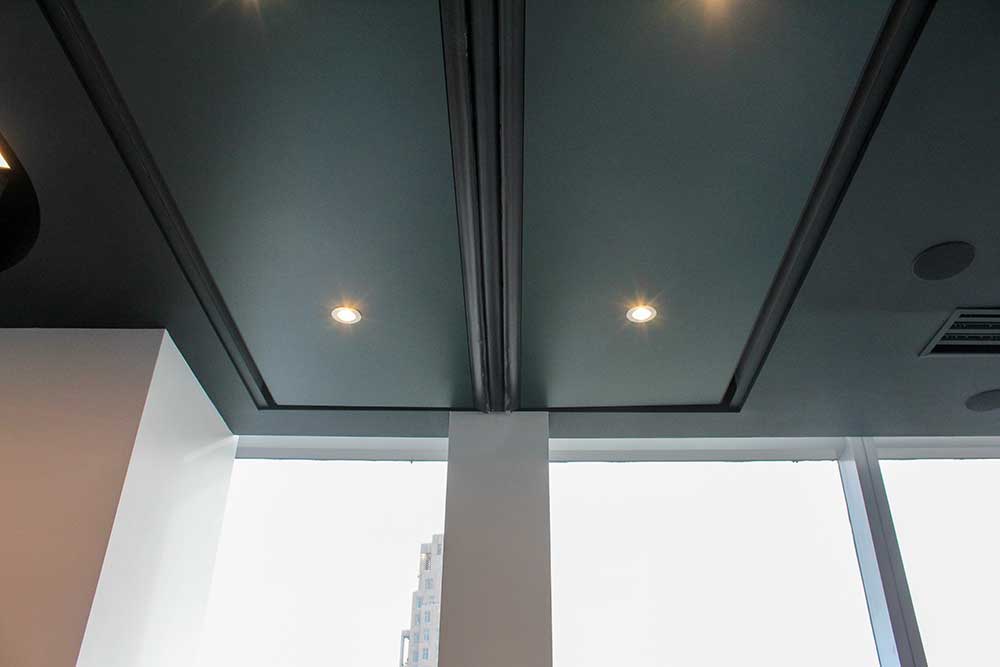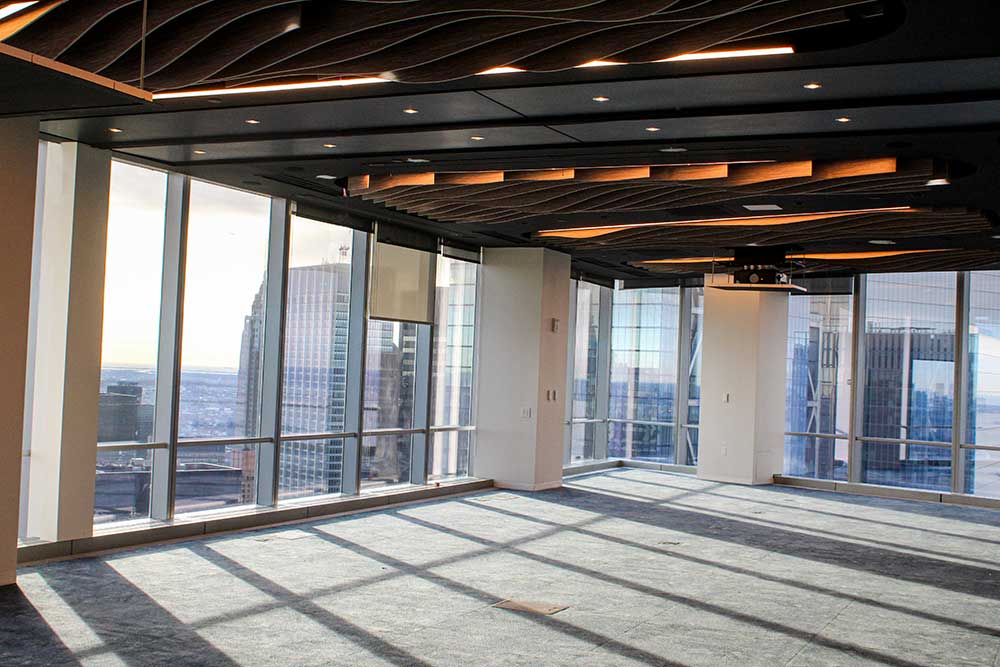 Skyfold Zenith Premium beautifully elevates the space and precisely intersects the Modernfold Acousti-Clear single panel wall. To match Skyfold, Acousti-Clear was installed with a black panel finished in Wilsonart Plastic laminate. The black satin glass panel rails and black trim seal further ensured the products fluidly blended together.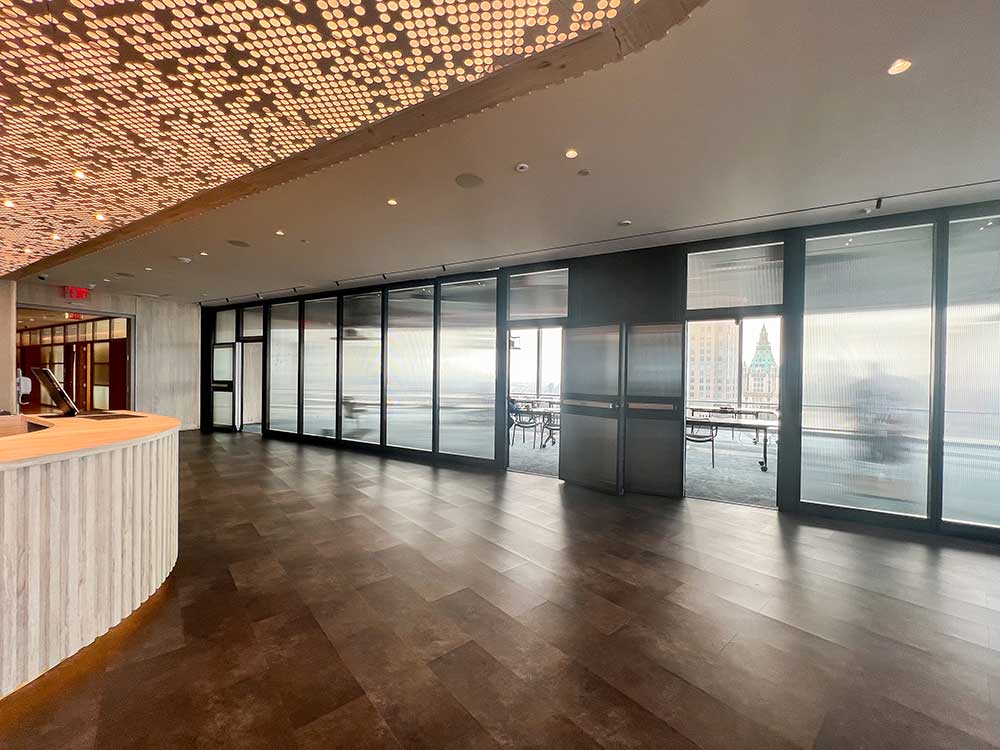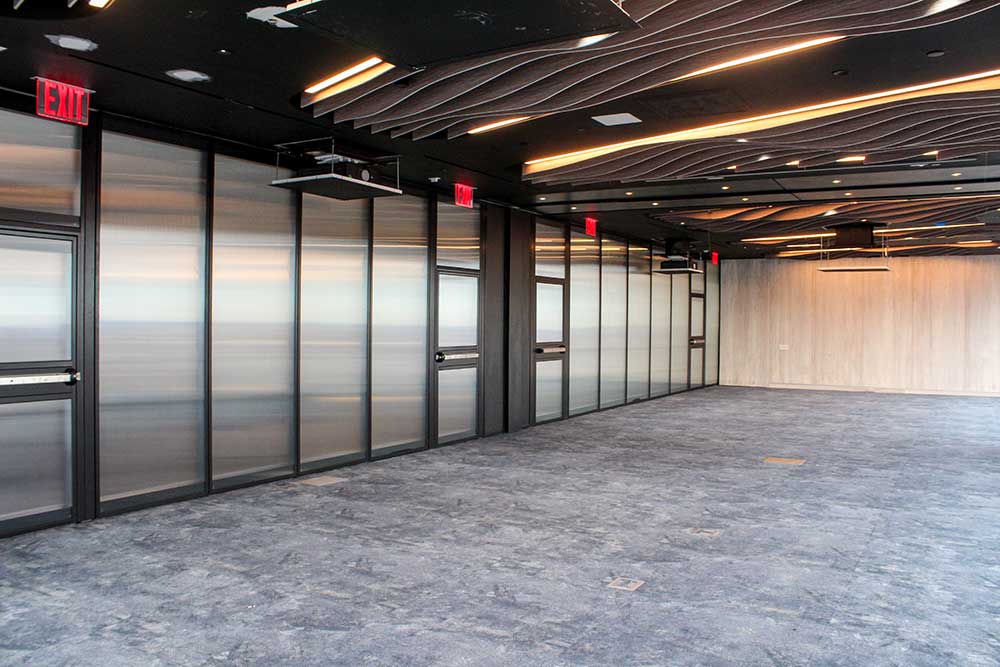 With intentions to redesign the client's conference room, Acousti-Clear was assembled with low iron clear tempered glass with a field applied film that provided a ribbed texture, allowing greater visibility while maintaining privacy. In addition, the 4.06" thick panels are constructed with laminated .38" and .31 thick glass, making it possible to achieve an acoustical rating of 51 STC.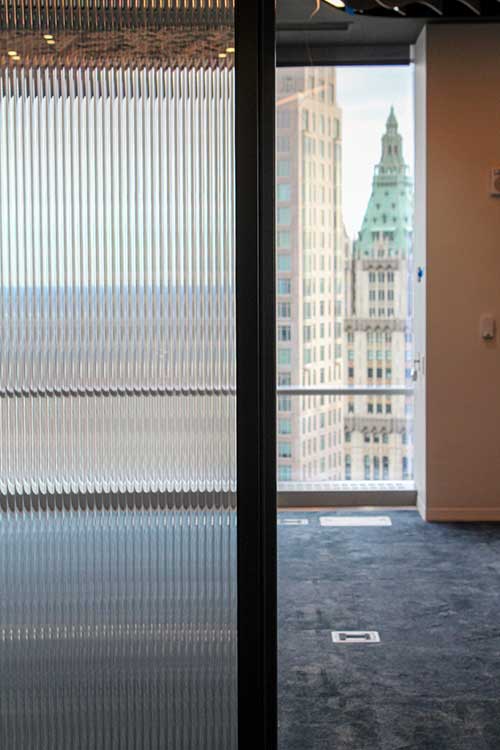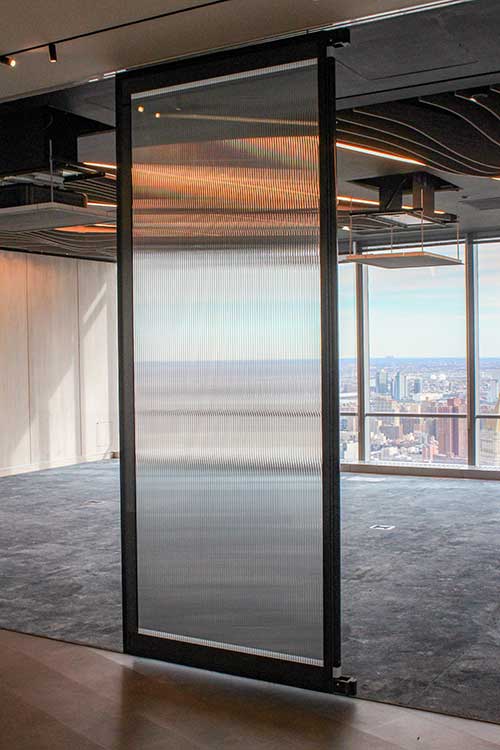 The pass doors were constructed the same way as the panel, but with added panic hardware and a brushed and satin stainless finished standard lever handle to easily open and close.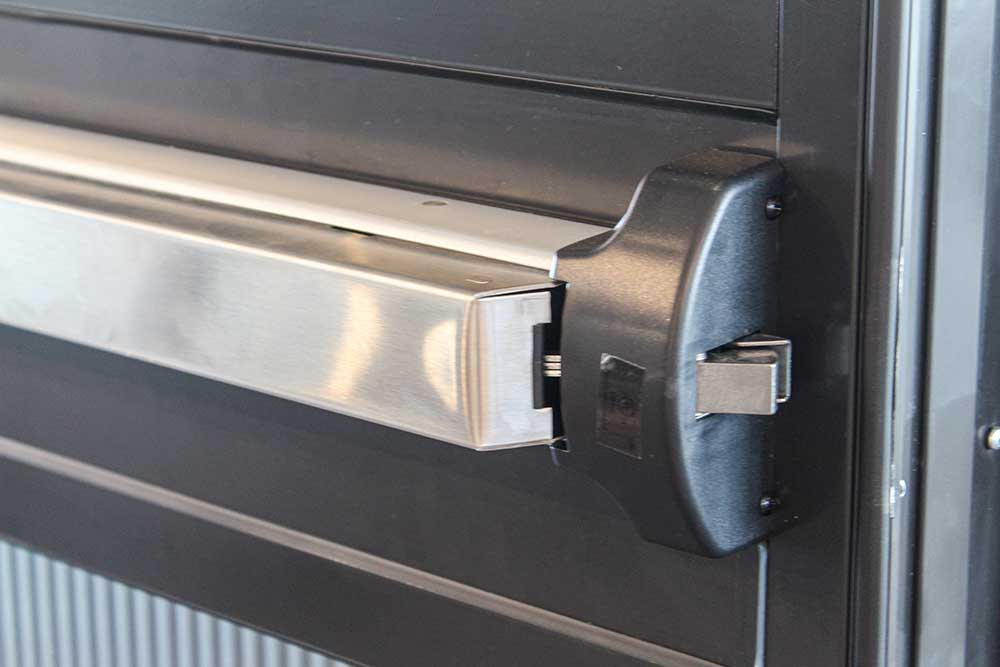 The Modernfold Acousti-Clear was set on the G330 RA right angle track system with a stainless-steel trolley that glides smoothly on its nylon surface. The seals of the solid panel, which coincides with Skyfold, can be controlled with a key switch while the glass panels are operated manually with automatic top and bottom seals in addition to an expandable panel closure method.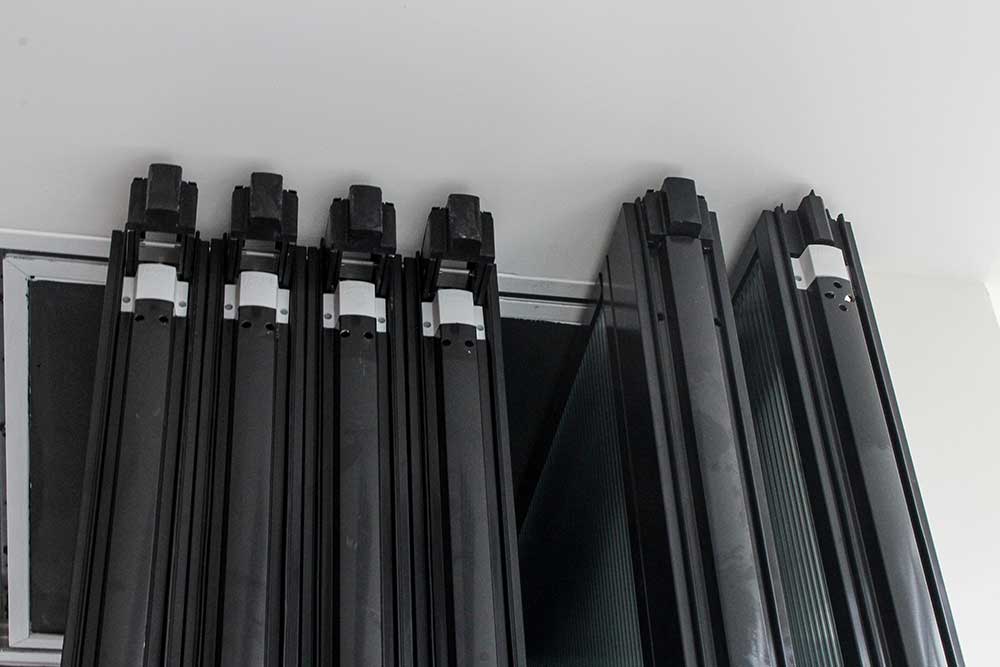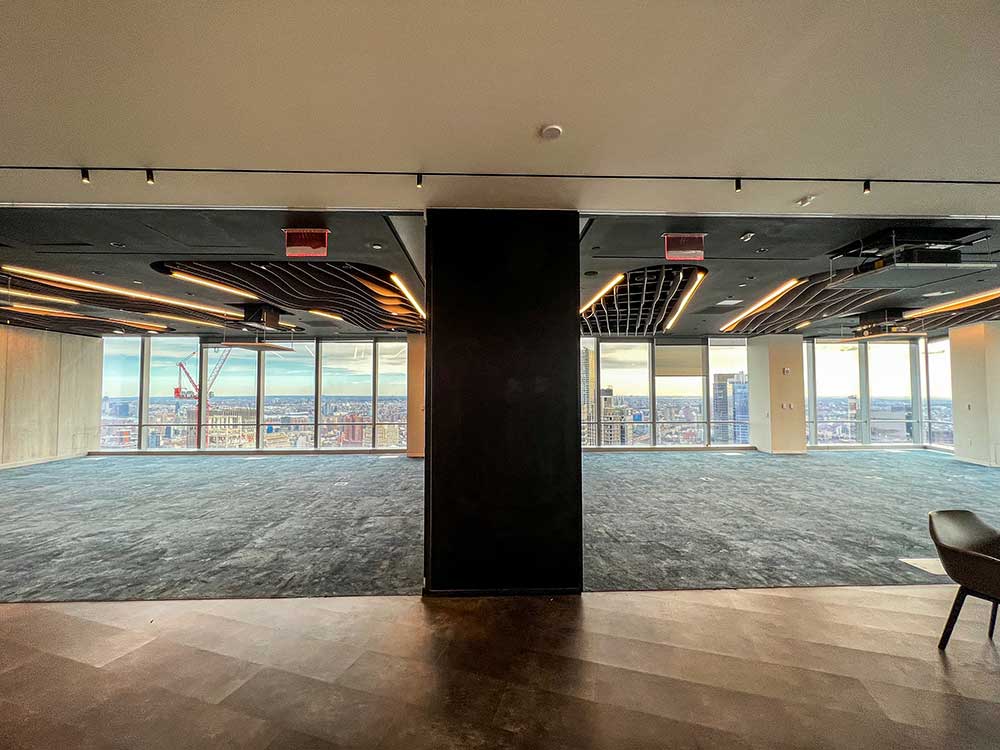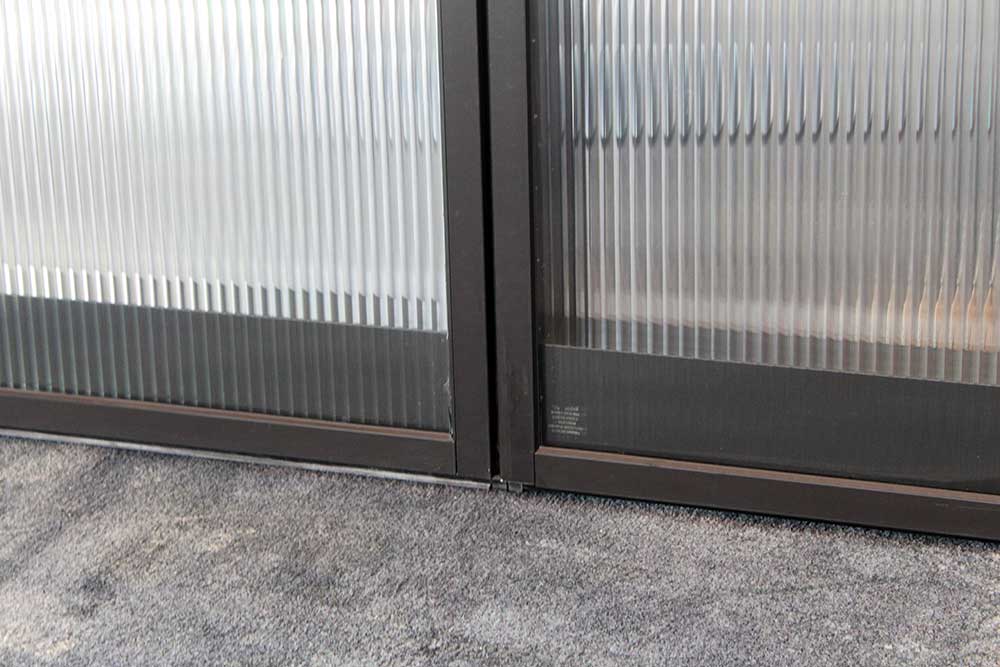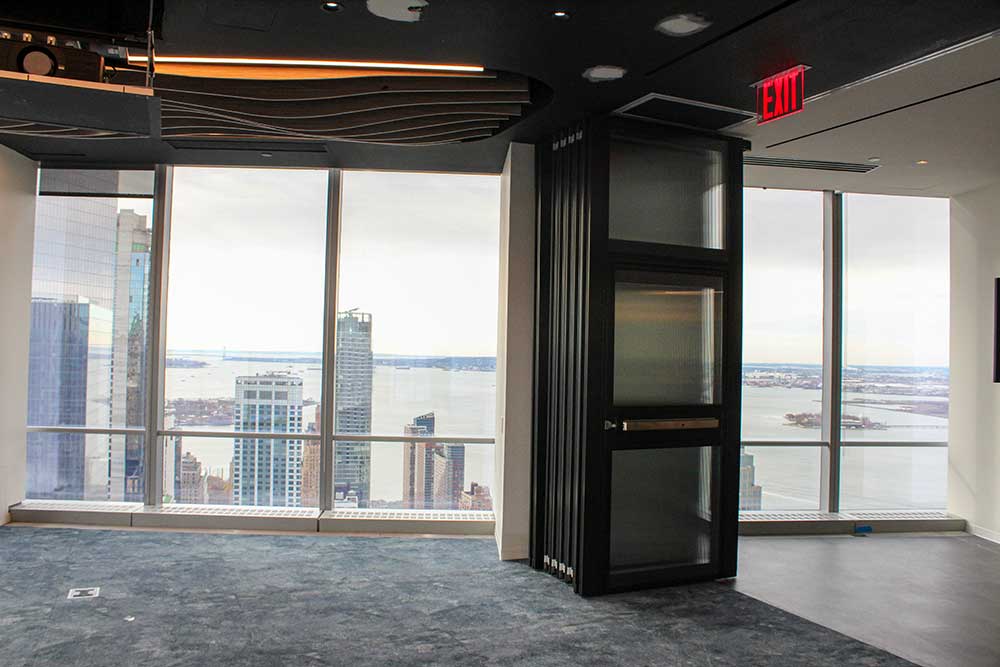 The final product in the installation included four ZONA 1 Glass Wall Systems. Distributed to optimize the clients' libraries, conference room, and offices, the ZONA 1 single-glazed system was crafted with ½" low iron glass, providing superior clarity and brightness to traditional glass.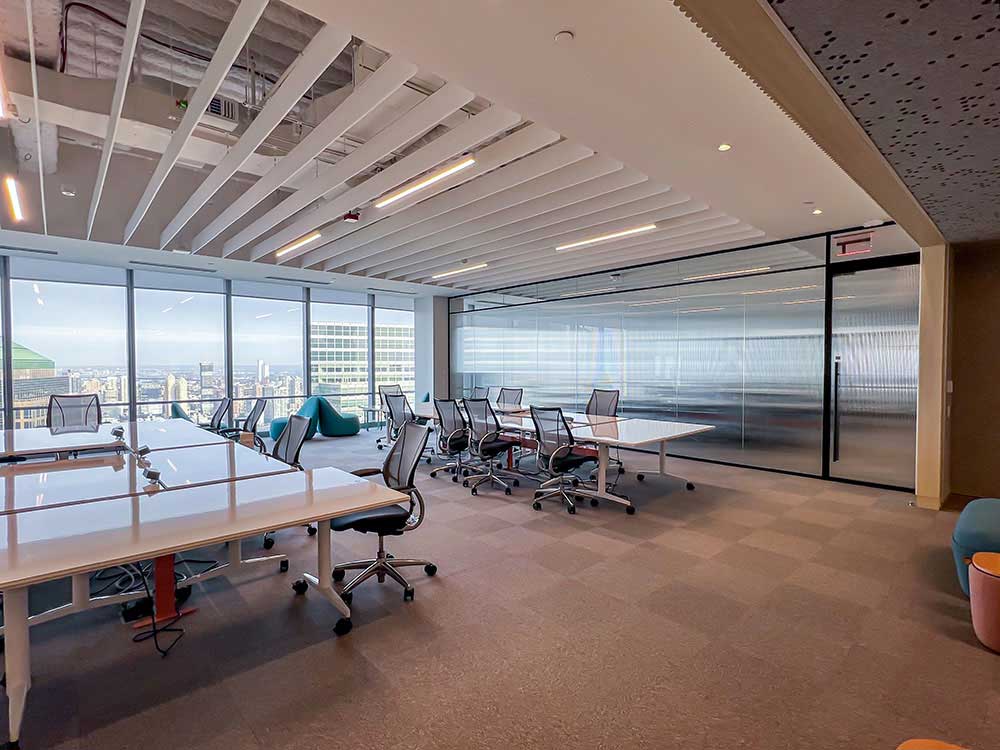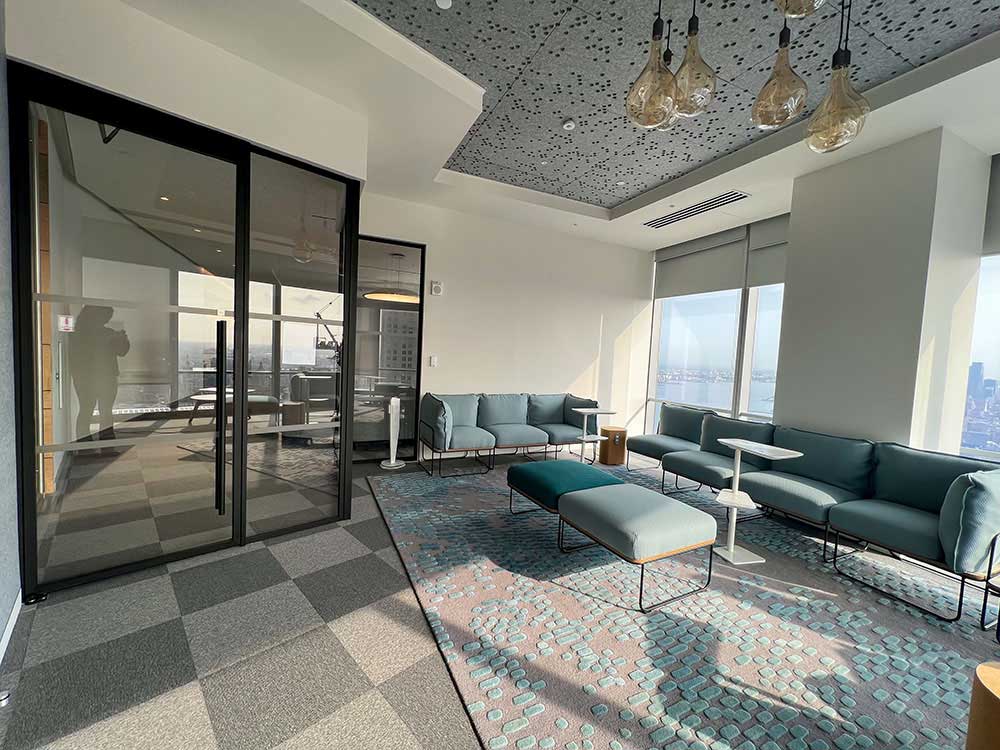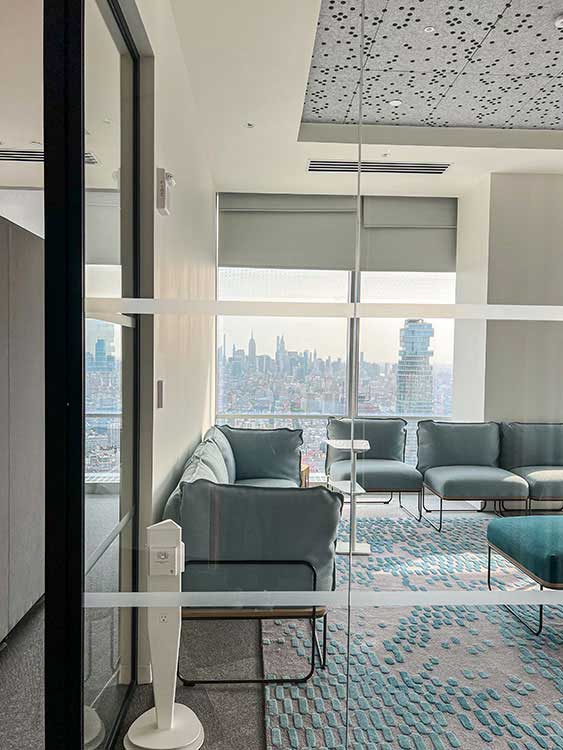 Standing at 8'-6", each product was finished with a black powder coat.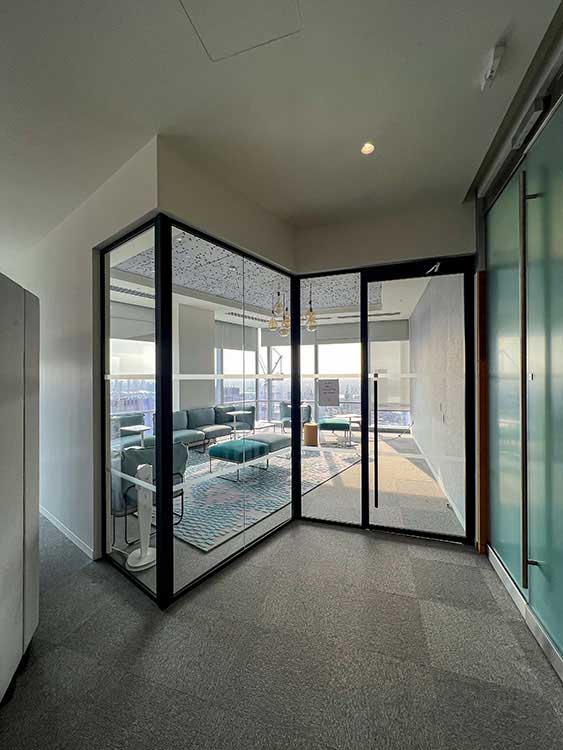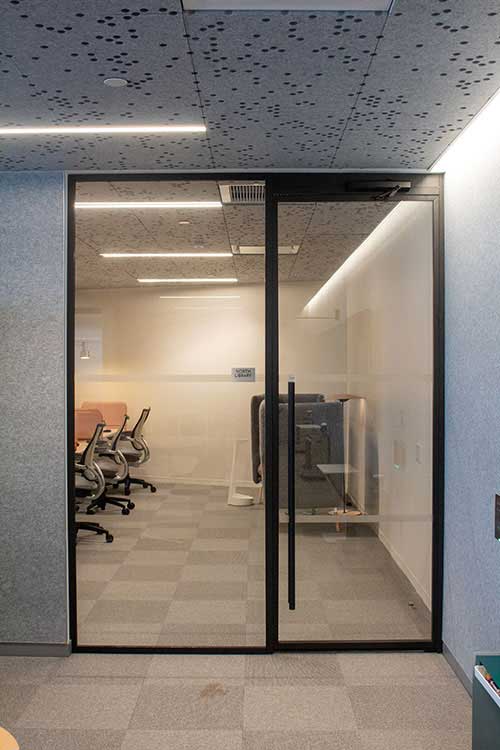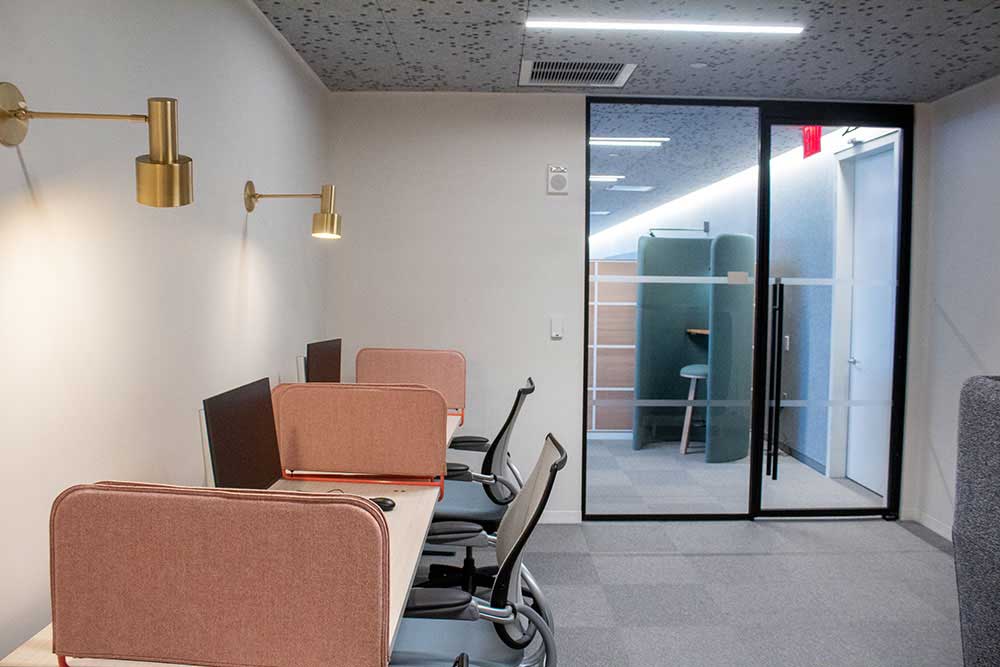 Out of the four ZONA walls installed, one wall was constructed with ribbed ½" low iron tempered glass, incorporating a unique texture that helps disperse light throughout the room while adding an element of privacy.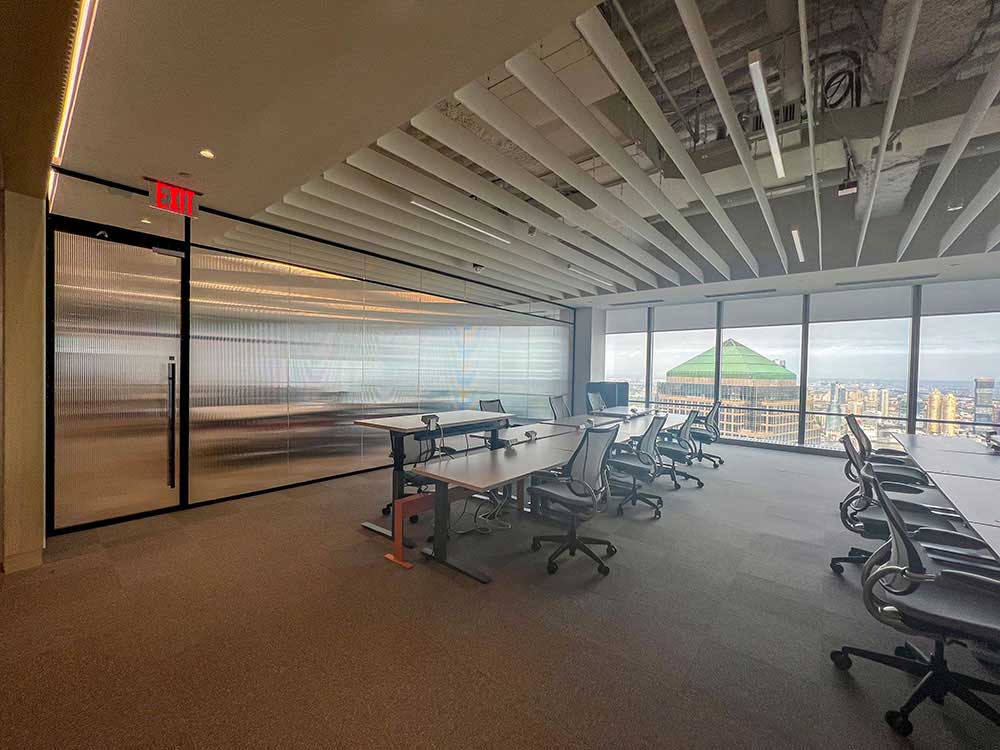 The ZONA system's swing doors were fitted with 48" TCS black ladder pulls, standard face mounted door closers and magnetic door holders ensuring ease of use for everyone.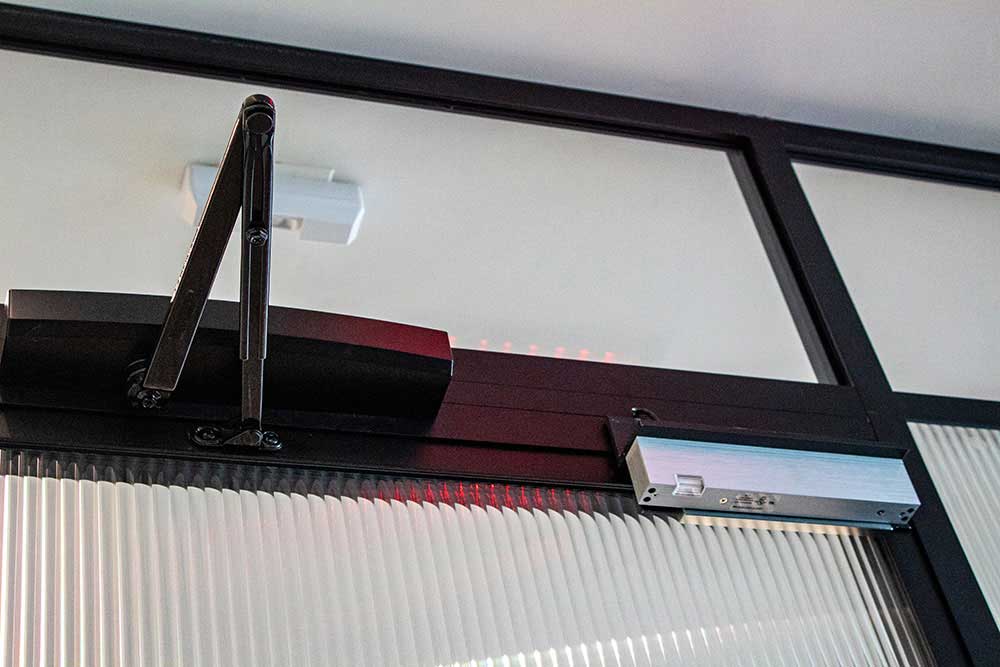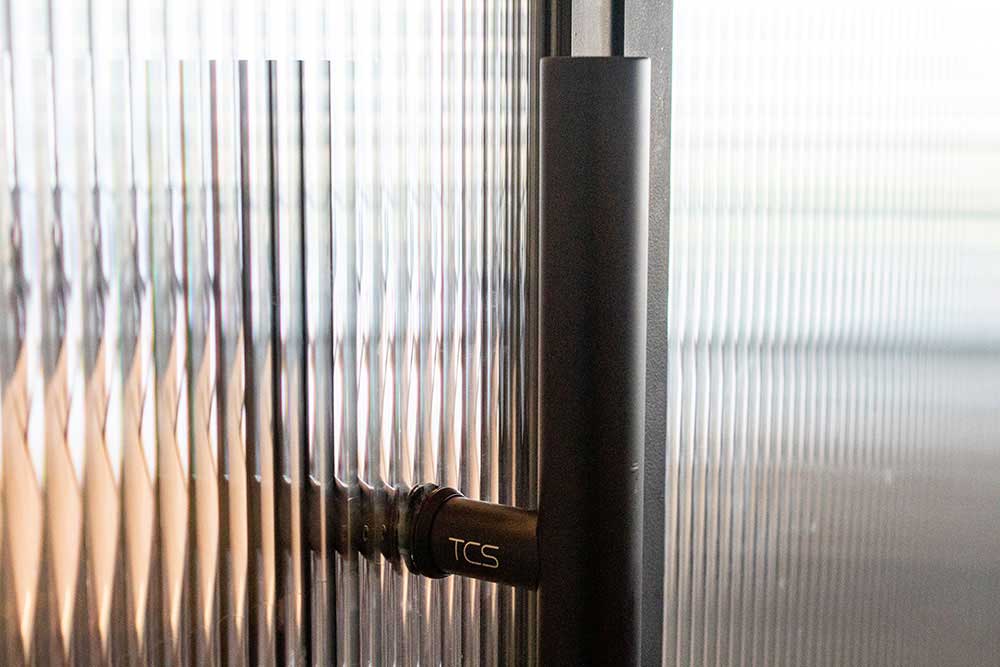 Check out the way the closers enhance ZONA's functionality in our video below, where you can also watch the Skyfold Zenith Premium's smooth vertical descent and the Acousti-Clear's versatility.
ModernfoldStyles is thankful to have worked on such a wonderful project that resulted in a truly stunning outcome. We offer Skyfold, Modernfold, and ZONA products at ModernfoldStyles and numerous other space management solutions. Don't miss out on revitalizing your commercial, retail, or residential space, and schedule a tour of our showroom in Bergen County to check out our products in person! We would be happy to assist you.
PROJECT & CLIENT NAME:
Confidential Client
LOCATION:
7 World Trade Center, New York, NY
ARCHITECT:
Huntsman Architectural Group
CONTRACTOR:
Structure Tone, Inc.
PRODUCTS:
Skyfold Zenith Premium 60
Modernfold Acousti-Clear
ZONA Glass Wall Systems: ZONA 1