Collaboration in the Clouds at One Vanderbilt
Now that Zoom fatigue is put to rest, and we're able to meet once again in our offices, imagine experiencing that first face-to-face collaboration in this jaw-dropping space. Set foot inside this confidential client's conference room in the sky at One Vanderbilt. With breathtaking views of the Empire State Building, Hudson River and beyond, this sleek office is just steps away from NYC's bustling Grand Central Station in KPF's award winning supertall tower.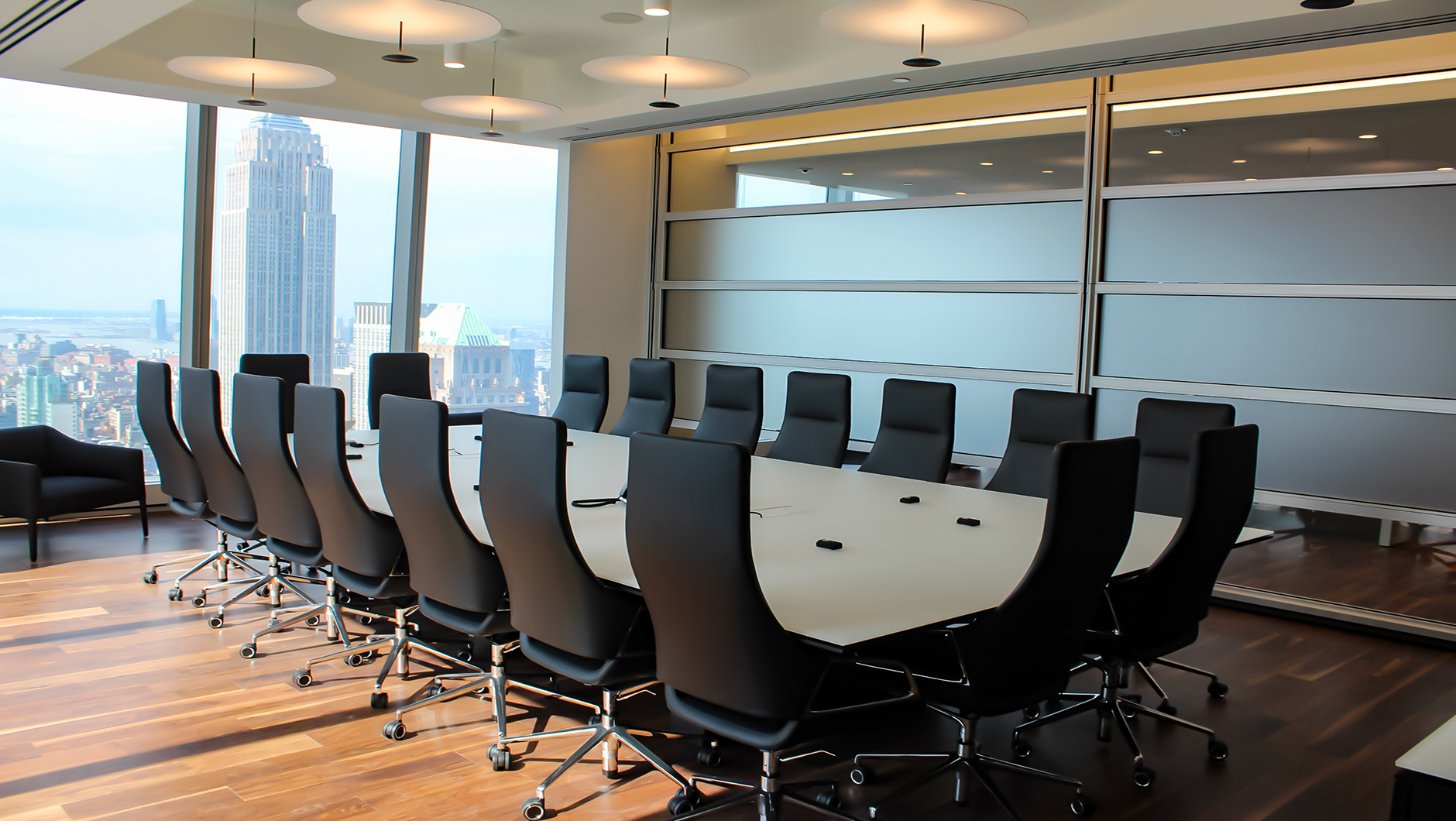 Spectorgroup specified an innovative Skyfold® space management system to create a private conference room. The system is so cleverly disguised, you do not know it is there, until it magically deploys from the ceiling. You won't believe your eyes. Is it a mirage? Yes actually, it's the Skyfold Mirage vertically folding operable acoustic wall. The 25'w x 11'h silver metallic structural grade aluminum pantograph assembly and tempered glass wall system emerges like an intricate piece of origami, quietly unfolding as it descends into place.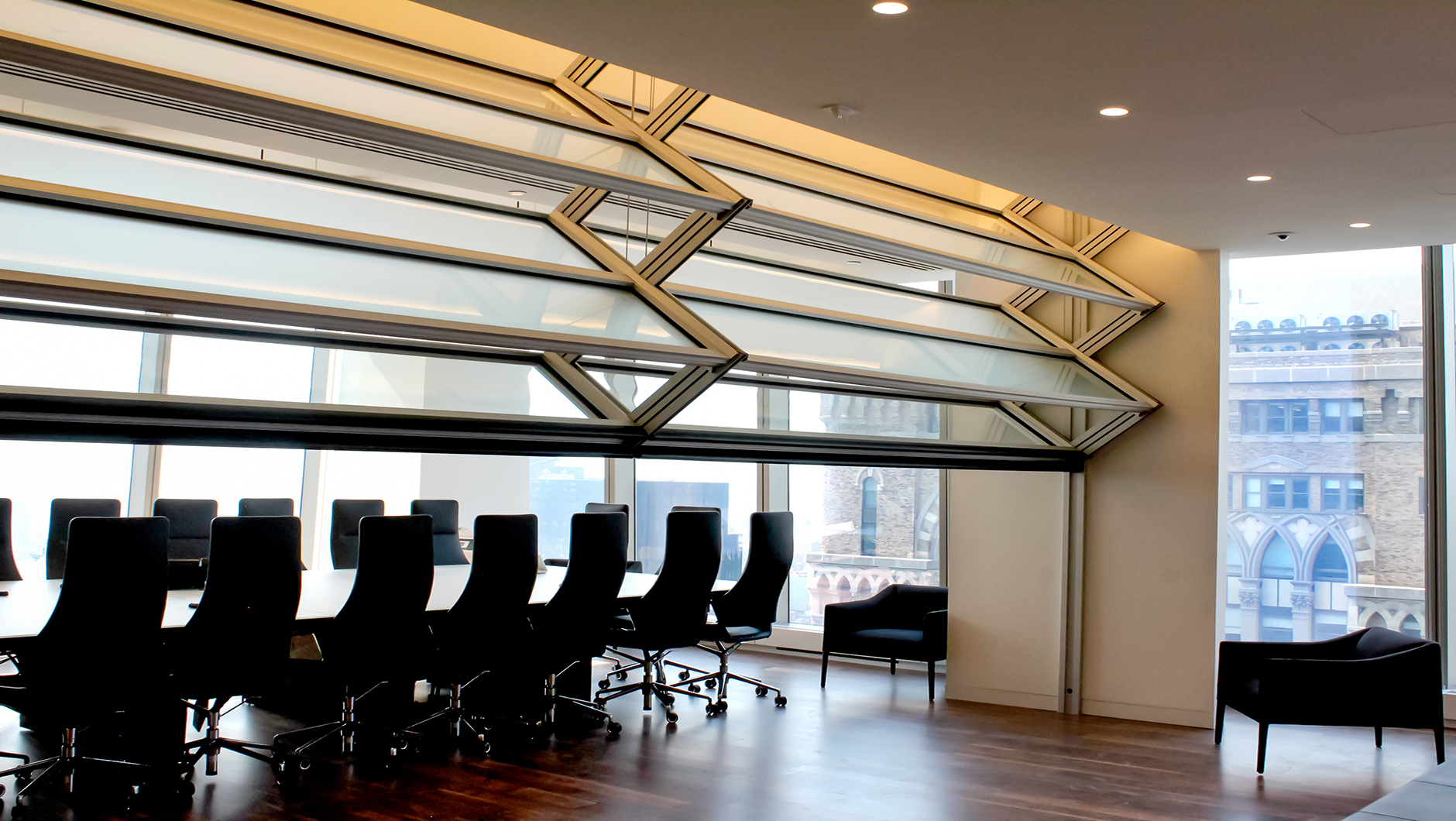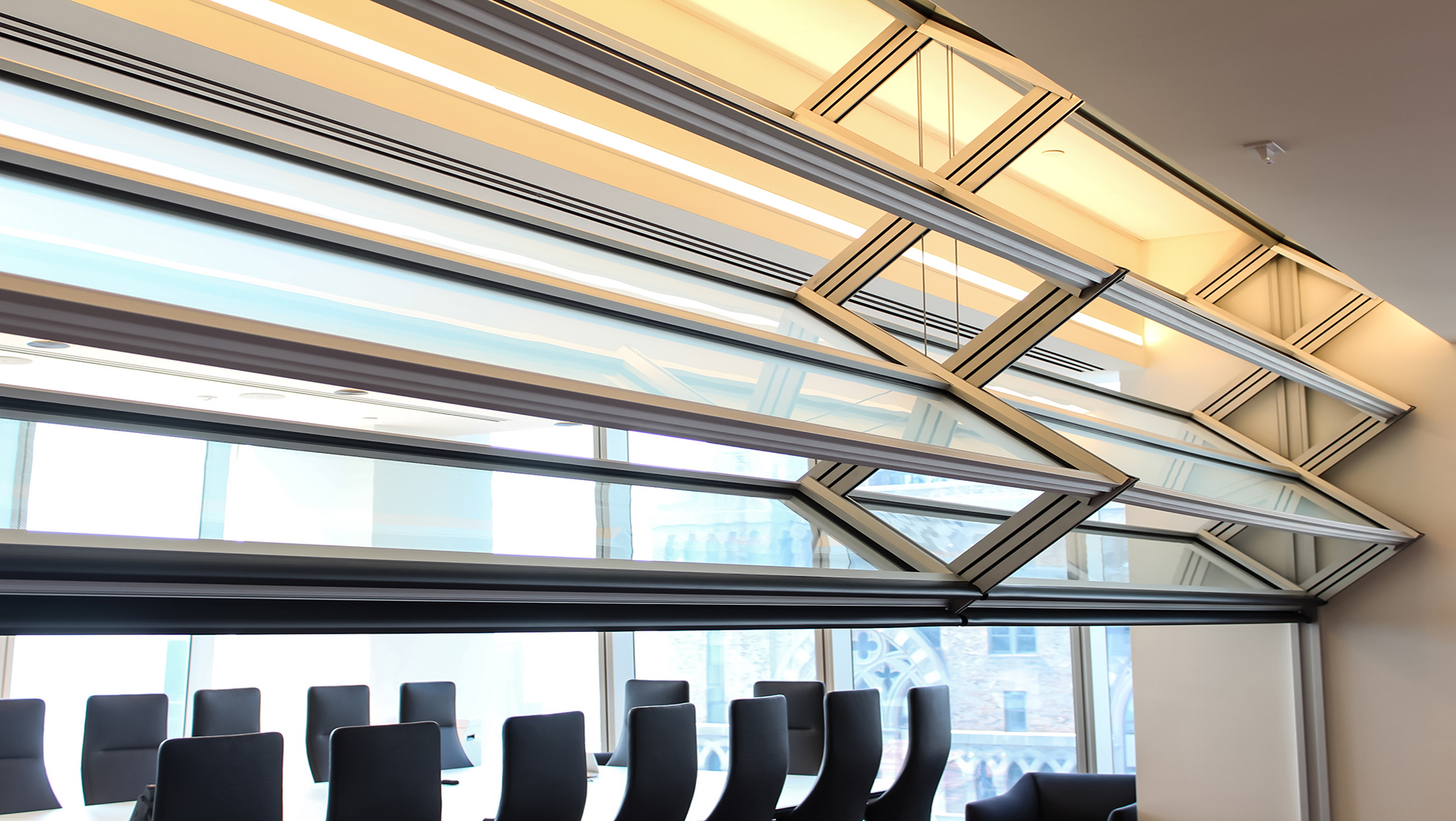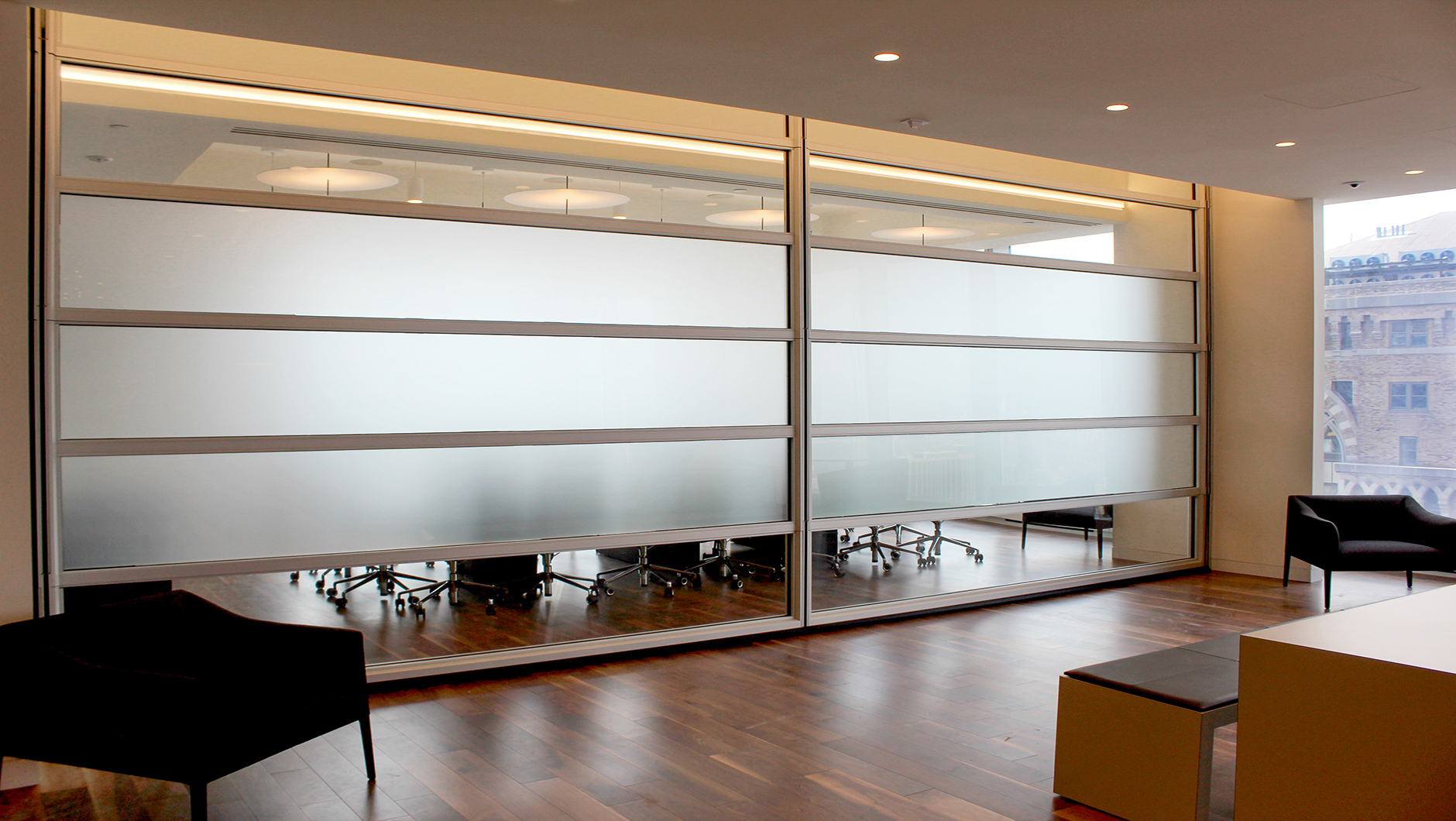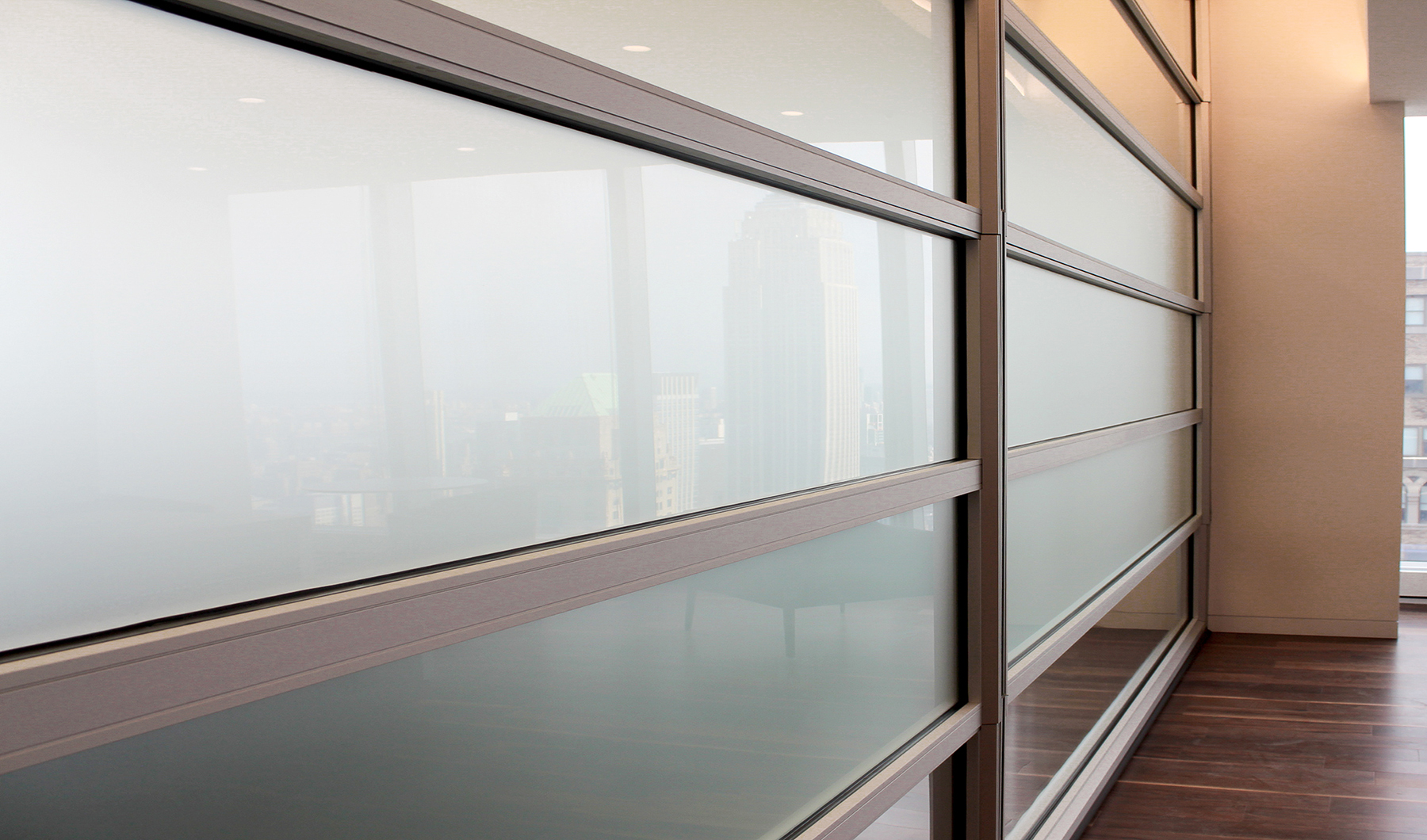 Transform space in a snap with the turn of a key and push of a button. With Skyfold, there are no unsightly floor tracks to detract from the clean, modern design aesthetic. There are no exposed hinges, brackets or screws. The system even stores out of sight in the ceiling when not in use. With an industry leading 10-year warranty, the Skyfold Mirage allows in abundant natural light, while providing privacy. Even with the wall fully deployed, the entire space maintains a light, bright and energetic atmosphere.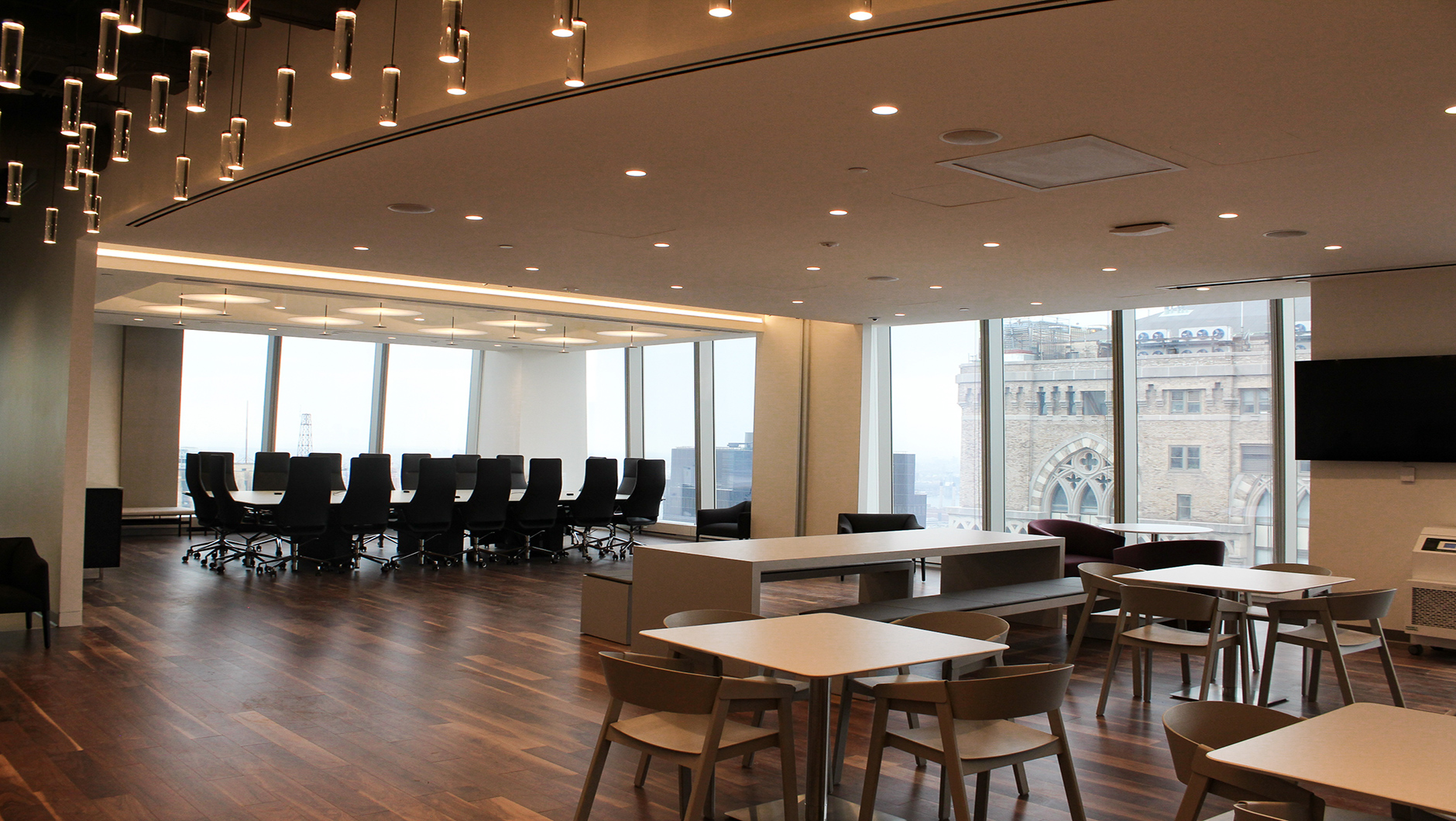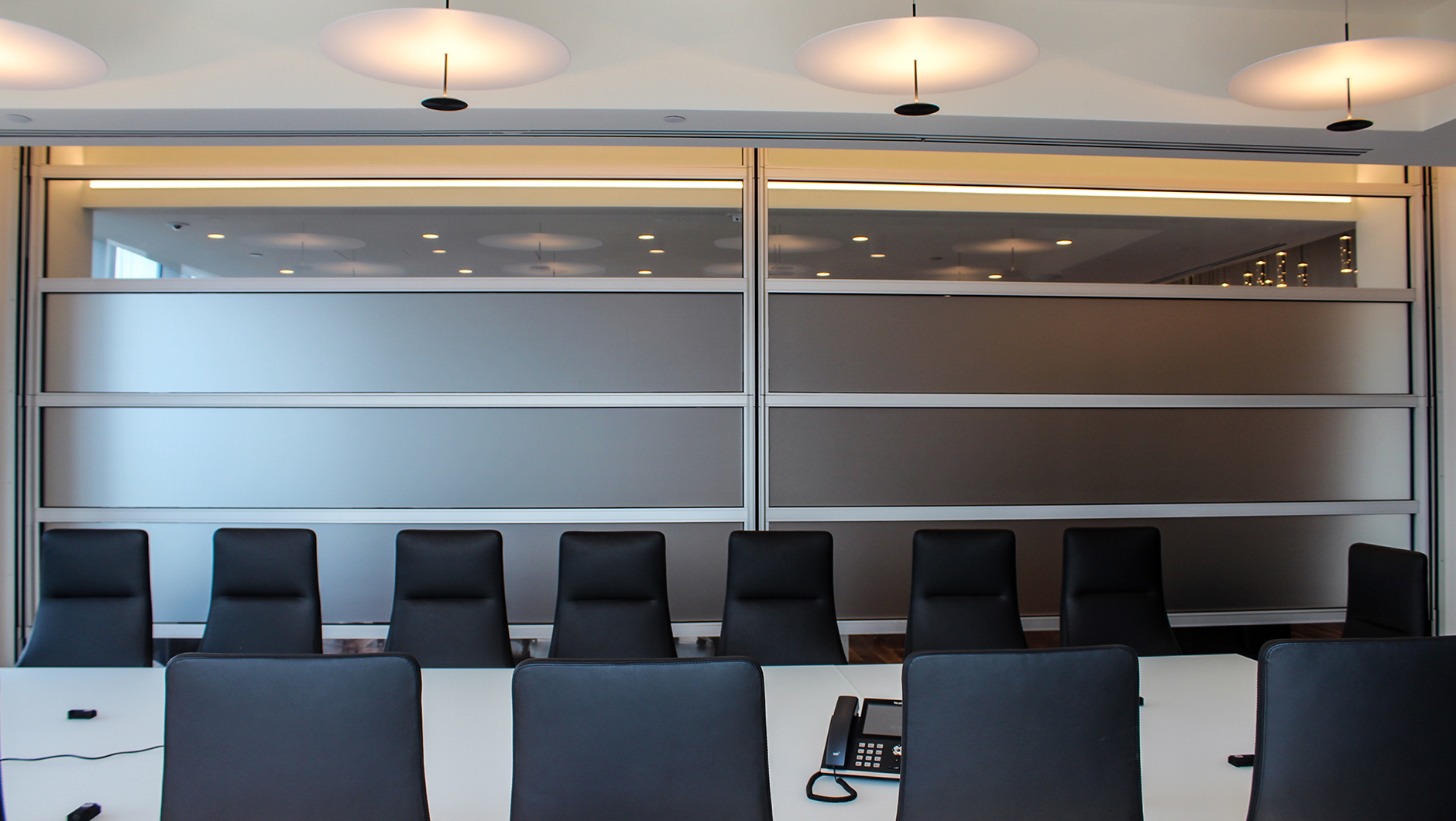 Flexible space management solutions, like Skyfold, transform the ordinary into the extraordinary. Thoughtful design creates environments people want to be a part of and to linger in longer. For a large event, the wall may be opened up to allow the conference room to seamlessly integrate with the adjoining café.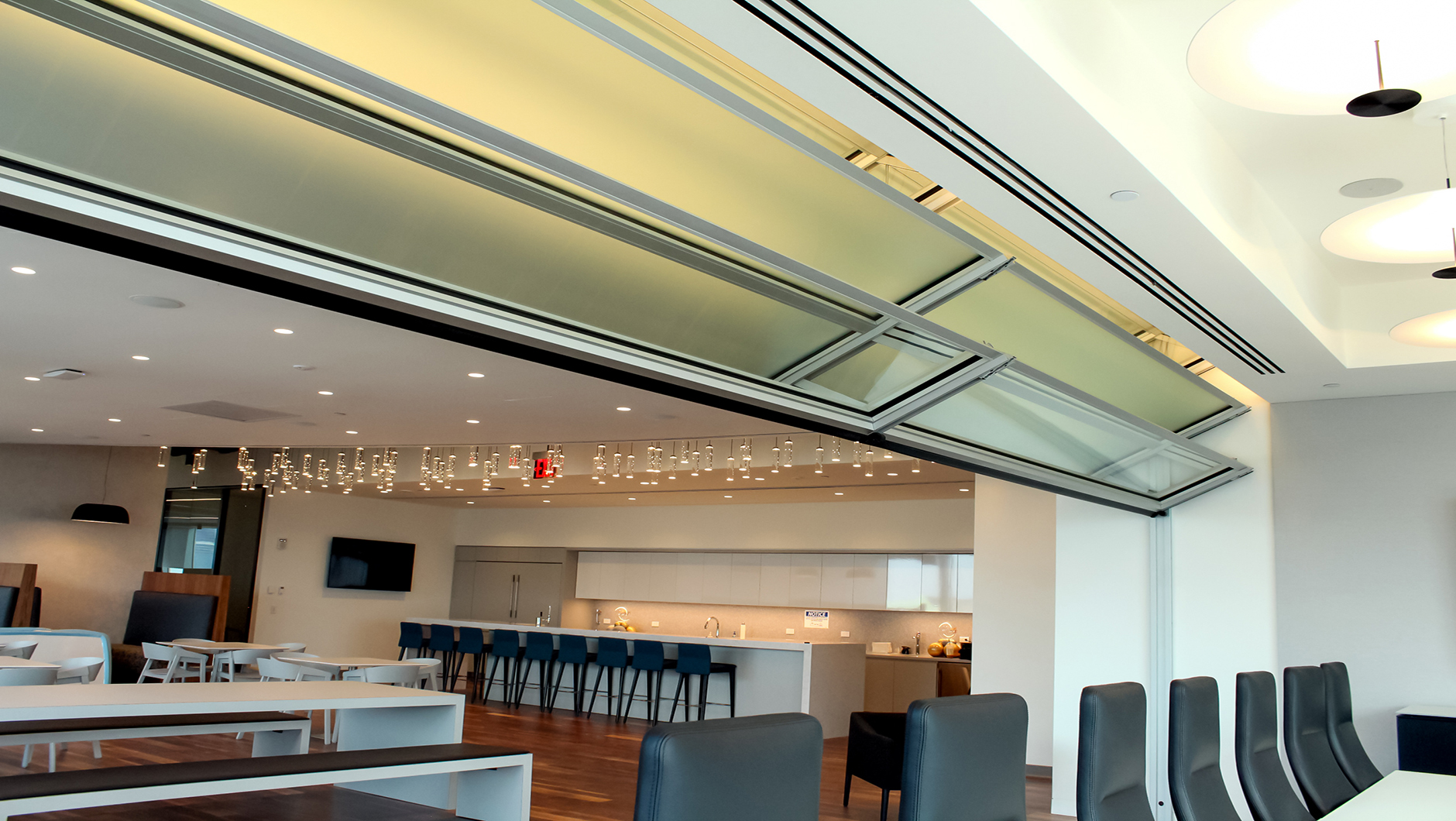 The café is a casual spot to grab an afternoon cappuccino, catch up with a co-worker and take in the incredible views. Acoustics are an important consideration as the café adjoins the main conference room. With high efficiency acoustic seals, the Skyfold Mirage achieves an STC of 33 ensuring private meetings and caffeine fueled conversations remain separated.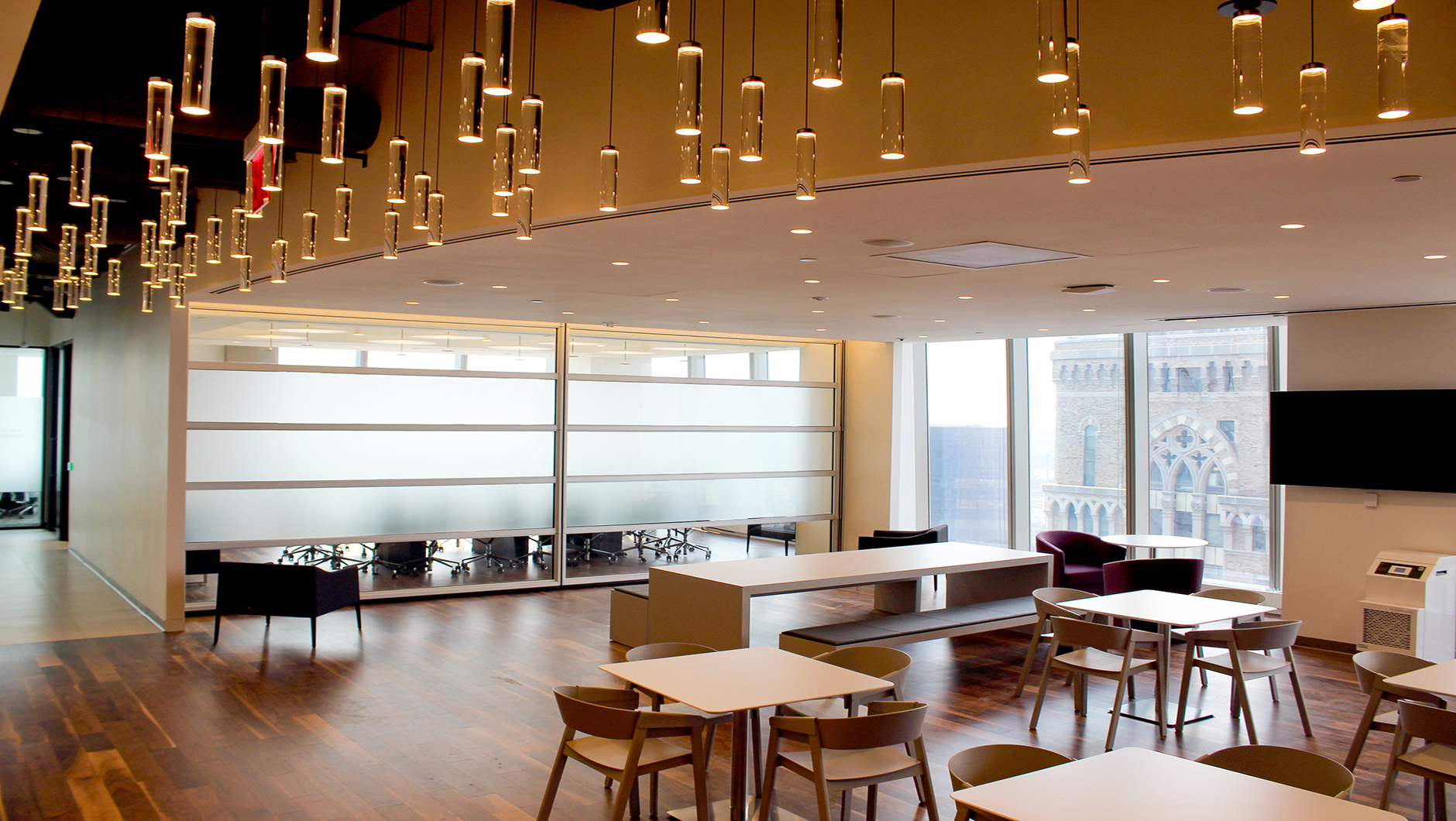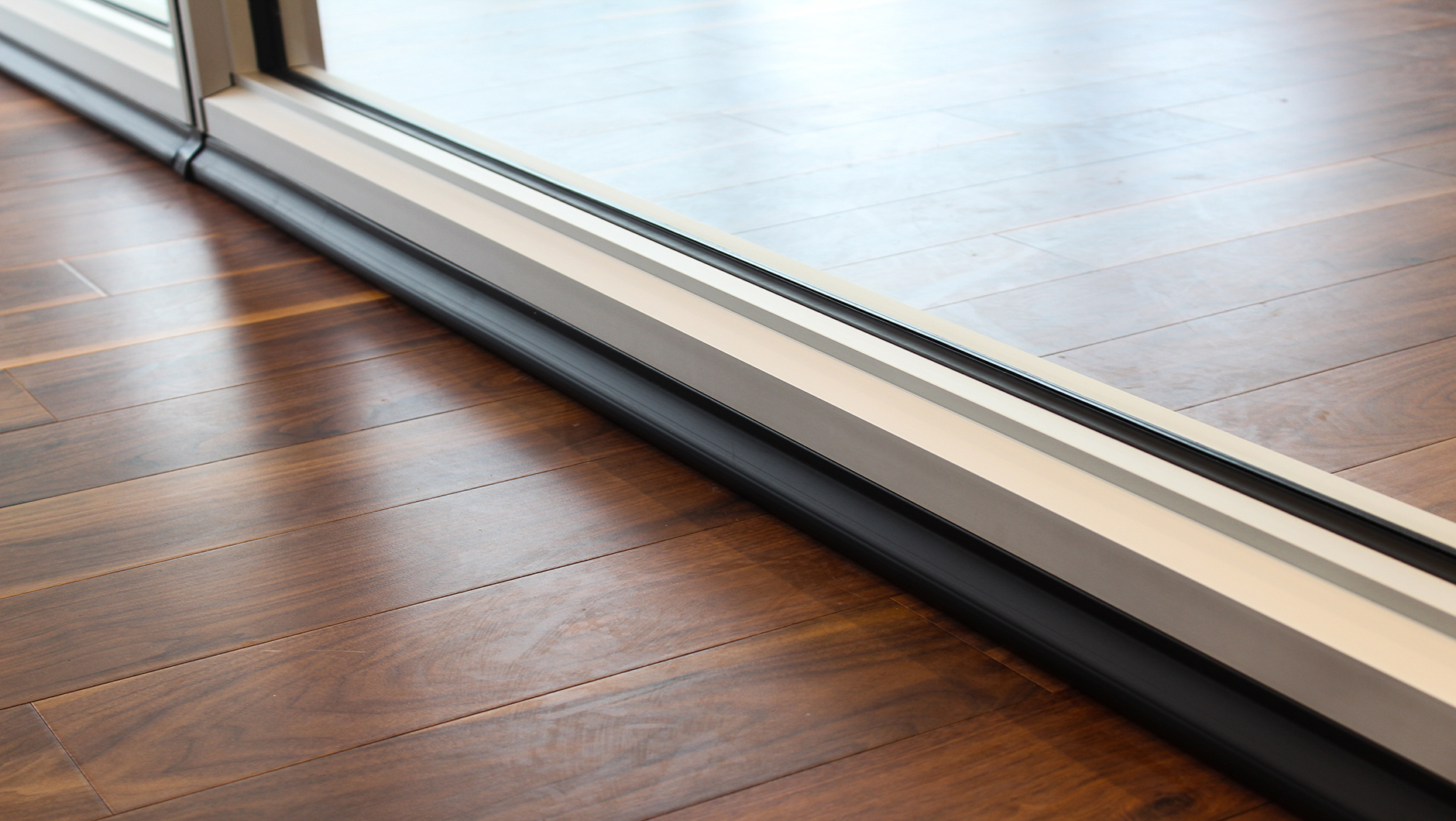 As workers begin to return to the offices they left behind last March and reconnect face-to-face, the need to feel safe in the workplace will be top of mind for many. Companies will continue to follow safety protocols, maintain social distancing guidelines, until the CDC says otherwise, and strive to keep workers healthy.
Innovative space management solutions, like Skyfold, help to create spaces people will look forward to returning to. Whether the future holds more remote workers, a hybrid model or even smaller floorplans, space management systems are a smart investment in buildings and people.
We are proud to have worked with Spectorgroup and J.T. Magen and Company Inc. on this beautiful project. We look forward to working with you to find the right space management solution for your next project. Not sure of what you might be looking for? Schedule a showroom tour to see and operate a variety of systems. Partner with the leader in space management solutions and see how easy it is to incorporate flexible space into your design.
ARCHITECT:
Spectorgroup
GENERAL CONTRACTOR:
J.T.Magen & Company Inc.
PRODUCT / COMPONENTS:
Skyfold Mirage