Acousti-Clear's Sleek Design Perfectly Blends into Shawmut's NYC Office
With offices from Los Angeles to New York, Shawmut Design & Construction is a $1.3 billion award-winning national construction management firm. ModernfoldStyles, Inc. is fortunate to not only have helped optimize their commercial office on 488 Madison Ave, New York, NY, but we also collaborated with Shawmut as the General Contractor and Studios Architecture on this project.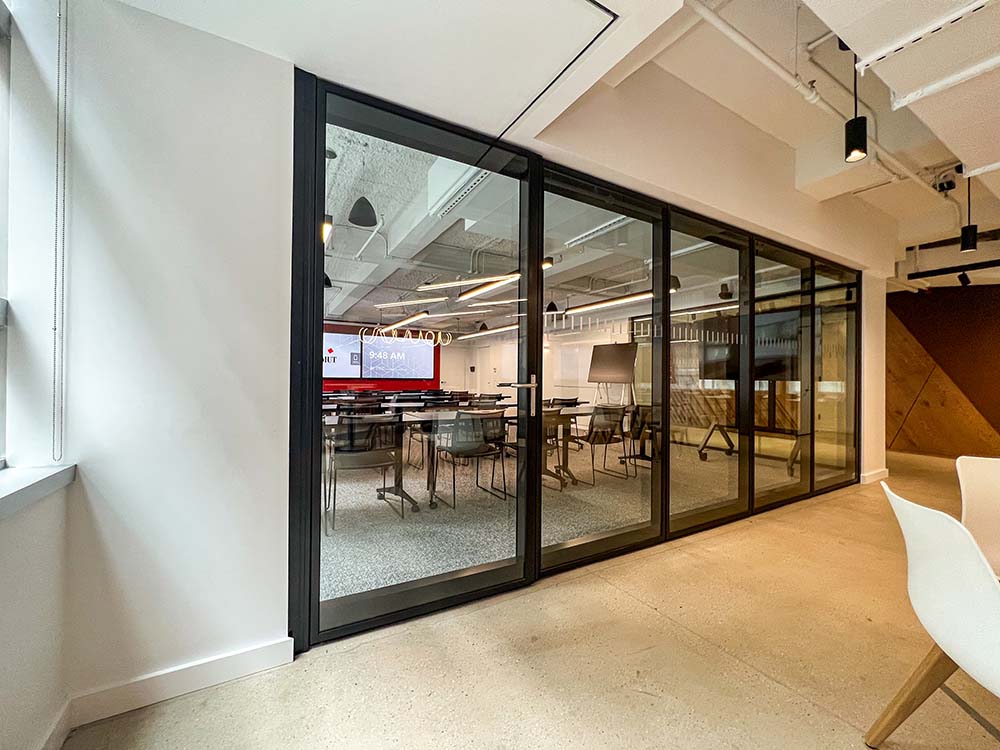 Shawmut Design and Construction is 100% employee-owned and prides itself on its unmatched client experience. Working across sectors such as education, healthcare, sports venues, cultural and historic preservation, hospitality, life sciences, and more, Shawmut ensures the building process is equally satisfactory to their clients as the finished construction.
ModernfoldStyles installed one Modernfold Acousti-Clear single panel glass partition on the 10th floor of the modern Manhattan office.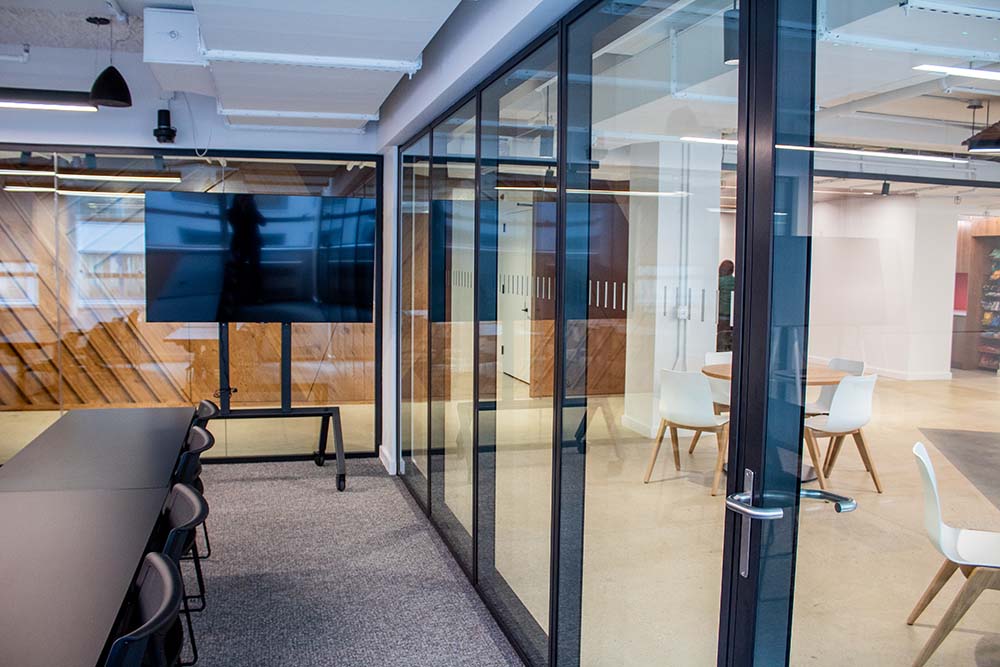 The wall was positioned to separate a multipurpose room used for meetings and as a collaborative workspace from a pantry and kitchen area, where employees enjoy their coffee and meals throughout the day.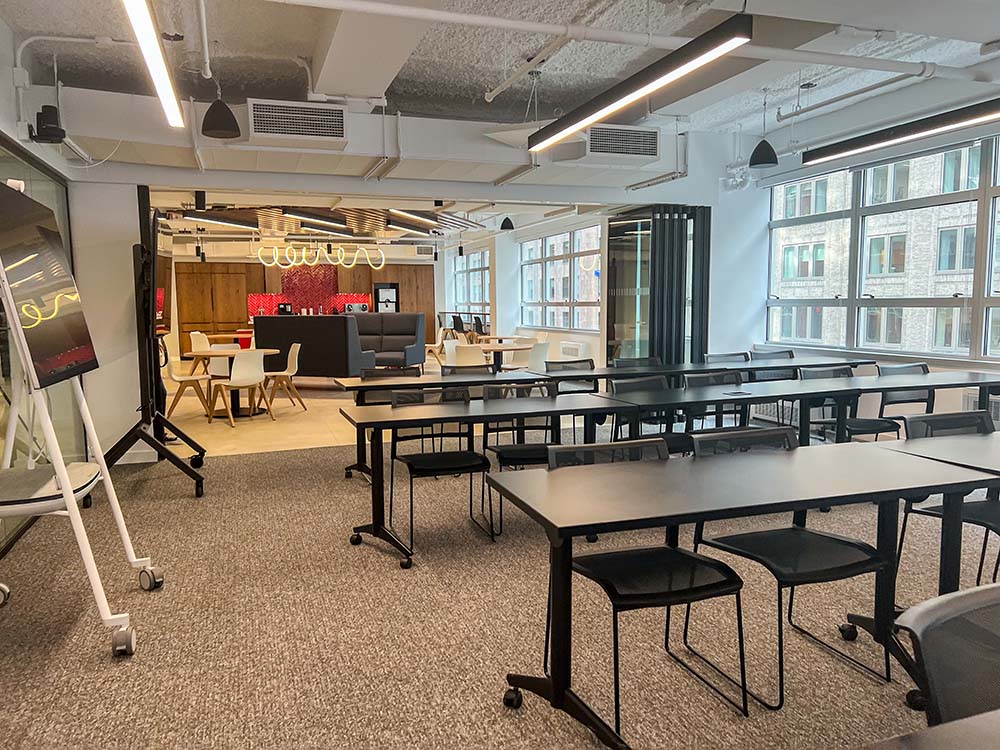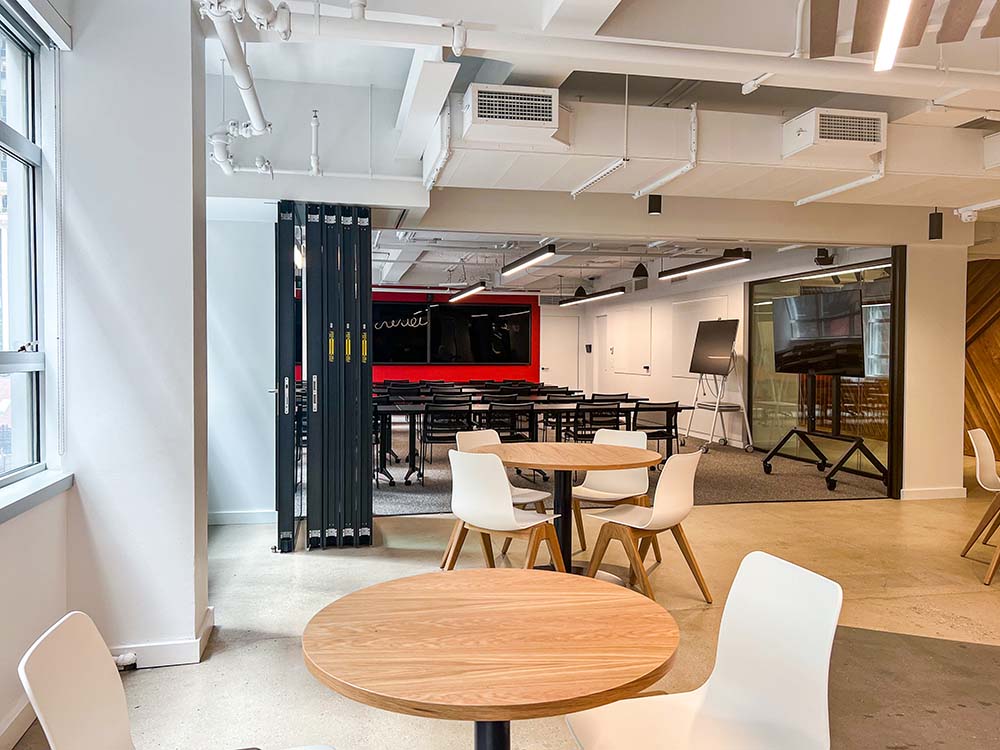 The fabricated panels stand at 8'2" with a thickness of 4.06" and a 10 lb hanging weight. The glass wall system offers an optimal acoustical rating of 45 STC, allowing multiple parties to convene on each side of the partition without interference.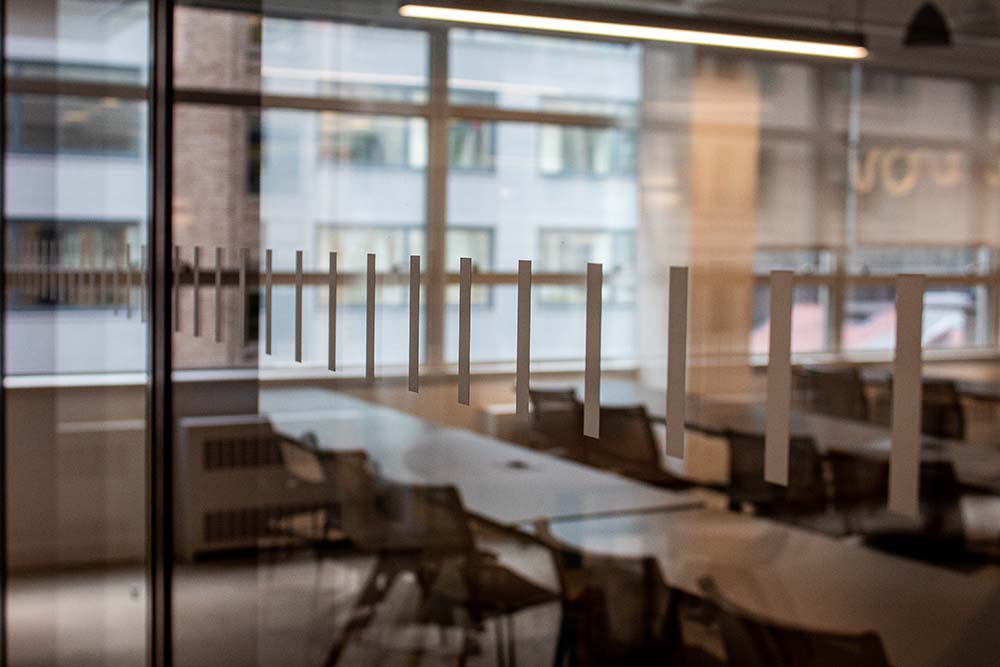 To further ensure sound control, Acousti-Clear features Modernfold's innovative automatic seal system on both the top and bottom of the partition, which instantly sets the seals once the panels are in place, eliminating the need to turn a crank or push a button.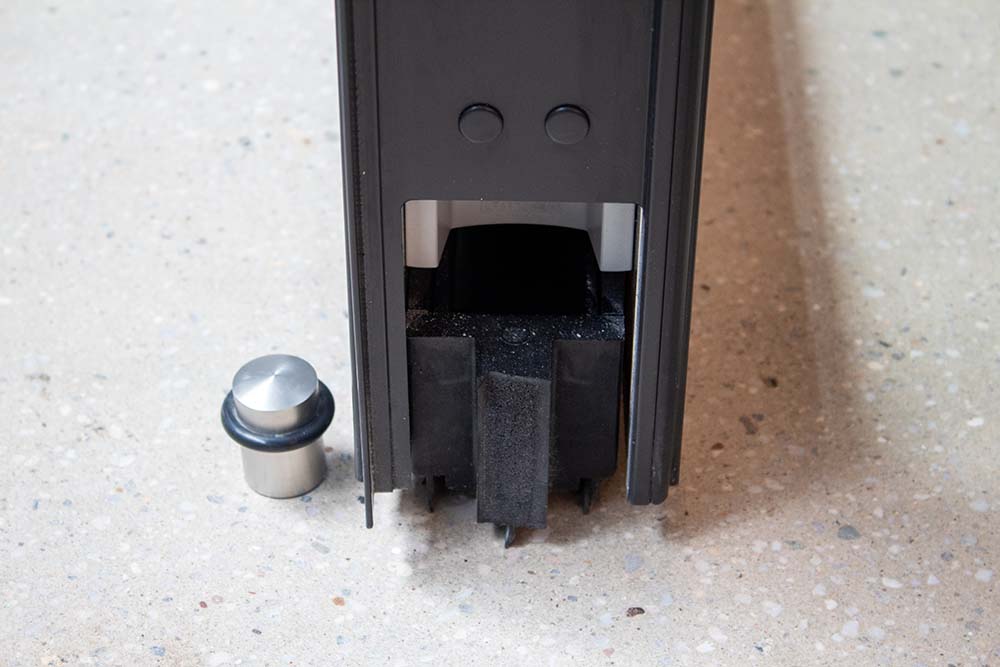 The trim seal was installed in black to match the panel frames, finished with a RAL Powder Coat in 9004 black. The panels were constructed with clear tempered glass to maintain visibility between the two areas and keep the office floor plan open even when the system is closed.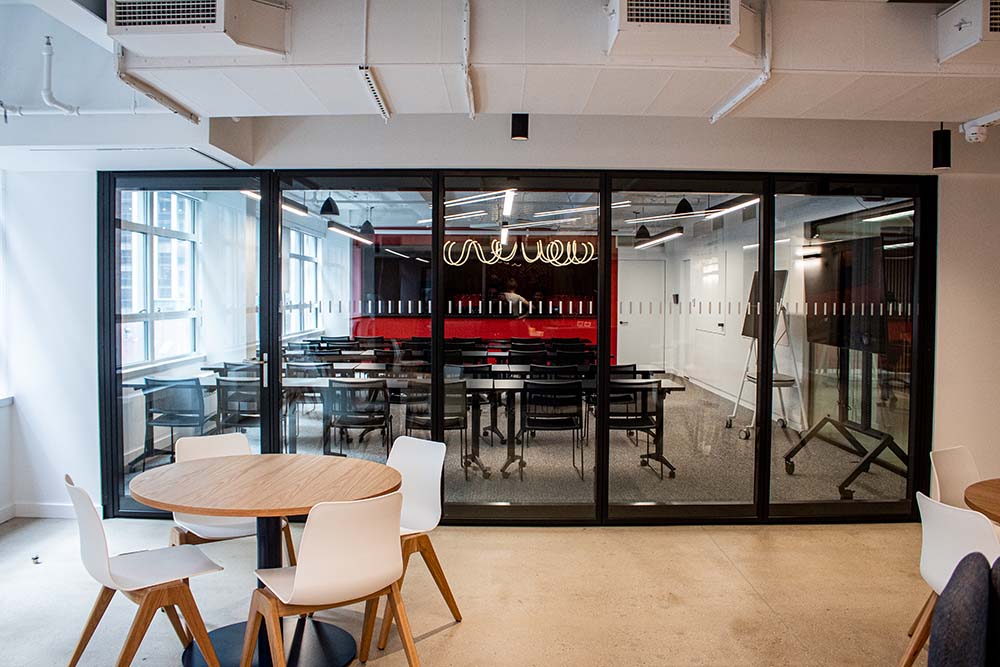 To access the room, employees can use the Pivot Pass Door panel closure using a non-locking rail handle finished in satin stainless steel on both sides.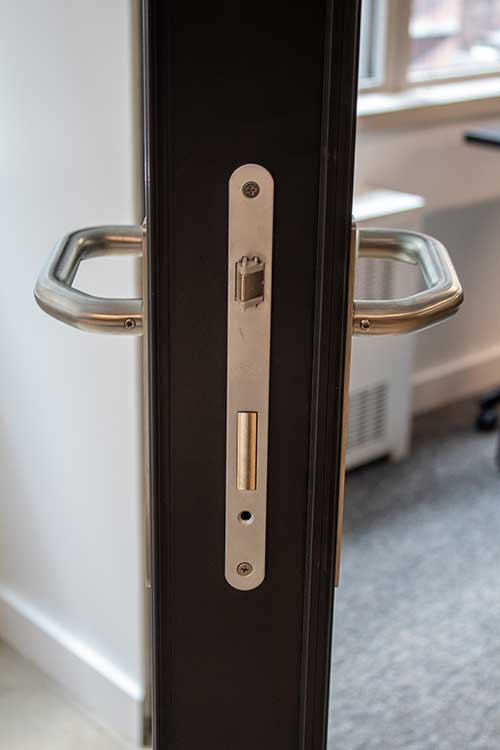 Once open, the glass walls are situated on a G330 Right Angle track system, allowing the panels to neatly stack to one side.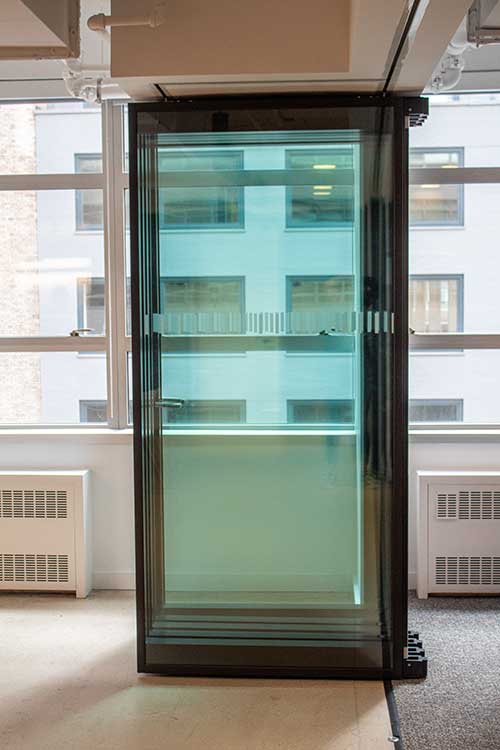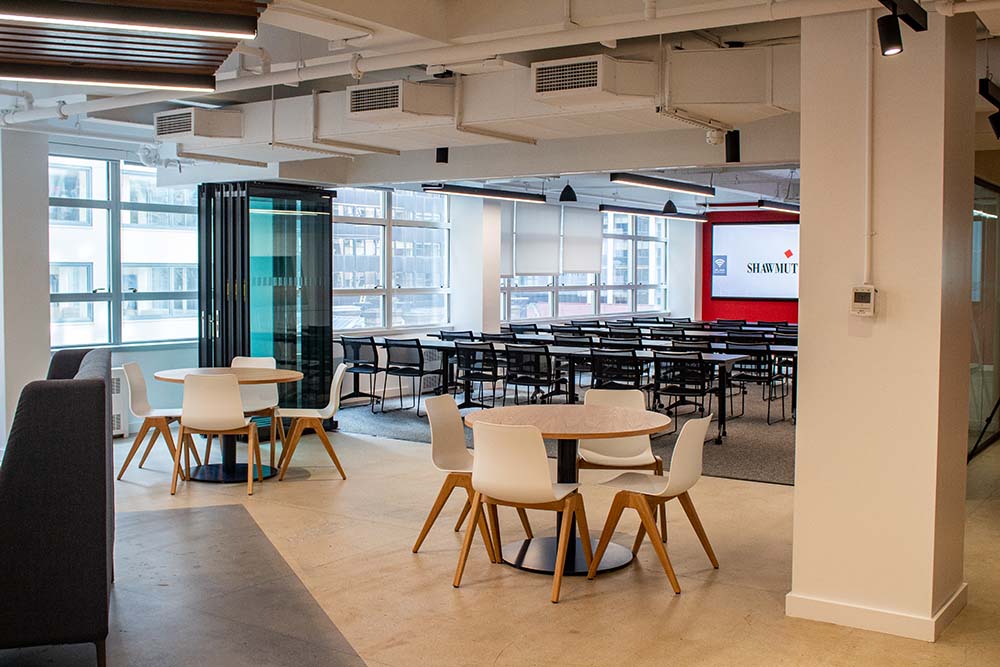 The system's stainless-steel trolley with a roller and nylon surface allow the panels to glide easily through its track.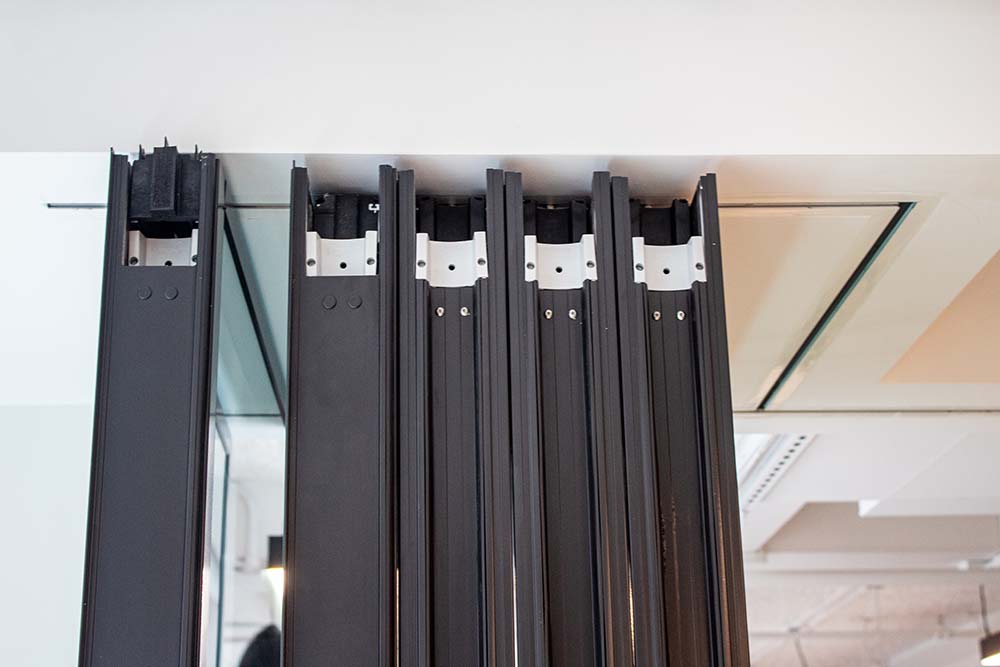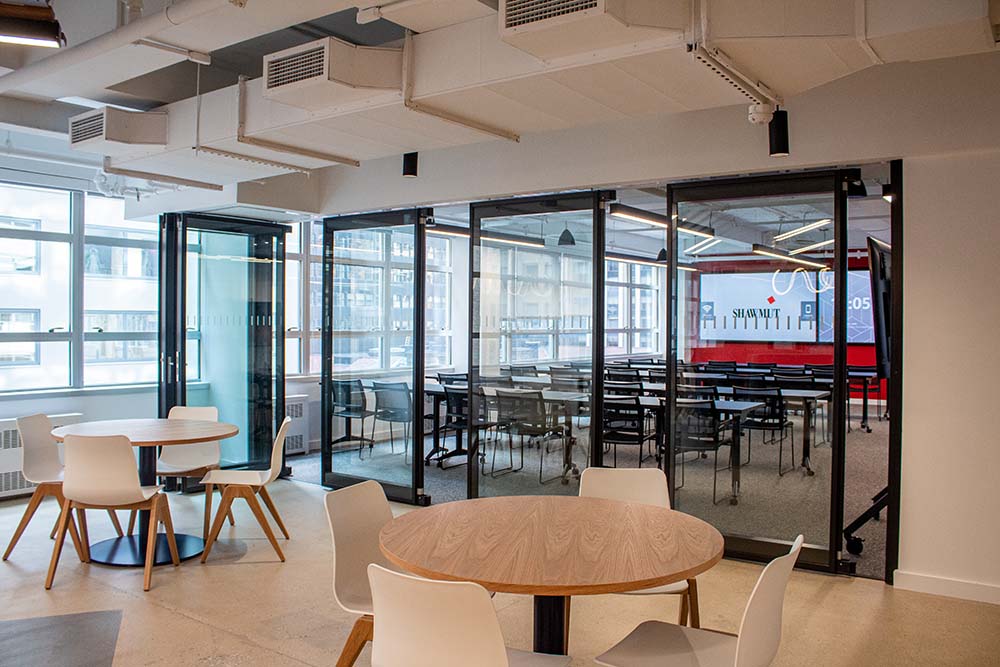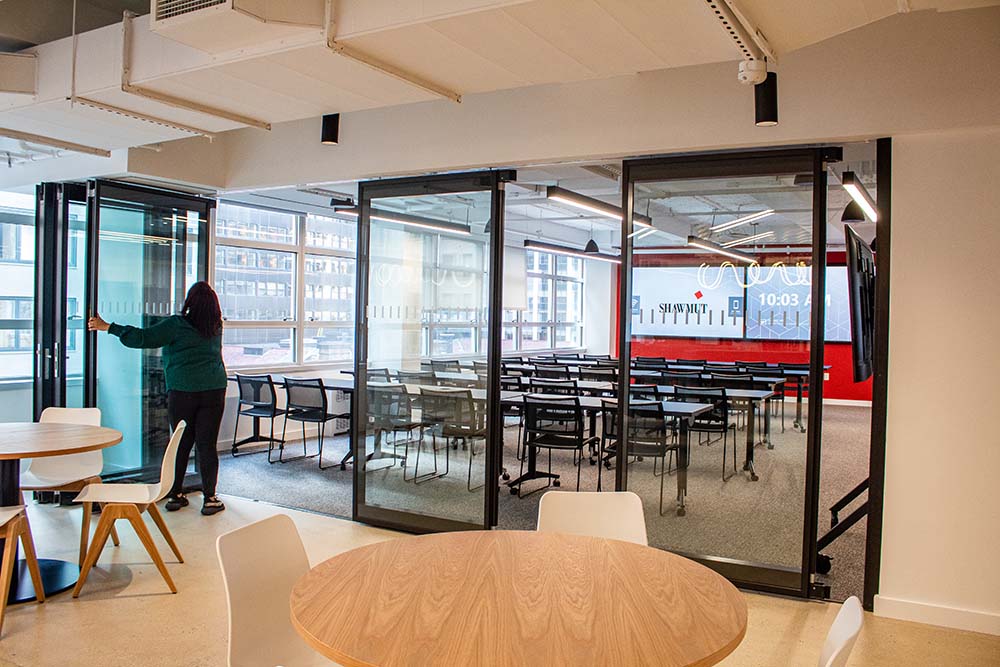 To close the Acousti-Clear system, the Pivot Pass Door Closure is swung open while all other panels stack in front of it.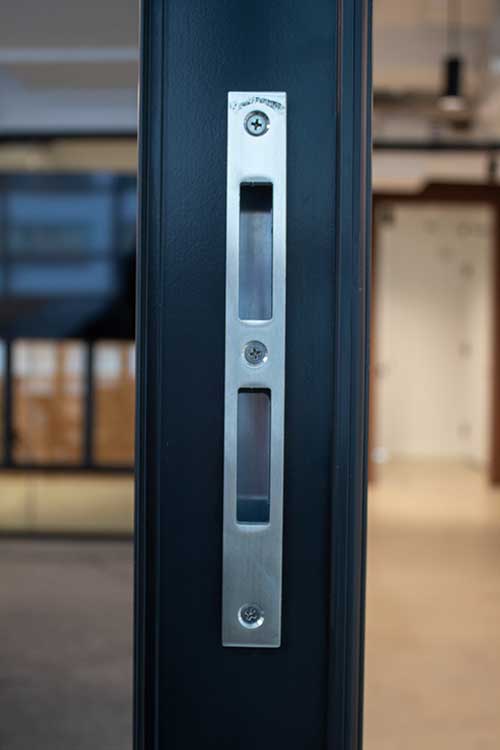 Don't miss our video below showing how effortless the Acousti-Clear panels move back and forth!
We're happy to have provided a high-quality, contemporary space management solution for a client and contractor who matches our commitment to excellence!
Modernfold Acousti-Clear is just one of the many products ModernfoldStyles offers. To learn more about our other products and services, contact us today or schedule a tour in our Bergen County showroom to view our full array of space management solutions.
PROJECT & CLIENT NAME:
Shawmut Design & Construction
LOCATION:
488 Madison Avenue, New York, NY
ARCHITECT:
Studios Architecture
GENERAL CONTRACTOR:
Shawmut Design & Construction
PRODUCT:
Modernfold Acousti-Clear