A STUDY IN THE BENEFITS OF FLEXIBLE, MULTI-USE SPACES
NEW PALTZ MIDDLE SCHOOL RENOVATION
The addition of a new 37,000 sq. ft. wing transformed the 1930s New Paltz Middle School design into a modern, award-winning center of educational excellence.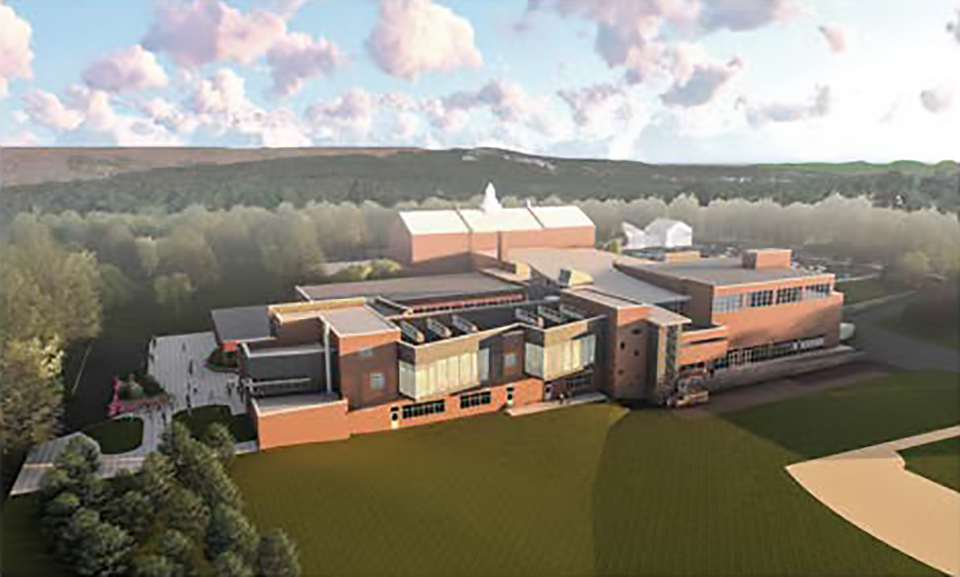 Located on nearly 16 sprawling acres in New York's Hudson Valley, the New Paltz Middle School renovation was designed to maximize the amount of usable teaching space. The inclusion of four Modernfold Operable Partitions in various classrooms and multi-use spaces would provide the flexibility needed to meet the school's demands for project-based learning and an evolving curriculum. Five Smoke Guard Elevator Smoke Containment Systems provided the additional level of safety required of modern school facilities.
THE MEDIA CENTER
The highlight of the new addition is the multi-purpose Media Center. To provide the desired versatility, Tetra Tech Architects & Engineers specified Modernfold Acousti-Seal Legacy single-panel operable partition. The 14 panels form a 53′ x 8.5′ "L" shaped wall with a pass door that easily creates a full-sized classroom within the library. Each panel's 48"H custom window cutout using ½" tempered glass allows ample daylight to flow deep into the library. The Acousti-Seal's 50 STC rating, expandable closure panels and seals provide the high level of acoustic control needed in an often-noisy school environment.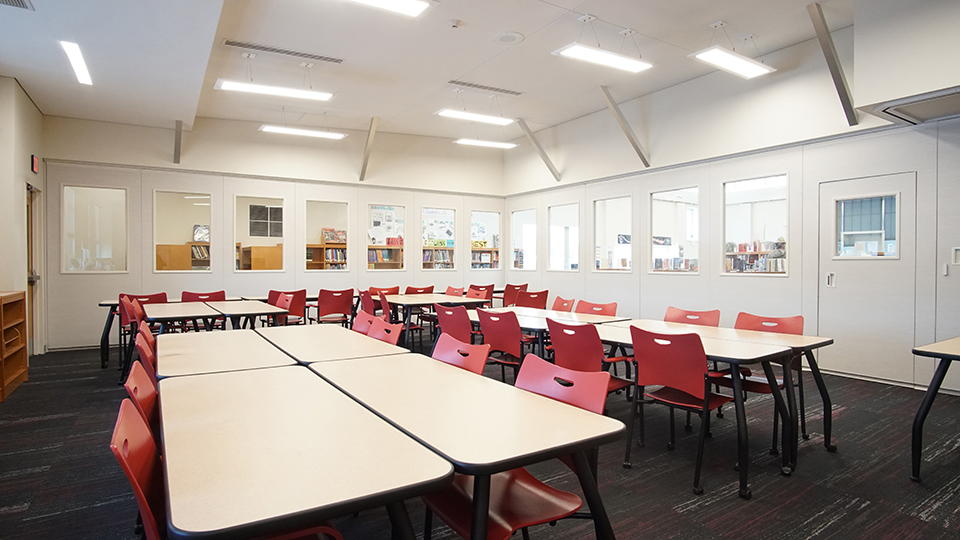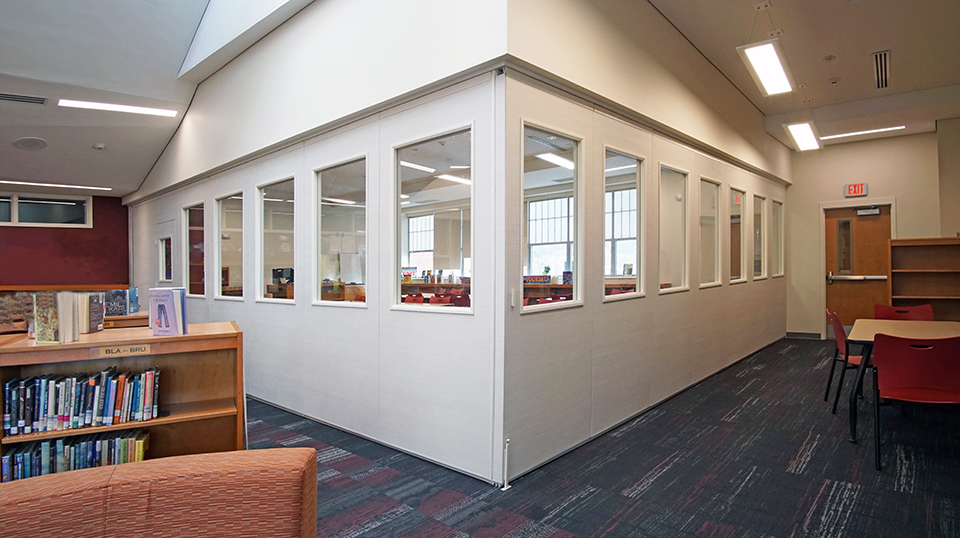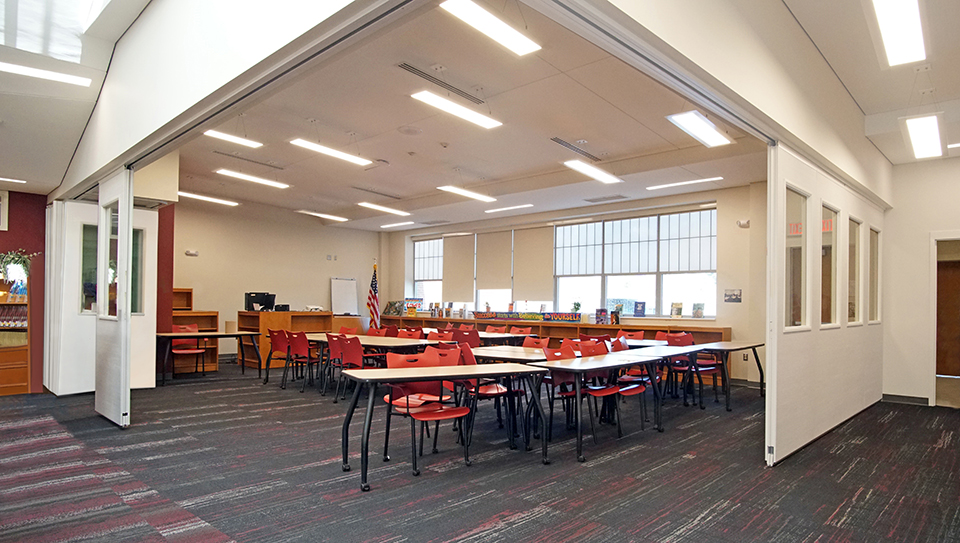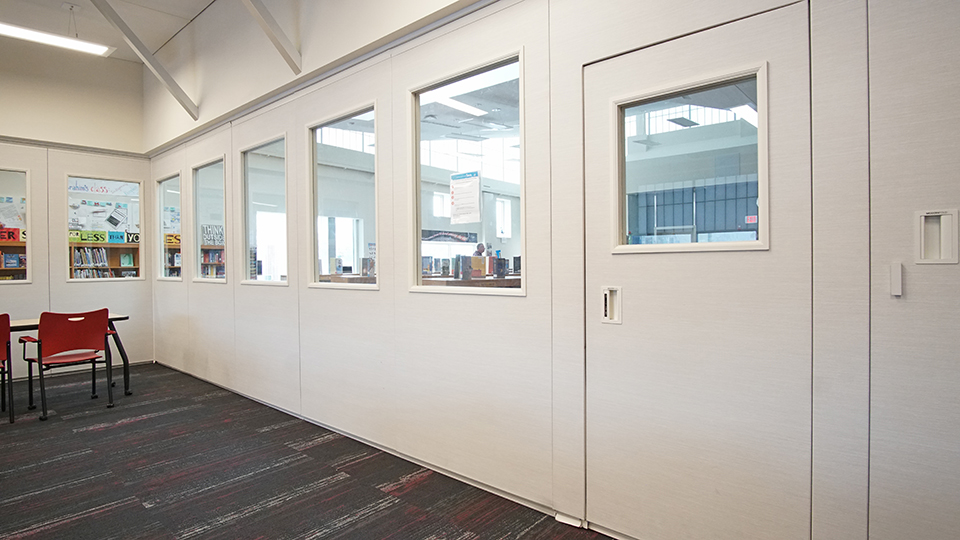 In addition to the Media Center, three multi-purpose classrooms were fitted with Modernfold Encore paired panel operable partitions ranging from 21′ to 34′ in length. The Encore's adaptability provided the perfect solution for easily configuring classroom sizes based on the needs of teachers throughout the day. A 54 STC rating coupled with a full-length markerboard surface added additional levels of utility in the classrooms.
To satisfy New York's school safety codes, five Smoke Guard M400 Elevator Smoke Containment Systems were also specified for the school's elevator banks. The units integrate with the school's fire protection system and automatically deploy when smoke is detected. Flexible magnetic strips along the edge of the curtain attach to the elevator's frame creating a barrier to protect against the spread of smoke through the elevator shafts and into the building.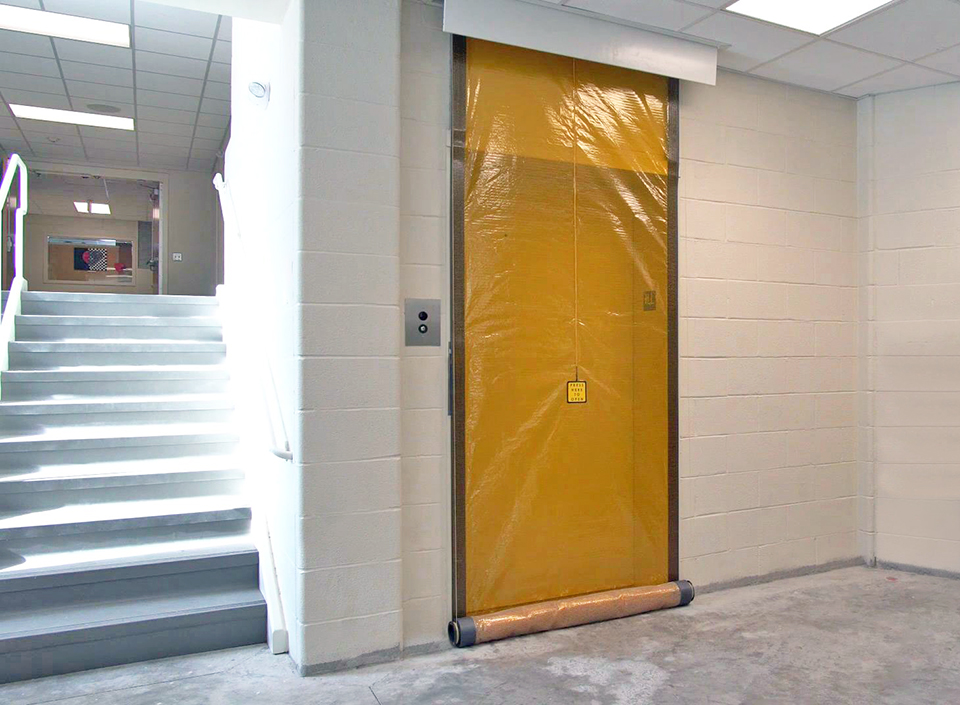 THE RESULT
The renovation of New Paltz Middle School transformed it into a high-performance learning environment with plenty of flexible multi-purpose spaces to accommodate today's multifaceted curriculum and teaching methods. Its exceptionally smart design earned this project a 2017 Outstanding Project Award from Learning by Design magazine.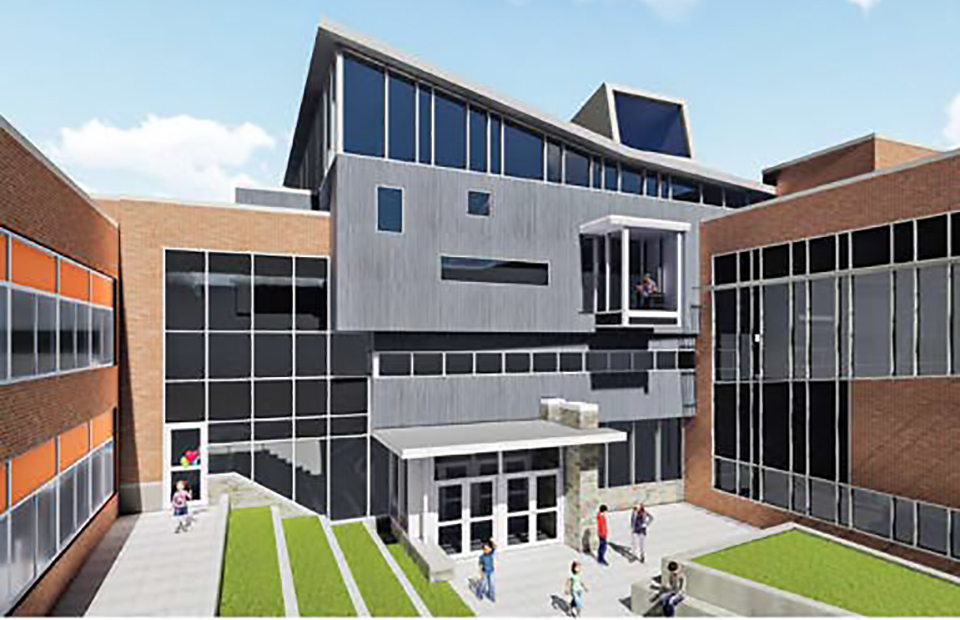 ARCHITECT:
Tetra Tech Architects & Engineers

GENERAL CONTRACTOR:
Palumbo Group

PRODUCT / COMPONENTS:
14 Modernfold Acousti-Seal with custom window cutouts
5 Modernfold Encore Paired Panels with full markerboards
5 Smoke Guard M400 Elevator Protection