The Key to Future-Proof Design is Flexible Space
Step inside this confidential client's space, located in SOM's 67-story LEED Gold office tower, One Manhattan West in NYC's Hudson Yards. General Contractor J.T. Magen and Company Inc. headed up the build out of the company's 280,000 sf interior space. Architect HOK specified an assortment of space management solutions and elevator smoke containment systems across multiple floors, including:
Cleverly hidden in the ceiling, above the expansive high-tech training rooms, are two individual Skyfold Classic 60 vertically retractable walls. Each wall measures an impressive 29'4"w x 9'2"h. With a simple turn of a key and push of a button, the innovative Skyfold descends from the ceiling. Space is divided quickly and quietly, on demand.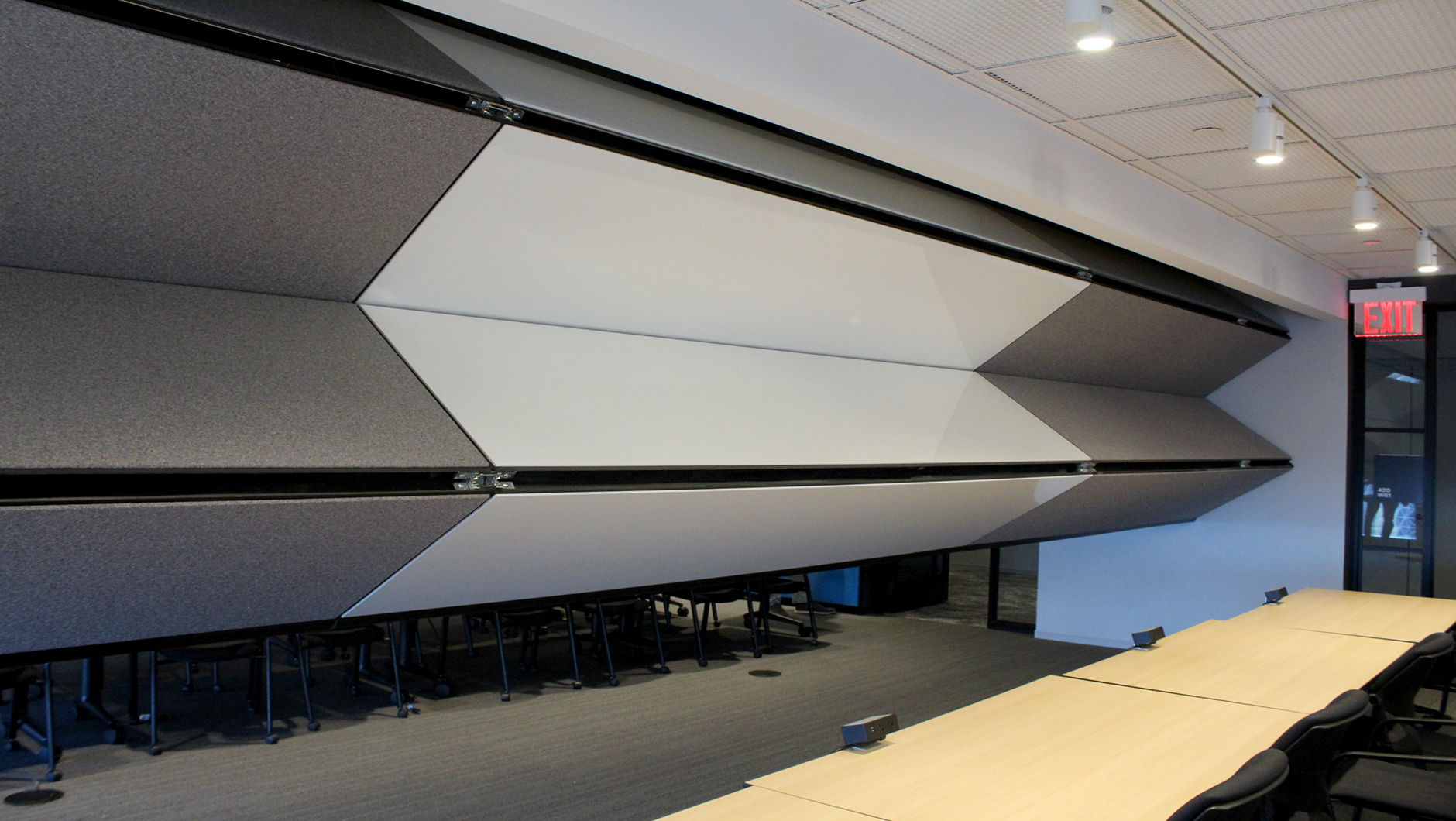 A blend of beauty and practicality, these custom Skyfold walls feature Maharam fabric along with full height markerboard. Once the 60 STC acoustical wall is fully deployed, automatic seals engage to ensure privacy between the two spaces.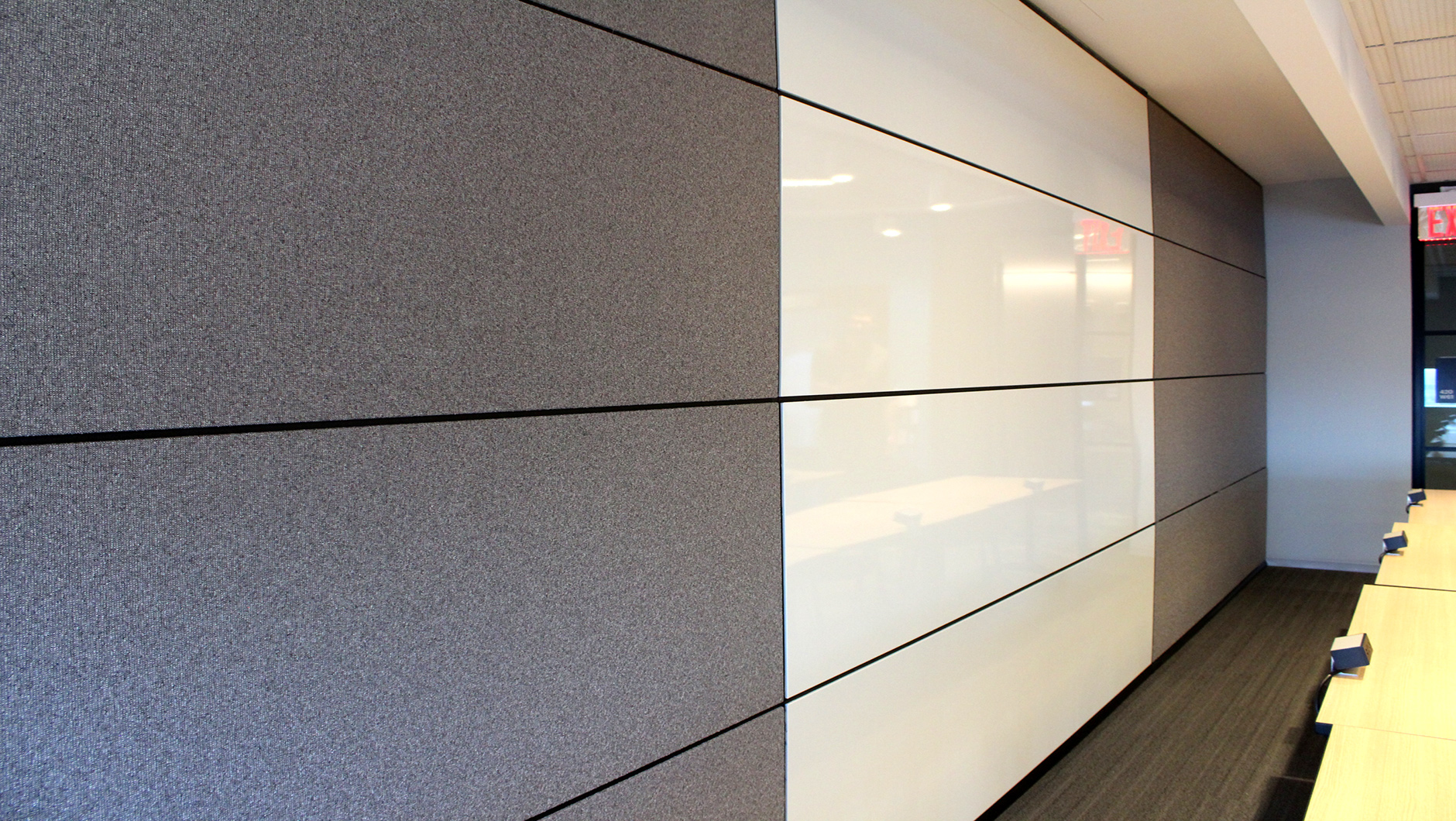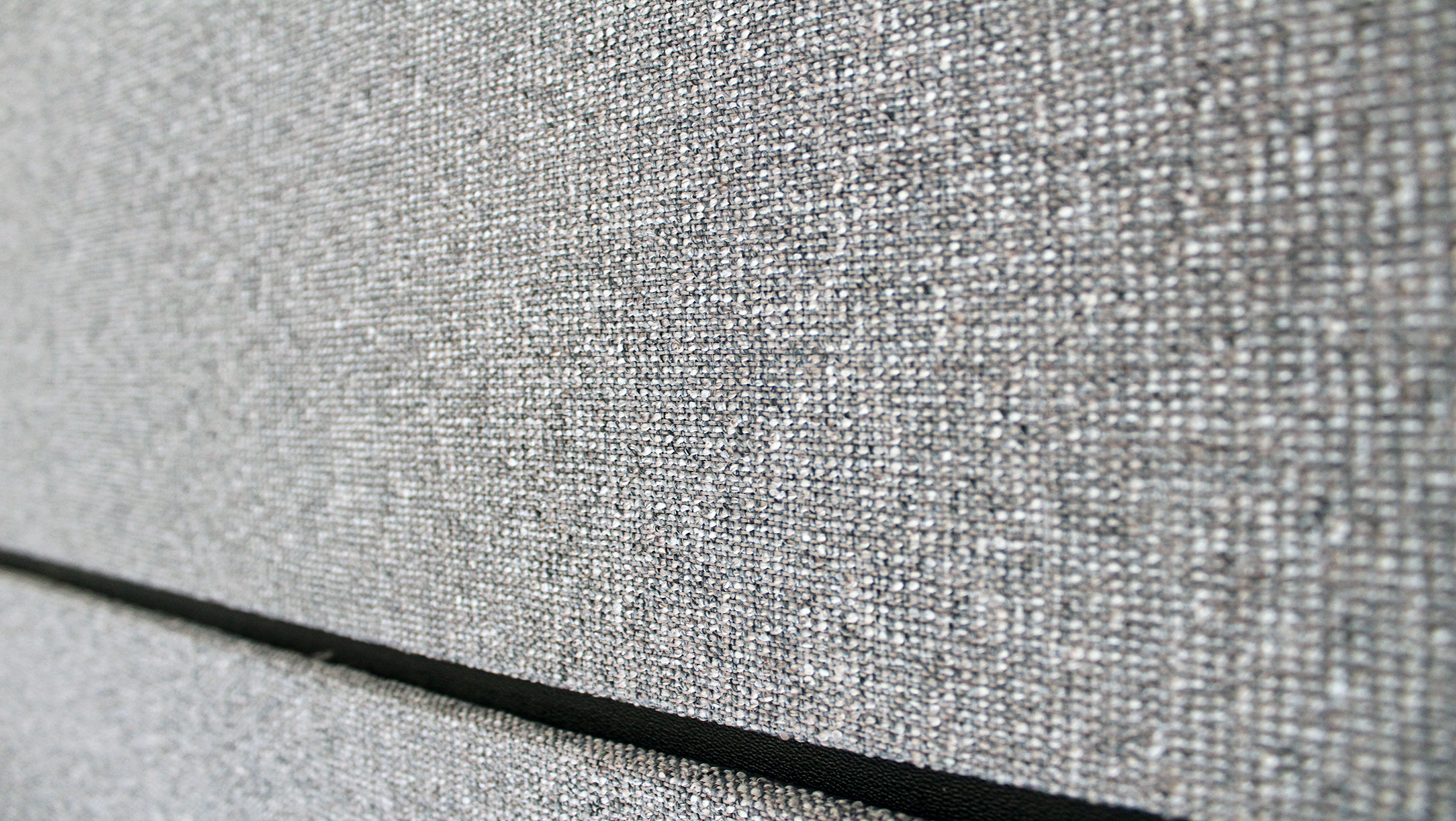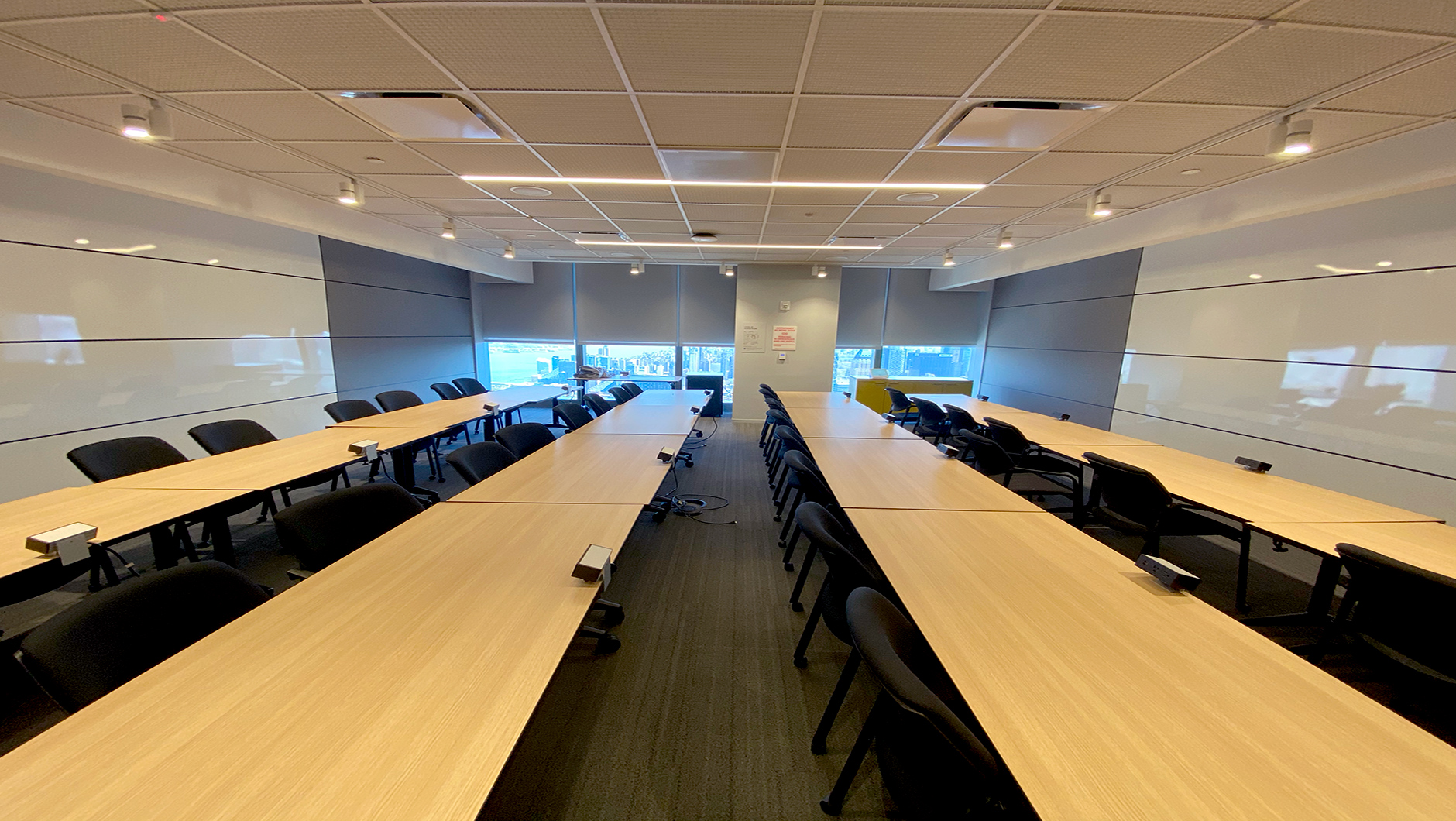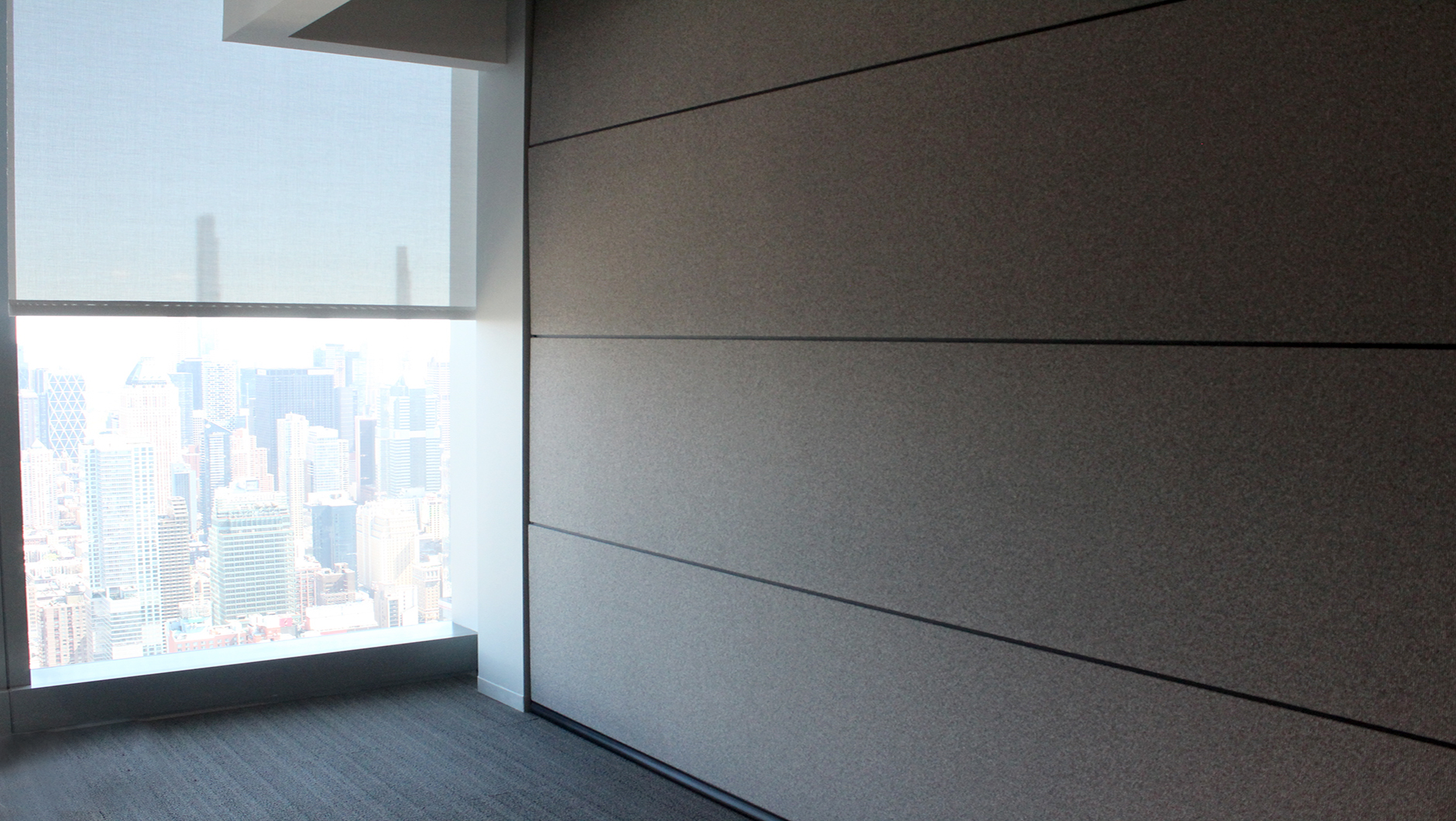 The Renlita S-3000 counterweight balanced folding door creates an unexpected entrance to the kitchen. The motorized 8'w x 8'5"h two-leafed system fits the industrial feel of the corridor. The door's smooth, black powder coated frame echoes the pattern in the backsplash and plays off the adjacent dark baffle ceiling.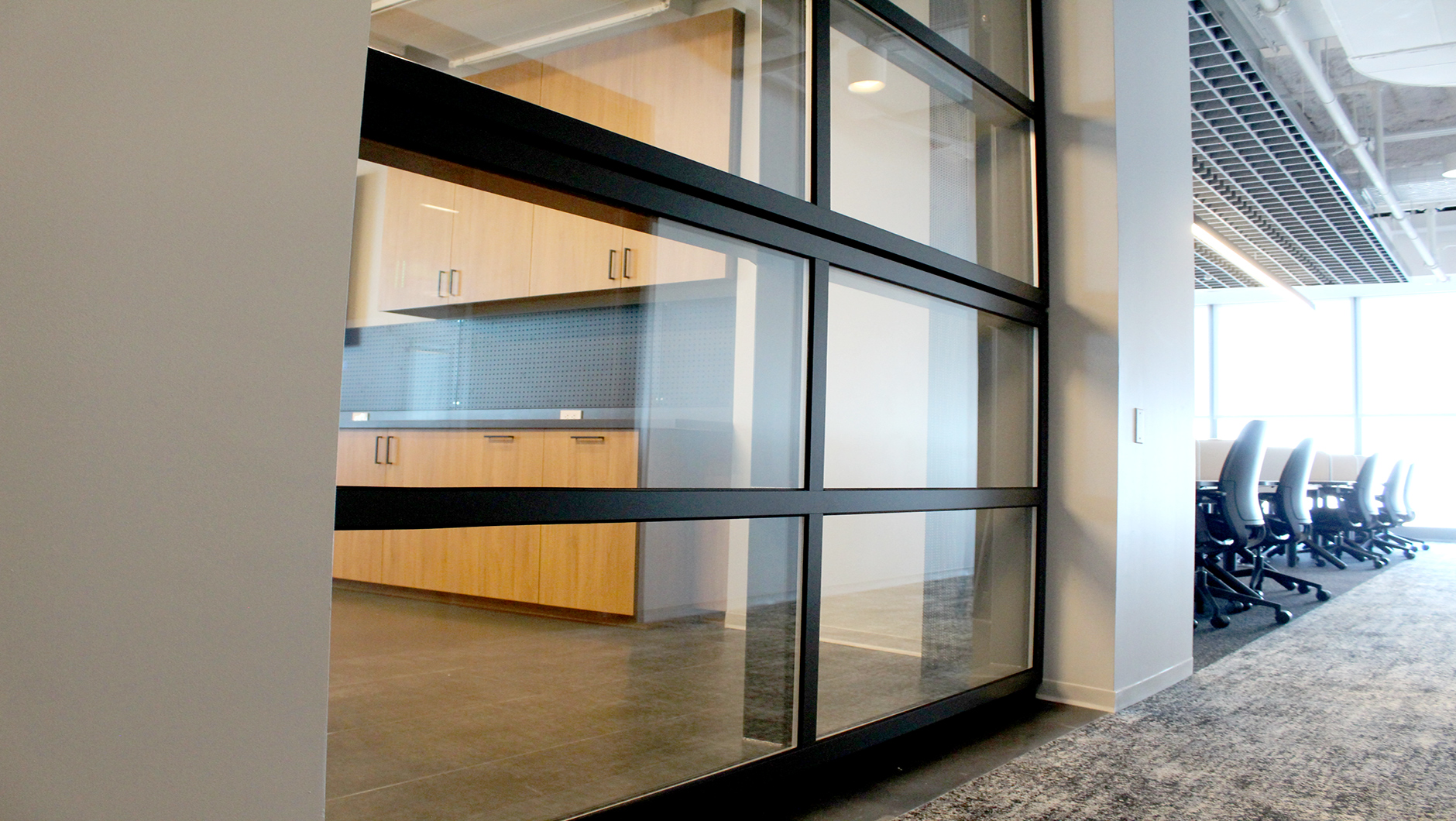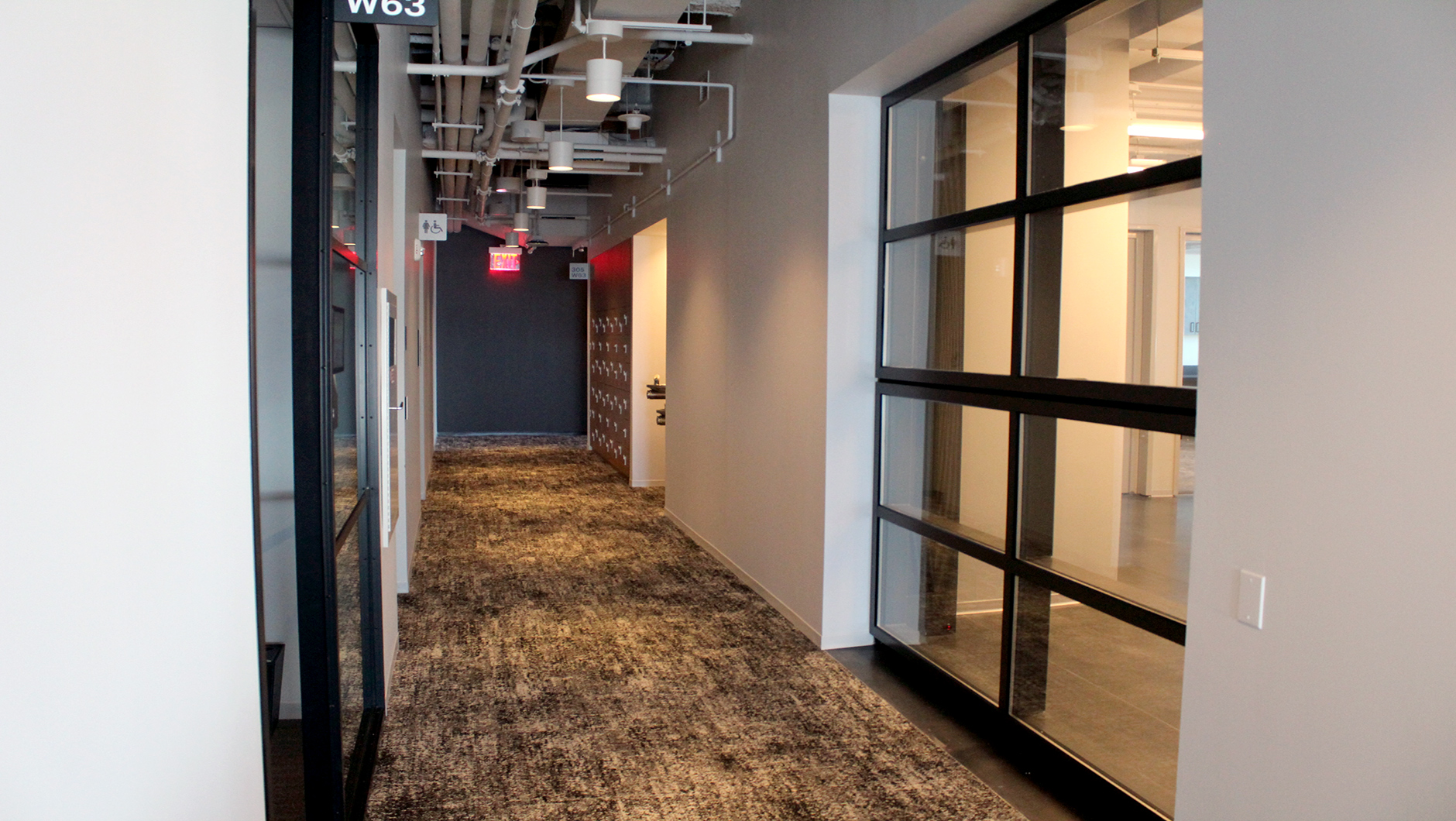 The custom perforated metal counterweight covers on either side of the door are painted out in a semi-gloss black. Easy operation is accomplished through touch screen wall controls along with a fast and quiet REDD® motor. Safety features include a photo eye sensor and safety brake. The Renlita door rests horizontally under the header when the door is fully open.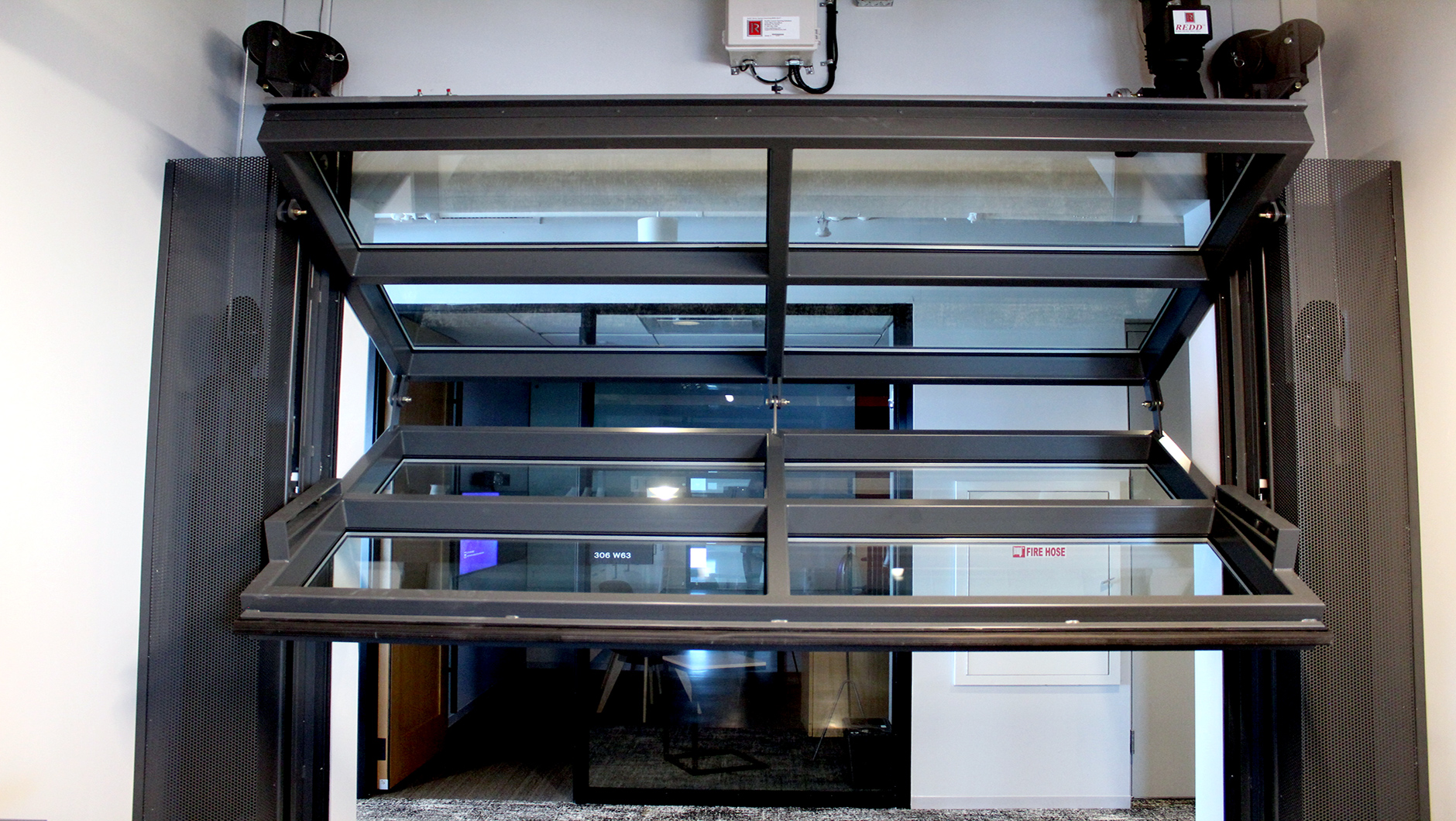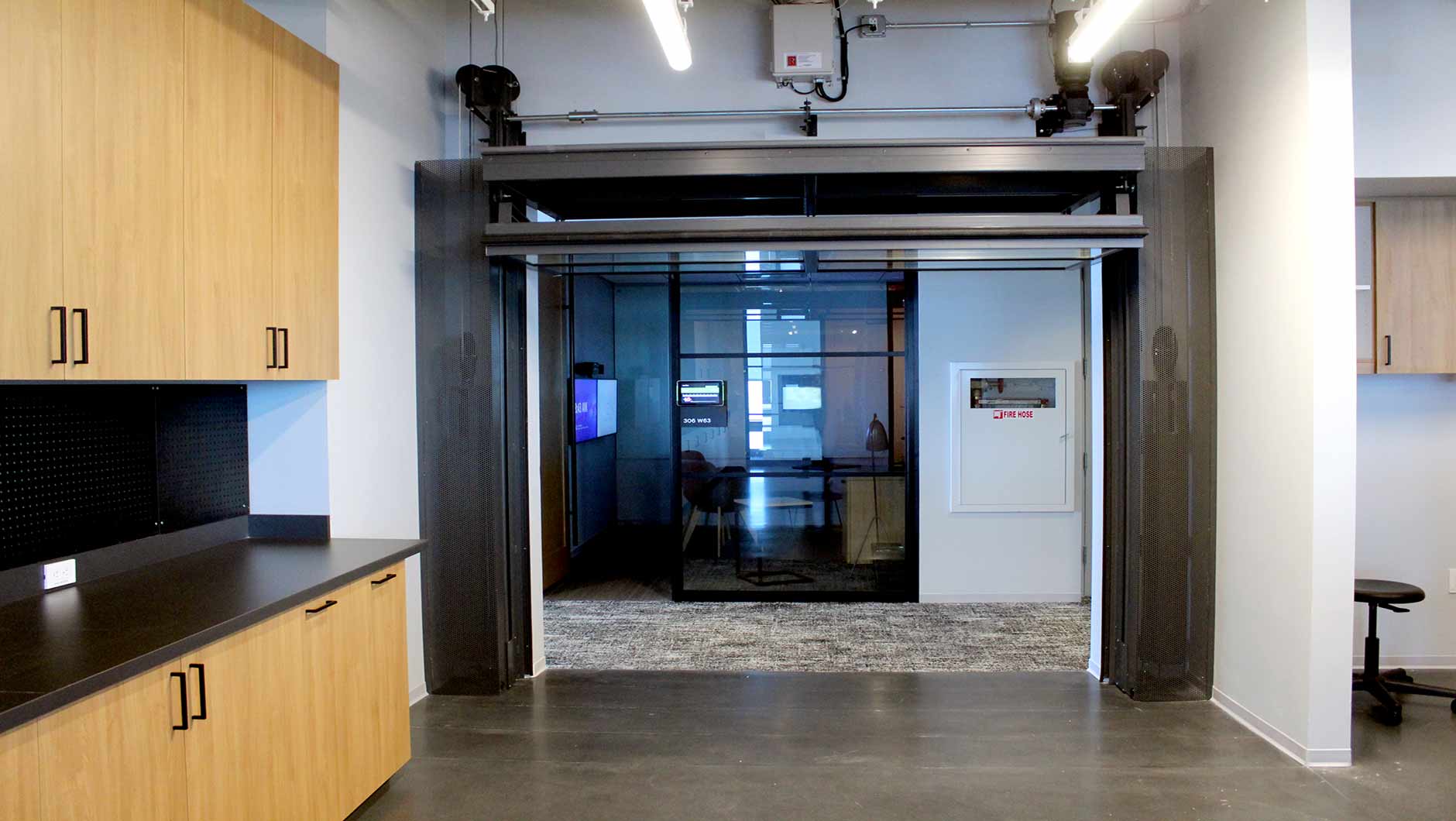 The company's energetic hub, features a Modernfold Acousti-Clear® acoustical glass partition system with sleek black powder coated frame and horizontal mullions. This manual glass wall measures 27'w x 8'h and employs an innovative seal system which automatically sets both top and bottom seals by simply advancing each panel forward into the adjoining panel. There's no need for hand cranks or buttons to push. Supported by the track above, the panels glide effortlessly into place.
With industry leading acoustics of 51 STC, noise from busy meetings or training sessions are kept within the walls. The Modernfold system is outfitted with one glass pass door to allow for employees to easily access the room at one end of the wall. Even with the walls in place, a sense of connectedness to the rest of the space is maintained, while controlling sound and letting in light.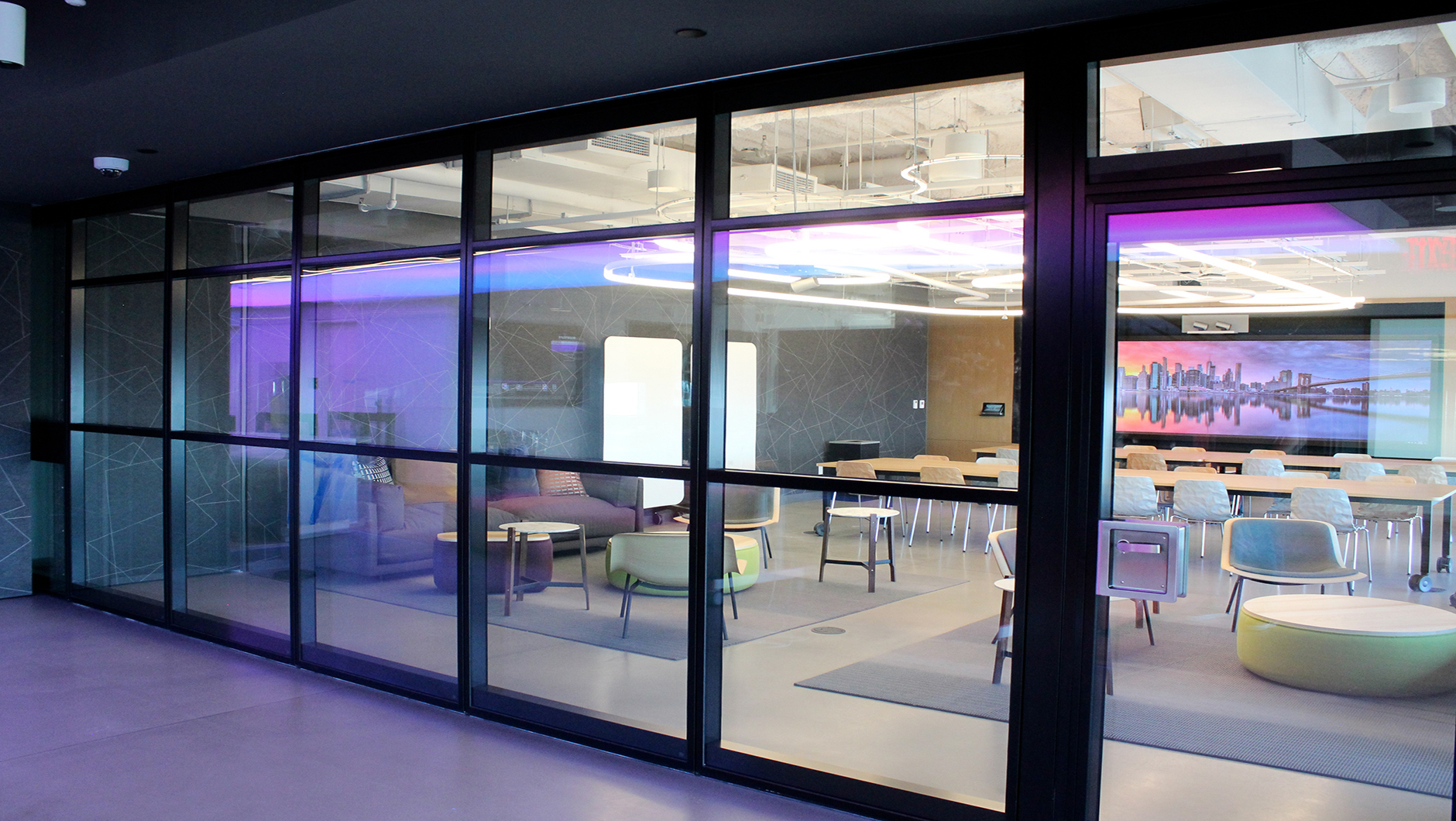 For events or large meetings, the wall system may be opened up completely and the panels stored safely out of site in a matter of minutes.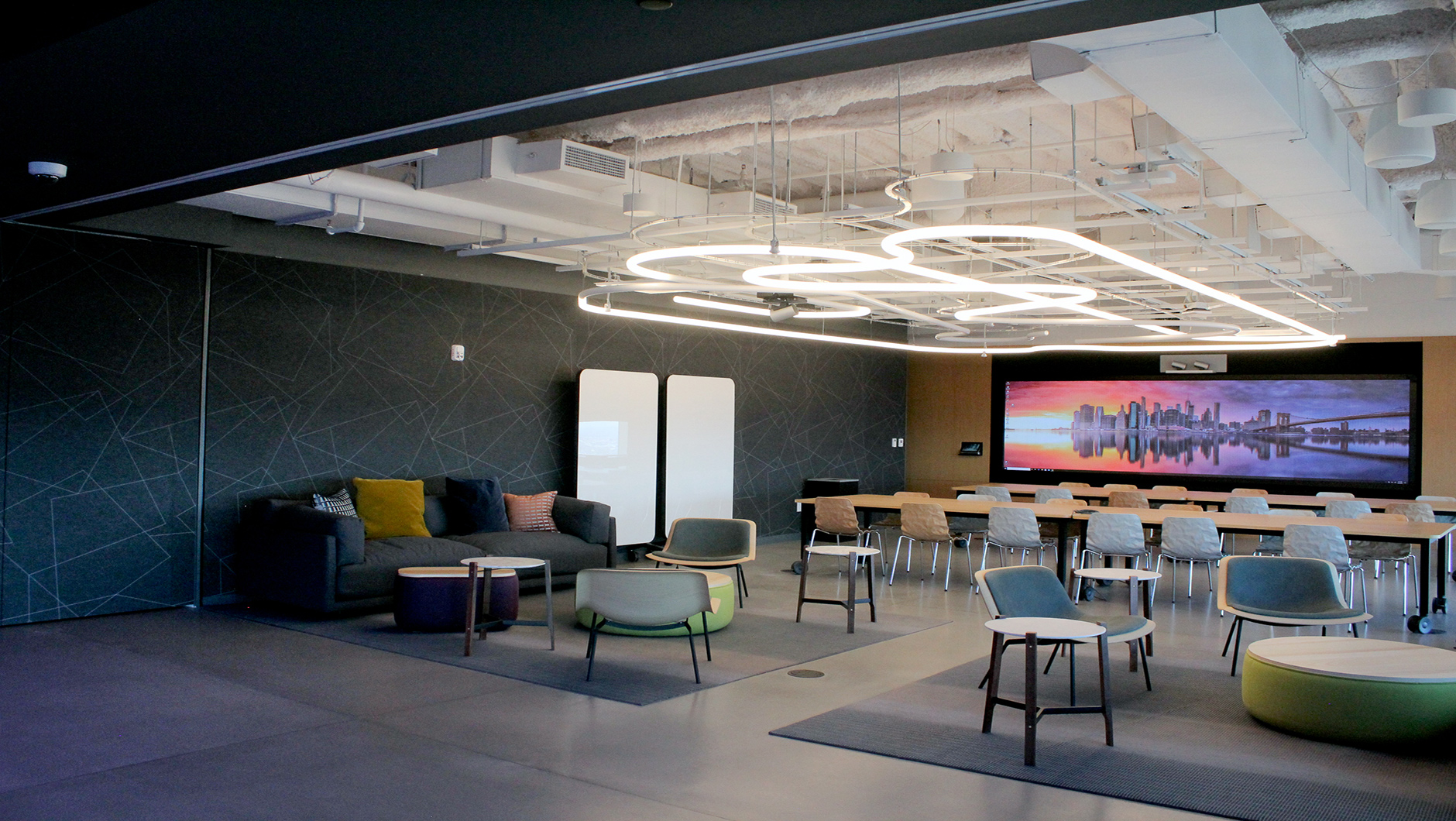 Employee safety is top of mind at this confidential client's office. Smoke Guard M600 Elevator Smoke Curtains are installed on each of the floor's six passenger elevators, totaling 54 curtains. Each of the  4'w x 6' h Smoke Guard screens consists of a reinforced, transparent, polyimide film. The film edge is connected to flexible magnetic strips which adhere to ferrous metal rails as the system deploys creating a tight seal.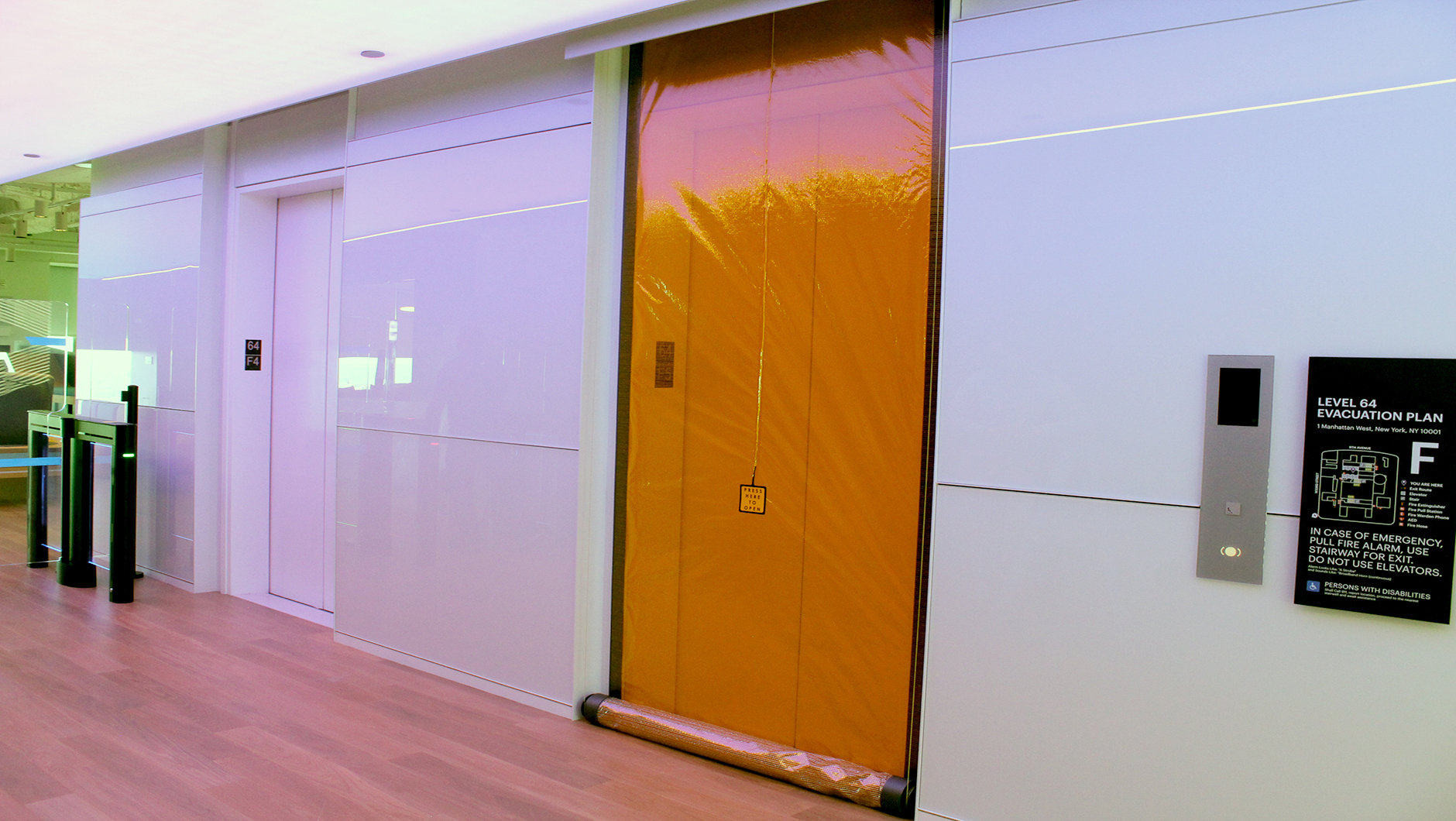 The Smoke Guard system will deploy when the smoke detector in front of the elevator opening goes into alarm.
Watch a Smoke Guard System in operation: https://youtu.be/rpQ5JEYnYPo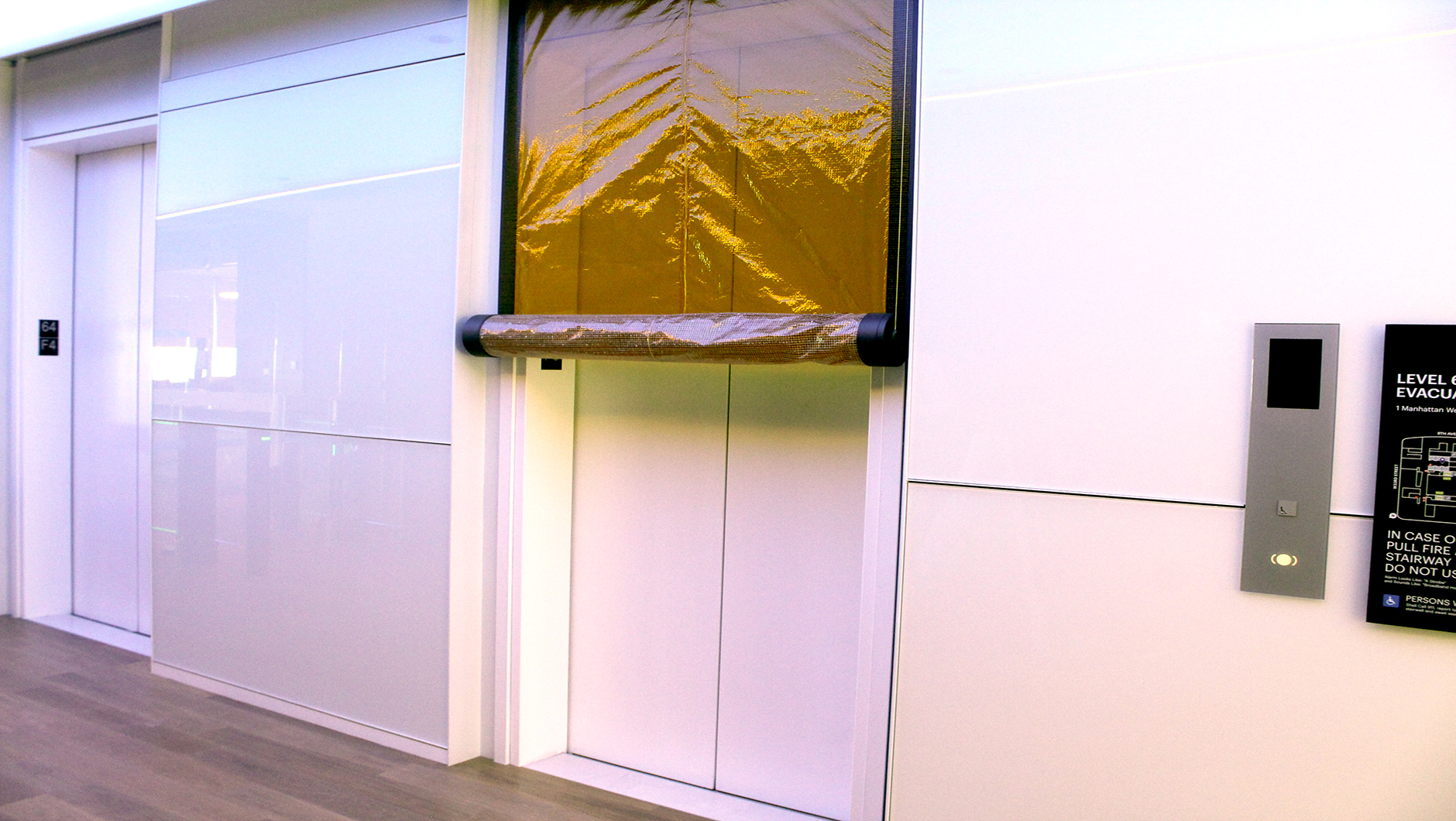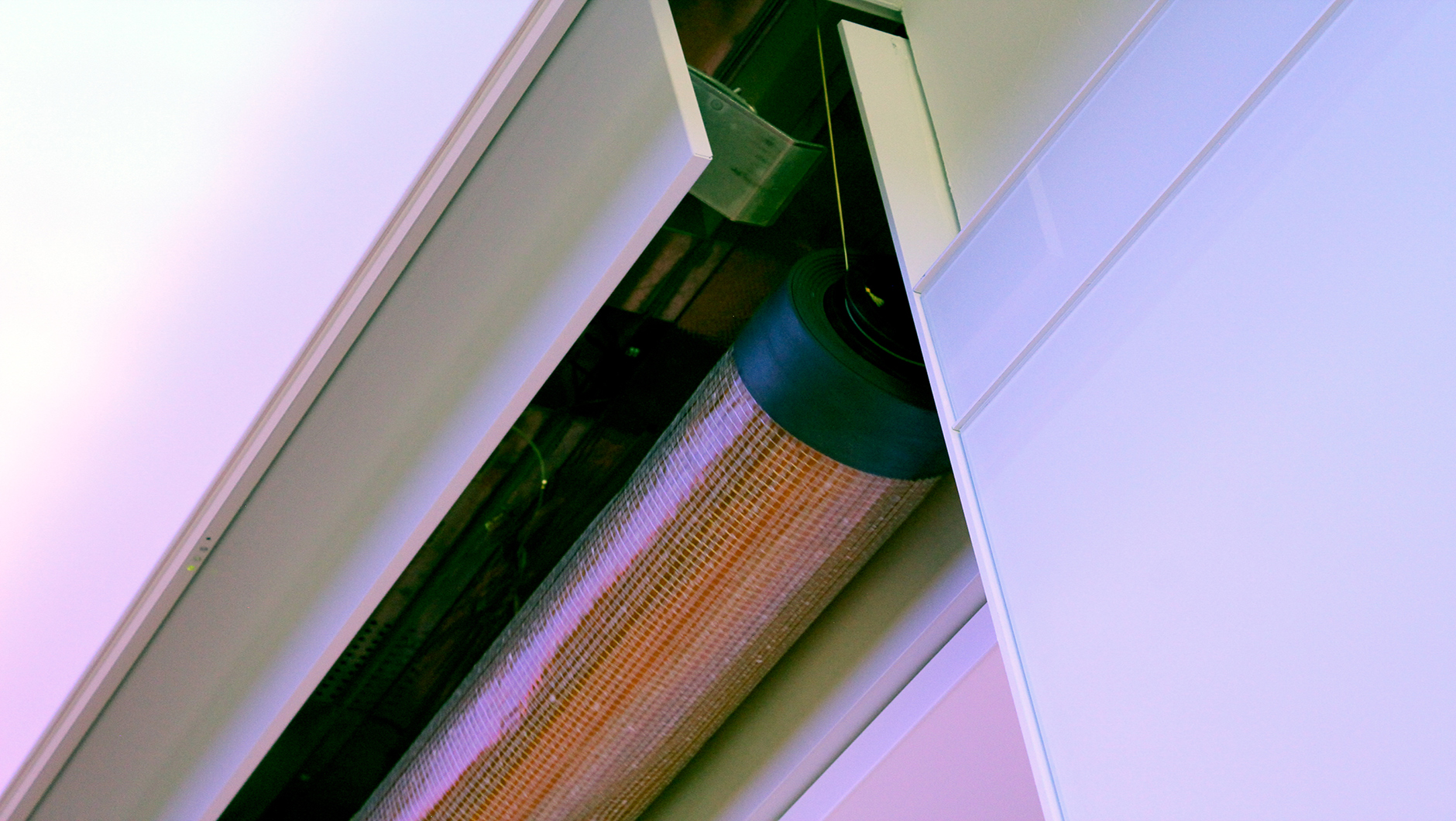 The Smoke Guard units store cleanly above each elevator, at the ready.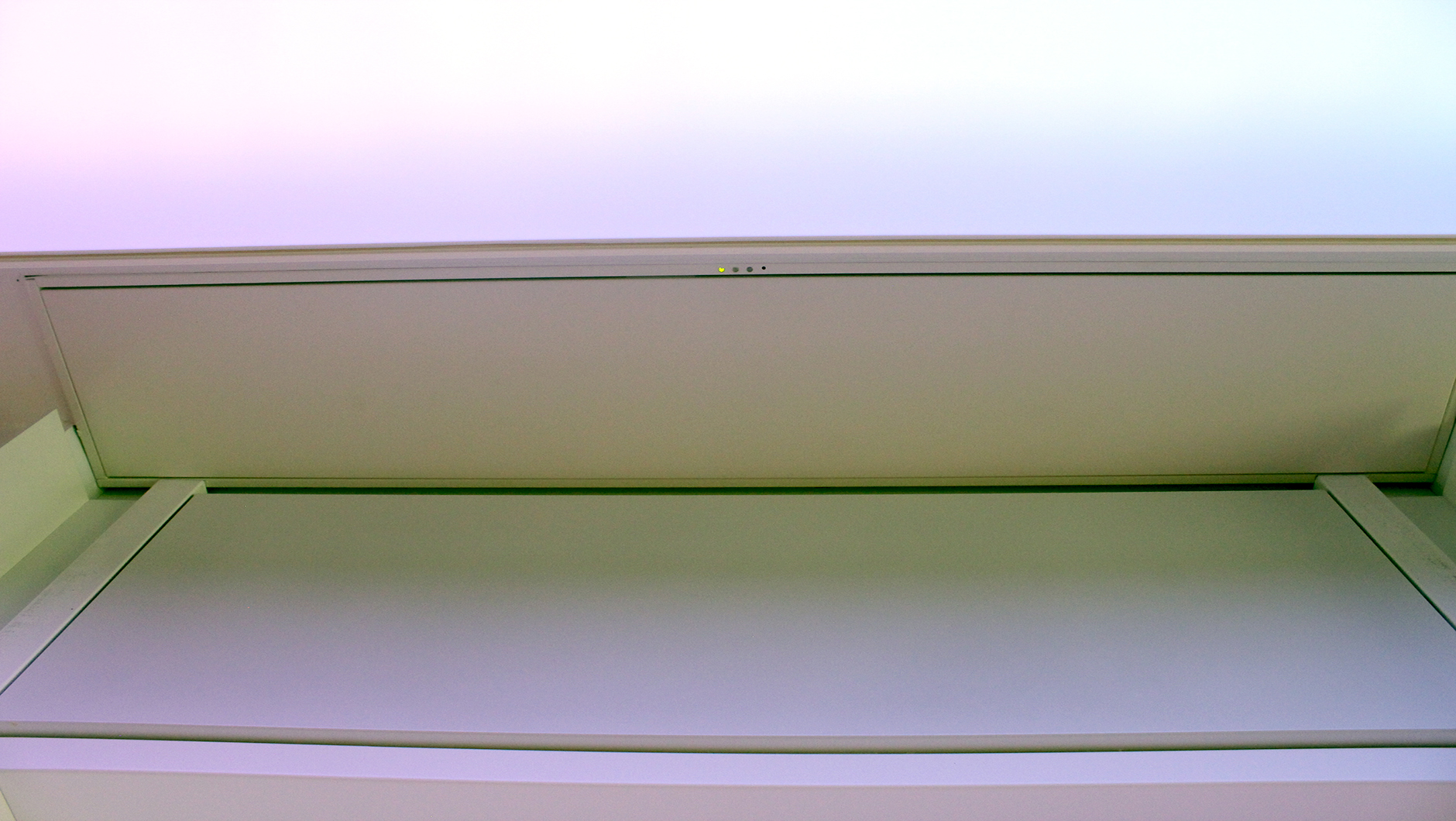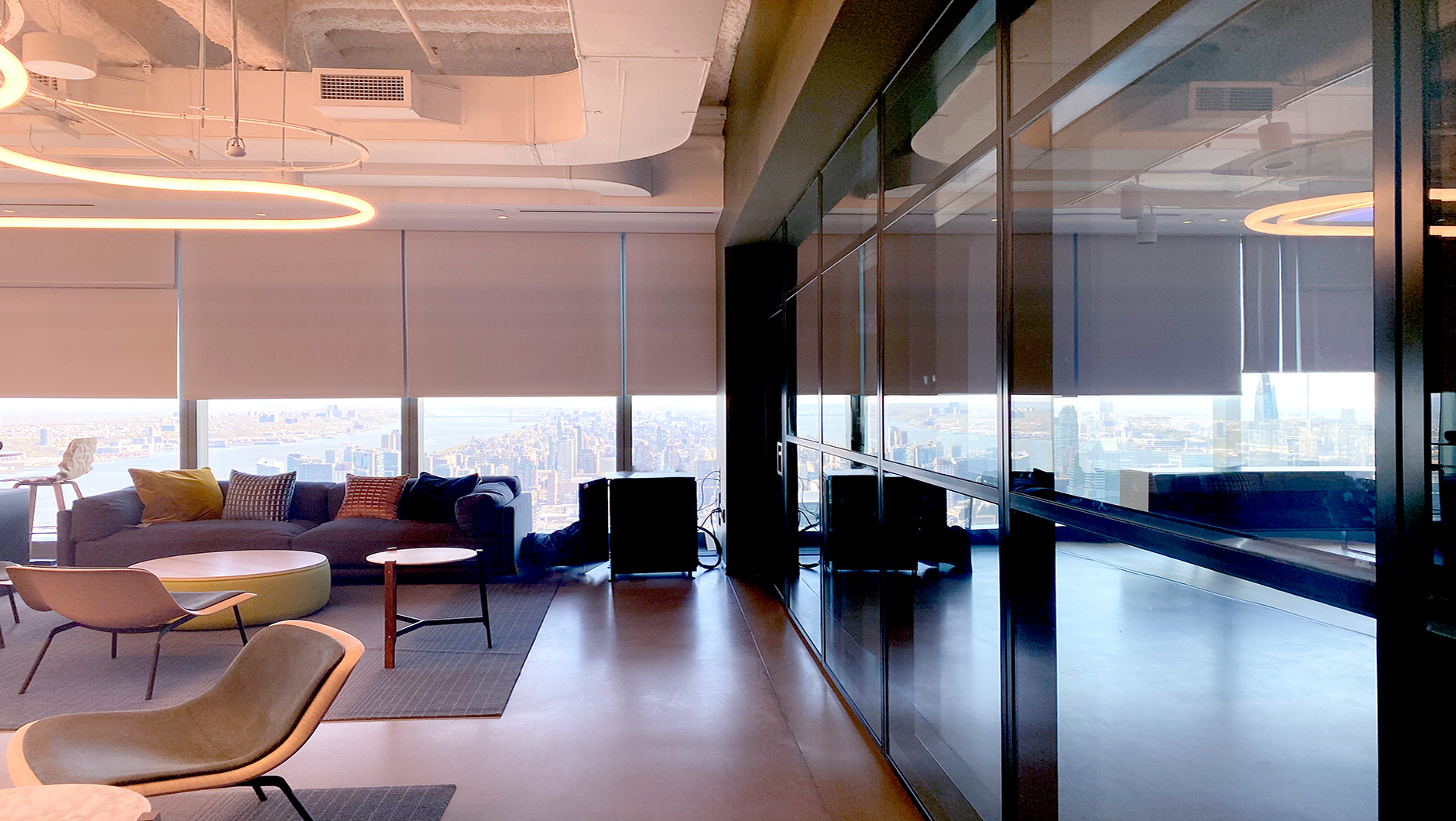 We're in a New York state of mind, check out that view!
We are honored to have worked with HOK and J.T. Magen and Company Inc. on this project and look forward to the full reopening of NYC.
ARCHITECT:
HOK
GENERAL CONTRACTOR:
J.T. Magen and Company Inc.
PRODUCT / COMPONENTS:
Skyfold Classic 60
Renlita S-3000
Modernfold Acousti-Clear
Smoke Guard M600 Elevator Smoke Curtains