SMILE TRAIN NEW WORLD HEADQUARTERS
A CLEAR DESIGN VISION WITH PK-30
Founded in 1999 and on Forbes List of the 100 Largest U.S. Charities, Smile Train is an international charity that raises money and partners with medical professionals from around the world to provide free cleft surgery and comprehensive cleft care to children in need.
In the summer of 2018, Smile Train moved its Worldwide Headquarters to a newly renovated office at 633 Third Avenue. The modern facility was designed to provide flexible, collaborative spaces where nearly 55 employees could carry the organization's important vision. The new office needed to have spaces that could be easily configured to accommodate small team meetings yet also hold large company-wide gatherings when necessary.
THE DESIGN
Jattuso Architecture wanted to give the new office a sense of openness, allowing the flow of natural daylight into its interior as well as the flexibility for space division. A critical part of the design strategy included the need for a flexible glass wall system that would achieve a consistent aesthetics throughout the space. These areas included the large conference room, several meeting rooms, huddle rooms, and the CEO office.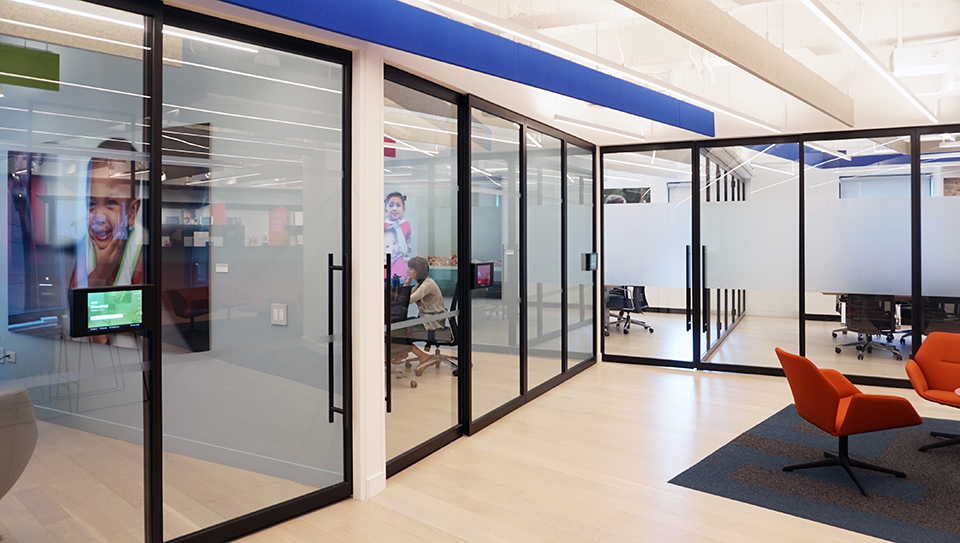 The PK-30 System was the perfect solution creating the ability to use various door configurations while still maintaining a cohesive, uniformed look throughout the office space. Using the PK-30 fixed and sliding glass doors, the conference room and two meeting rooms create an impressive visual flow. The PK-30 Variofold bi-folding glass stacking wall quickly converts the nearly 50 ft. large conference room into two separate meeting rooms, each with its own entrance, while still maintaining the transparency benefits of glass.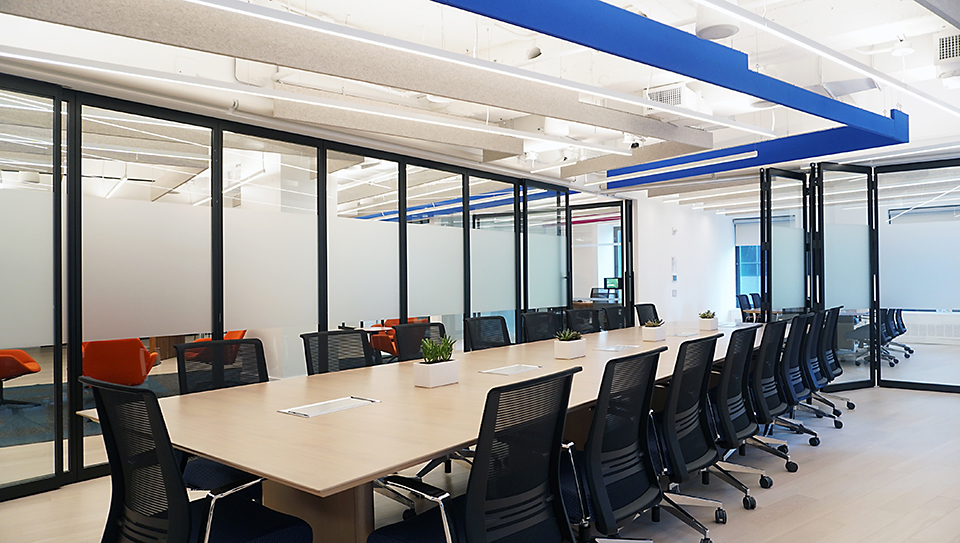 The flawless integration of the varying PK-30 System configurations eliminated the need of a disruptive, bulky column where the 3-way intersection of the fixed wall, folding partition and sliding glass doors meet at a single point allowing for a seamless visual flow. Two additional meeting rooms plus the CEO's office include PK-30 sliding doors, and PK-30 swing doors are installed in the four huddle rooms.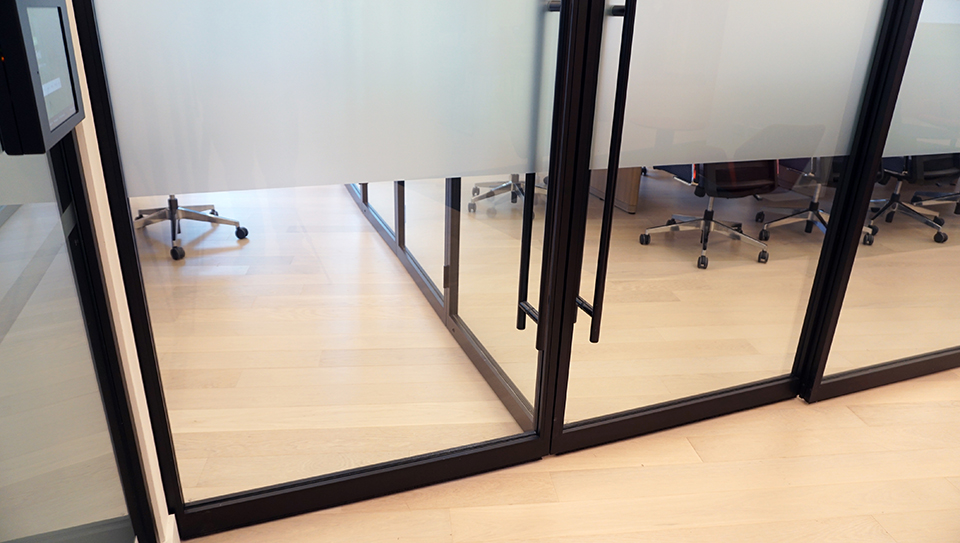 3-way intersection of PK-30 fixed glass, bi-folding partition, and sliding entrance doors.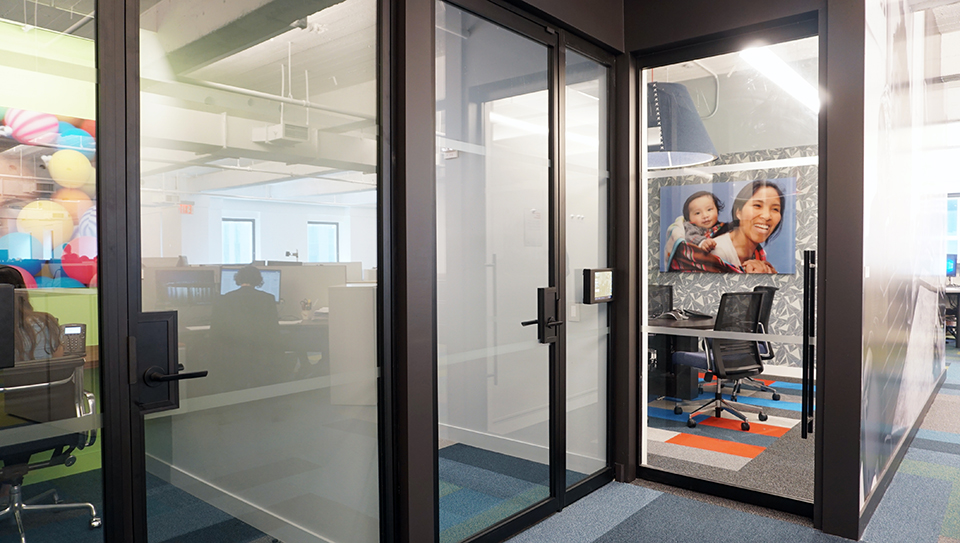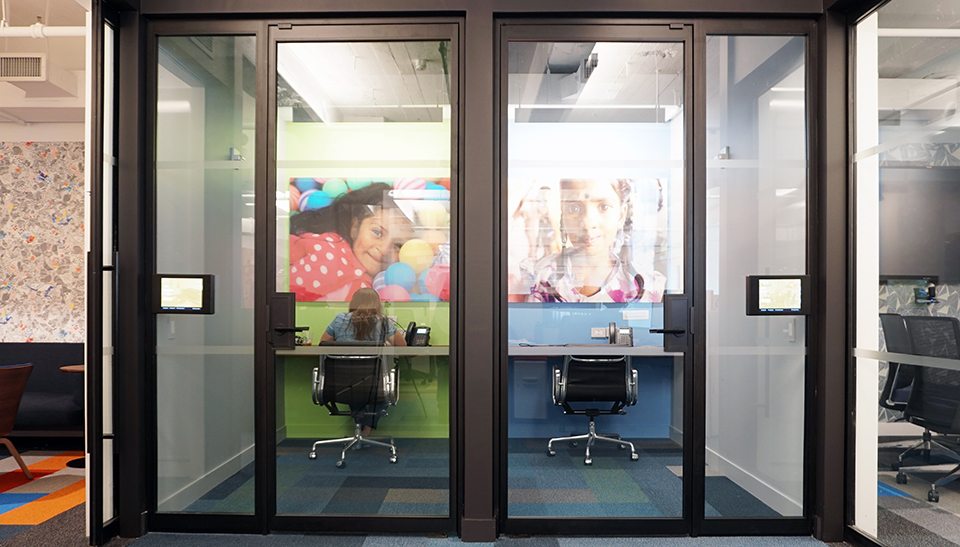 In total, approximately 110 linear feet office fronts of 8 ft. high PK-30 glass walls with vertical mullions and a 17 linear feet PK-30 Variofold bi-folding stacking wall with 5-hinged panels and a bottom guide channel was installed. All glass is ⅜ inch clear tempered.
"Not only have we received numerous compliments from guests and visitors, but the folding partition has come in extremely handy already." stated Justin Twardy, Smile Train's Director, Administration and Human Resources. "With little effort, we can expand our meeting capacity and fit our whole office staff in one room for presentations and staff meetings. The look, feel, and function fit our new office perfectly."
Jattuso Architecture realized their space design vision with PK-30 glass system's flexibility and slim, black satin anodized aluminum profiles resulting in a sophisticated, unified design program throughout the office.
ARCHITECT:
Jattuso Architecture PLLC

GENERAL CONTRACTOR:
B&B Contracting Group, LLC

PRODUCT / COMPONENTS:
PK-30 glass wall system
PK-30 Variofold folding glass walls
---
"Not only have we received numerous compliments from guests and visitors, but the folding partition has come in extremely handy already. With little effort, we can expand our meeting capacity and fit our whole office staff in one room for presentations and staff meetings. The look, feel, and function fit our new office perfectly."
– Justin Twardy,
SMILE TRAIN
Director, Administration and Human Resources
---