Subaru's LEED Silver HQ's Space Management Solutions
Expansive glass walls and operable partitions create flexible spaces
Established in 1957*, Subaru Corporation has experienced tremendous growth in the past decade resulting in the need to consolidate its growing workforce. When the doors to its brand-new campus in Camden, NJ opened in 2018, the company's 700 regional employees were finally united under one roof. The opinions of the employees really mattered and influenced the design of the new campus. Questionnaire responses pointed out the need for a large number and variety of places to hold meetings. There are over 100 meeting spaces throughout the building.
In order to perfectly tailor the interior fit-out of the five-story, 250,000 sf LEED Silver headquarters to suit Subaru's needs, Granum A/I had a mission, so to speak. A number of goals were used to guide the design process including the importance of a flexible workplace, access to natural daylight, and increased collaboration.
Clear, flexible space division with a twist can be found in the large expanse of moveable glass walls found in the full-service cafeteria located on the building's first floor. The Modernfold 362SR-DRS Glass Wall sliding panel system measuring 25'w x 9'h allows abundant natural daylight deep into the dining area, long corridor and the adjoining employee lounge. The space can be left wide open, or easily divided up for more private collaborative spaces. Even with the walls closed, a sense of transparency is maintained from one space to the next.
* The very same year as ModernfoldStyles, Inc.!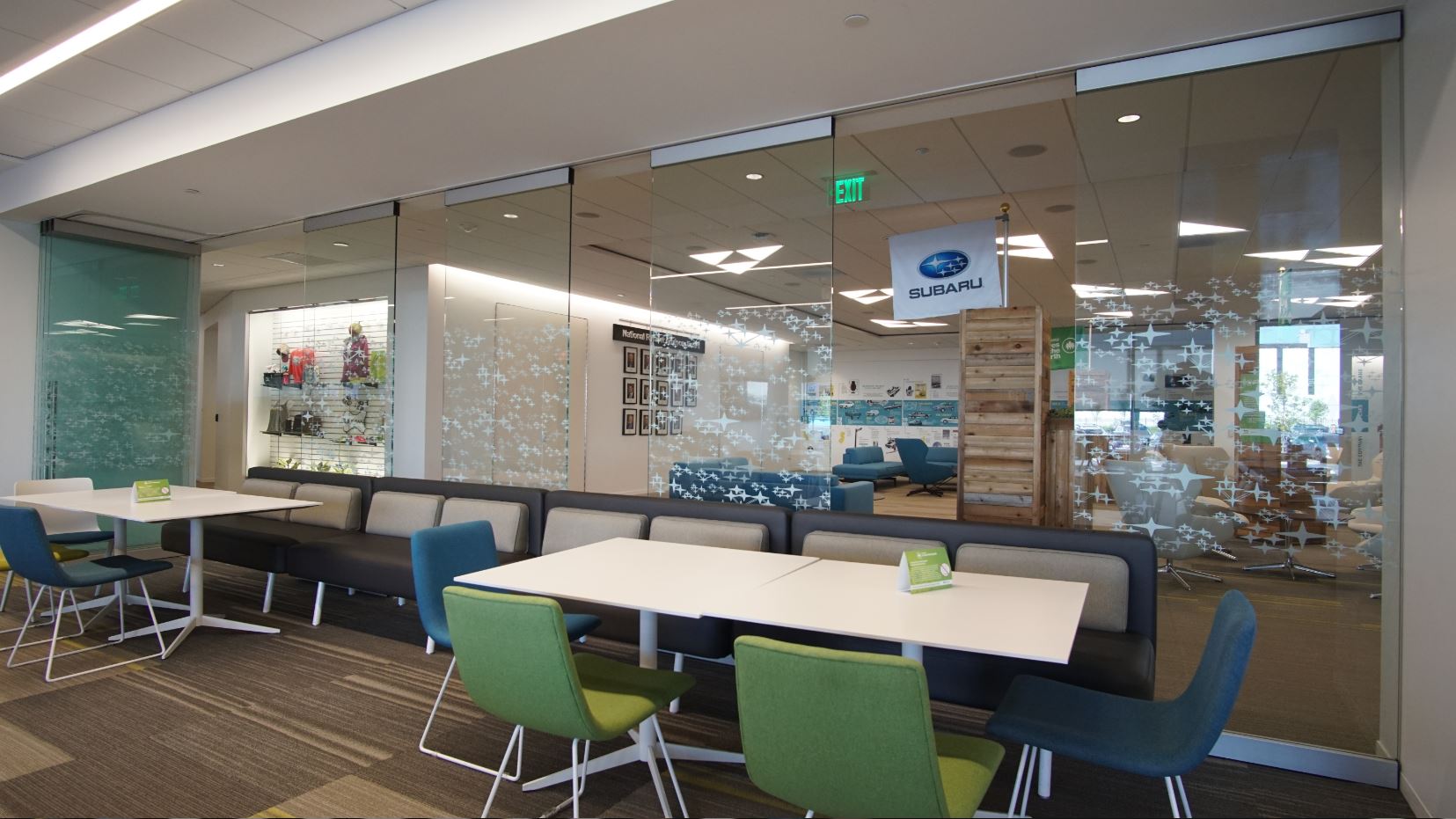 The lightweight panels glide effortlessly on the track and can be easily reconfigured by one person in a matter of minutes. The application of the Subaru logo on the ½" tempered glass panels adds visual interest, provides a bit of privacy and reinforces the brand at the same time. When fully open, the panels stack neatly to one side of the room.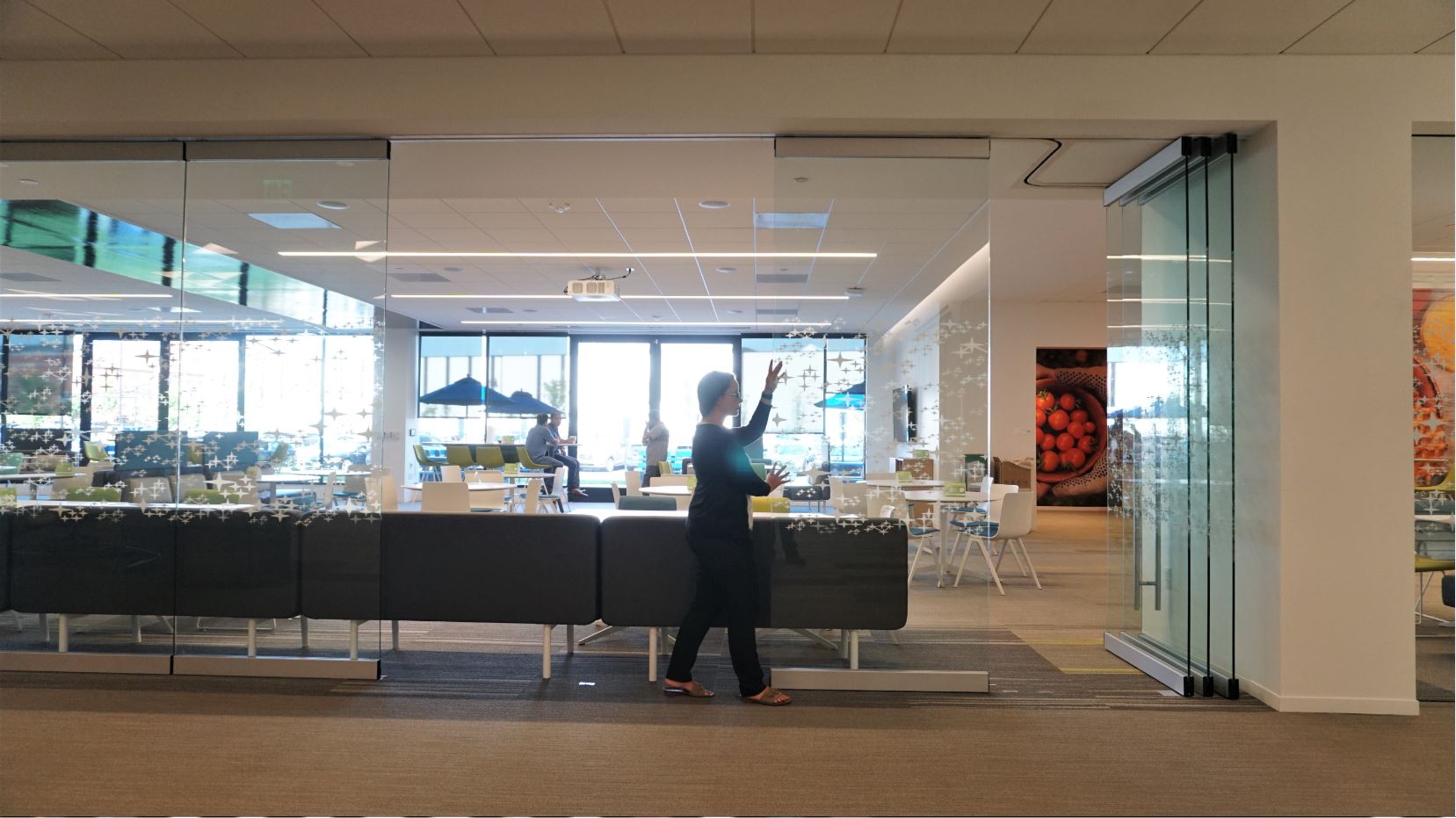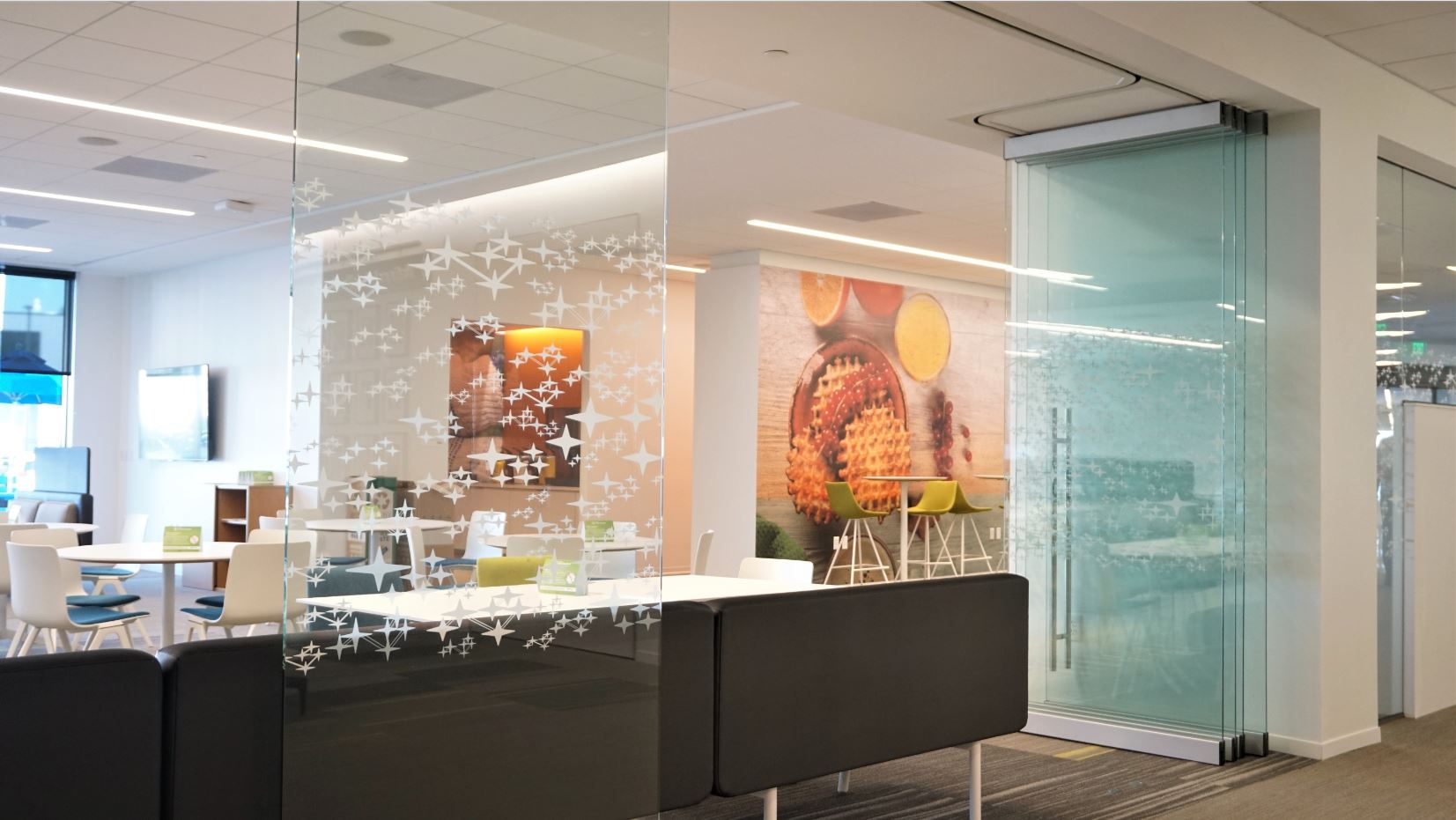 With the push of a button, the large conference center, with a capacity of 400, can quickly transform into individual private meeting spaces. Measuring 38'w x 10'h, with a sound rating of 52 STC, Modernfold Acousti-Seal Legacy continuously hinged electrically operated partitions work to neatly, quickly and quietly divide the room. The wall's operable top and bottom seals ensure sound control for enhanced privacy.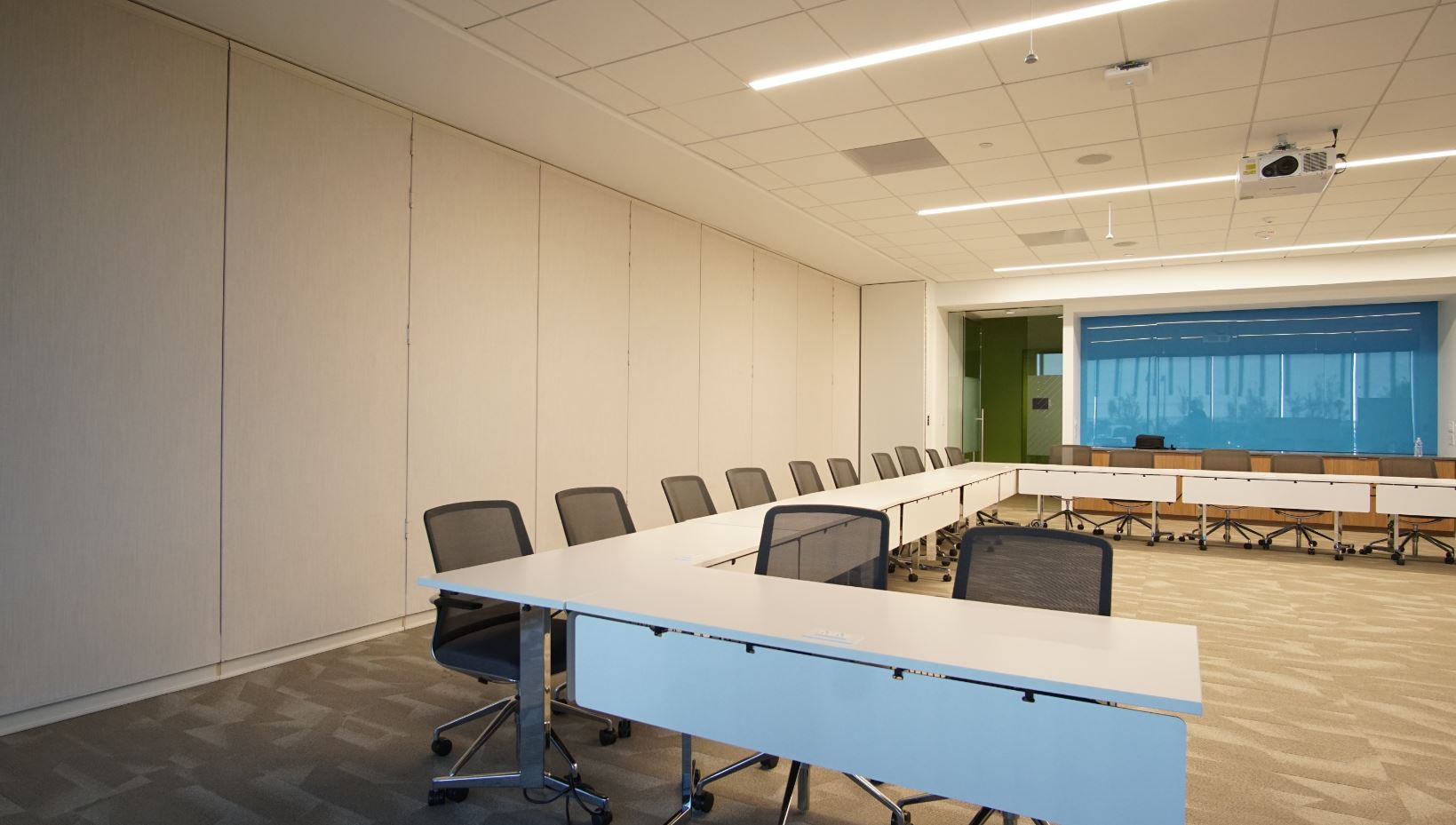 The addition of full height markerboard in porcelain steel, on one side of the wall, provides further functionality. A pocket door allows entry and exit when the walls are fully closed. Additional flexible meeting spaces can be found on the building's first floor with an additional Modernfold Acousti-Seal Legacy Continuously Hinged system, measuring 28'w x 10'h with 52 STC. Watch the video below.
Subaru looks forward to the company's continued growth and future development. Located adjacent to the Campbell Soup Company's world headquarters, Subaru hopes that by bringing its innovative car company to the Gateway neighborhood, it will help to accelerate Camden's continued revitalization.
ARCHITECT:
Granum A/I

GENERAL CONTRACTOR:
Turner Construction – Philadelphia

PRODUCT / COMPONENTS:
Modernfold 362SR-DRS Glass Wall
Modernfold Acousti-Seal Legacy Continuously Hinged