PIER VILLAGE
Renlita's NuFold Turns Carousel
Into Year-Round Attraction at the Jersey Shore
The Jersey Shore is buzzing with redevelopment, from the recent revitalization of Asbury Park to the Pier Village mixed-use oceanfront development in Long Branch. Visitors longing to live by the sea can tour new residences on the market or stay at a boutique hotel then check out bustling shops and restaurants along the beautifully landscaped project award winning boardwalk.
If you didn't get a chance to ride the brand-new carousel at Pier Village this summer, there's still time. The attraction, commissioned by Extell Development Company, was built for year-round comfort and enjoyment.
The challenge: How to design an enclosure to house a 42-foot carousel, complete with a collection of beautifully hand-crafted horses, chariots and a host of sea creatures? Getting it all to fit together was a well thought out study in geometry. Don Martocello, VP Operations at ModernfoldStyles, Inc. explained the "layout required exact measurements and calculations you bet we checked them 3 times. A lot of credit goes to Chuck and Dave Angelini for their patience measuring 40 feet in the air in the rain and wind".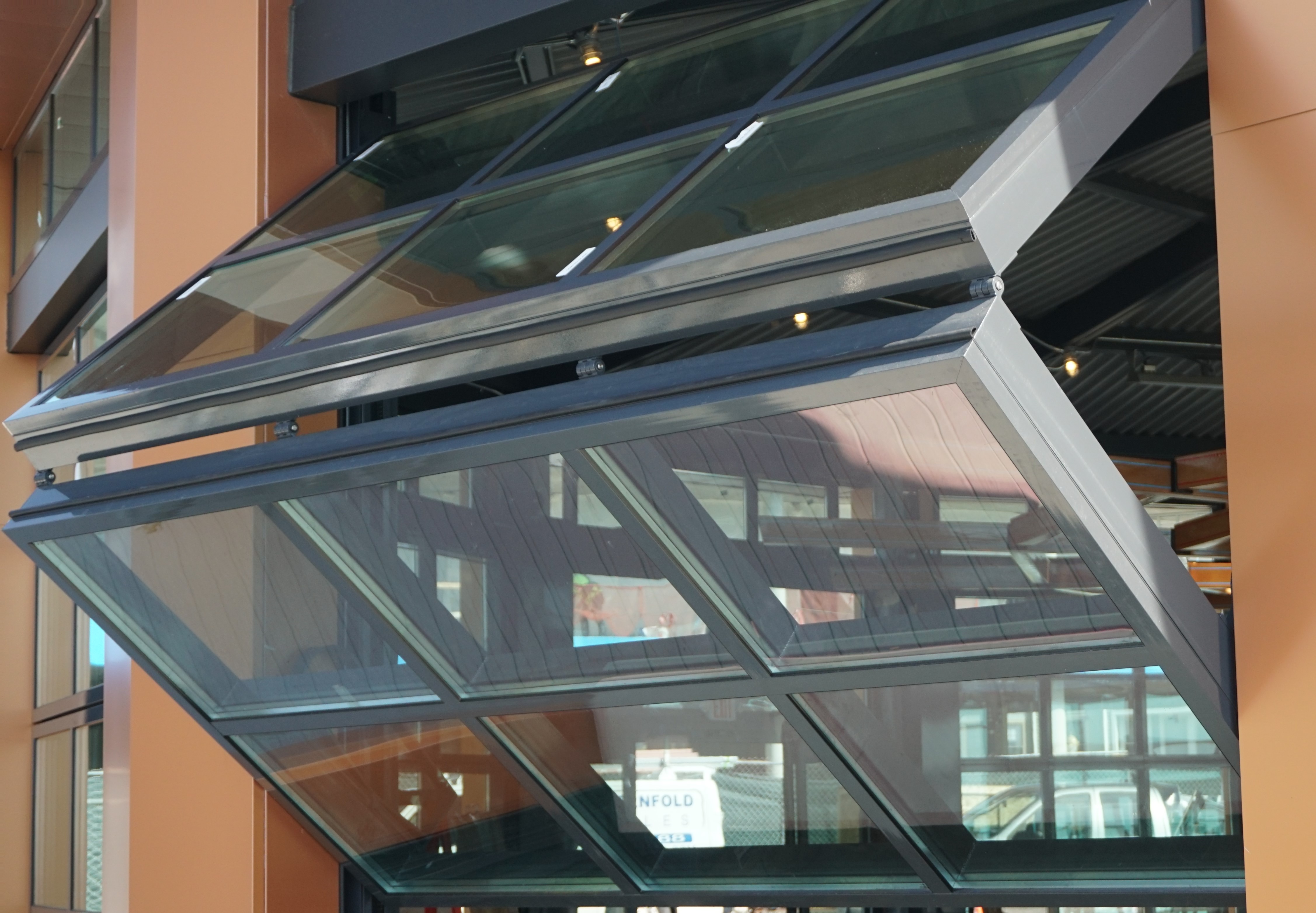 Architect Melillo + Bauer Associates, Inc. specified the Renlita A-750 NuFold custom motorized counterbalanced vertical bi-fold glass doors. With limited interior projection and no head structure required, this custom opening solution, winner of the 2019 Architizer A+ Popular Choice Award, creates amazing views.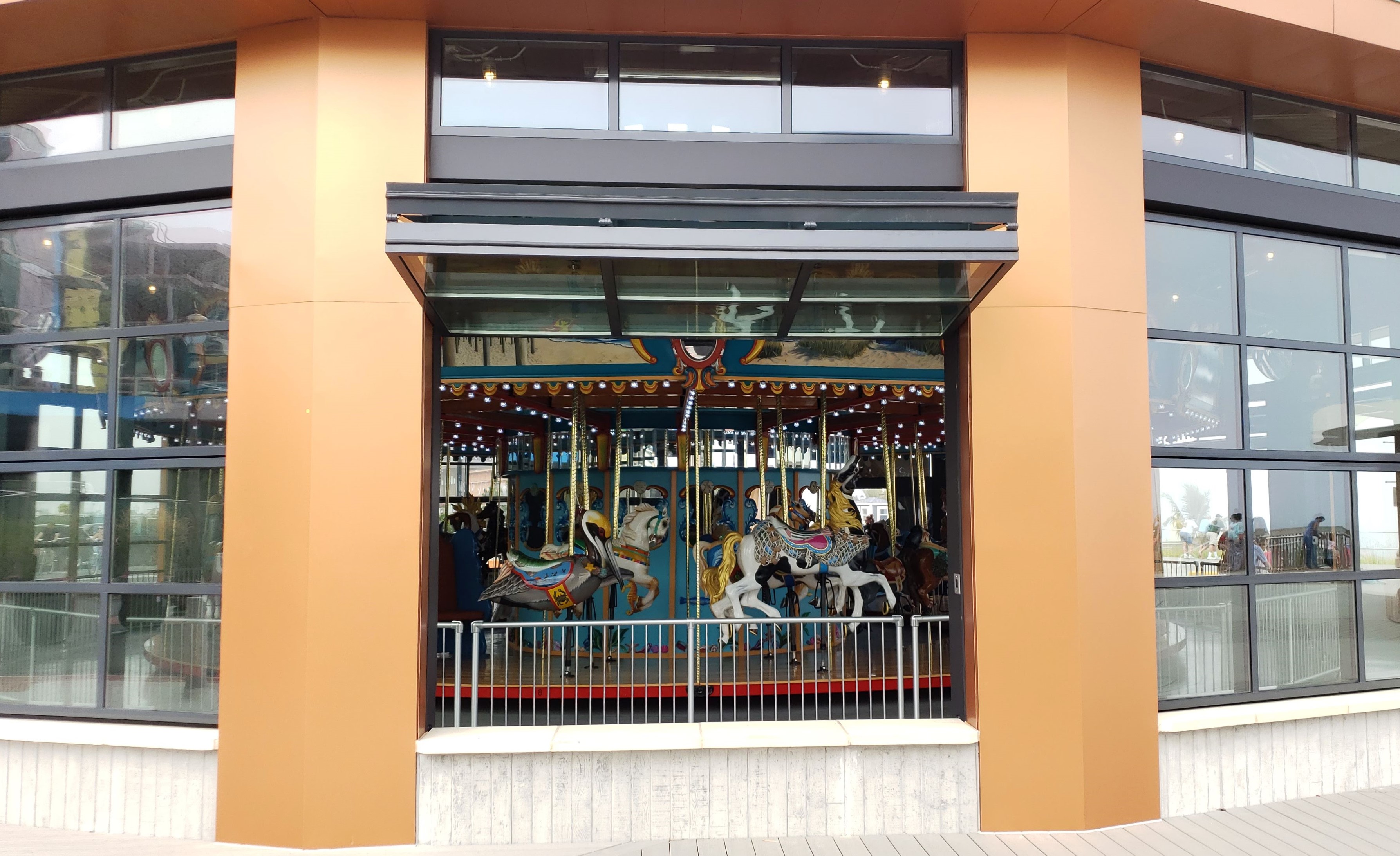 A total of (13) 10'H x 10'W systems, armed with high corrosive powder coated aluminum frames, full perimeter weather seals, neatly surround the carousel. Designed with touch screen wall controls for easy operation, the NuFold's are also equipped with patented safety devices.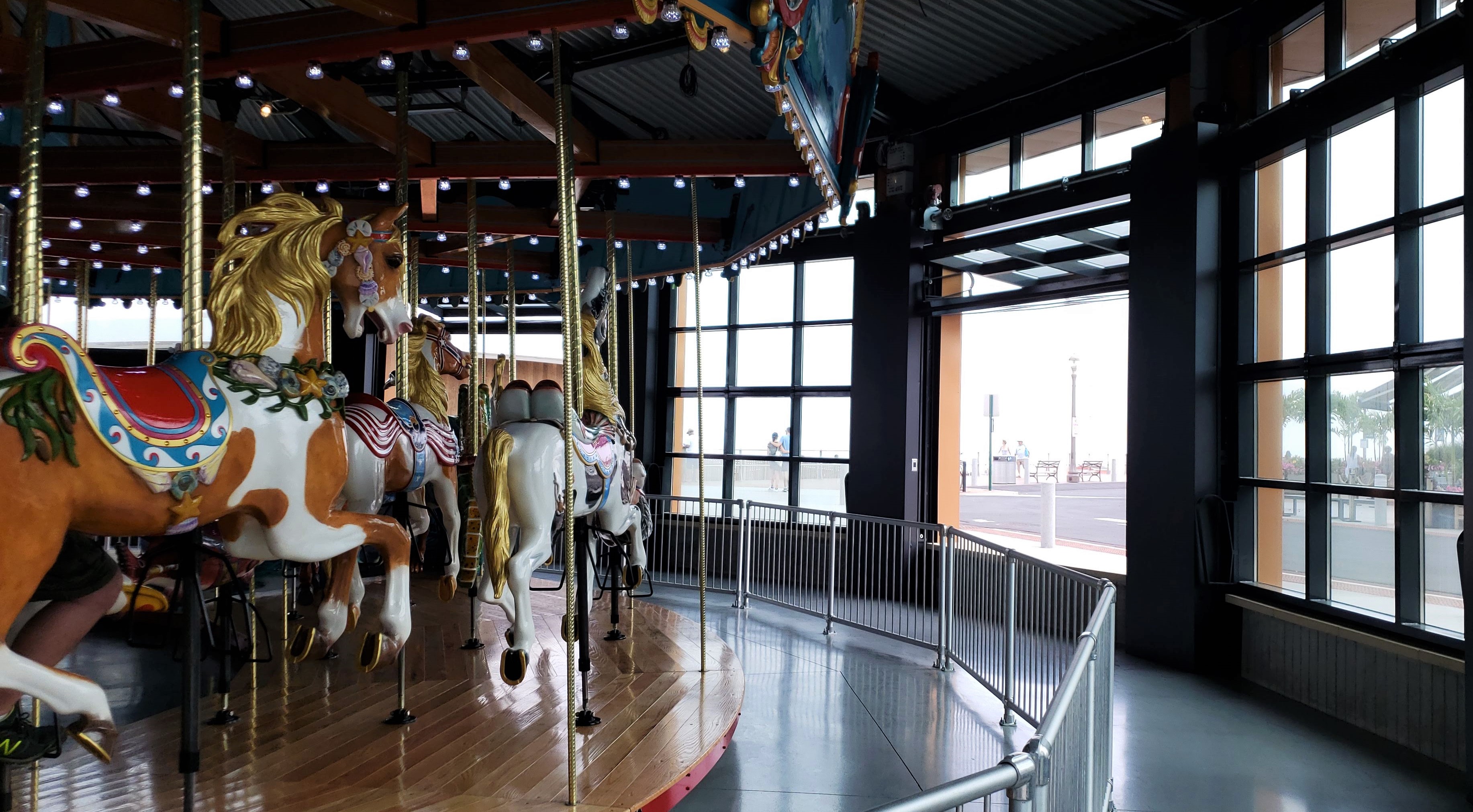 With the glass doors fully open, the brightly colored carousel beckons the passersby inside. During the warmer months, riders feel a connection to the outdoors and enjoy a warm sea breeze along with breathtaking 360-degree views. Thanks to the enclosure's thoughtful design, even on a cold, rainy day visitors can experience the thrill of riding the carousel.
The project did not end there. The addition of (13) fixed glass panels, each 3'H x 10'W above the NuFold doors, flood the space with even more light. Additional details in (3) fixed glass panels above the sliding walk doors, each 3'H x 11'9"W , complete with 1" Solarban 70 solar control glass invites light in and keeps heat out.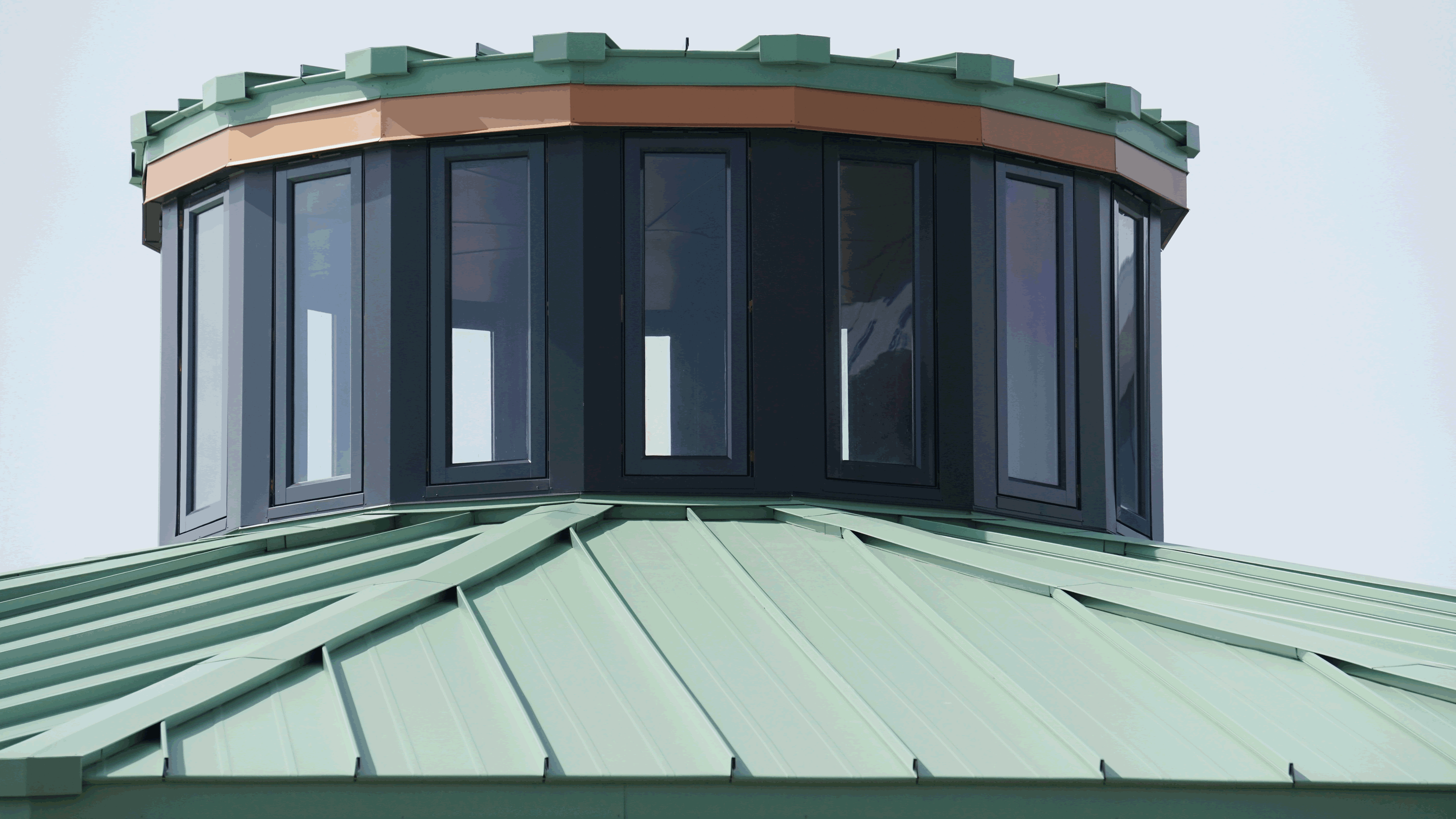 The carousel is topped off neatly by a tidy cupola fitted with (16) Renlita Sovereign custom single (tilt out) motorized window panels measuring 4'H x 1'5"W. The window panels are glazed with ¼" Lexan, have high corrosive powder coated aluminum frames and full perimeter weather seals to protect against the elements.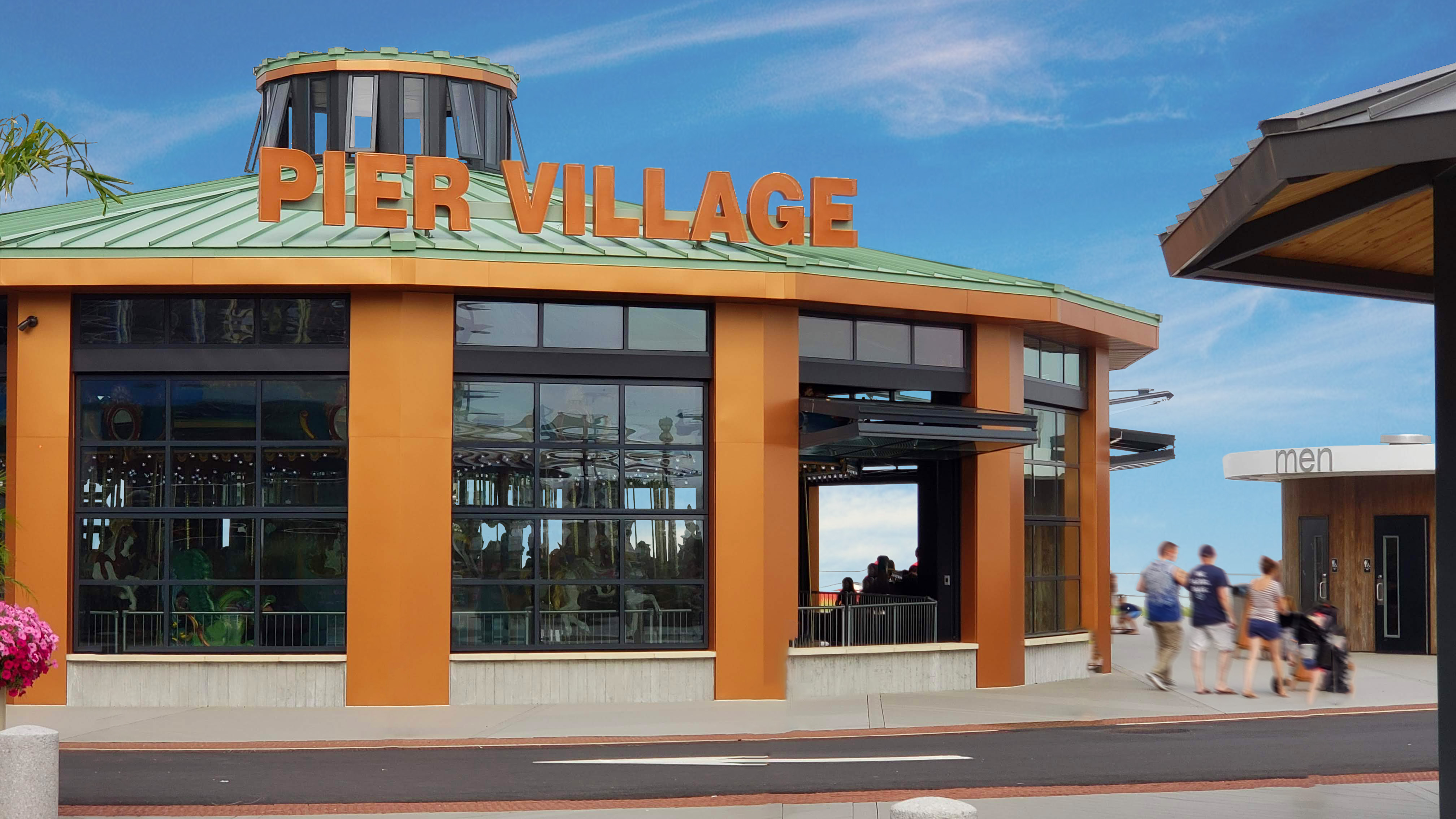 The excellent work and collaboration of the entire project team including General Contractors E.B. Pritchard Glass and Metal and Garden State Iron, Inc. ensures this nostalgic attraction is well protected against the elements and will offer visitors a unique experience for many years to come.
ARCHITECT:
Melillo + Bauer Associates, Inc.

GENERAL CONTRACTOR:
Green Field Construction Group

PRODUCT / COMPONENTS:
Renlita A-750 NuFold